I was so ready for the end of 2019. I was ready for a new beginning. Feeling a bit broken down, I was ready to move on. There is something to be said about rebuilding. It can be hard when relationships break down, be it a friend, romantic, or professional. Maybe there can be beauty in it, though.
Scotland is a beautiful country that has quite a complicated history. It has been invaded and settled many times. There has been so much growth and rebuilding in Scotland in-spite of its tumultuous past. It is stunning; the economy is strong, Scots are incredibly happy and kind. It's inspiring.
When we started planning the trip to Scotland, I was excited and anxious, planning a 10-day road trip around one of the most beautiful countries (in my humble opinion) no pressure. There is so much to see and do; we had to narrow it down. Know that if you are going to check out distilleries, most are closed for tours over the holiday season. We knew we wanted to be in Edinburgh for new year's eve, or Hogmanay (Scottish New Year), so we decided we would start our trip with three days in Glasgow, three days in Inverness, and five in Edinburgh.
If you are going this time of year, know that the days are very short. The sun is set by 16:30. So you will need to plan your sightseeing accordingly. We gave ourselves about 5 hours of driving time each travel day so we could see what we wanted to.
We arrived in Glasgow and went to pick up our rental car. It was already after five and Rob had to drive on the opposite side of the road. So we decided we would head to our Airbnb and order take-out. Thankfully due to his time in the Army and our trip to London, he had some experience. I would strongly suggest if you have not driven on the other side, make sure you arrive before dark. It can be very, as Rob put it, befuddling. You're in a car that isn't yours, the driving laws are different, and you've never been there before. That is not to say it can't be done, and it won't be fun. It can and it will. If you are unsure, Scotland has a fantastic public transit system. You can get pretty much everywhere by train. We just wanted the freedom of having a car.
The next day was our only full day in Glasgow, which is a beautiful city. We started with Breakfast at Bill's, which is a must when visiting. The staff are friendly, and the food is fantastic. I had read about the street art or better known as the mural trail in Glasgow, and was looking forward to strolling around and seeing what we could spot. It was incredible. my favorite was "The Worlds Most Economical Taxi." After spending time wandering around looking at street art, It was time to check out the George Square Christmas Market. Probably one of the smallest we have been to, yet still packed with fun and so charming. We played games, took a ride on the wheel, enjoyed hot chocolate and mulled wine, Z even won a new snugly, because every kid needs at least 50 right?! Dinner was a natural decision: Fish and chips. I found this tiny place called CATCH close to our Airbnb; it was delicious. Glasgow was kind to us.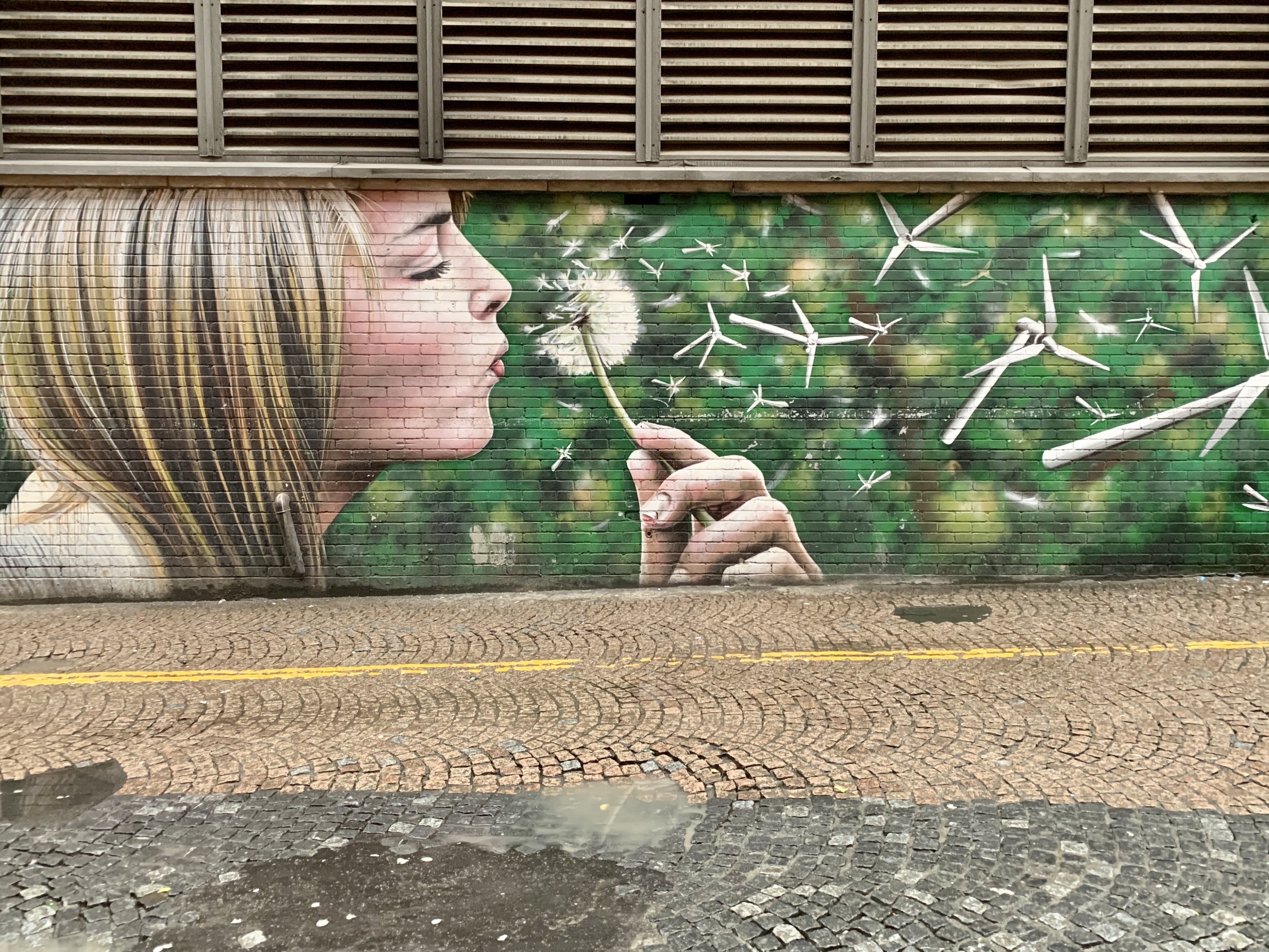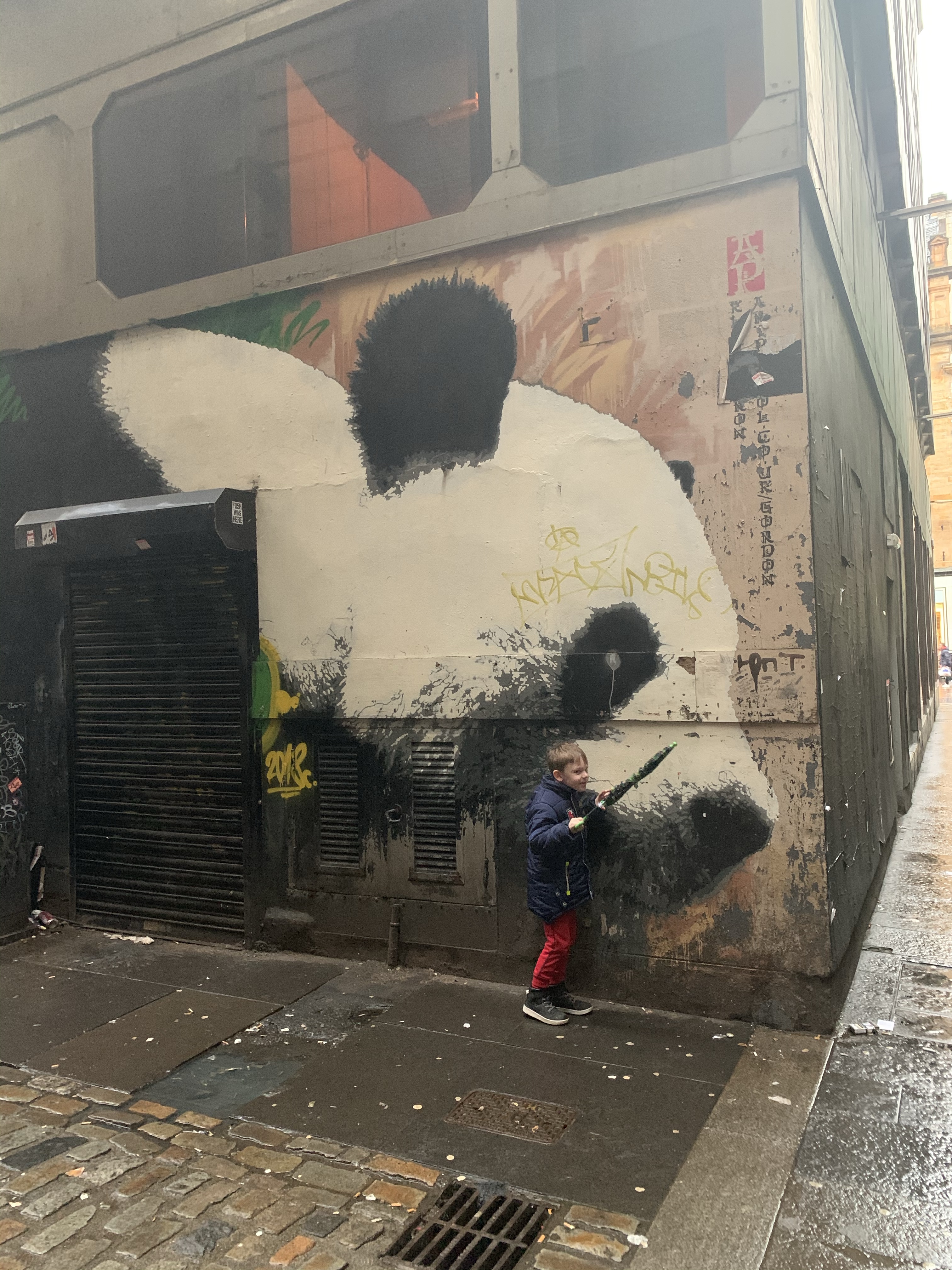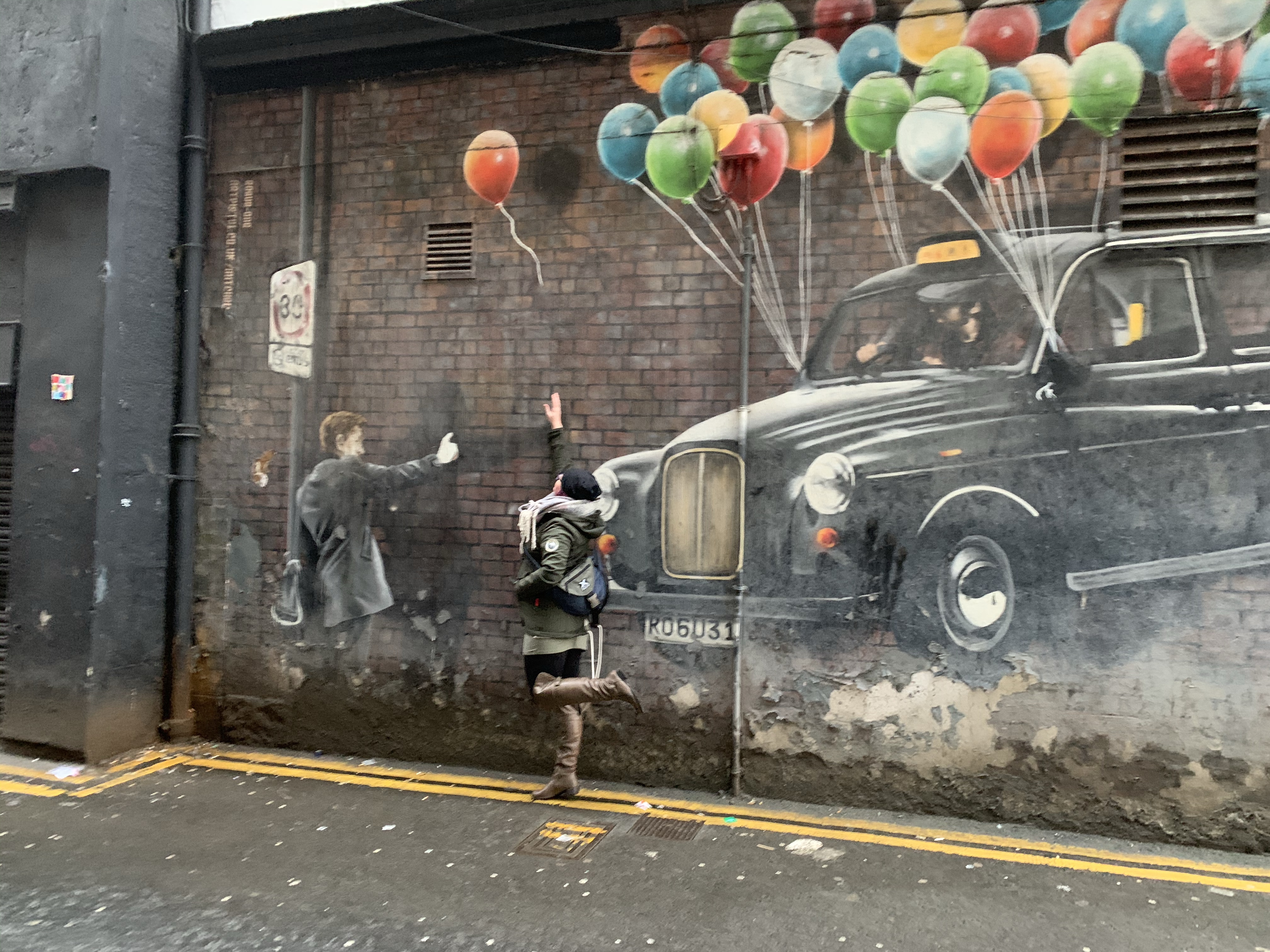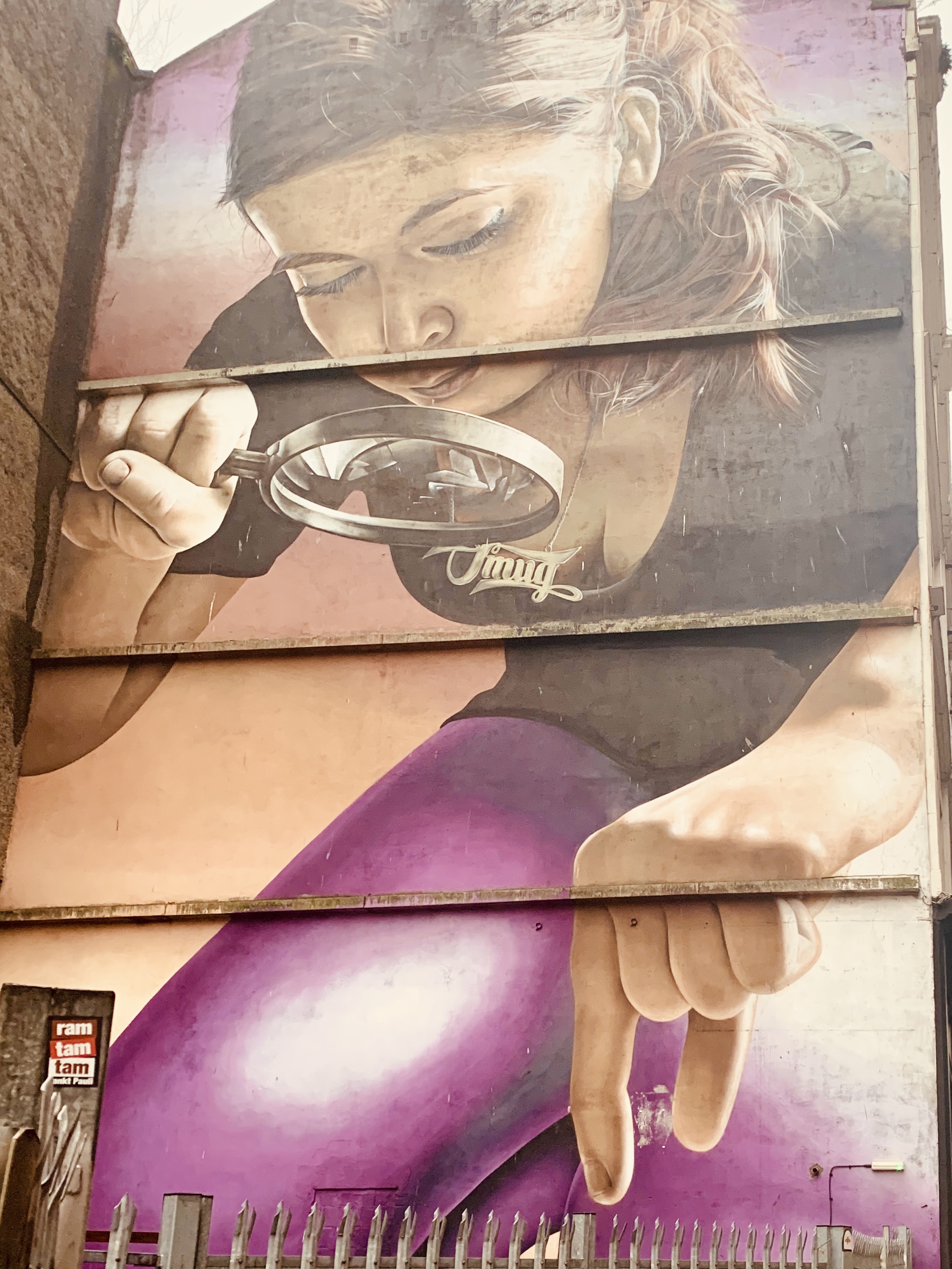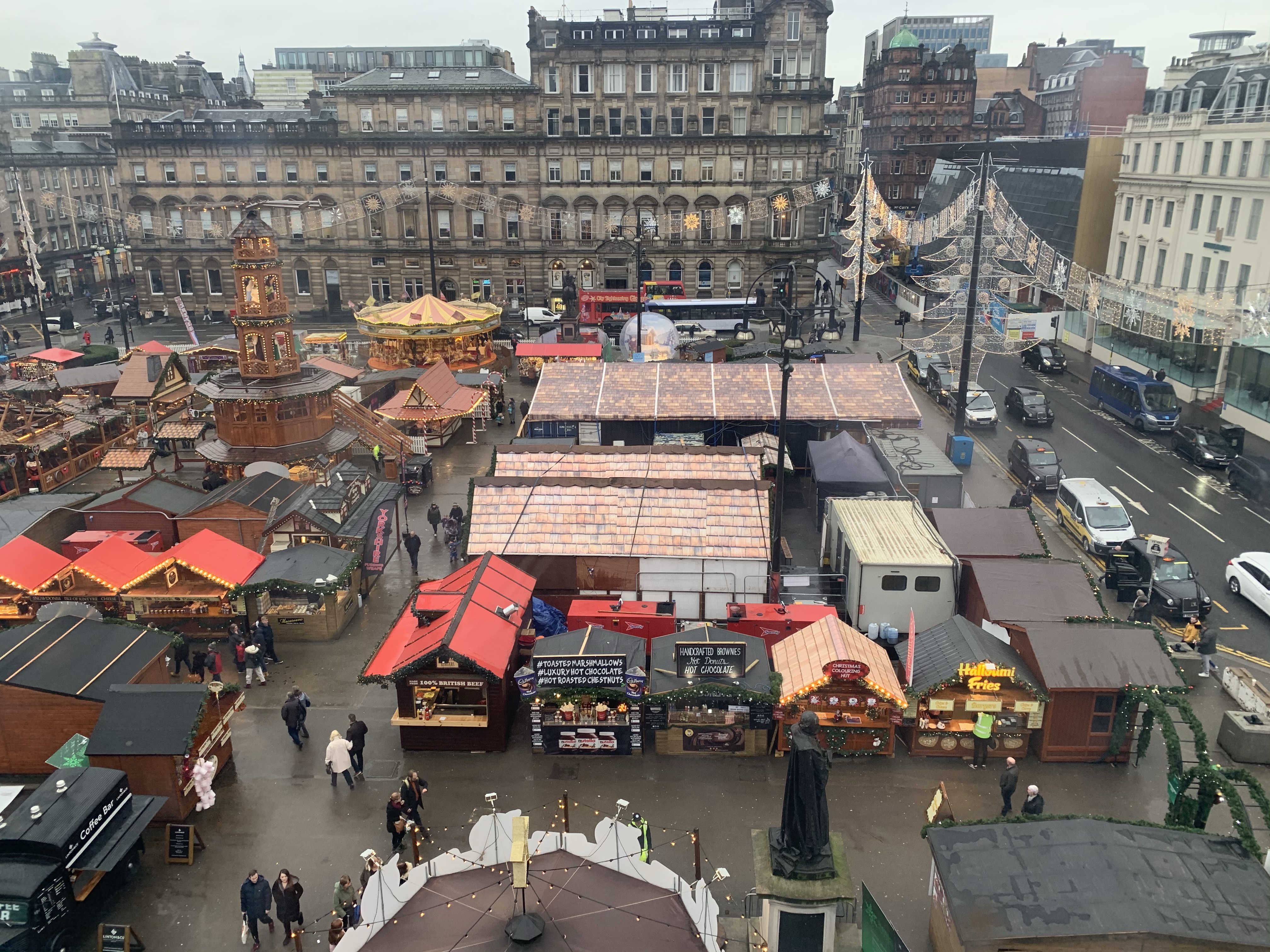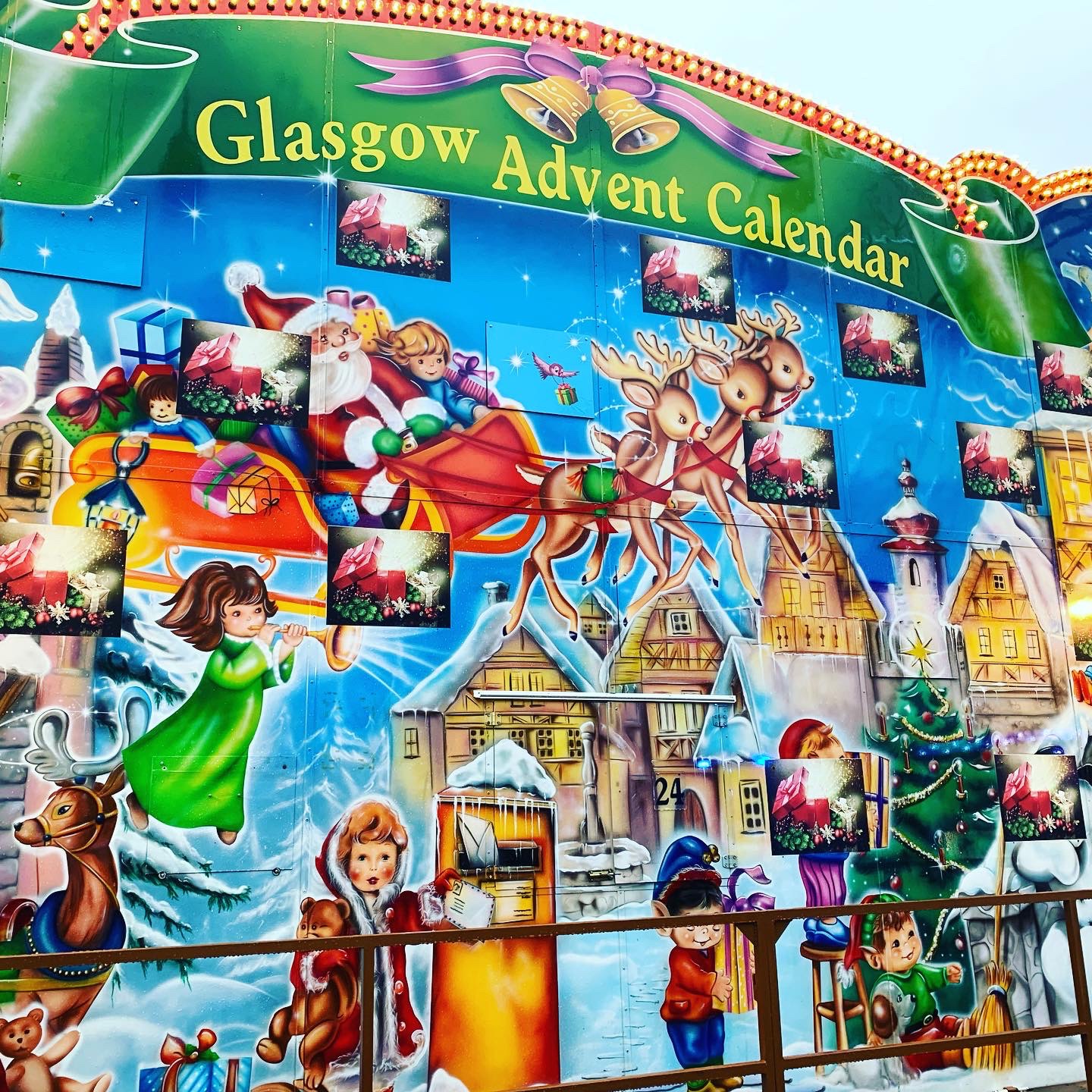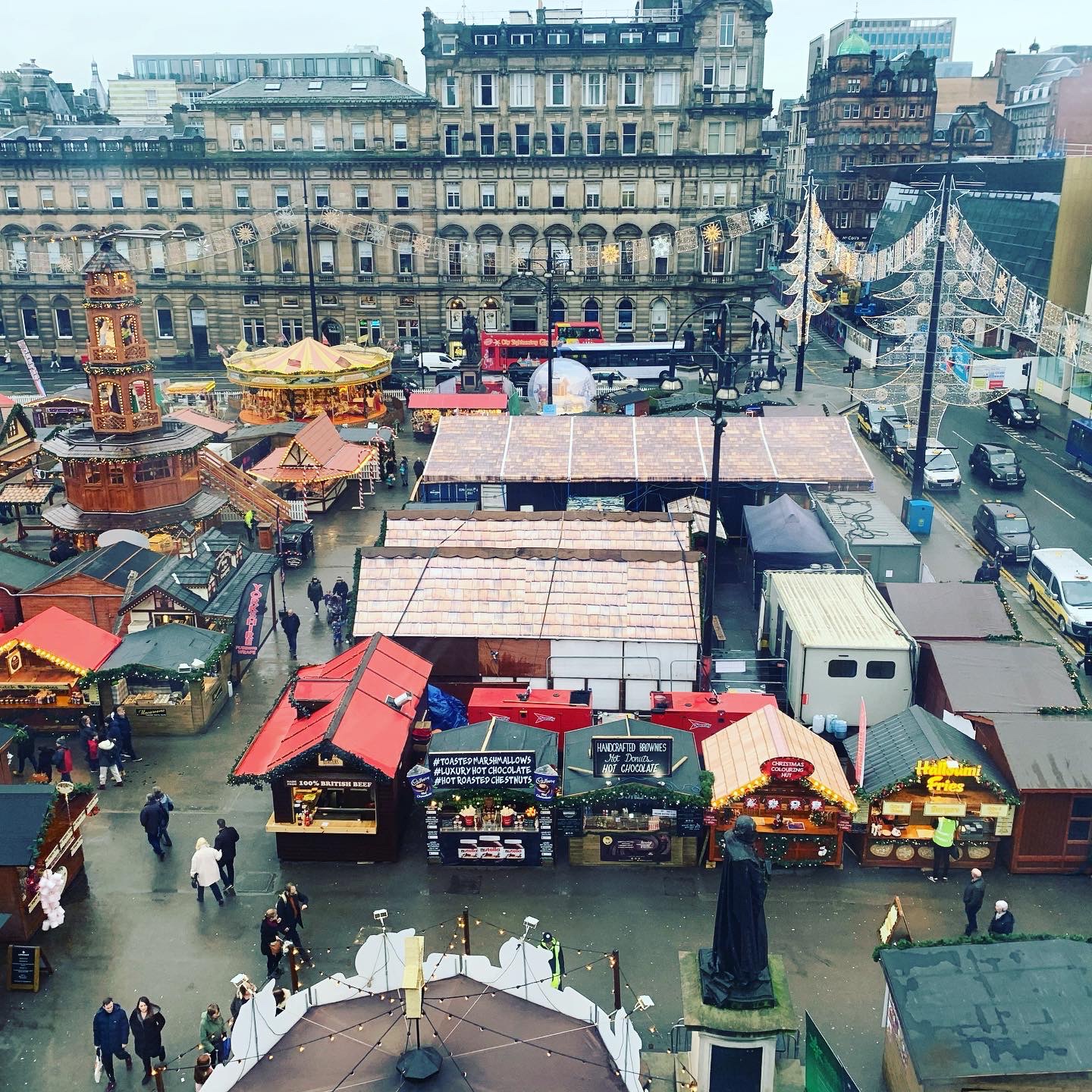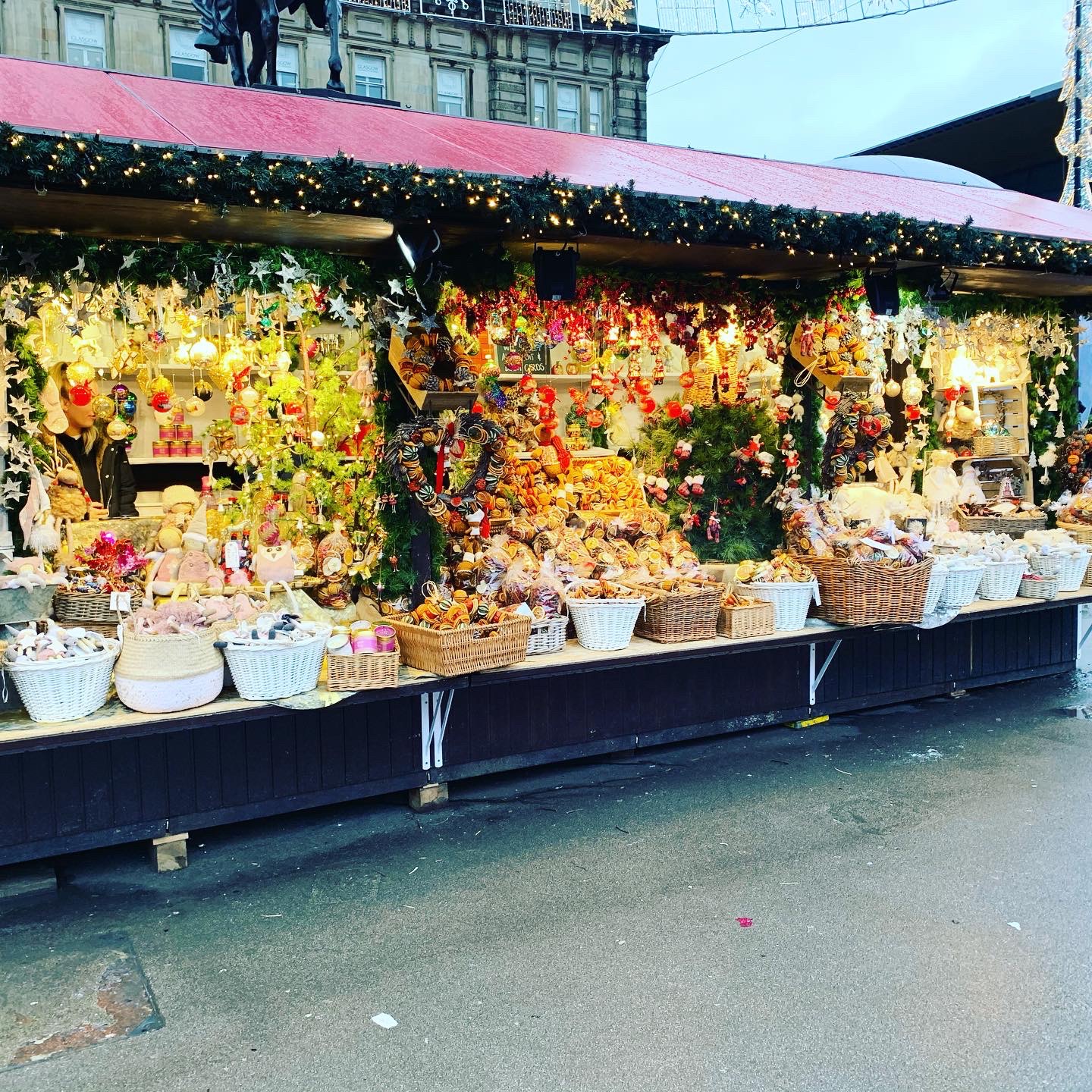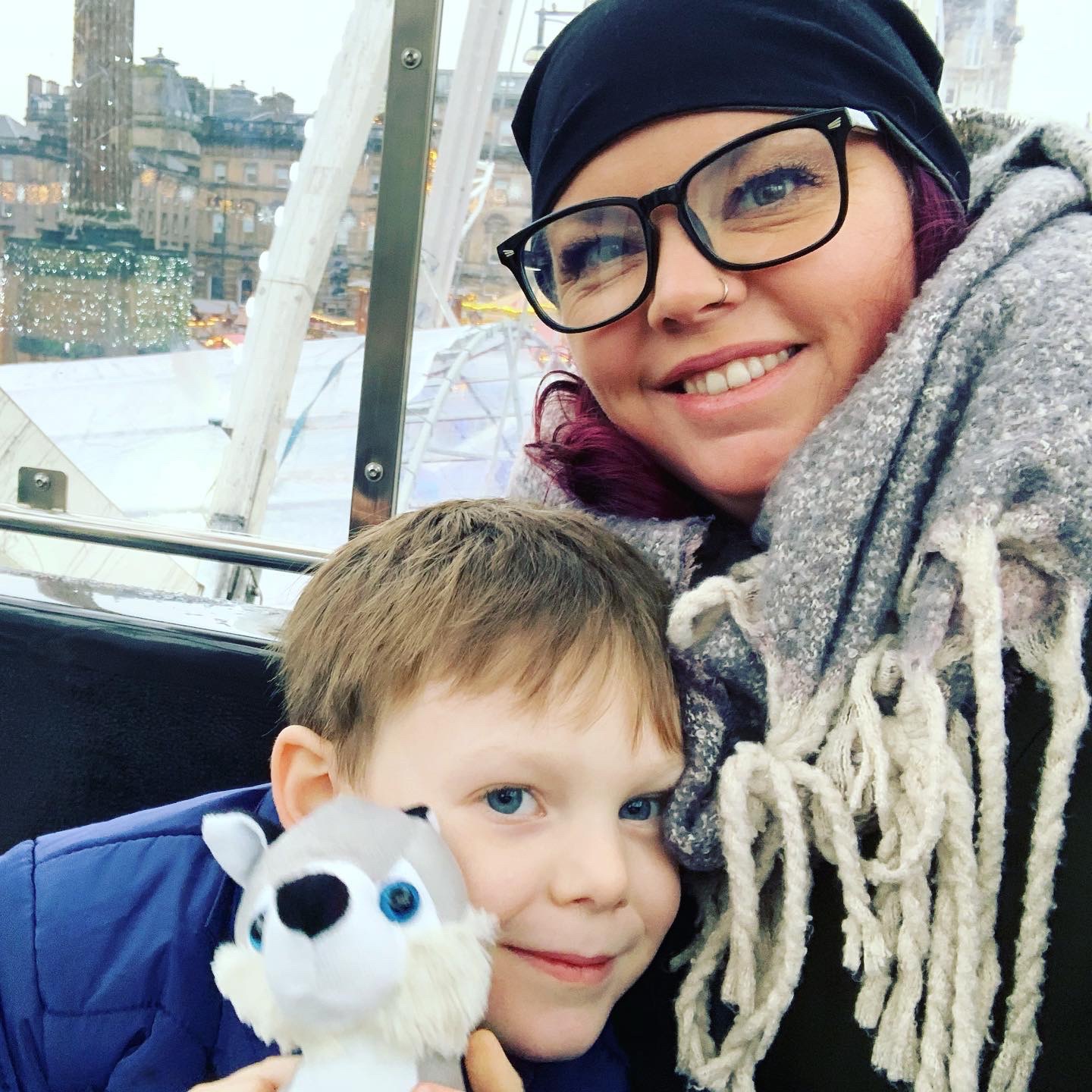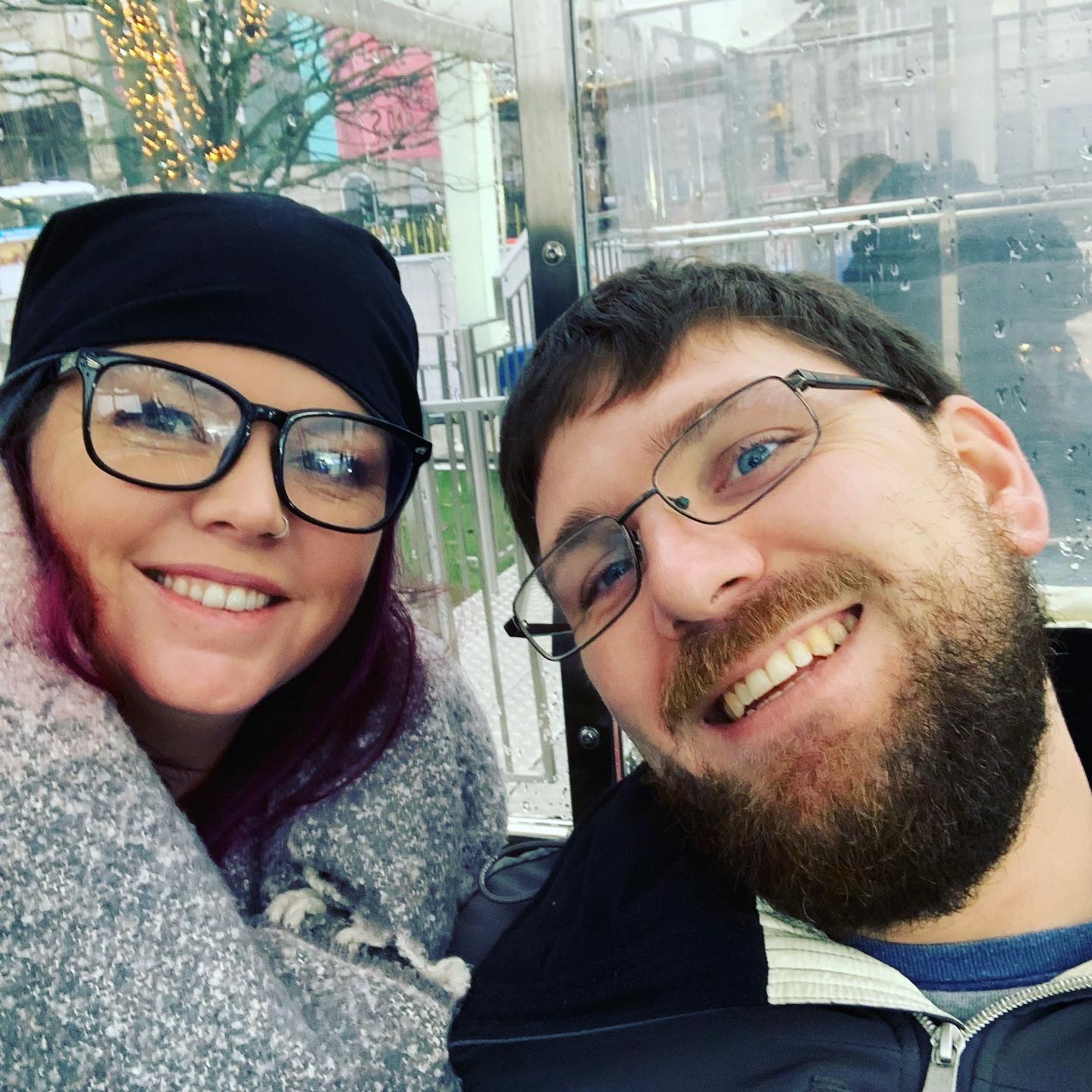 The next morning it was time to start our ride to Inverness. There are a couple of different routes you can take. You can go through Sterling and Perth, or like us decide to go through Loch Lomond national park, Glencoe and Fort William where you will find Ben Nevis, the tallest mountain in Scotland. There are so many beautiful stops along this route. The drive is a bit more daunting, though. Windy, narrow roads and it was raining the whole journey there. That just meant nature caused us to slow down and take it all in. It also meant I had seat belt marks on my hands at each stop we made because I may or may not have gripped my seat belt a bit tight!
We made a few stops along the way to get out and enjoy the fantastic landscape that is the Scottish highlands. There are many parking areas, so you can stop, get out, stroll around, and take photos. If you are planning to stop for lunch, we loved Garrison West in Fort William. I had the butternut squash risotto and local beer, Rob and Z had the pancakes with a blueberry compote perfect for a cold rainy afternoon. After lunch, if you're not in a rush, take time to stroll around Fort William, it is a charming town. It's tiny, delightful shops, the people are so welcoming, or you can see Ben Nevis.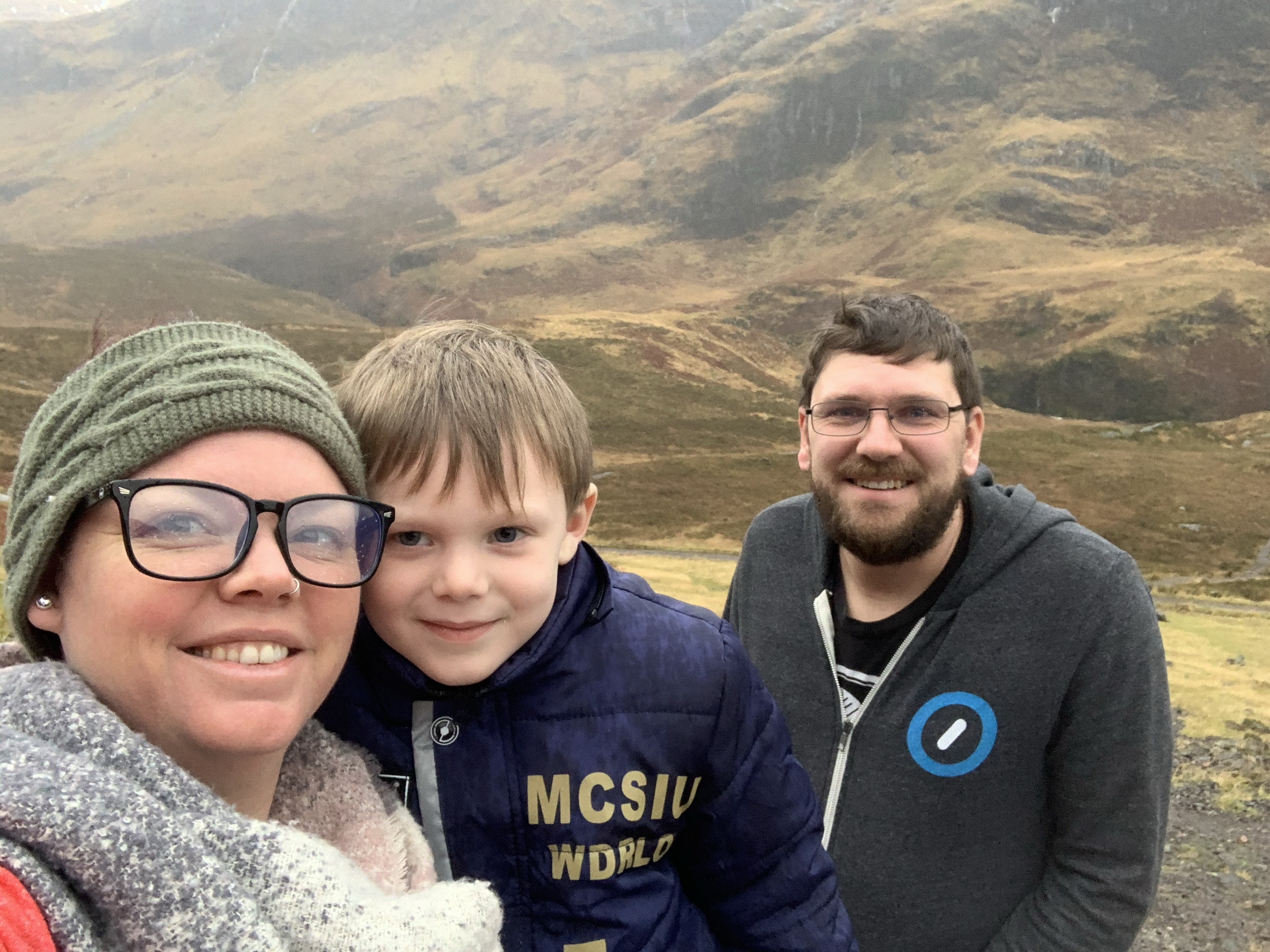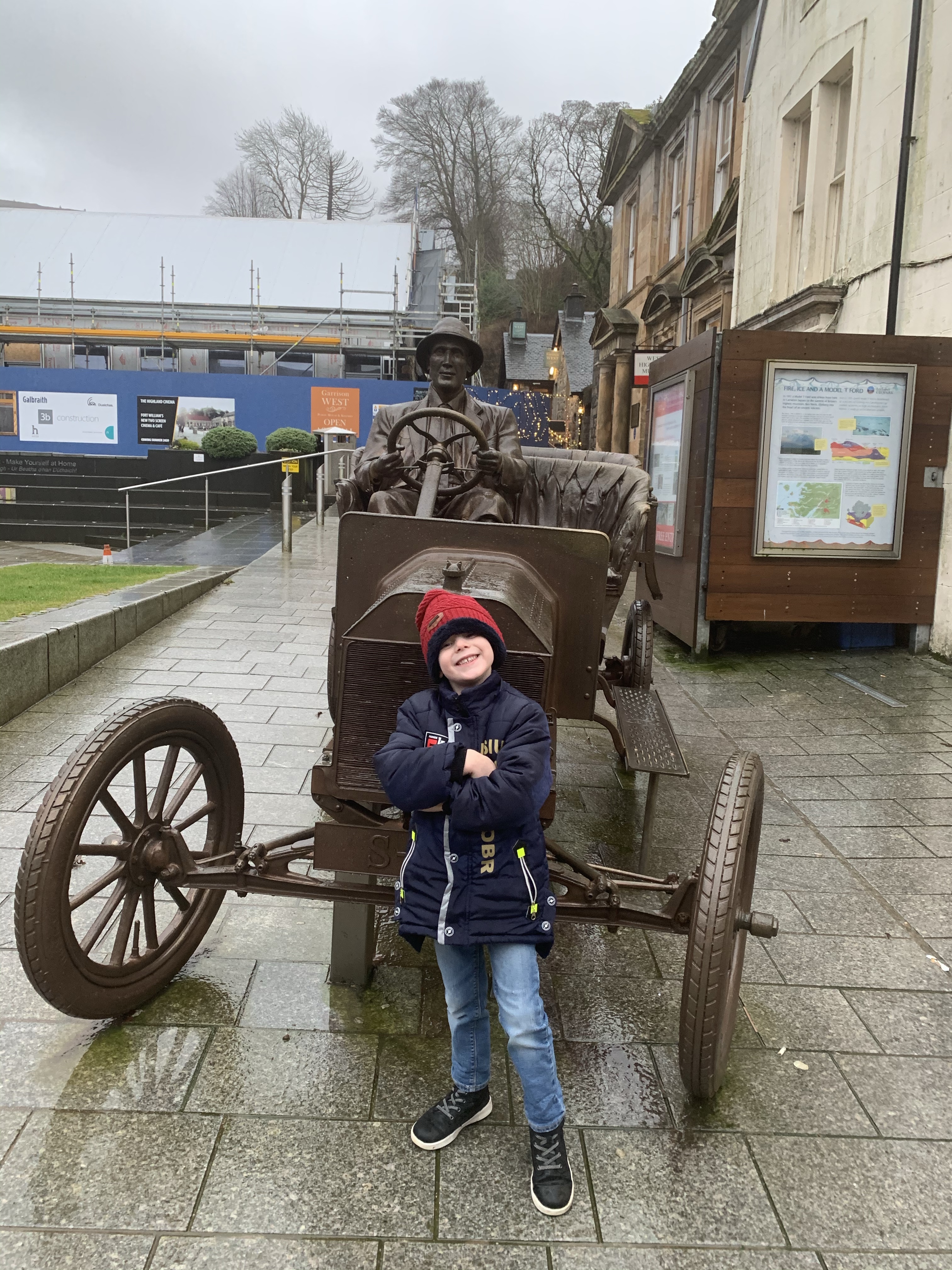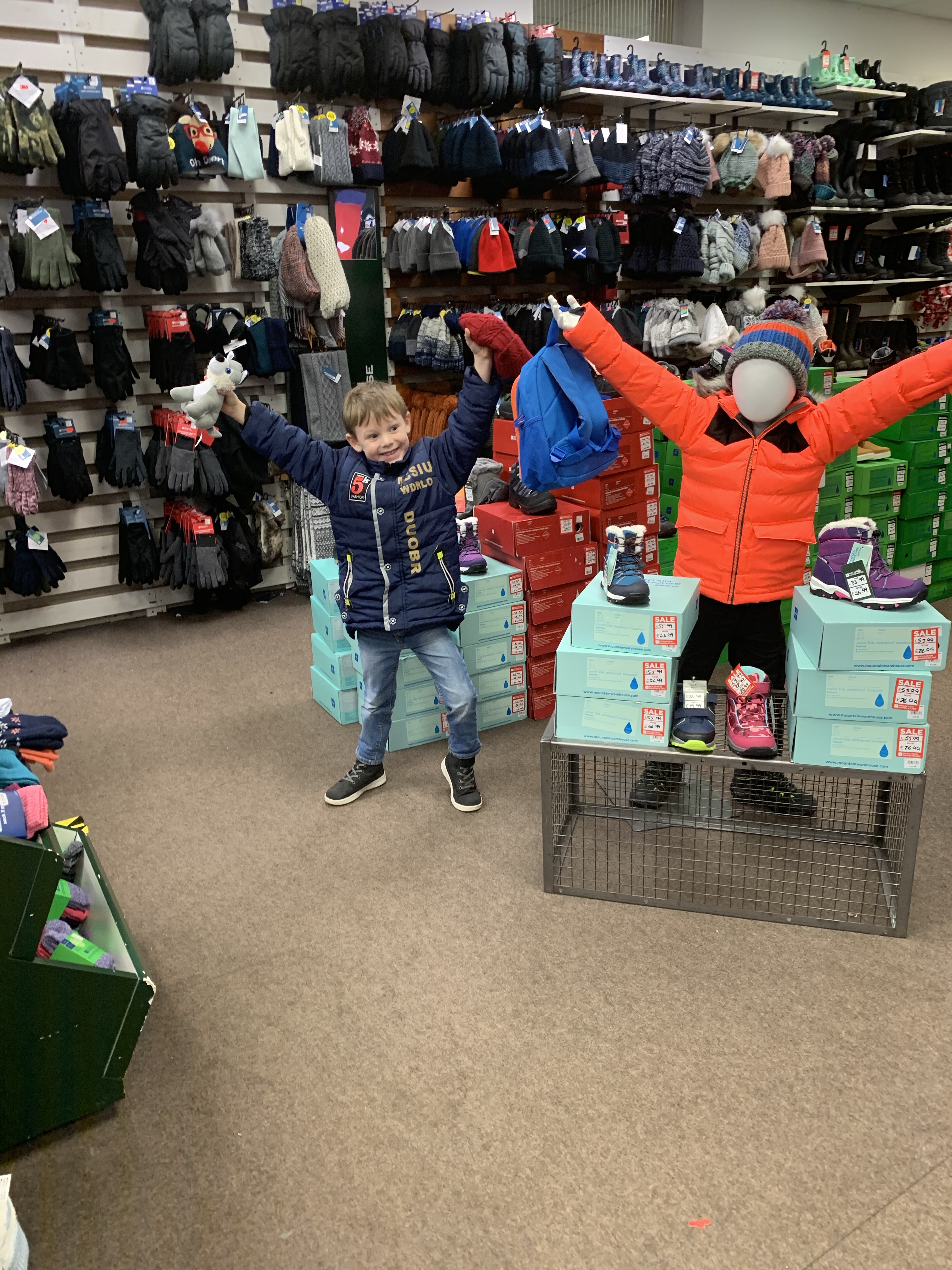 Our Airbnb in Inverness could not have been more perfect, it was cozy, and the location was central. There were groceries, restaurants, and bars within a few feet, not to worry the apartment was still quiet. Inverness had quite the nightlife. While we didn't get to go out, the main bar was just down the street, and there was a line to get in until pretty late in the evening. So if that is your scene, you will be covered.
We were all excited to go check out Urquhart Castle, and Z could not wait to search for Nessie, the Lochness monster. After a delicious breakfast, we headed to the castle. It will cost 12 Pounds, about 15 USD. I could have spent all day wandering about the grounds. The castle was passed back and forth between the Scots and the English until finally when the last troops who were there during the Jacobite risings blew up the castle leaving only its remains or ruins; however, you choose to see it. As I stood there on the grounds overlooking Loch Ness, a song came to mind called "Let Go" by Frou Frou. In the song, she says, "There is beauty in the breakdown." As we walked back to our car, I turned to take one last look at what was left of the castle I couldn't help but see the undeniable beauty even in the broken-down remains.
The morning we were leaving Inverness, I got up early and walked around the corner to Perk coffee and doughnuts. Do yourself a favor and go! The doughnuts are made fresh every day, and they have vegan options. They were delectable! I am still dreaming of them.
The drive to Edinburgh was not as daunting as it was all on the highway. We stayed in the neighborhood of Leith, which is just outside of the center of Edinburgh. We settled in and went to the store to pick up dinner, taking it easy before a very fun-filled New Year's Eve the next day.
The Edinburgh Christmas market is something you have to visit at least once in your life. It is massive. It doesn't cost anything to stroll around; if you want to check out the rides (trust me you do), you can order tickets online then pick them up at the market. There is something for everyone. Stalls and stalls of beautiful art, jewelry, beauty products, ornaments, and leather bags all handmade. We rode every ride Z could go on and ate all the food and Glühwein. Z played games and won yet another snugly, this time an almost Z sized Santa. How we were getting this home, I had no clue.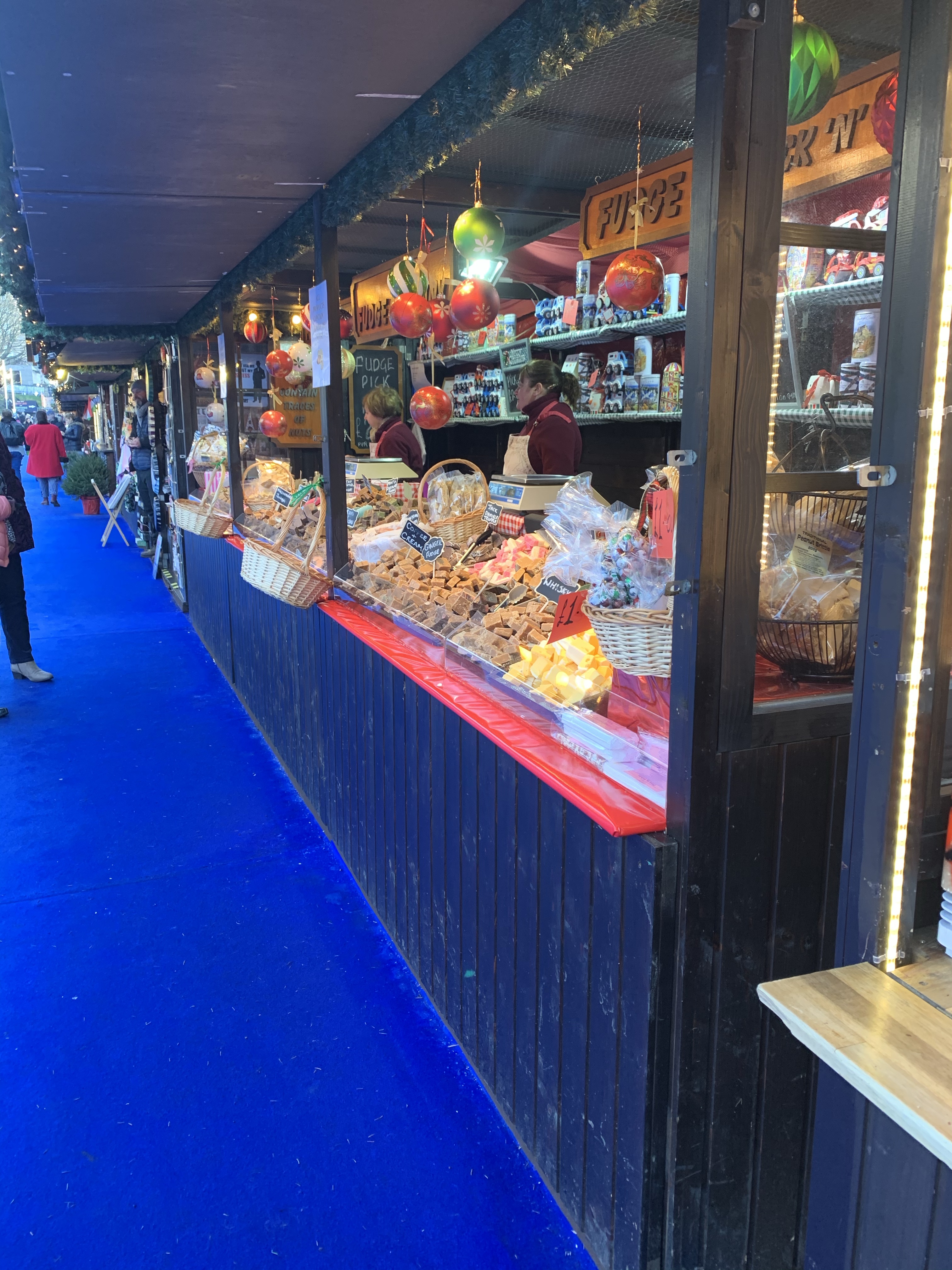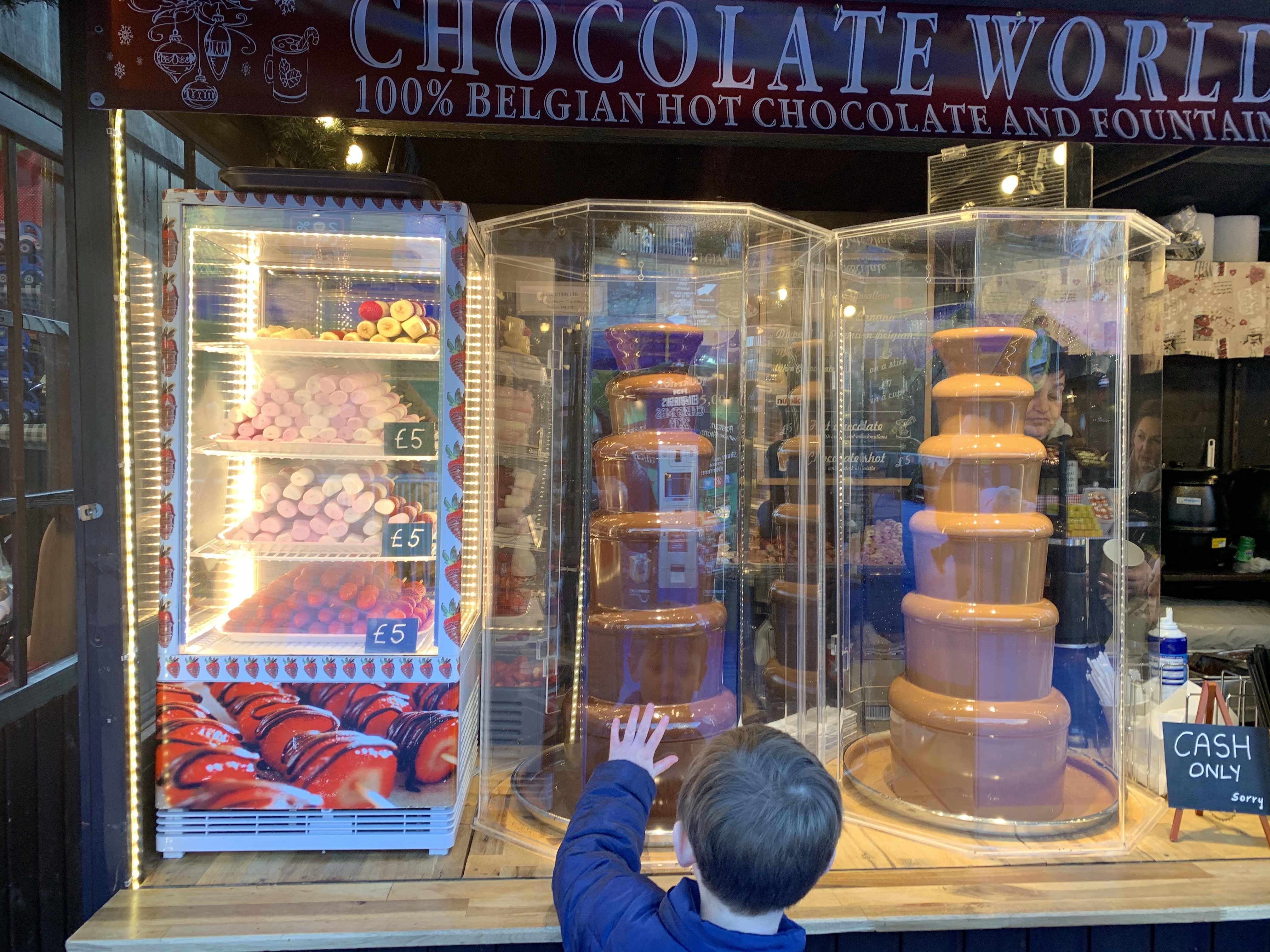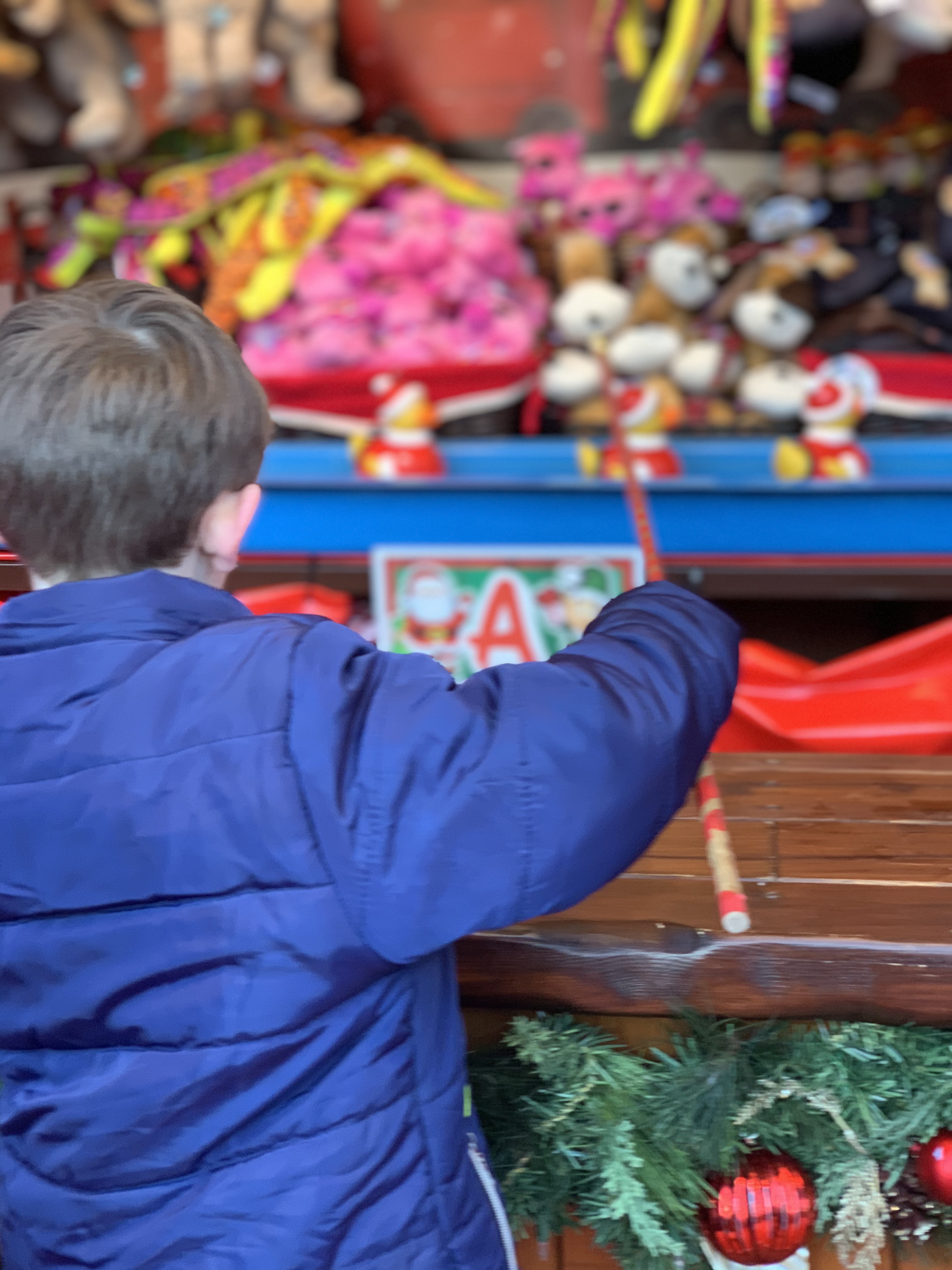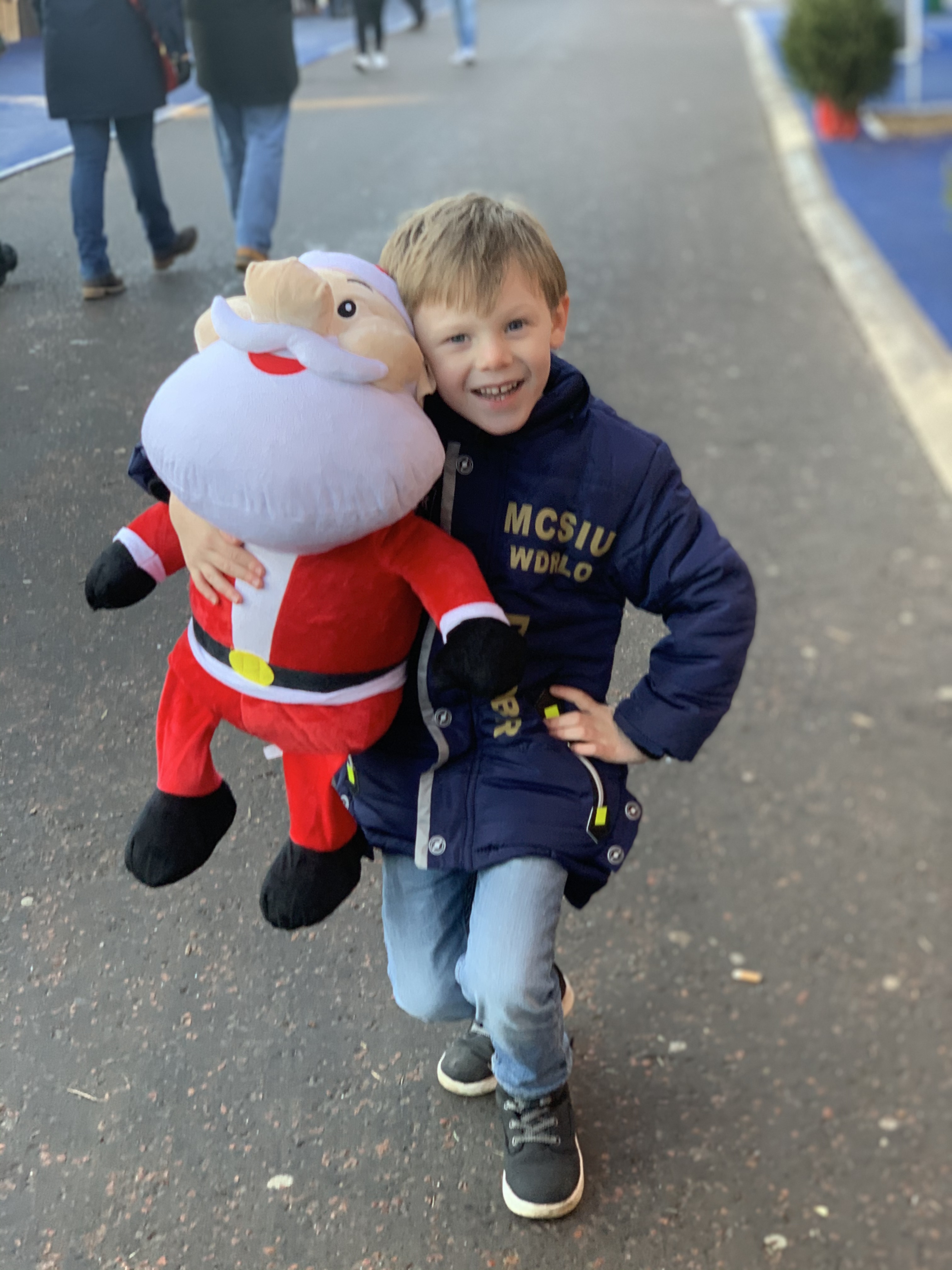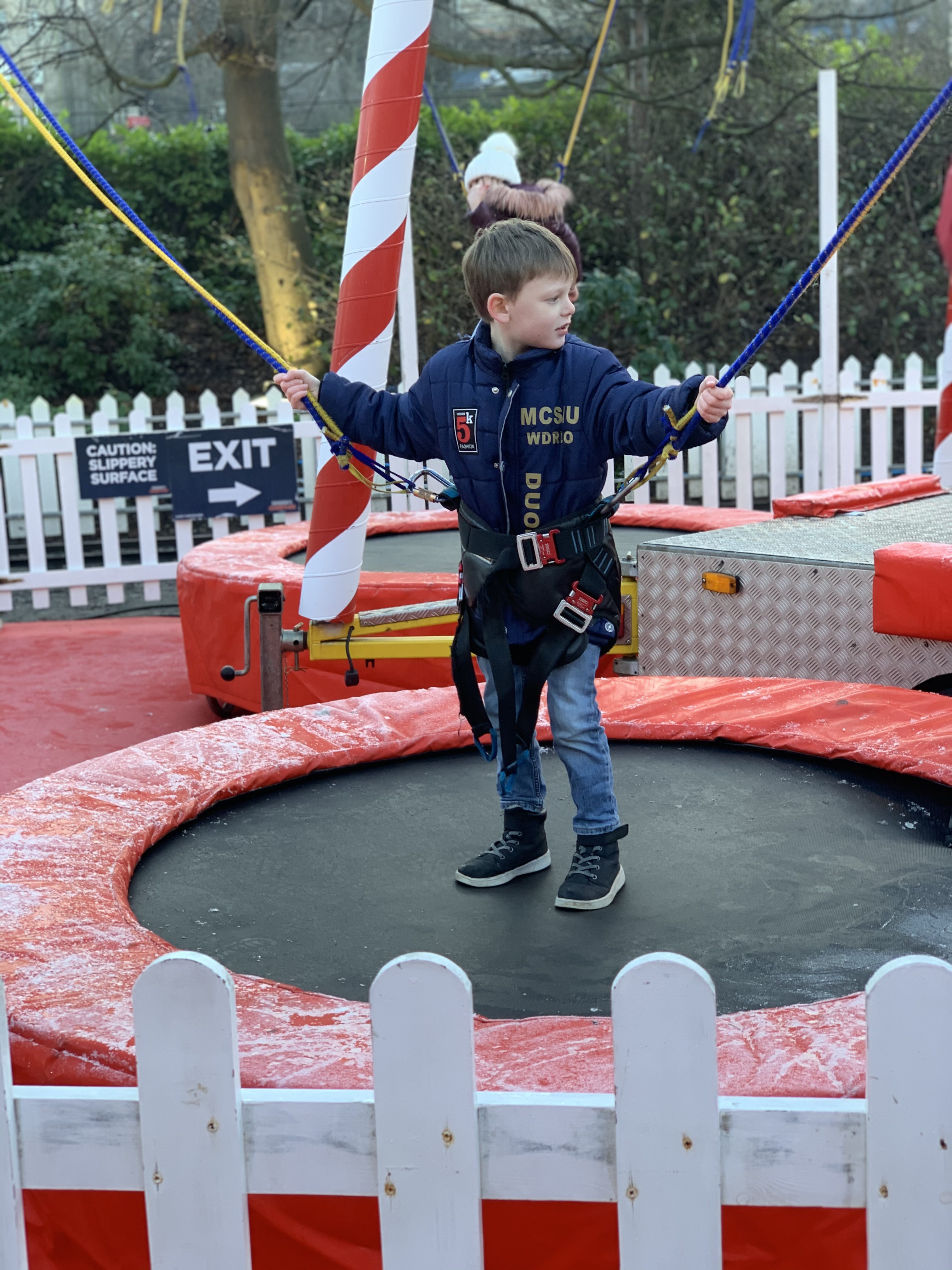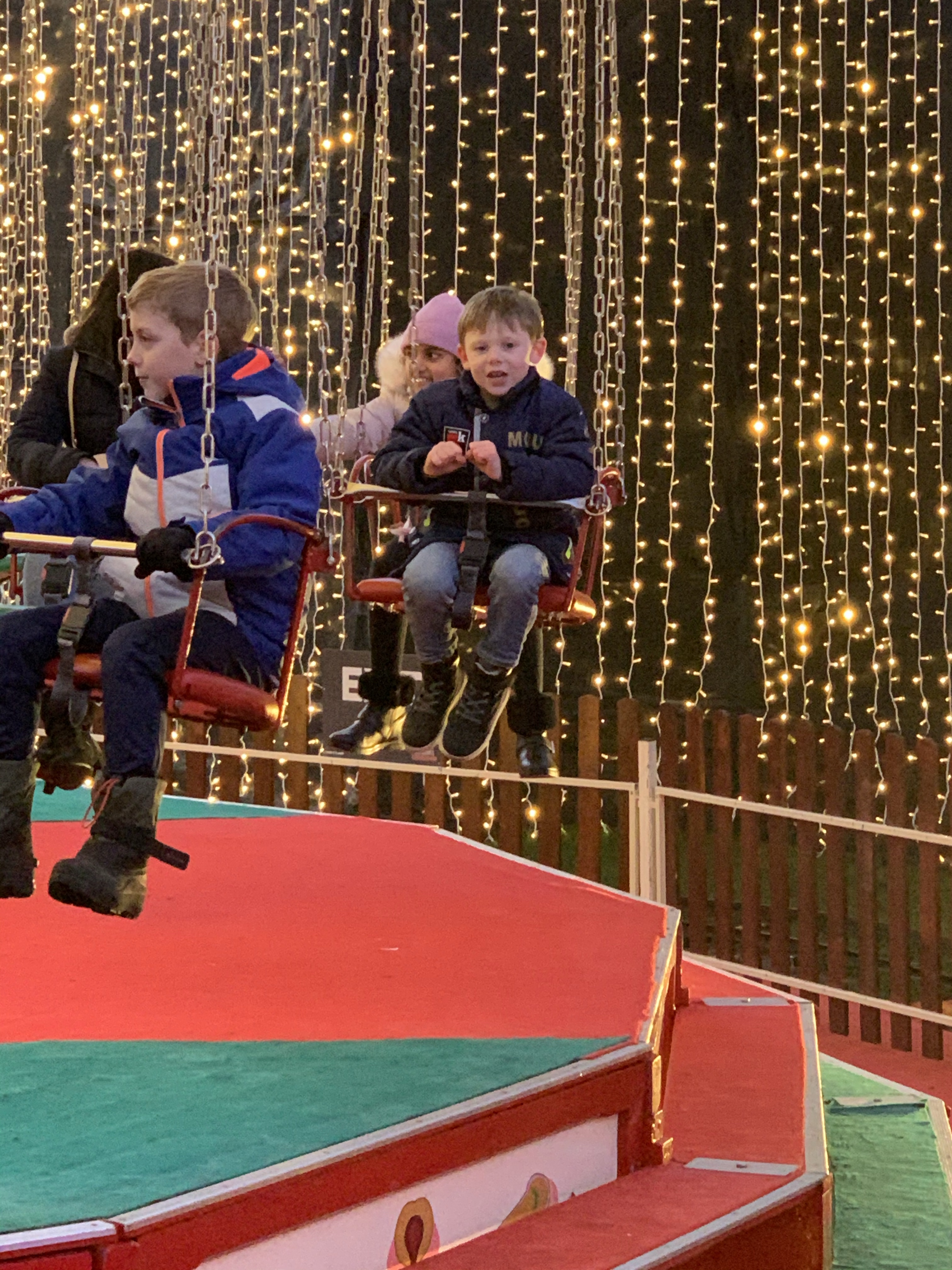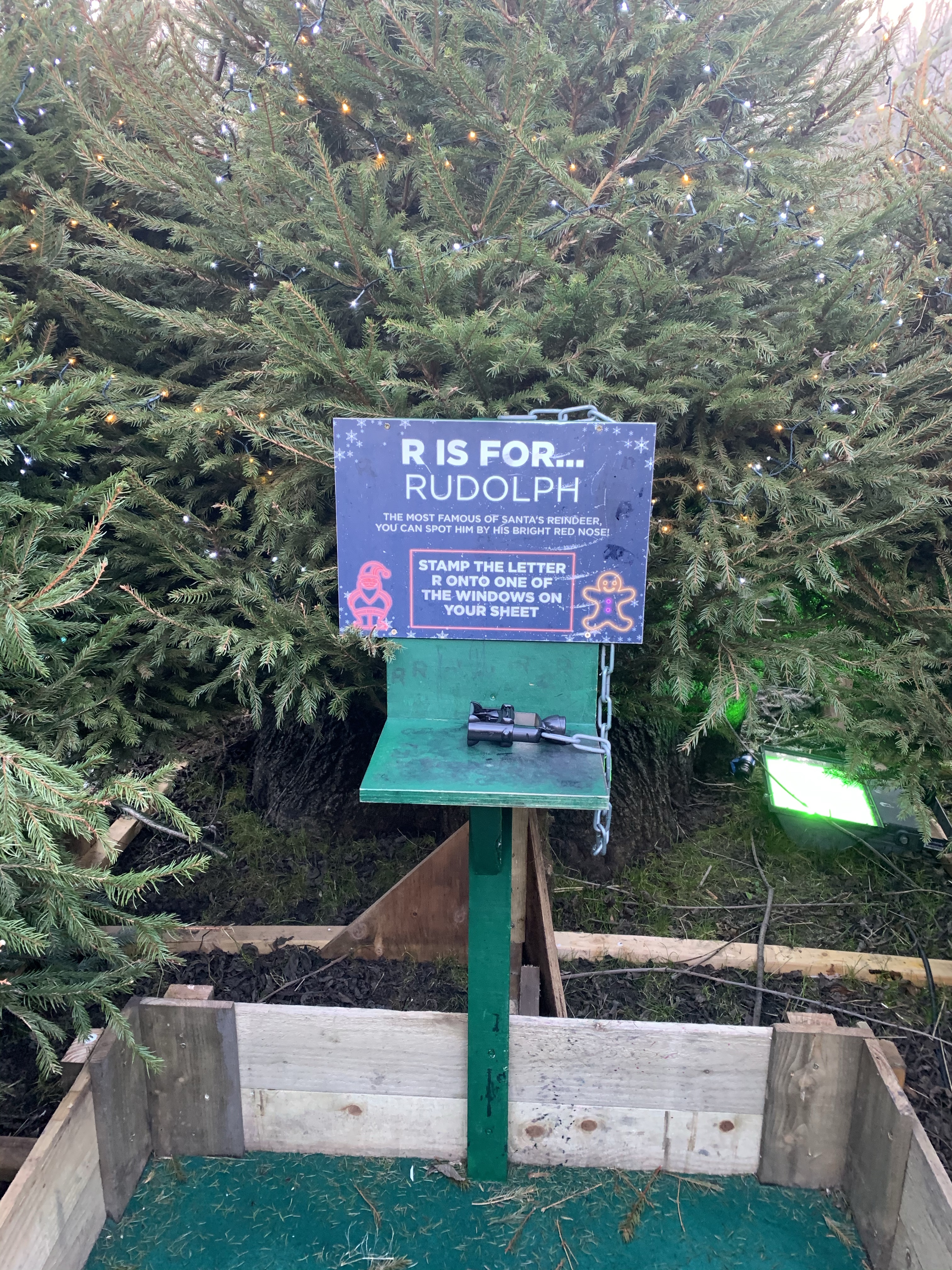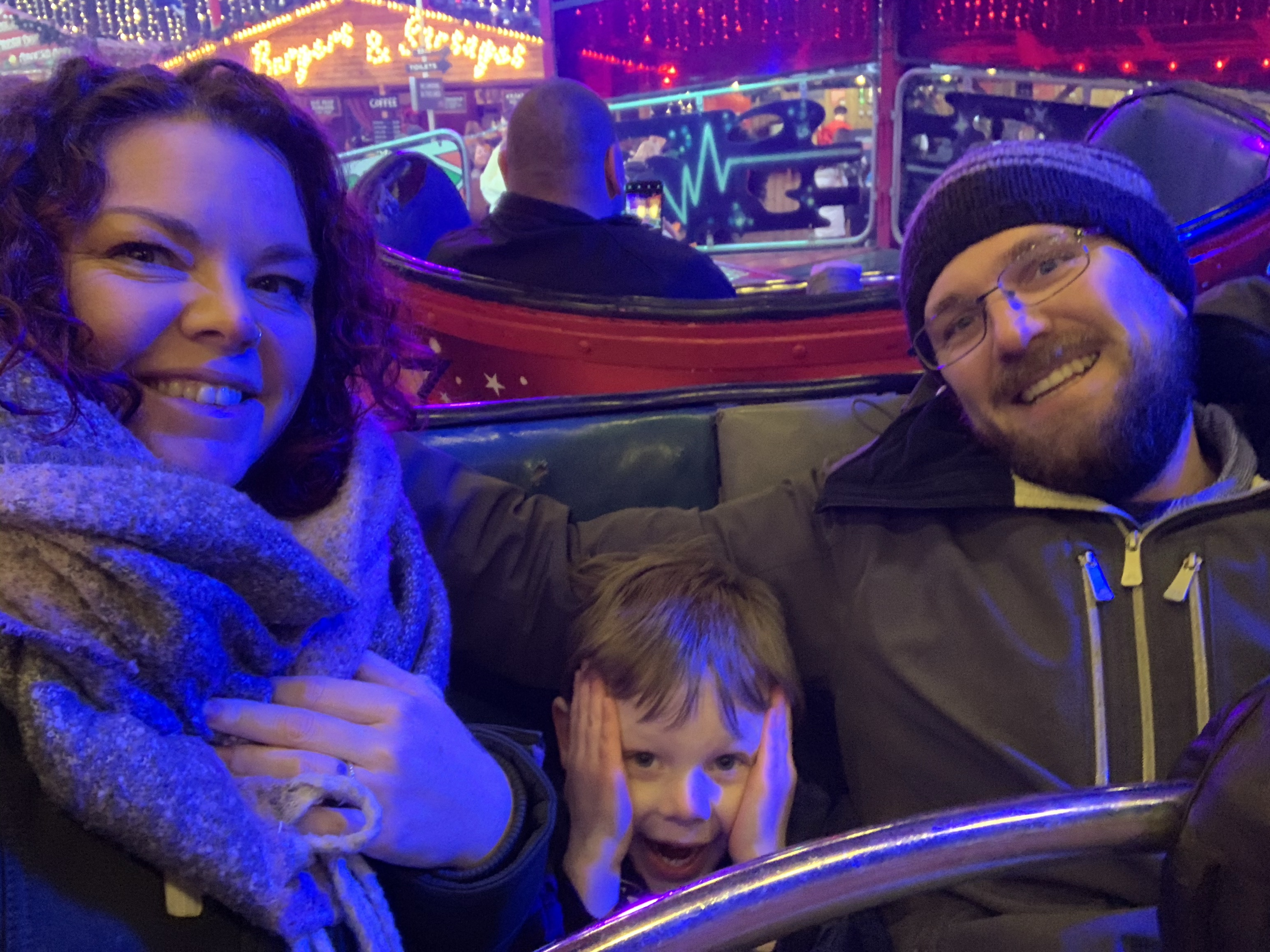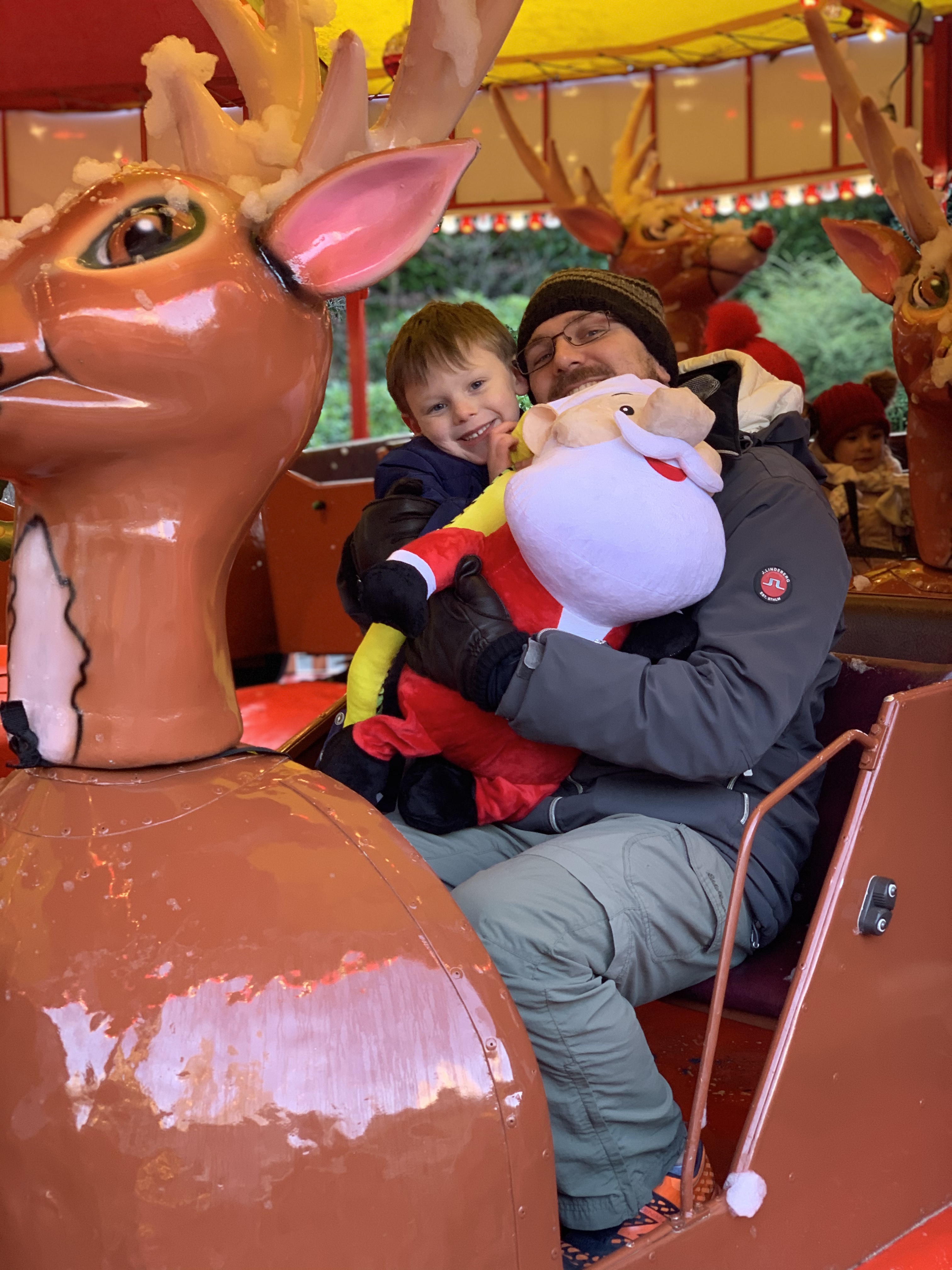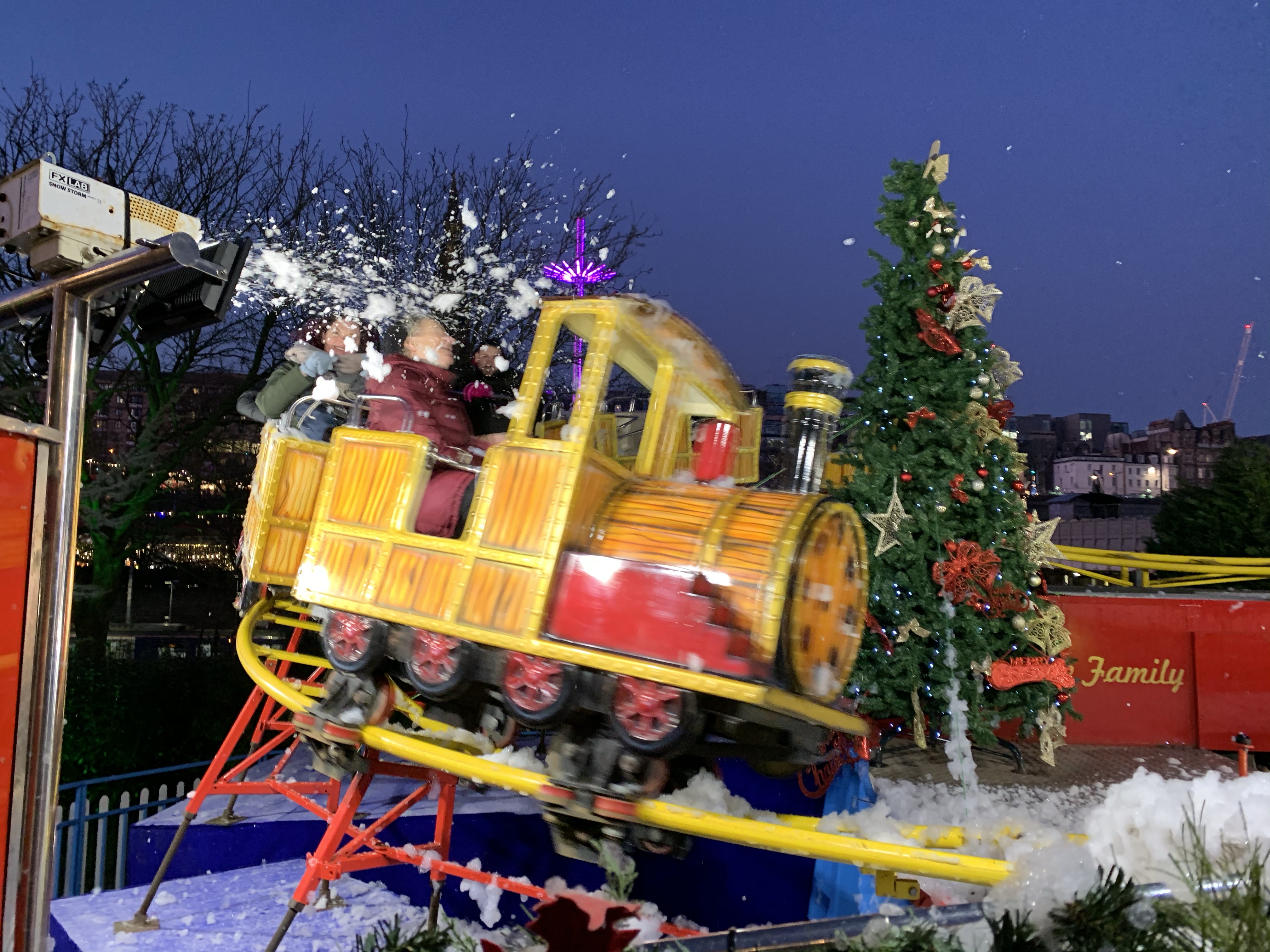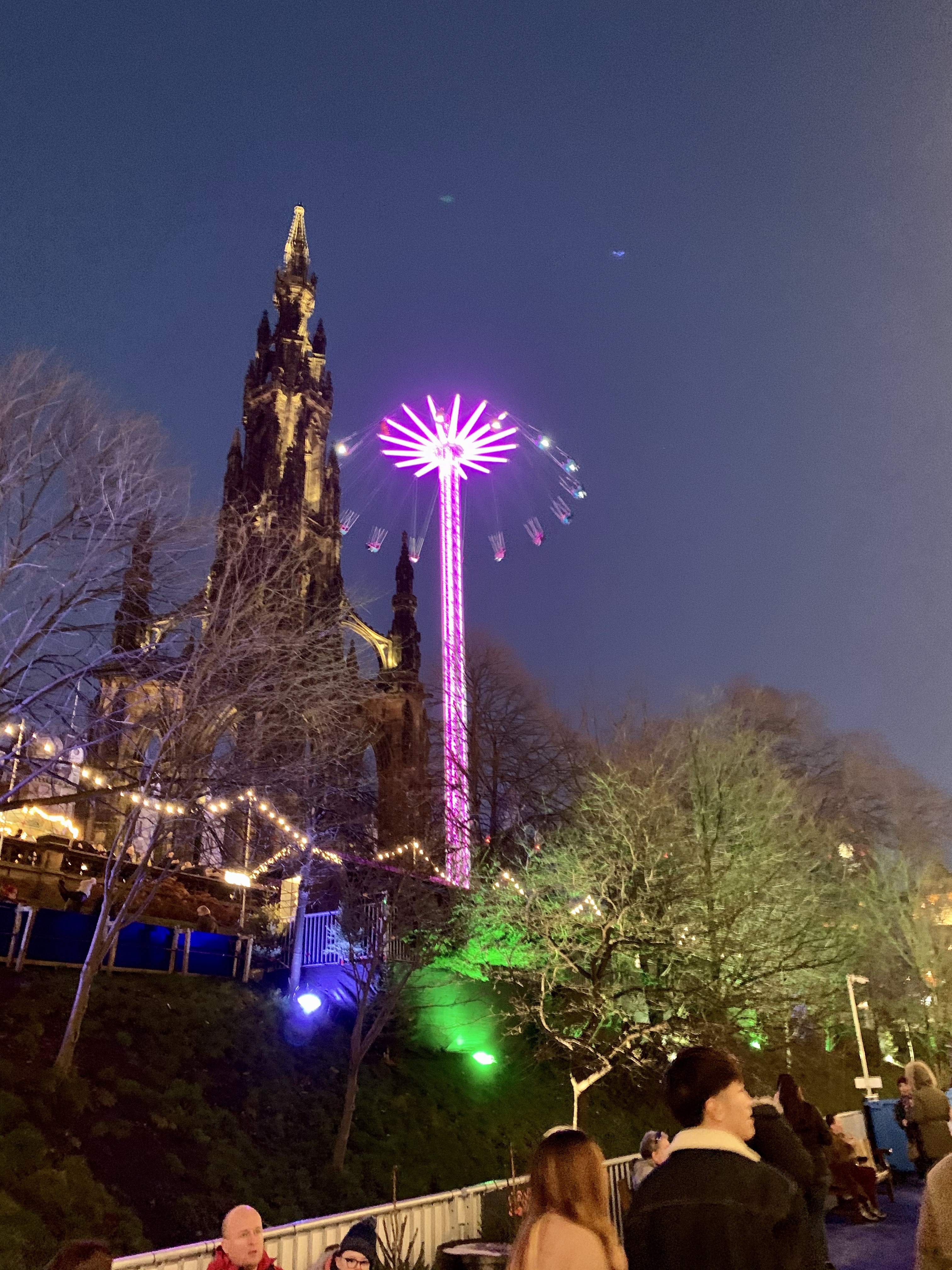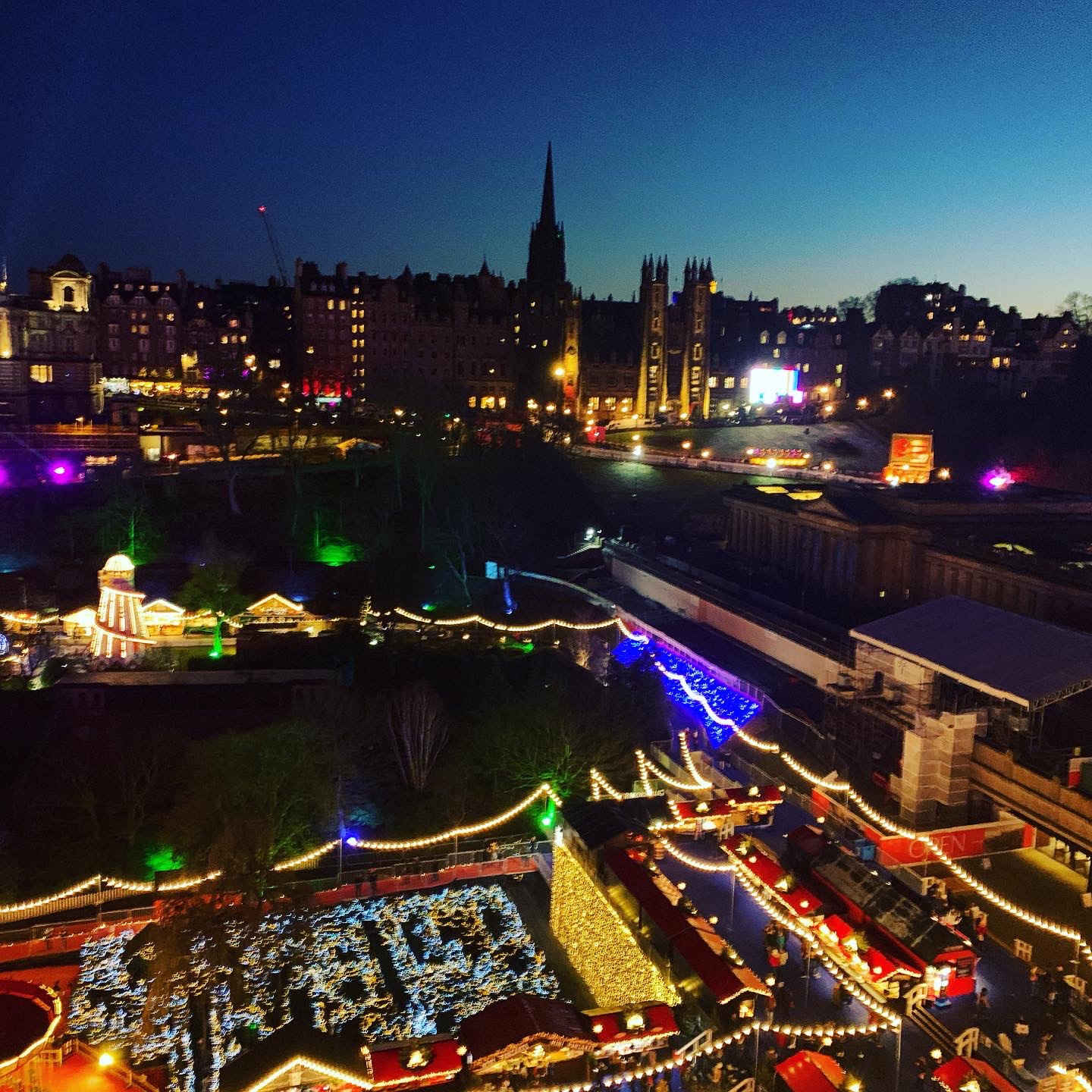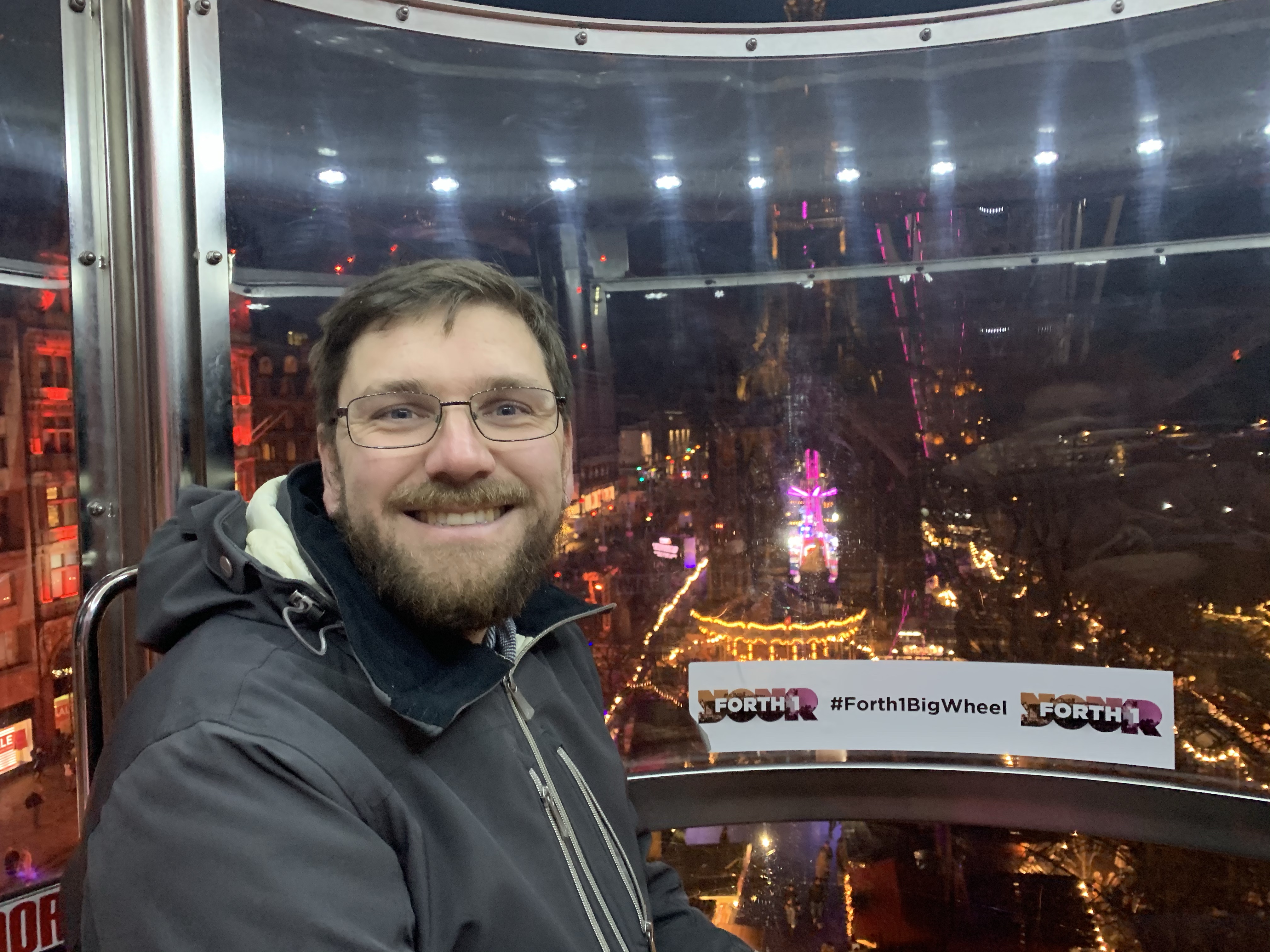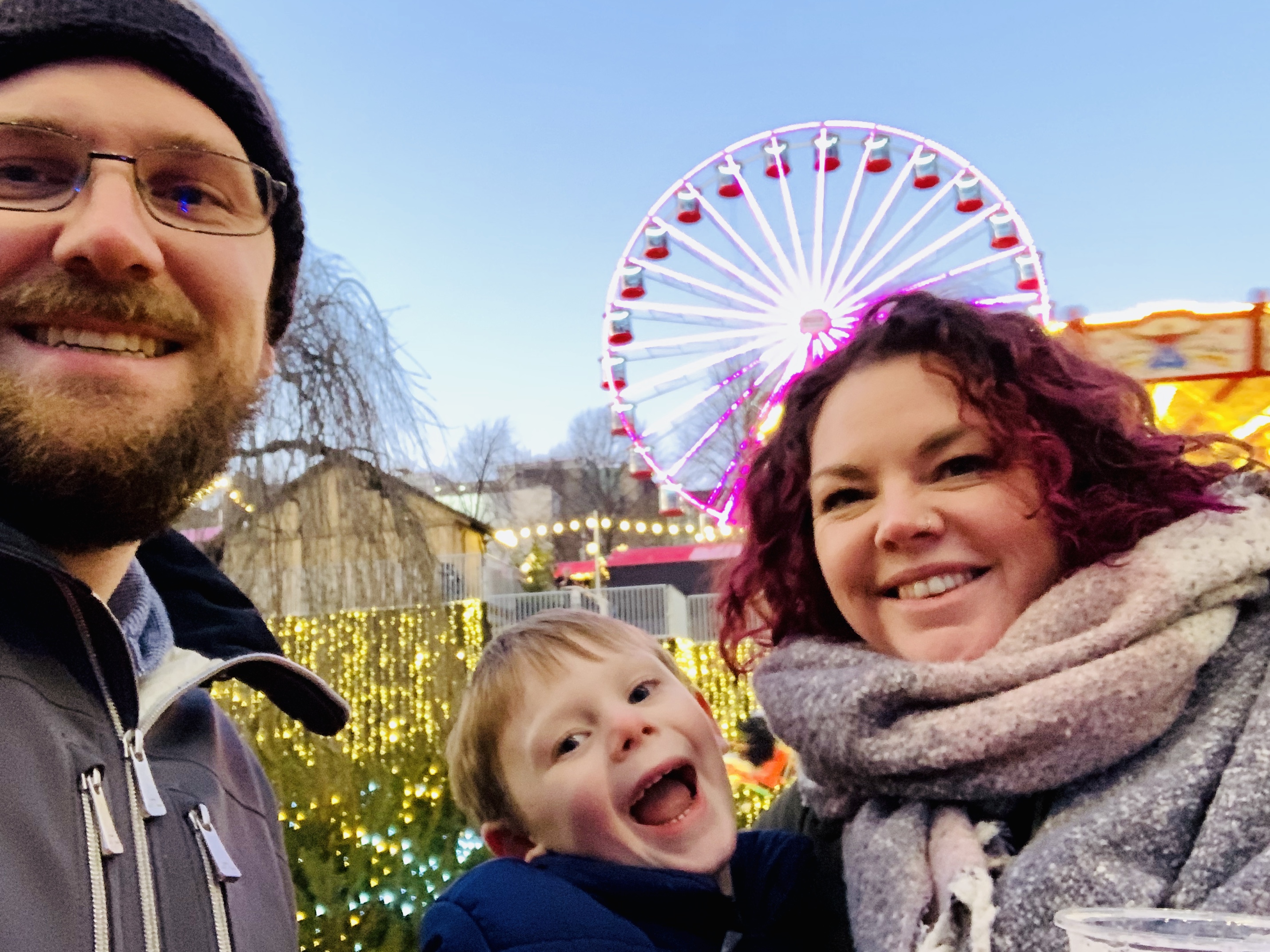 Edinburgh's Hogmanay is something special. They even do an earlier celebration just for the kids, complete with a concert and fireworks at 6 pm, only enough time -as many people told us- to get the kids home to the sitter and get back to enjoy the evening sans kids. We, of course, didn't do this. We decided to head back after celebrating with Z and stay cozy in our Airbnb, watching movies, relaxing, and reflecting.
We spent the next few days exploring the Edinburgh Castle, which is stunning, even Z thought it was cool. It's a bit expensive to go in; we felt it worth it, though. We discovered the magic of illusions at Camera Obscura, saw a movie, and explored the Leith area, where we had two of our favorite meals. For brunch, you need to check out Roseleaf cafe; the french toast is terrific, and what they do with avocado toast is delicious. Compass is a must for dinner, and they have a great whiskey selection.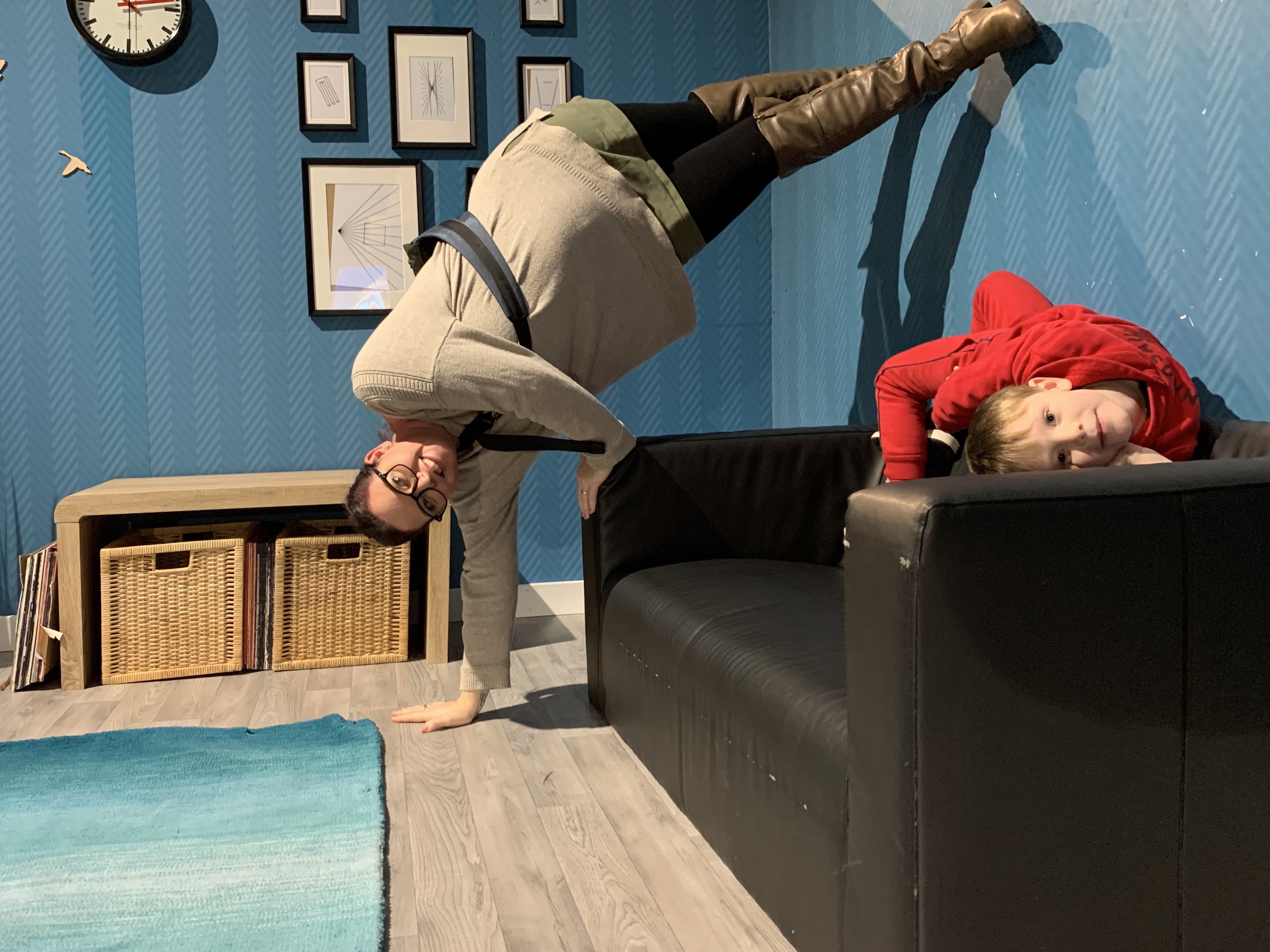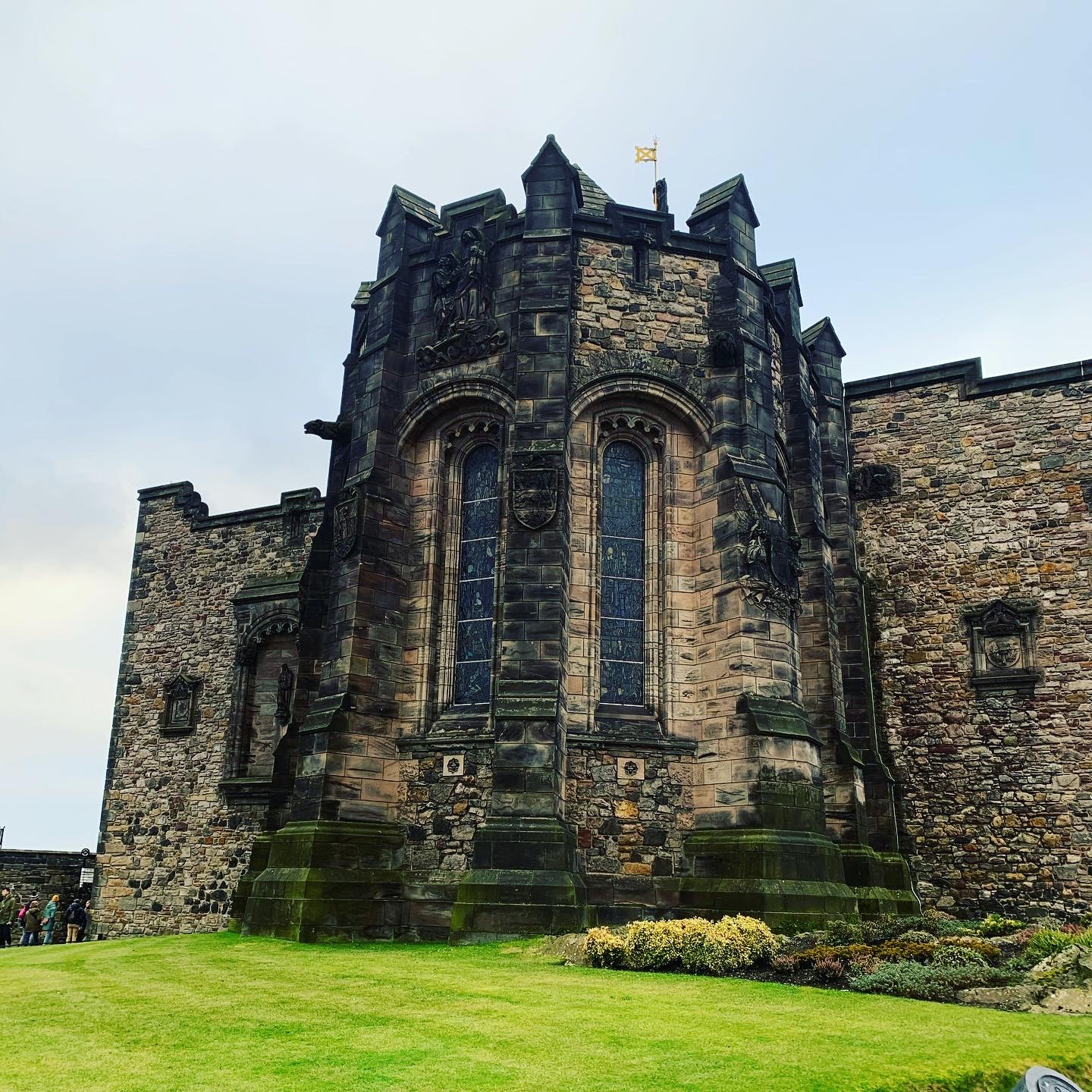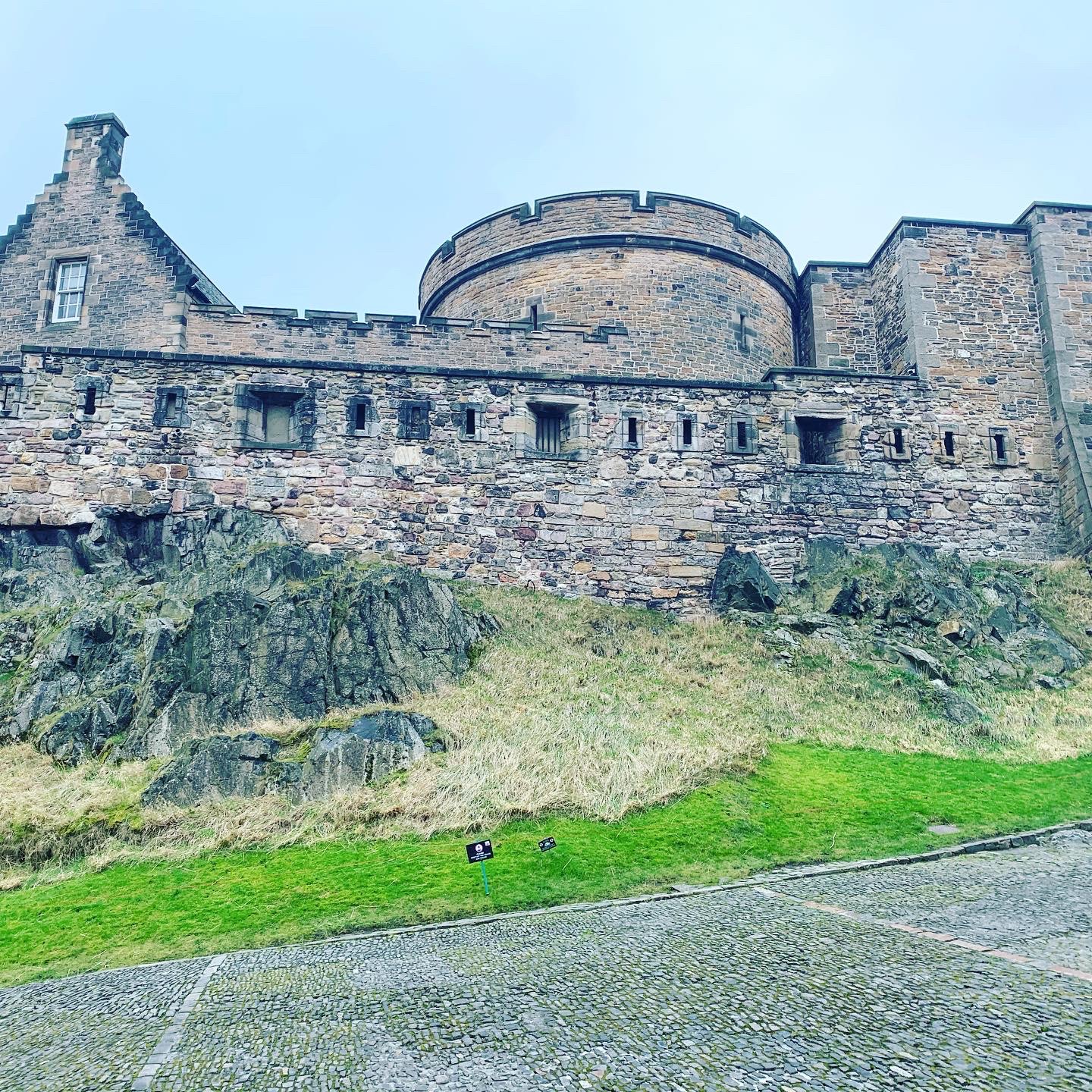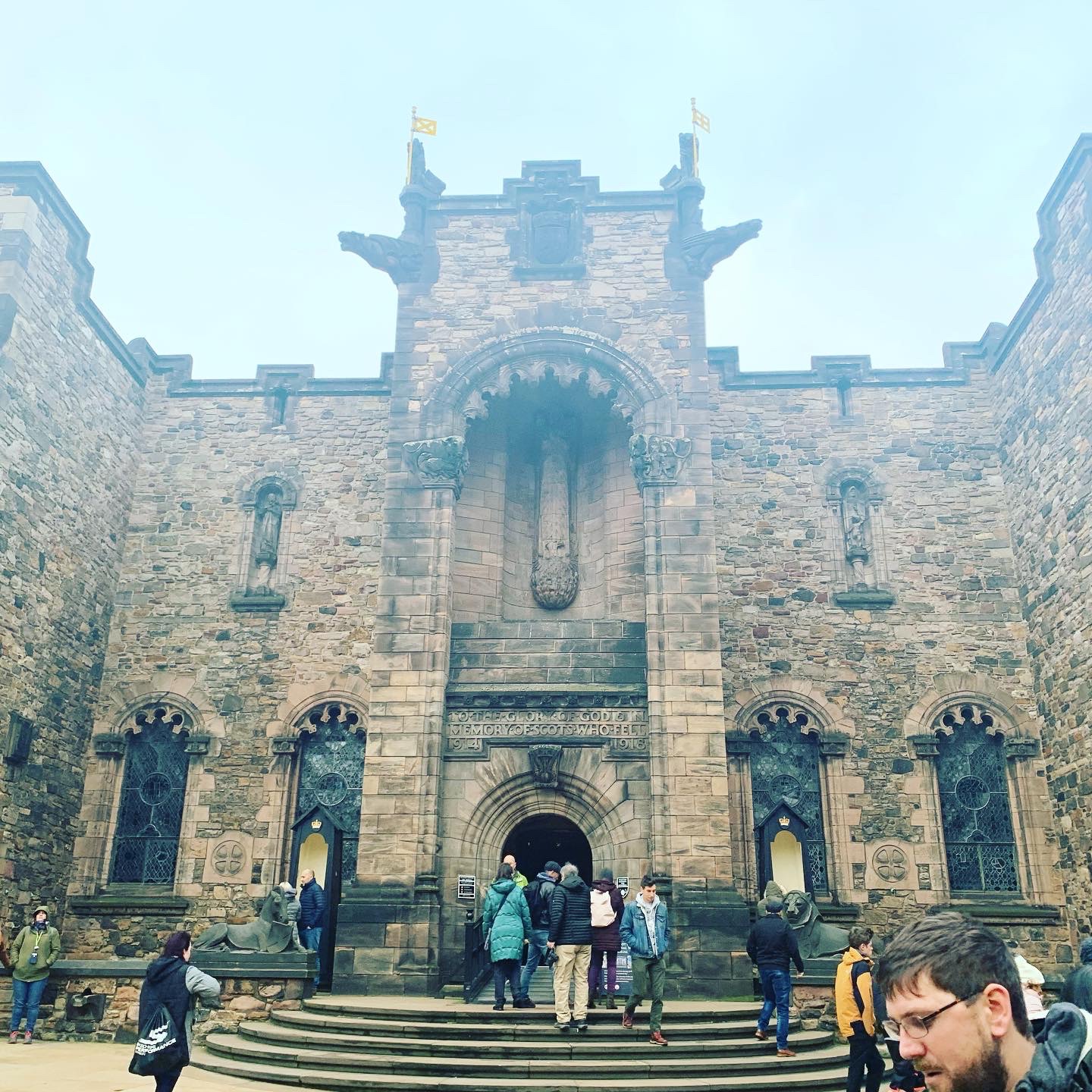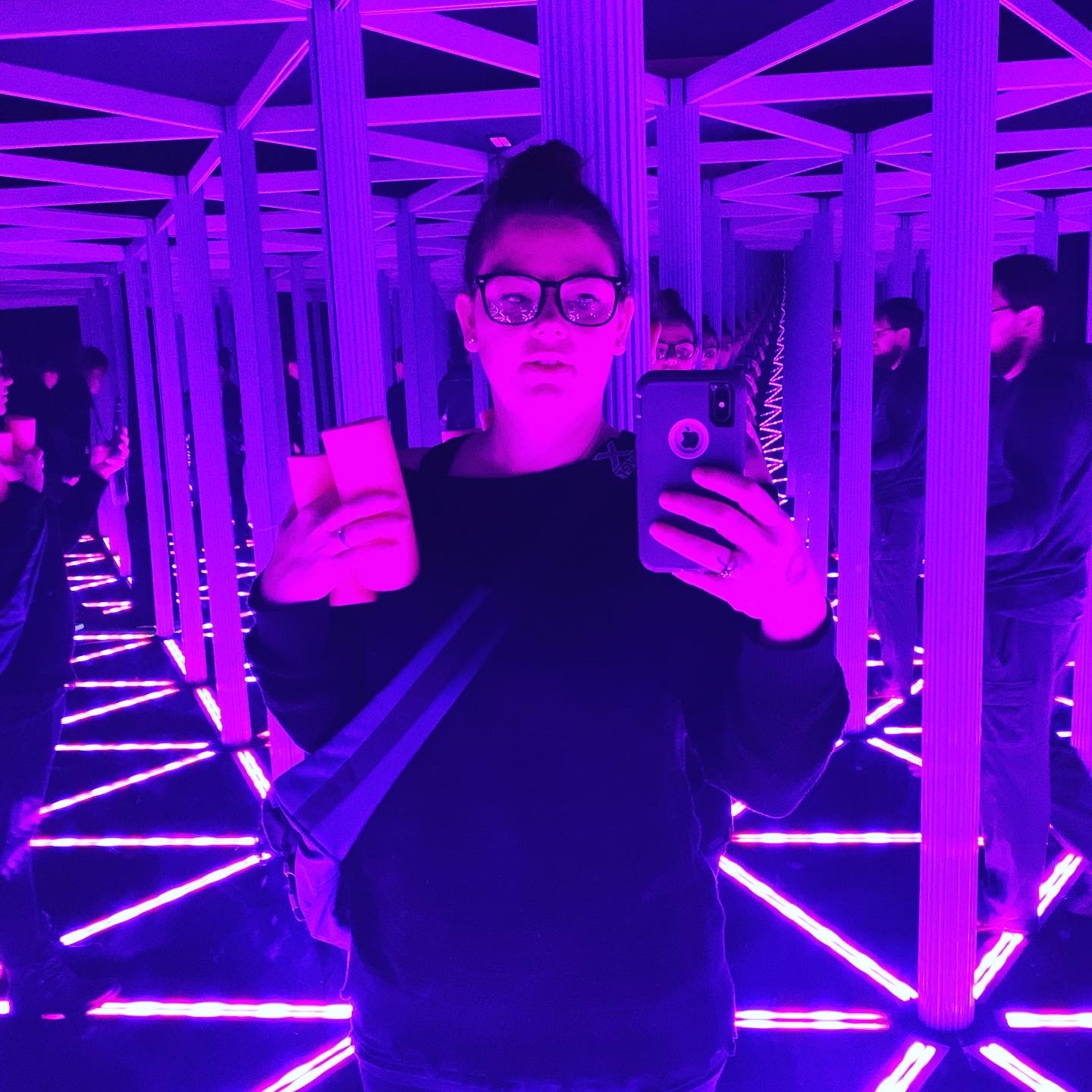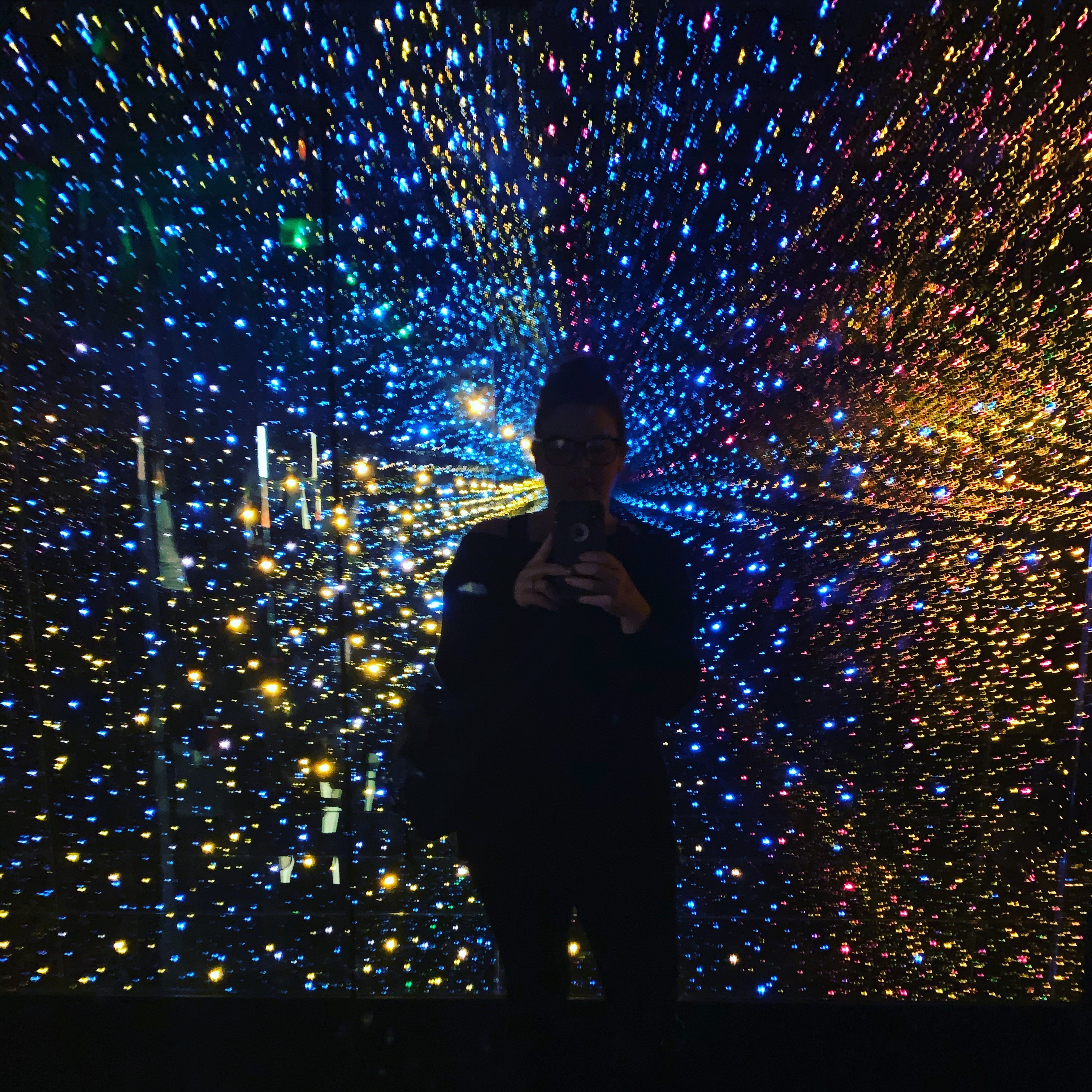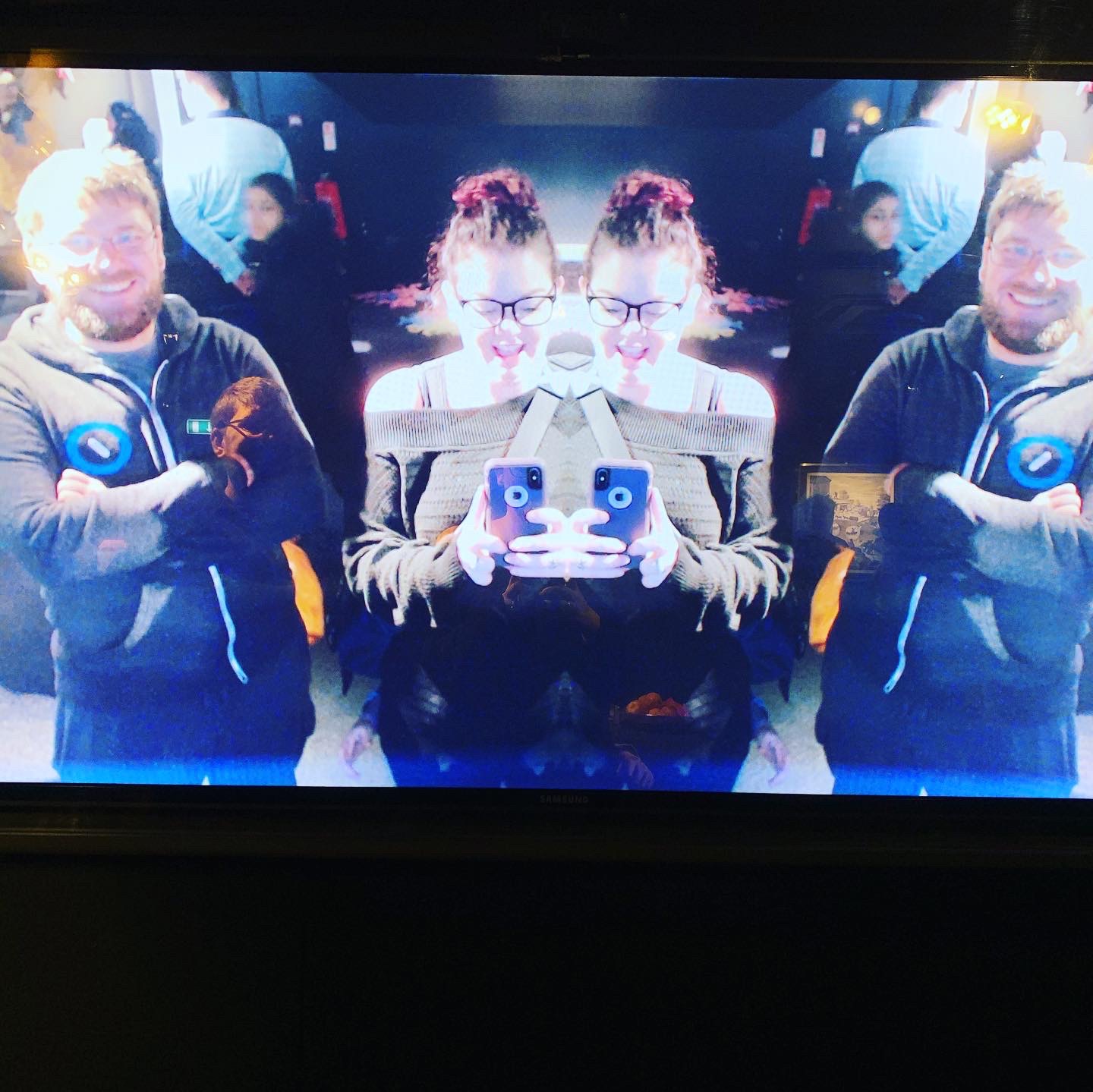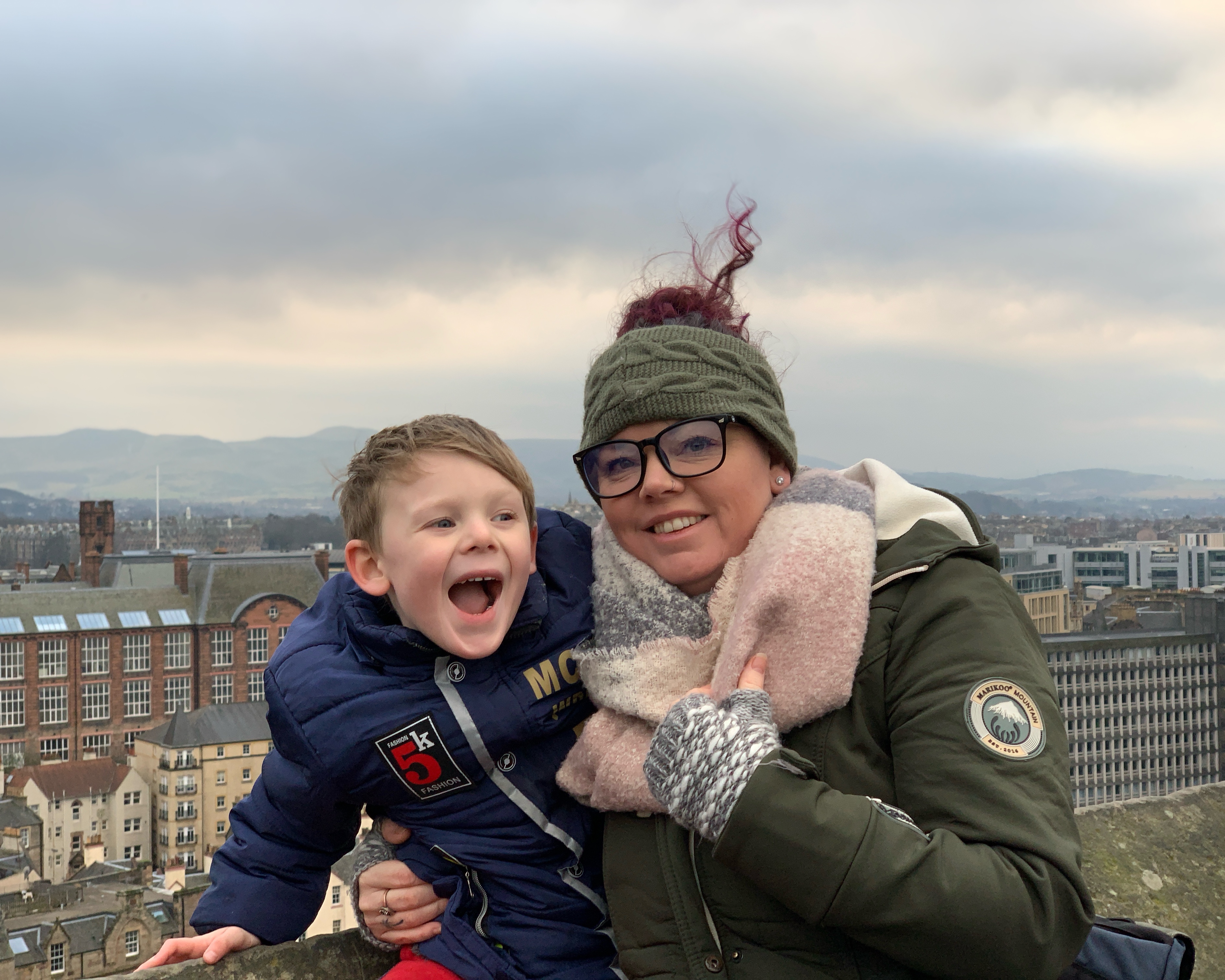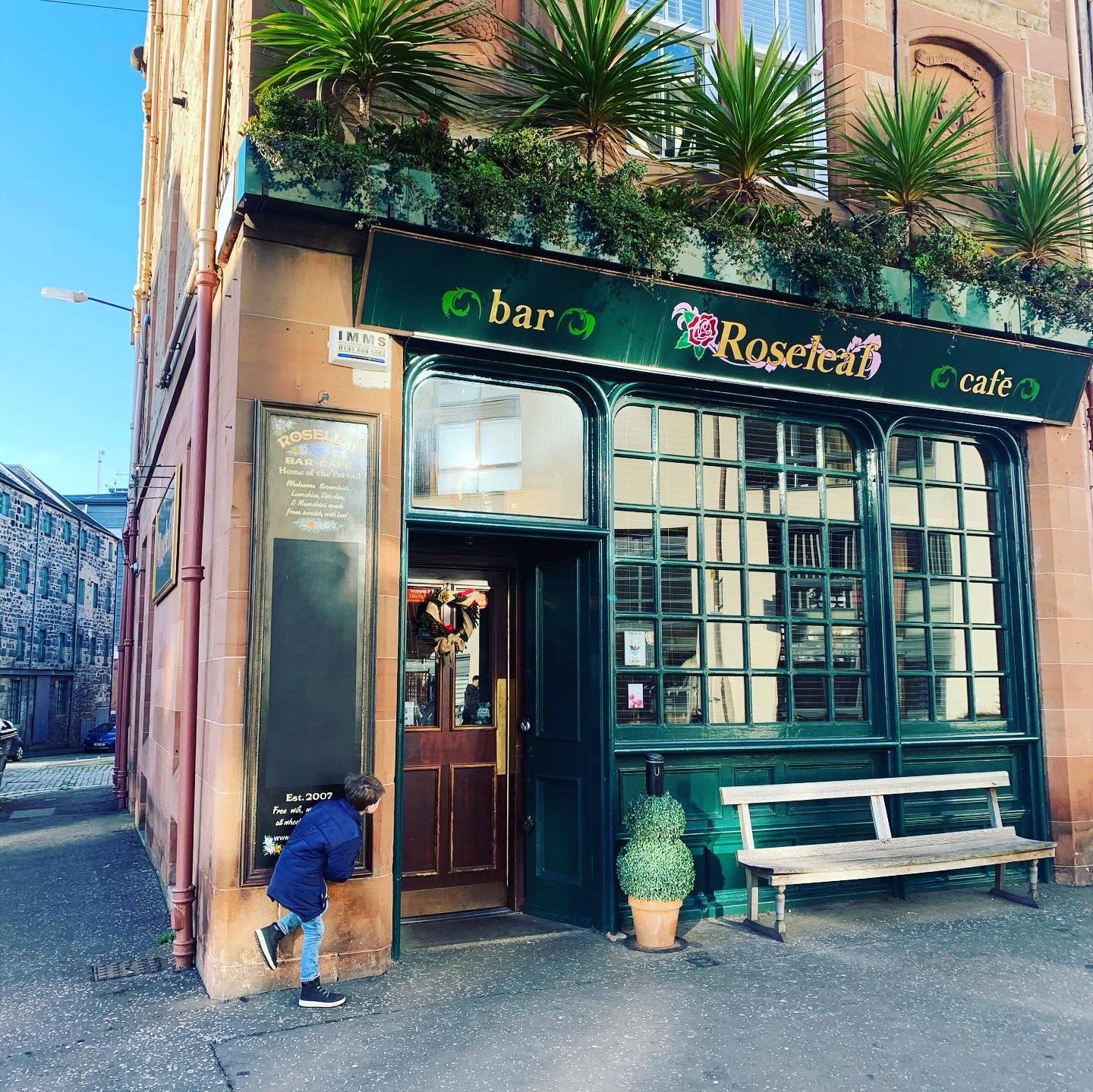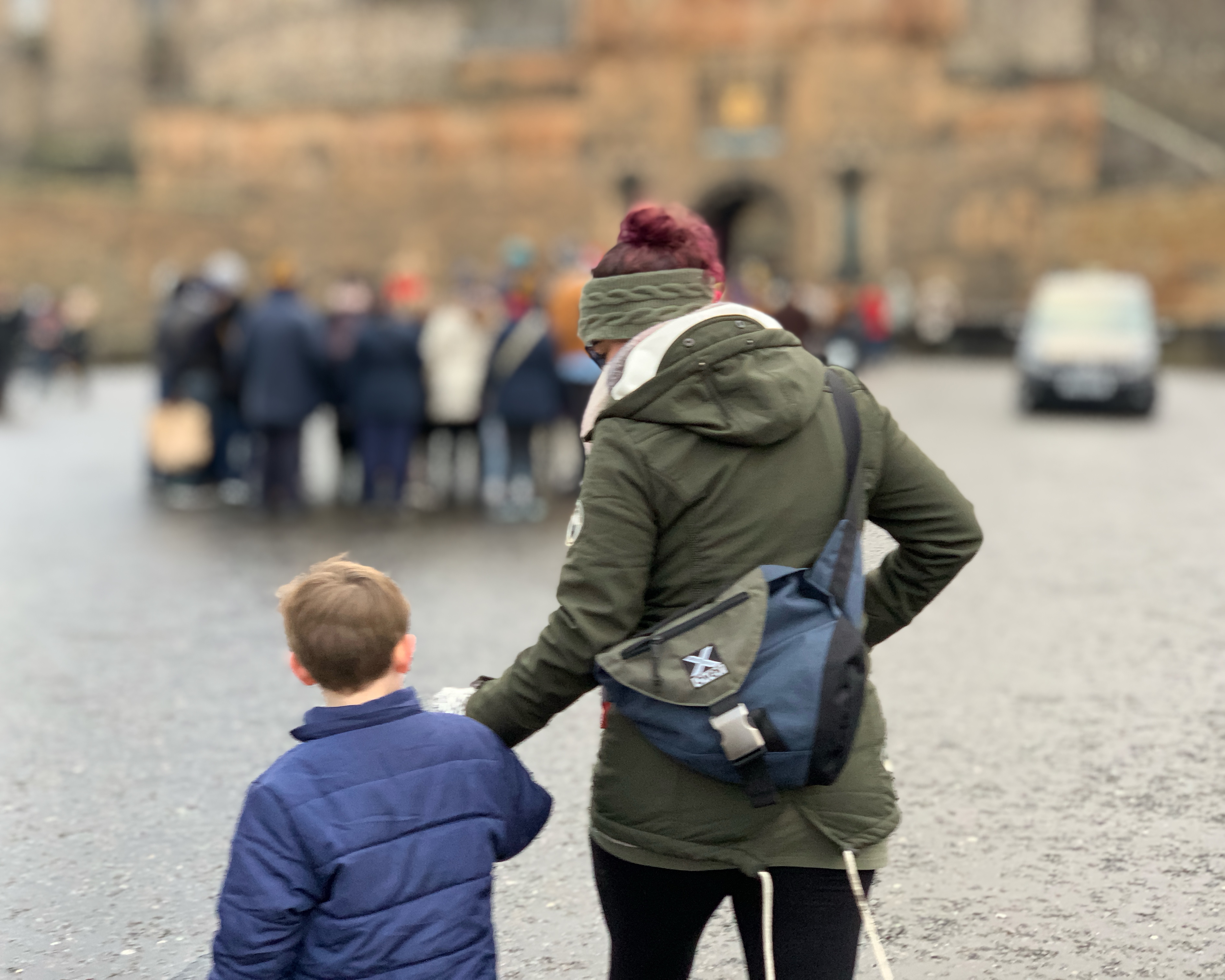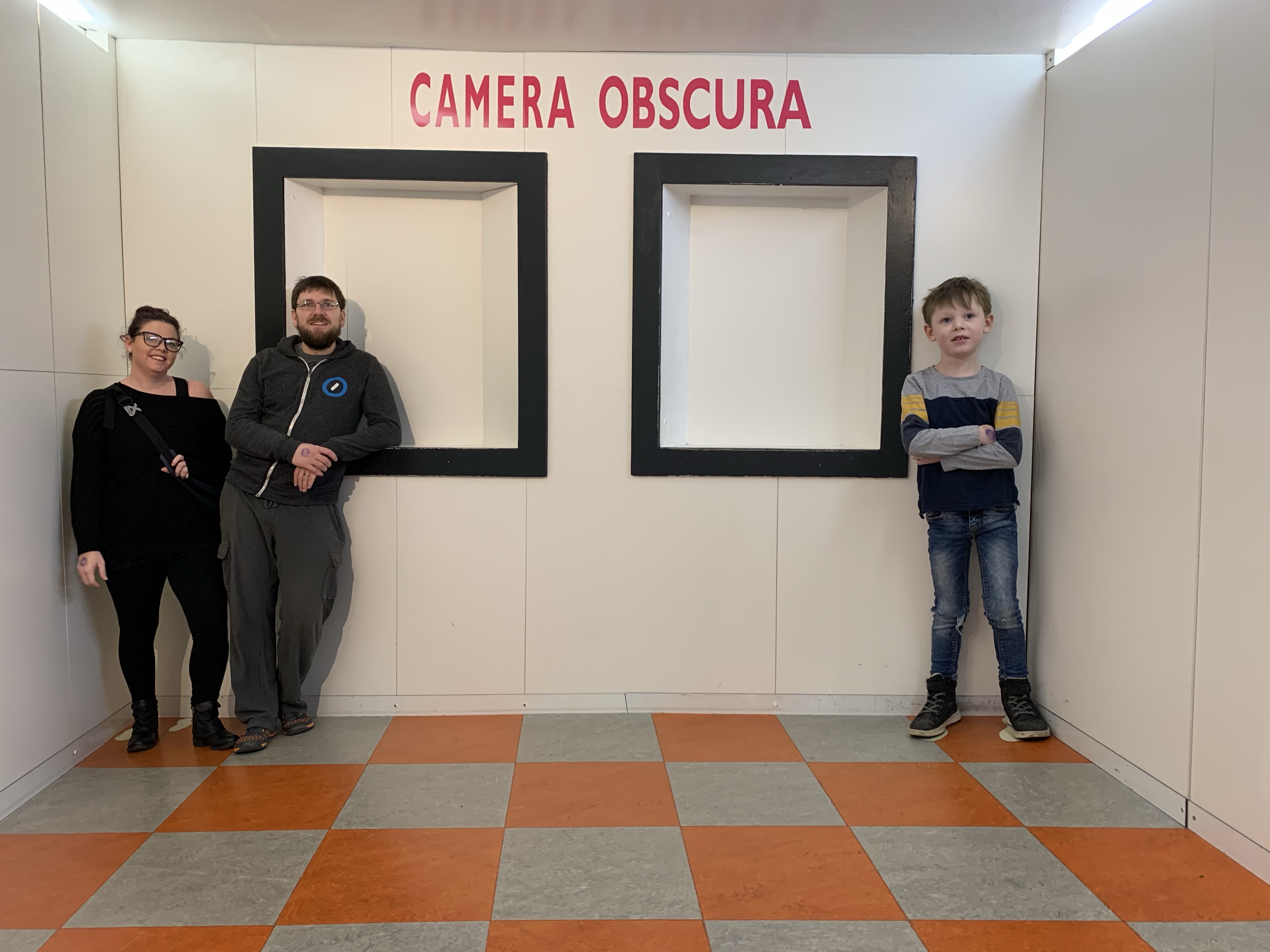 Our last day, we drove out to see Rosslyn Chapel. You probably know it from The Da Vinci Code. It is a stunning Chapel also with a sordid past, involving a murder inside the chapel. In the 1500s, the alters were ordered to be destroyed. The chapel was no longer used and fell into a state of disrepair. Even in this state, Rosslyn Chapel became a muse for many writers, poets, and artists. In the 1800s the chapel started undergoing repair, and now it stands beautiful and strong despite it's past.
On the way back from Rosslyn Chapel, we decided we couldn't leave without hiking up to Arthur's seat. It's a pretty moderate hike up. We only had to stop once for z to take a break. On the way up, we passed by St. Anthony's Chapel or rather the remains of the chapel. Again, I found the beauty in it. Once you're at the top, you are rewarded with a fantastic view of Edinburgh.
As I stood there looking out at Edinburgh, the sea, and the valley below. I found myself thinking about the remains of Urquhart Castle, the story of Rosslyn Chapel, and my own story. I thought about how I had been feeling, about relationships that may have been broken, and about growth. I thought about how growth can't happen without breakdown.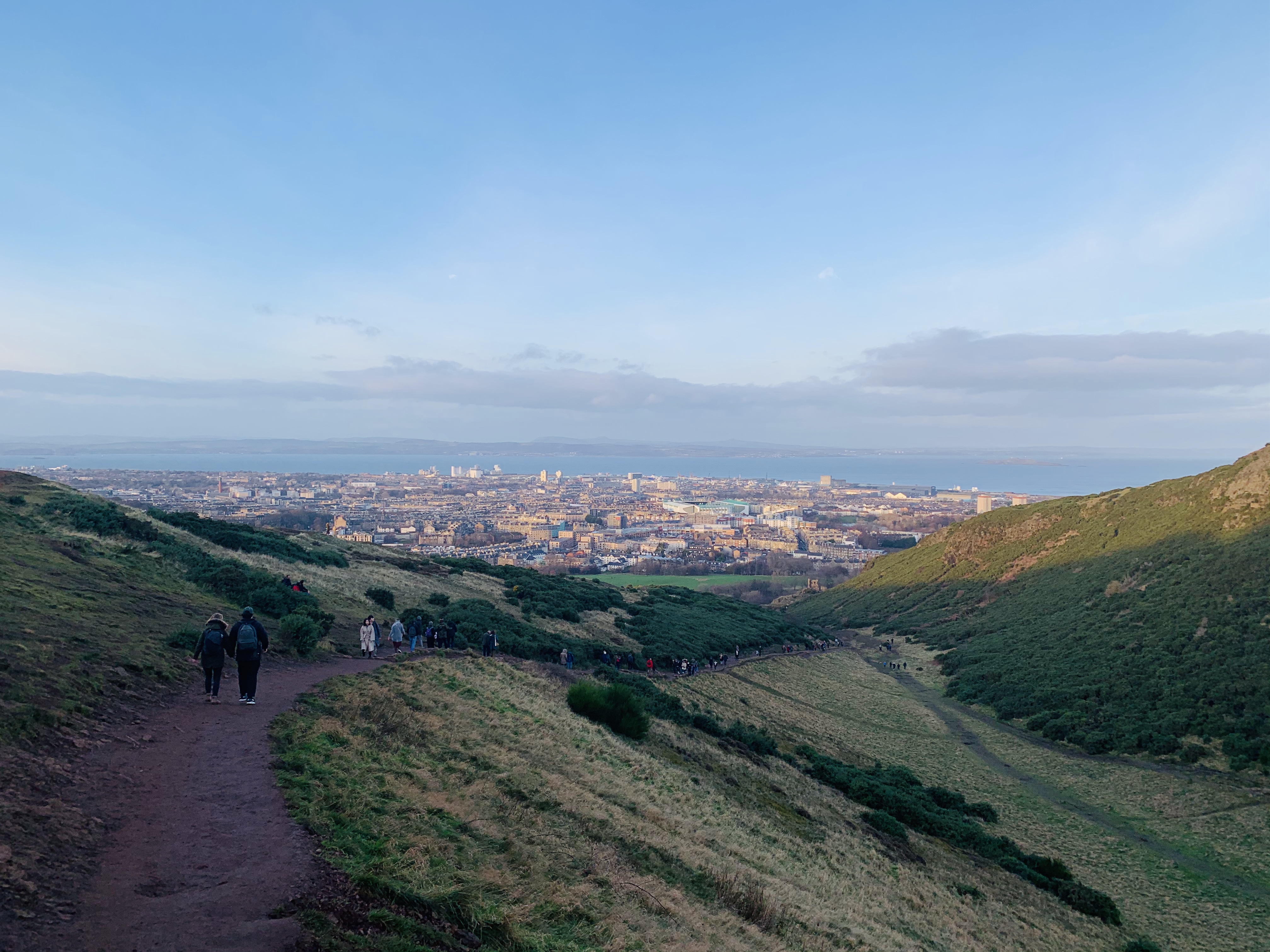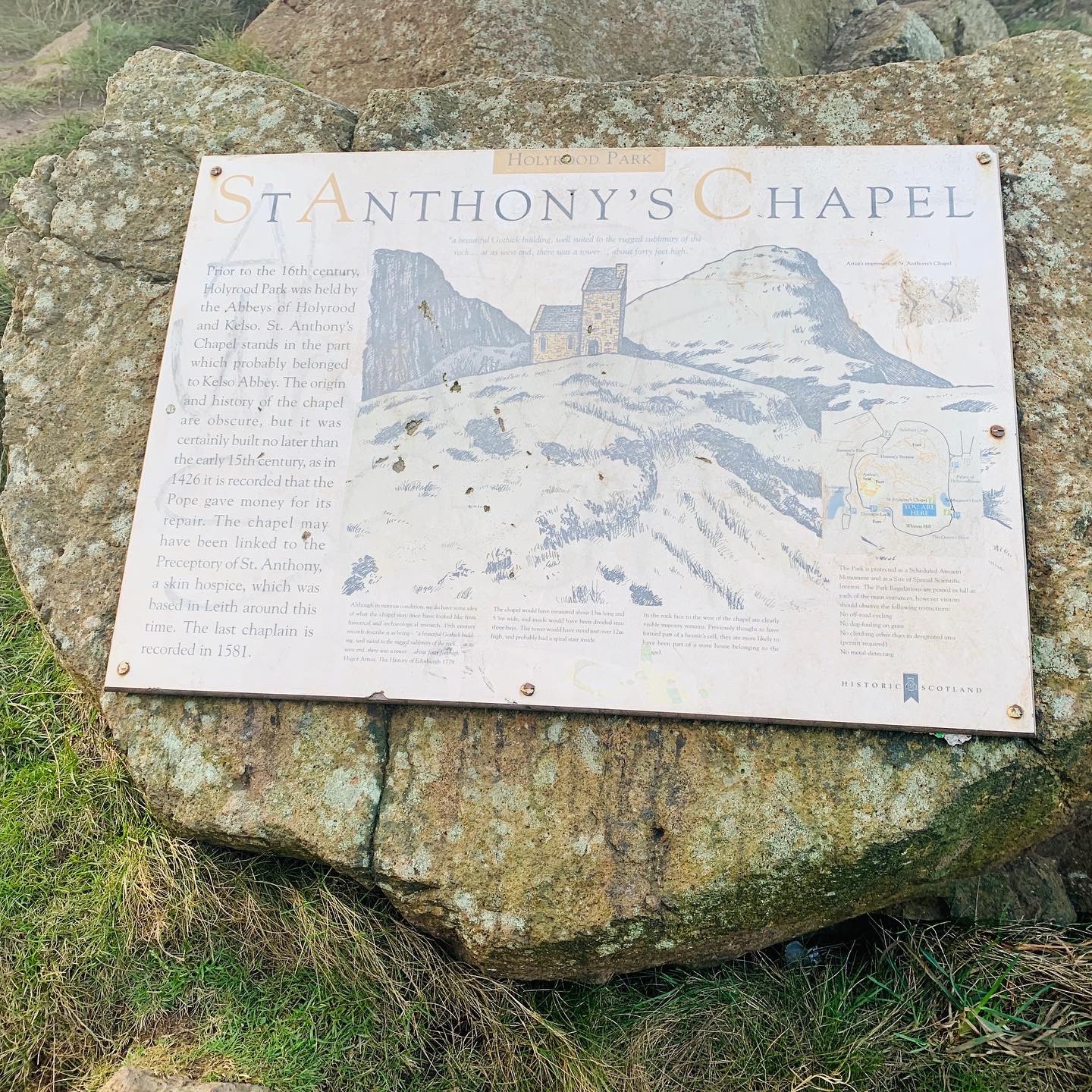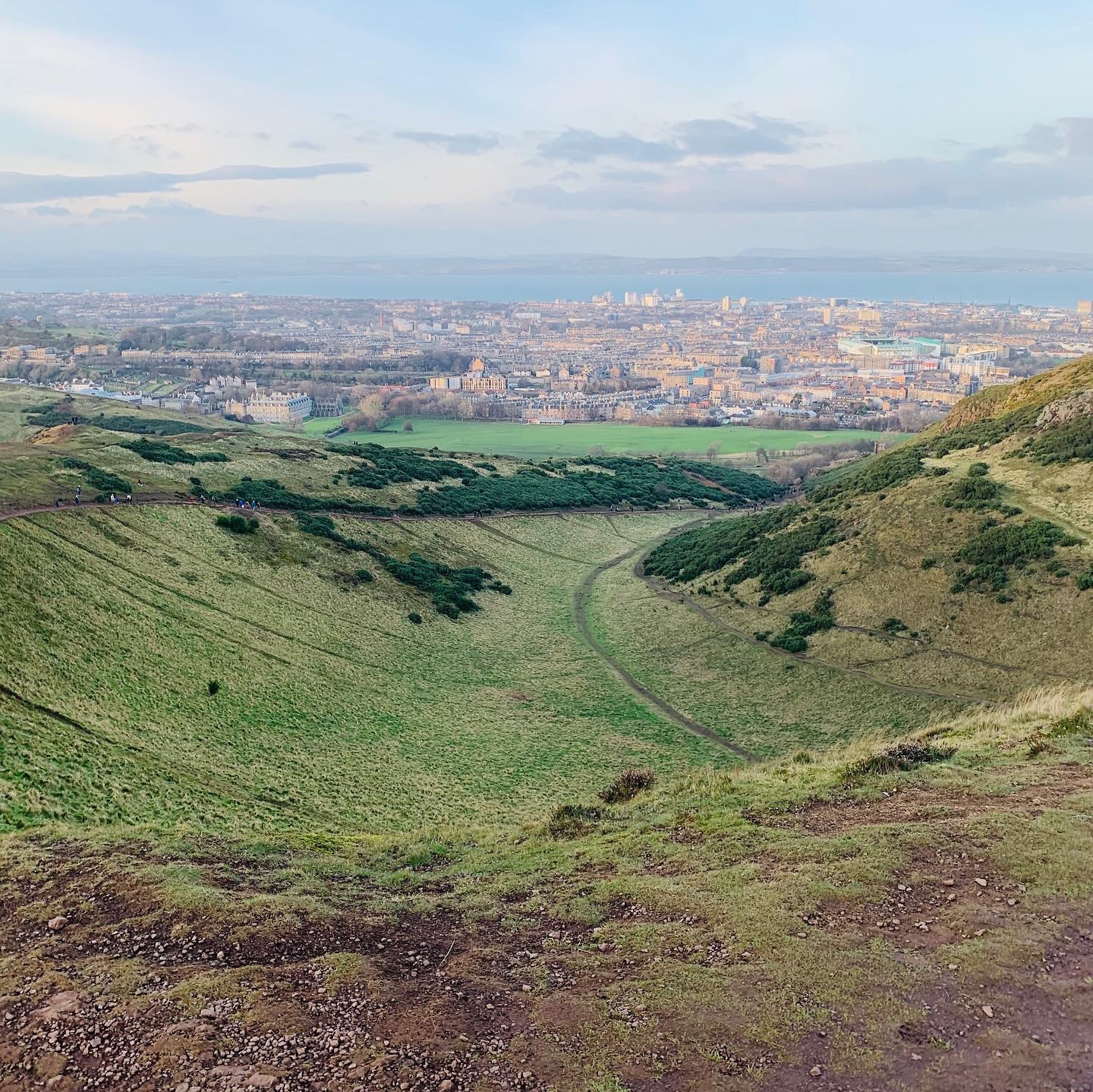 Scotland made a significant impact on me. On all of us. Z keeps asking if we can mover there. Rob has always wanted to visit as his ancestors came from there, so who knows maybe one day. For now, I will continue to grow and rebuild and forever be grateful to Scotland for many things, especially for showing me the beauty in the breakdown.
Stay tuned for more adventures of Rob, Z and I…
"So let go, and jump in
Oh well whatcha waiting for
It's all right 'Cause there's beauty in the breakdown…" – Frou Frou