Sometimes life can be slow, but sometimes it can be too fast. The entire world can flip on a dime, rushing to and fro to make everything work. When this happens, the best thing you can do is escape somewhere and recharge.
While we were experiencing a moment in life that was hectic and stressful, we had an escape hatch that we'd been engineering for months; not for that reason, but just by accident. A happy accident.
A few weekends ago, we packed up, and left for my dream location: Croatia.
Not only did months go into planning this trip, we were going with one of my very best friends — my maid of honor, and her partner who is also a great friend: Aisha and Rob. We were also lucky enough to have our wonderful friends, who we have known for years, Maria and Bruno traveling with us as well, and the best part Bruno is from Croatia! We were truly going to get to experience Croatia like locals, clear our heads, and take in all Croatia had to offer. Little did I know how many other Happy accidents there would be along the way.
As with all of our adventures it starts at the airport. Our flight from Amsterdam to Vienna was delayed causing us to miss our connecting flight to Dubrovnik. When we finally landed, we had to make our way to the Austrian Air help desk and take a number – ours was 146, they were on 88 when we got ours. Thus began the waiting game.
@withinboredom got bored and tried arguing with Lufhansa on Twitter, which didn't work out.
Aisha and Rob got an email booking them on the later flight at 19:45 (7:45 PM). We received an email saying we were booked on a flight the next day at 12:45 PM. Tensions were high. Z was getting over it quick. Rob had jokingly asked, "would it be in poor taste to go get a bottle of something from the duty-free shop and open right here?" We were all thinking it, so I decided Z and I would go for a stroll and get a treat for all of us. A snack for Z, champagne for Aisha and I — after all, it was Aisha's birthday — and I grabbed an airplane bottle of whiskey for the boys. It hit the spot for a moment.
Aisha and I finally decided while we wait we would call Austrian Air to be a bit proactive and I am so glad we did. We all ended up getting on the 19:45 flight from Vienna to Dubrovnik. Yes, we were not getting there at 2 PM like we originally planned; however, we were thrilled to sleep in Croatia instead of Vienna that night!
The drive from the airport to Villa Odak was about 30 minutes. We arrived at our villa in Dubrovnik at midnight and were greeted by a smiling Maria and Bruno. We went to our separate villas, dropped our bags, tucked Z in, and met on the veranda for a much-needed nightcap. Where Maria and Bruno had a cola bottle of homemade Croatian wine waiting.
I knew from the photos of the listing that we had an incredible view, We got there so late at night that the view was floating orbs of light in the darkness. The next morning Z and I were meeting Maria early to go for a quick dip in the sea. As we walked out onto the veranda, the view took our breath away. It had a different effect than it would have if we had arrived that day. We couldn't see the scenery at all on the drive from the airport because it was so dark. So the morning view was just so special. Z exclaimed, "whoa!" We just stood there silently, holding hands in awe. If you know Z, silence is not a talent of his!
Villa Odak was a bit, as someone put it, dinky, they weren't kidding. I would not recommend the room in which we stayed. It was clean, comfortable, and the view, wow! However, there are "smack your forehead every morning" low beams on the ceiling. It was a good location, though! We were about a 15-minute walk to the old town of Dubrovnik. Honestly, I wouldn't want to stay in old town anyway; it's overrun with tourists. I would even say two days is plenty. You should experience Dubrovnik even for just a couple of days. The history and culture are wonderful, and it's a beautiful city.
From the villa you have to walk down MANY, MANY steps to get to the swimming area. There you can jump from the rocks, or there is a ladder that leads you right into the sea. The water this time of year is cold. If you're going for a dip, go for it and jump! Luckily it was unseasonably warm out, so the swim was worth it. The beaches and swim areas in Croatia are very rocky and pebbly. I was so happy I purchased water shoes for us. I got ours from Amazon.de.
After our dip in the sea, we met on the veranda for coffee and tea. Bruno prepared a bit of breakfast. I was sharing how I didn't think seeing the view that morning would have been as special if we saw it the whole drive from the airport the day before, so I was not mad at the delay. Maria smiled and said, "so it was a happy accident." I couldn't agree more.
Maria, Bruno, Rob, Z and I walked to Old Town, to explore. It reminded me a bit if Venice with tiny alleyways and beautiful architecture. We all agreed Buza bar was not something we wanted to miss, so we headed there to meet up with Rob and Aisha after their city wall tour (yes, there were two Rob's, which caused some funny confusion). I can't speak to this as we didn't do the tour, they enjoyed it though! Buza is a small cliff-side bar; they only have one kind of Croatian beer, wine, and water. Perfect for an afternoon break or a sunset drink. You can even walk down and jump off the rocks into the sea. Bruno and Maria took Z down to go for a dip while Rob and I shared a quiet moment and a beer, and waited for Aisha and Rob to join. I would say Buza is a must when visiting Dubrovnik. The relaxing atmosphere and view are perfect.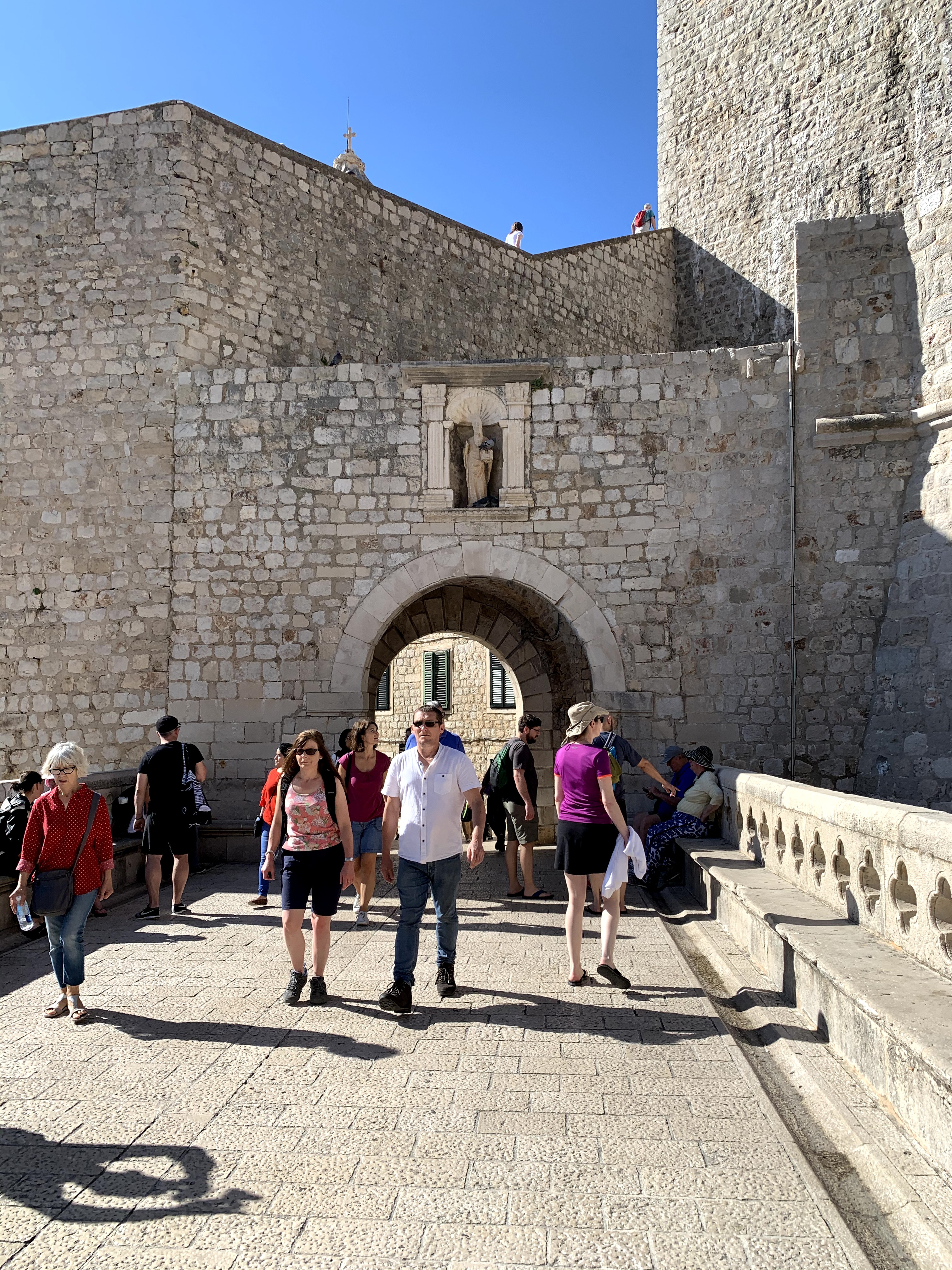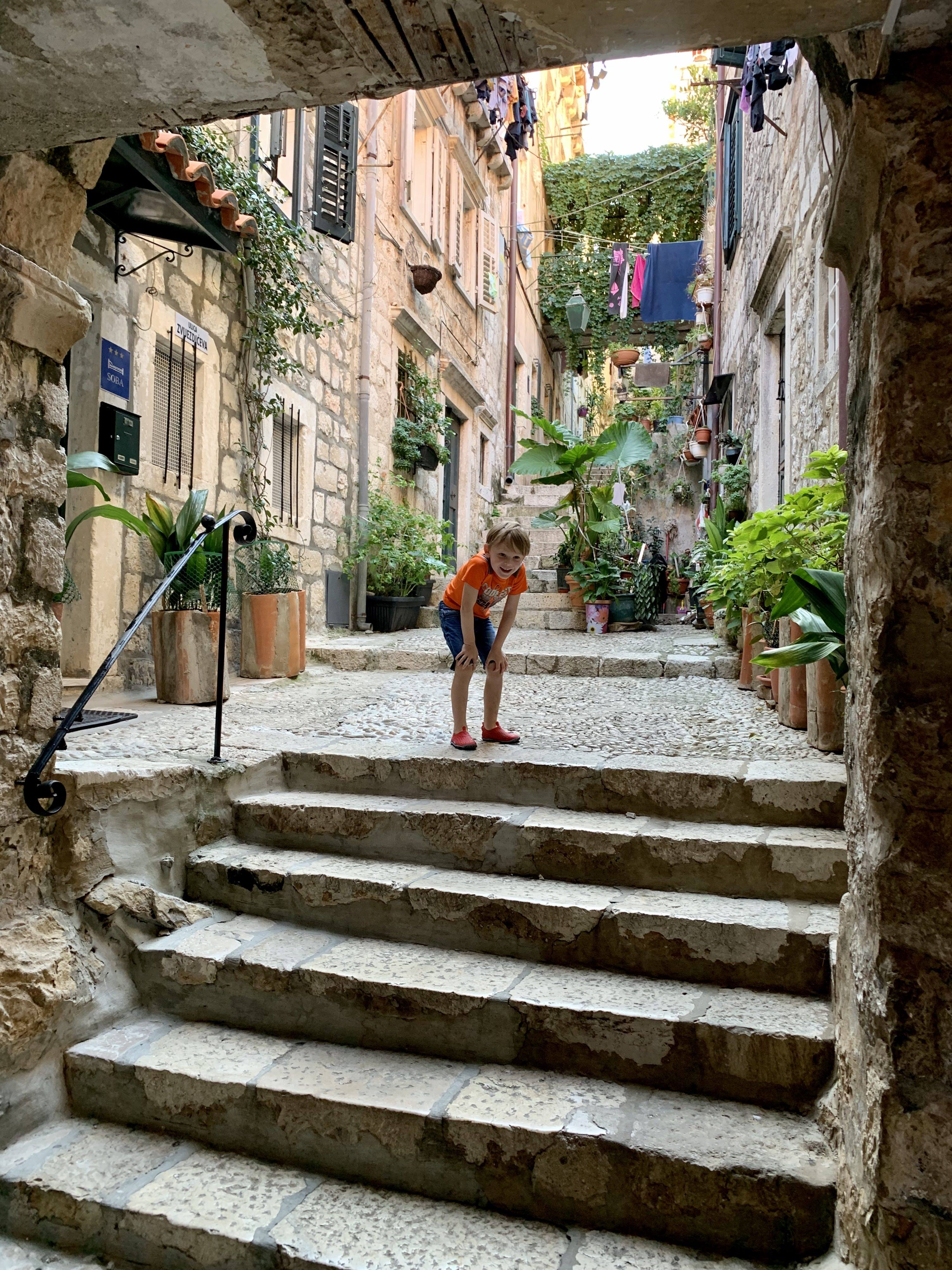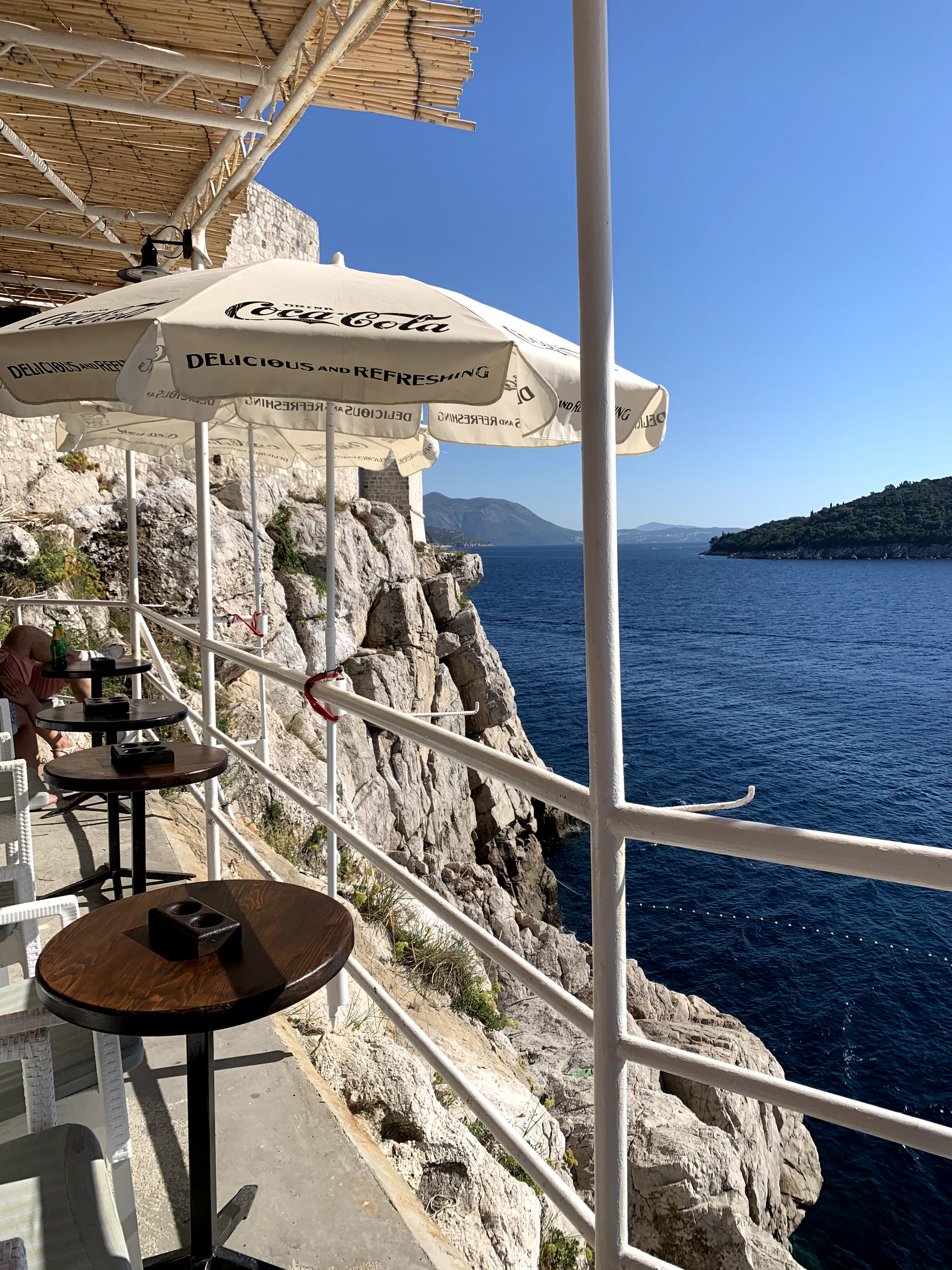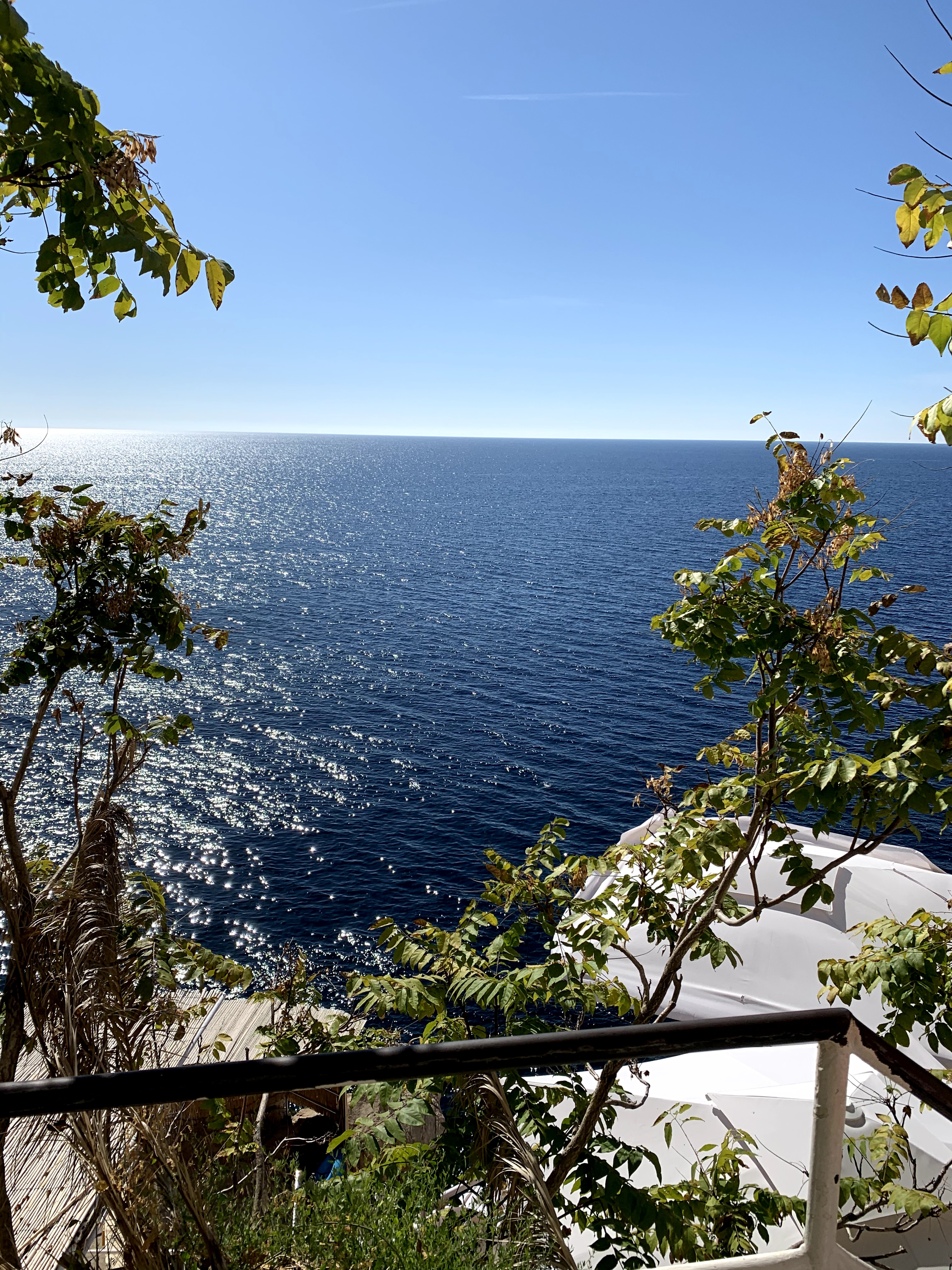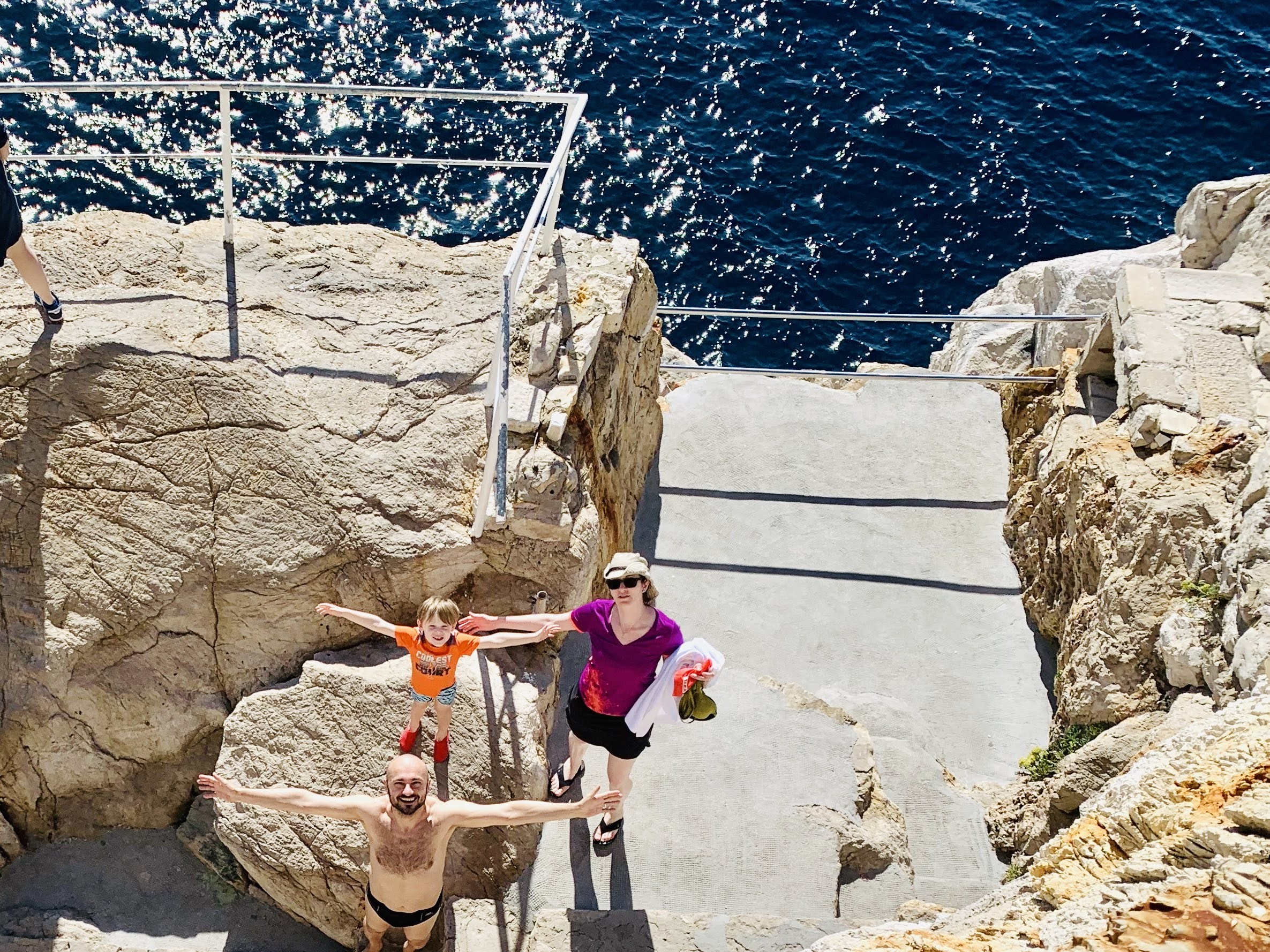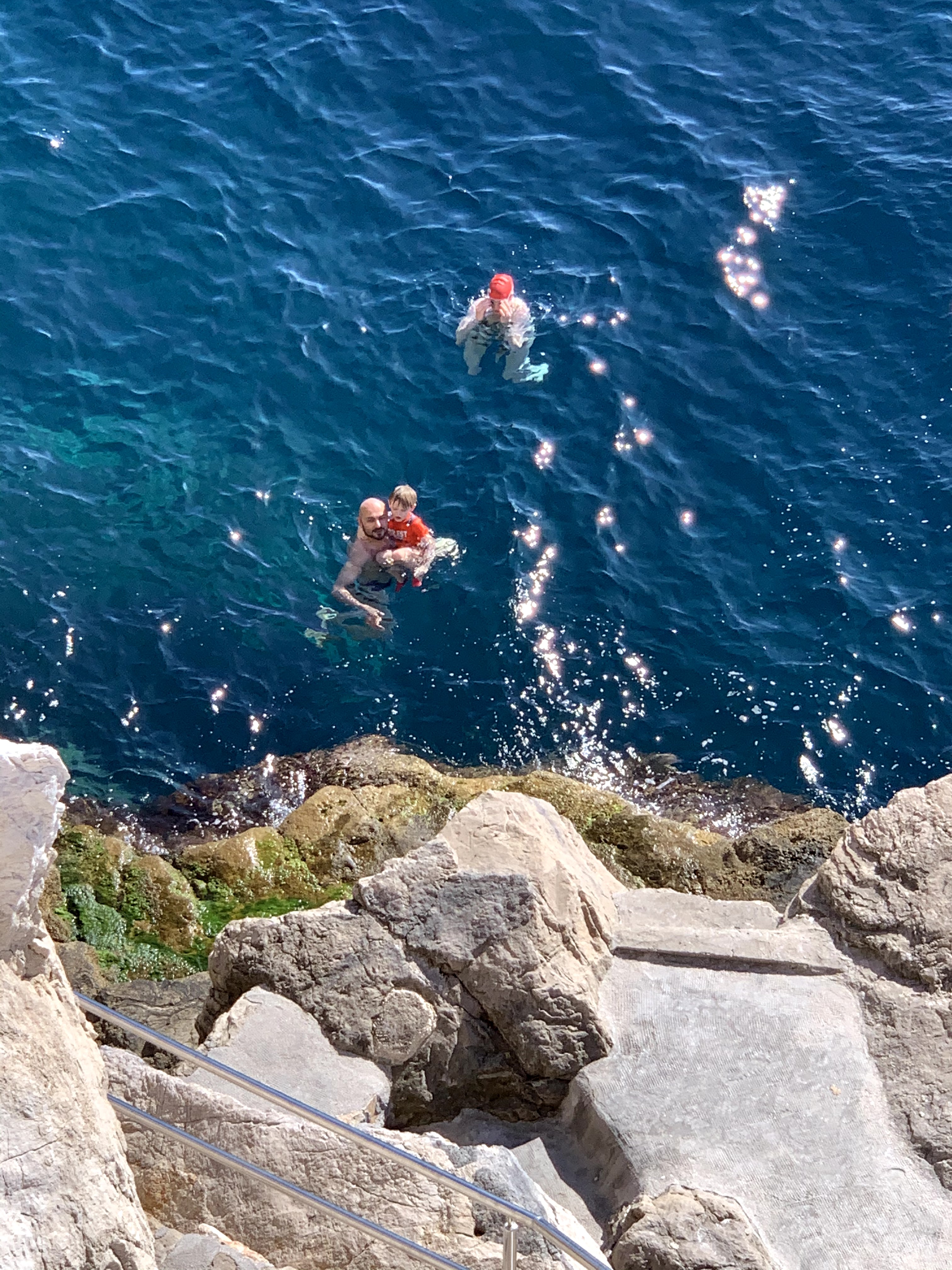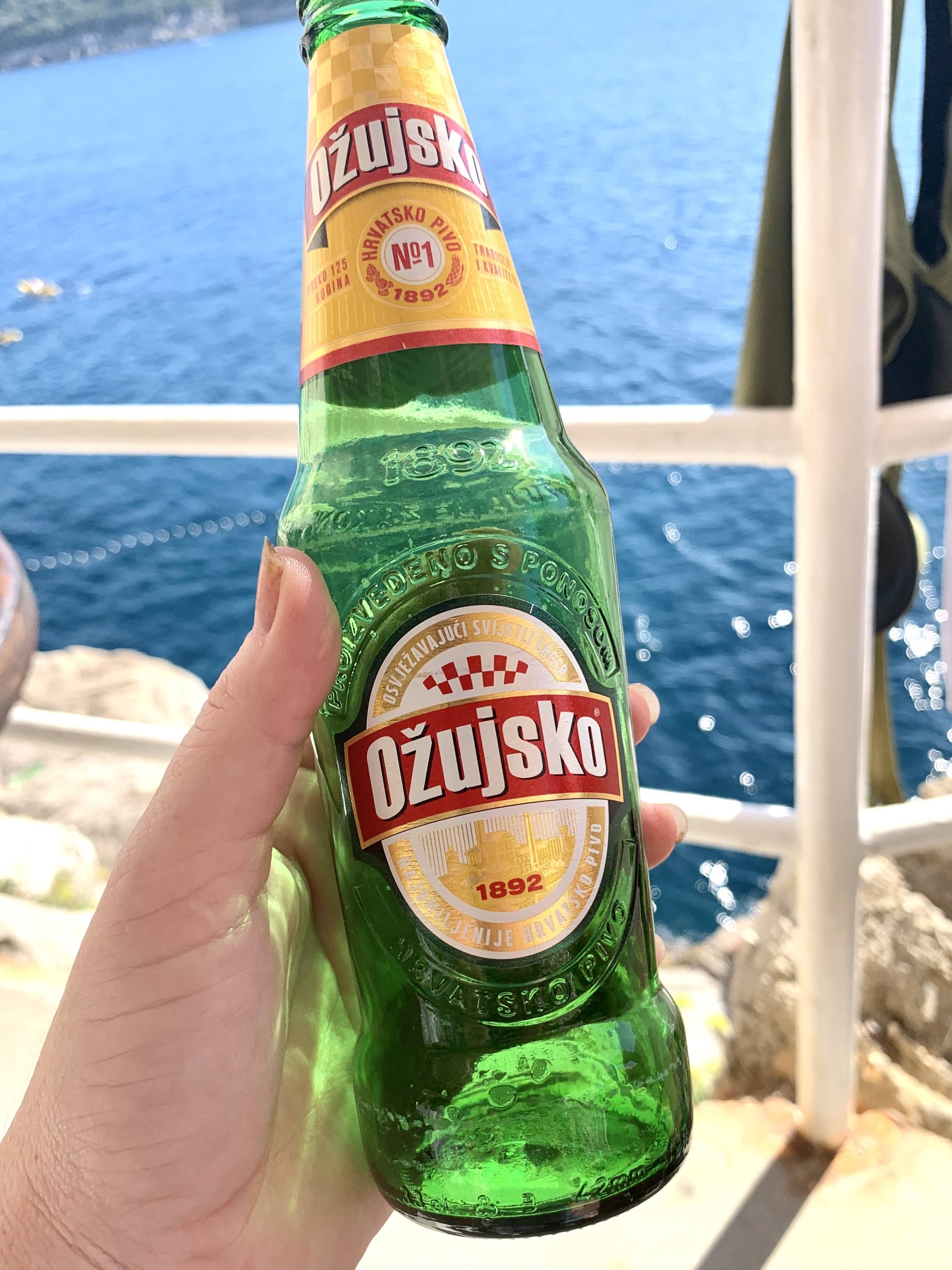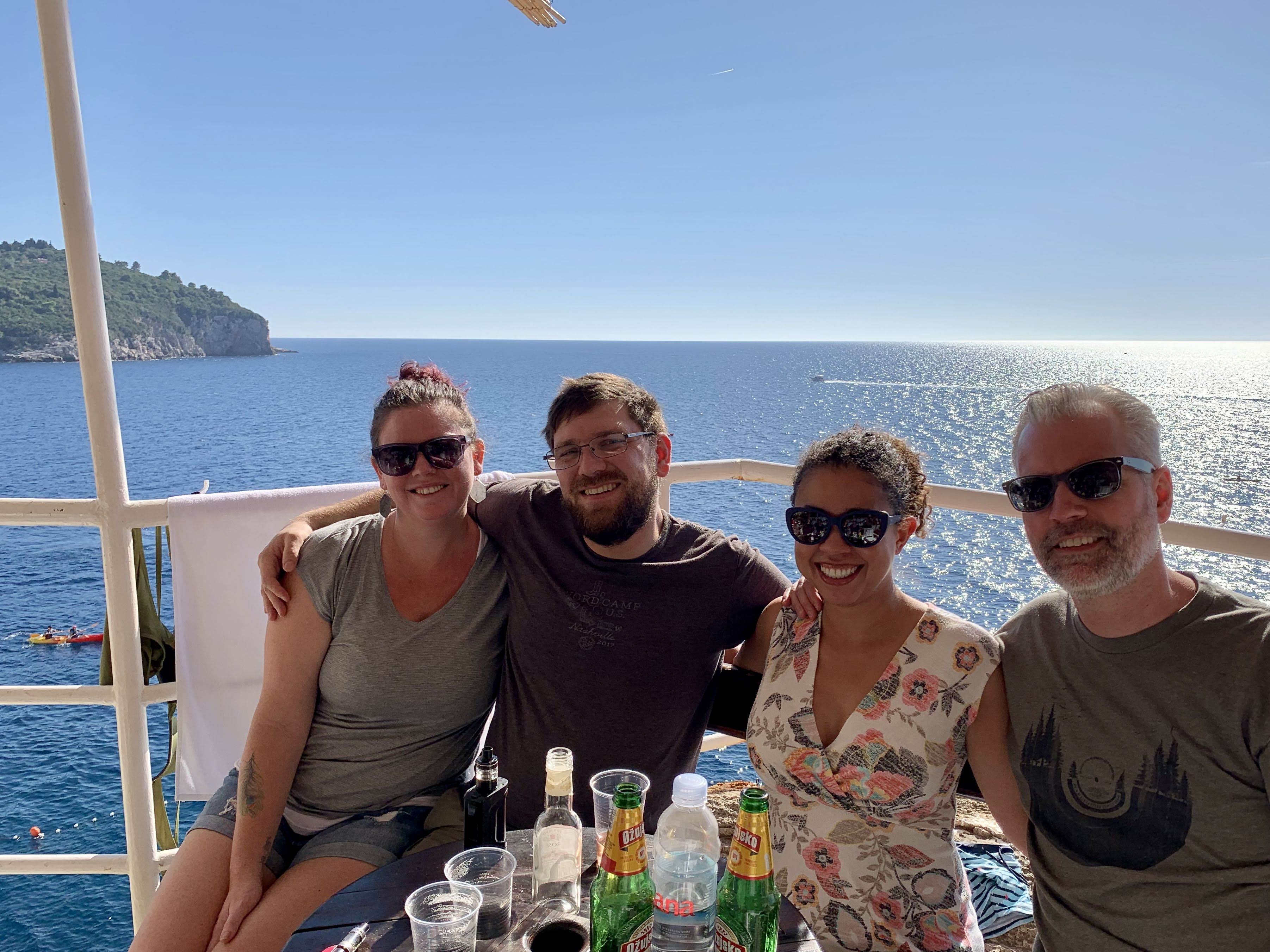 After cooling off in the sea and on the cliff with our drinks, it was time for our kayaking excursion. Usually, we don't book excursions; we tend to stroll around and let the city lead us. I am so glad we did this! We booked ours through Adventure Dalmatia. We chose to do the sunset Kayak tour, because who wouldn't want to catch a Croatian sunset from the water?! Ensure you have a change of clothes if you're there this time of year, there are little changing huts so you can do that. You will be chilly after the tour and will be very happy for warm, dry clothes.
The tour takes you 8 km around the island of Lokrum. Into caves, one of which we got to stop and take a break so we could swim, snorkel, or in Z's case, make a friend and build rock forts. Our tour guide, Alex, was very knowledgeable and funny. We stopped along the way so he could tell us a little about the culture and history of Dubrovnik. The company also provides everything you can think of, bottles of water, dry bags, and tubs to put your things in, as well as wind and waterproof jackets, in case you get a chill (hint: you will)!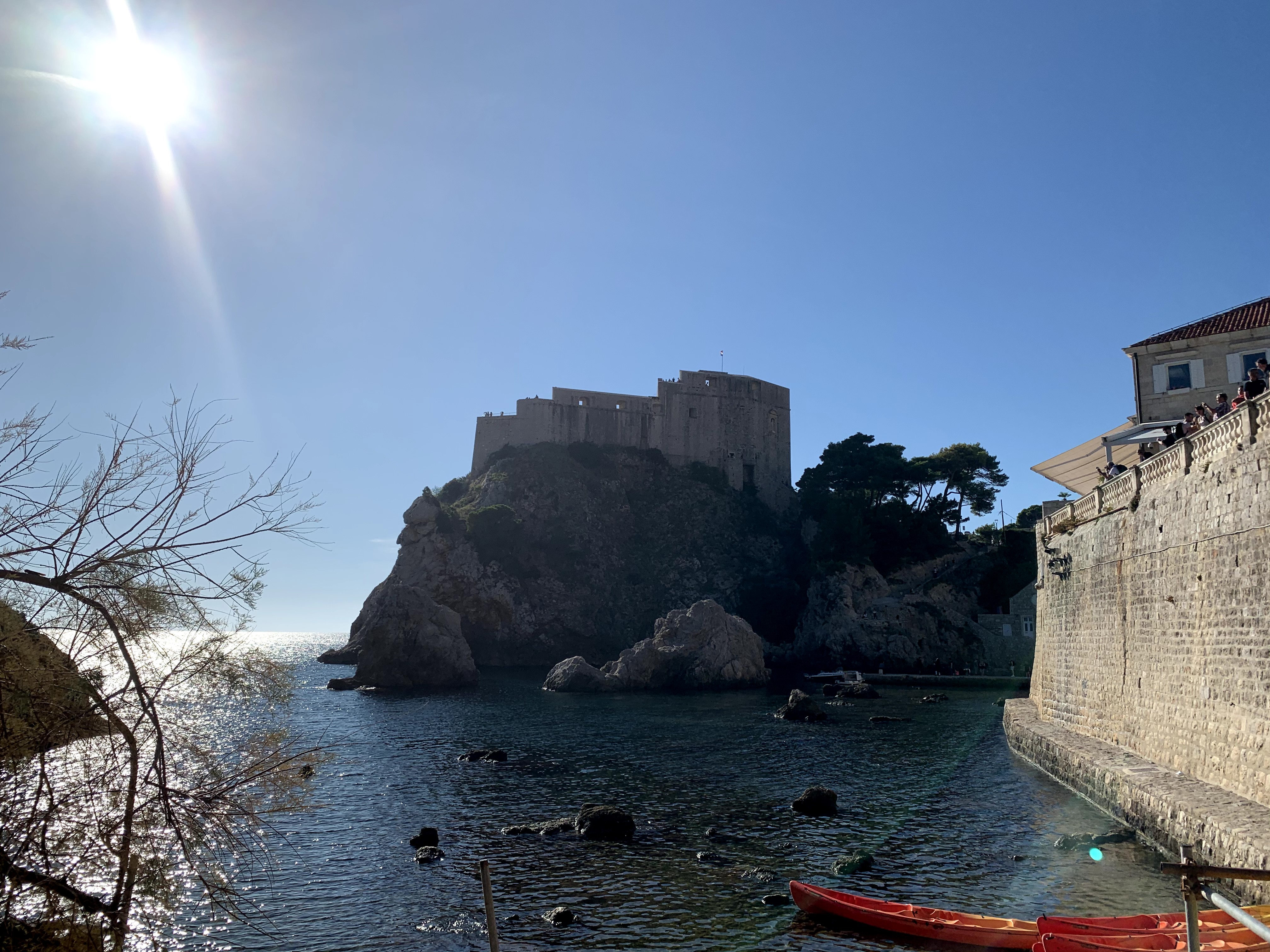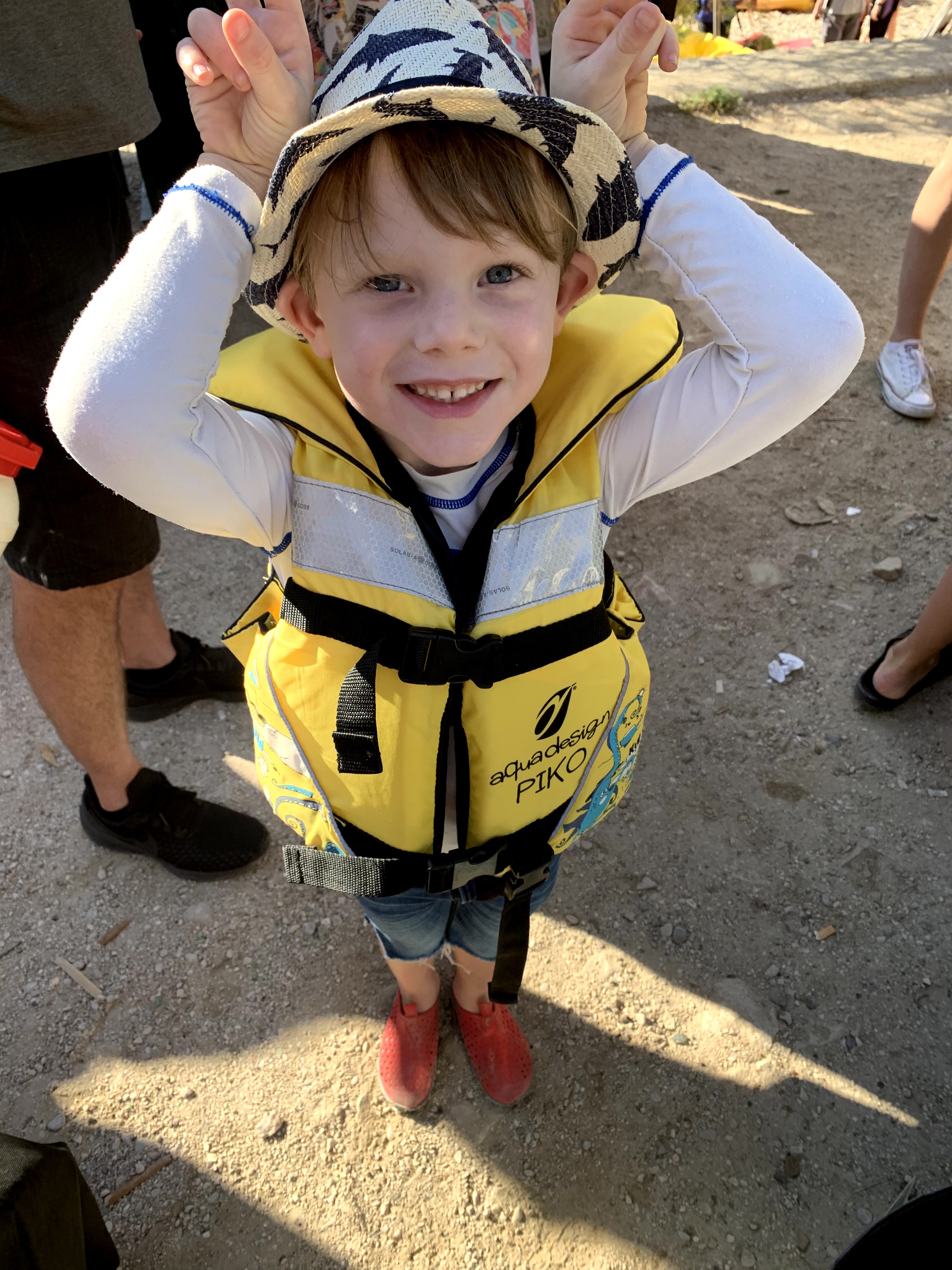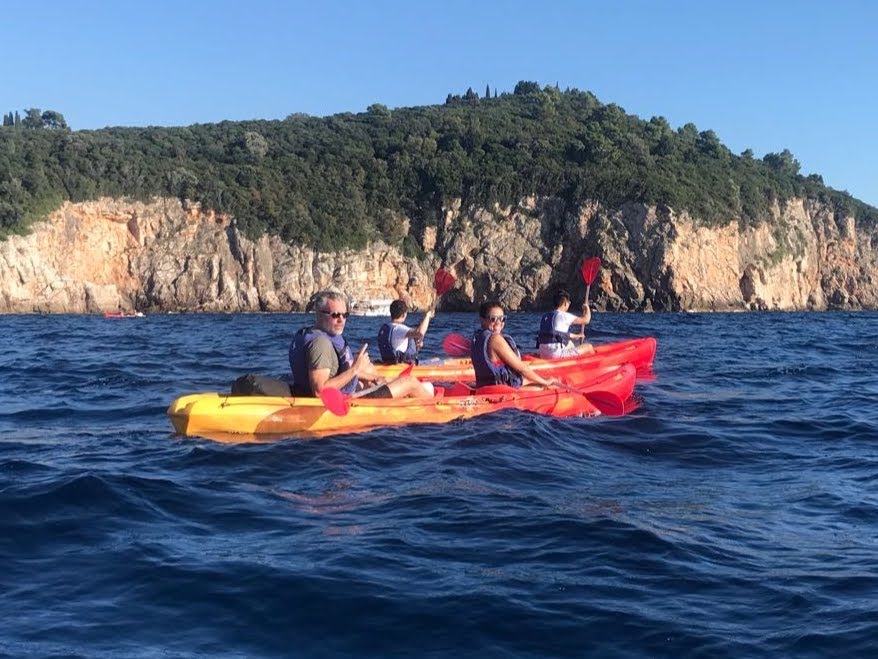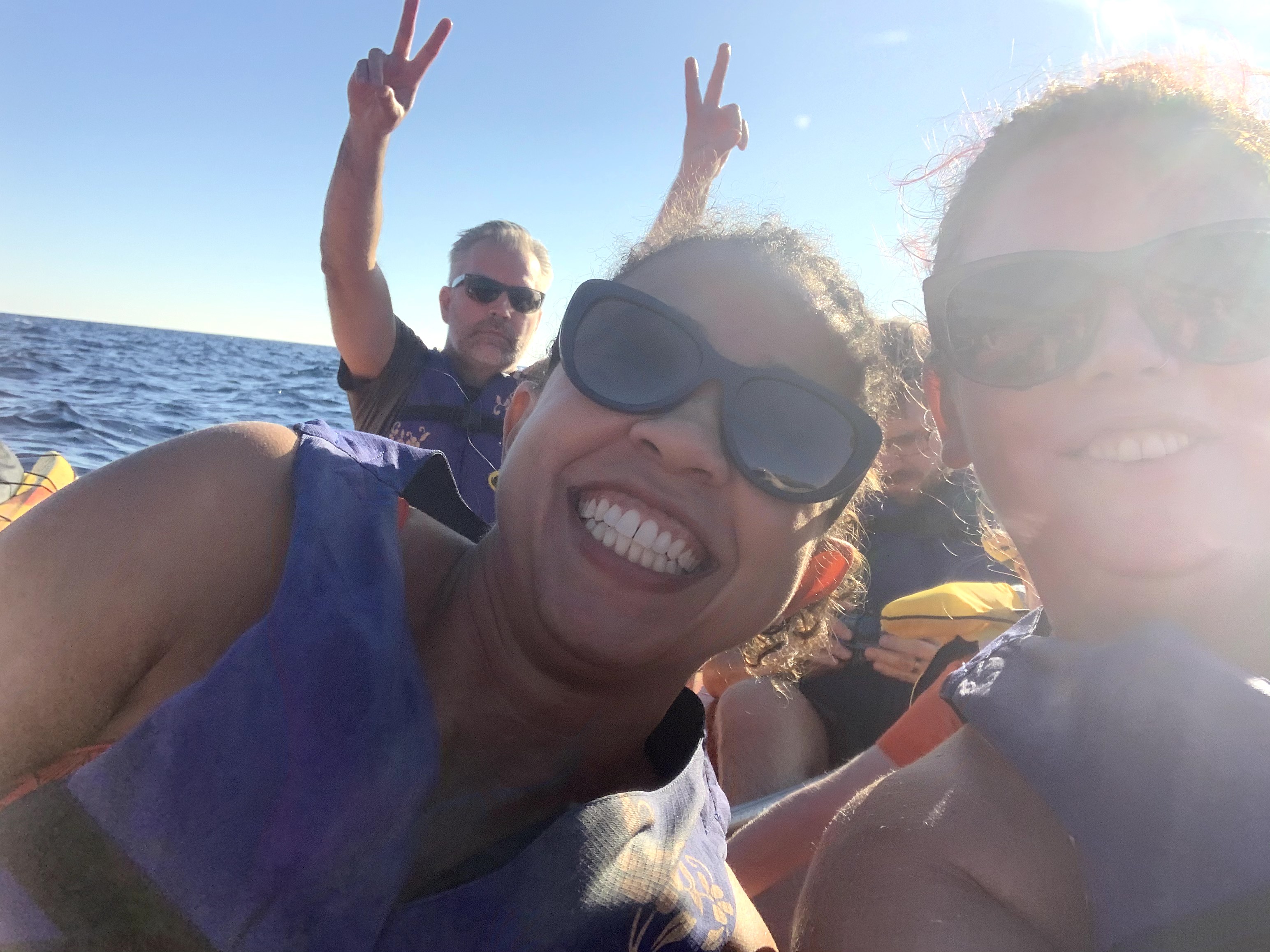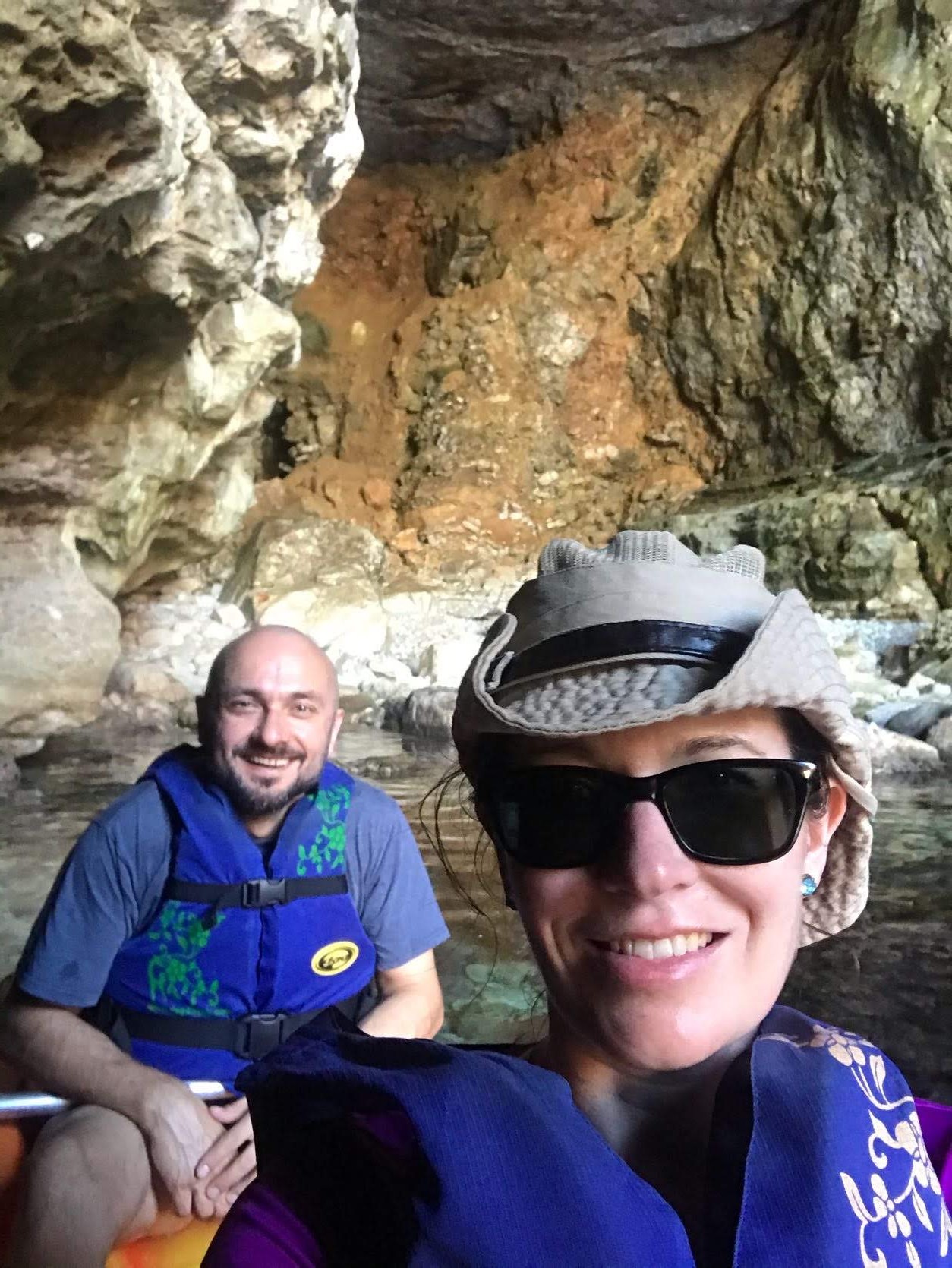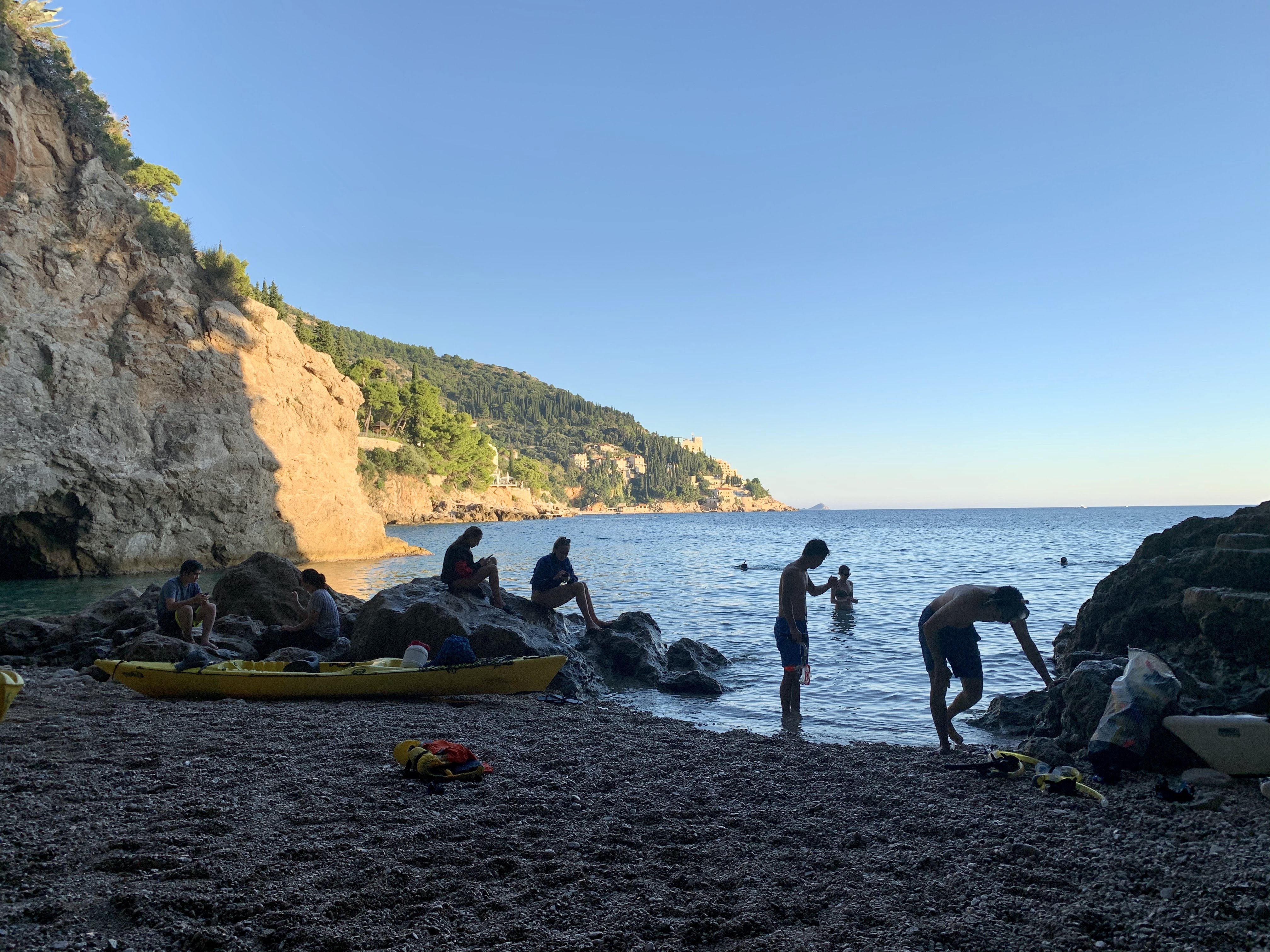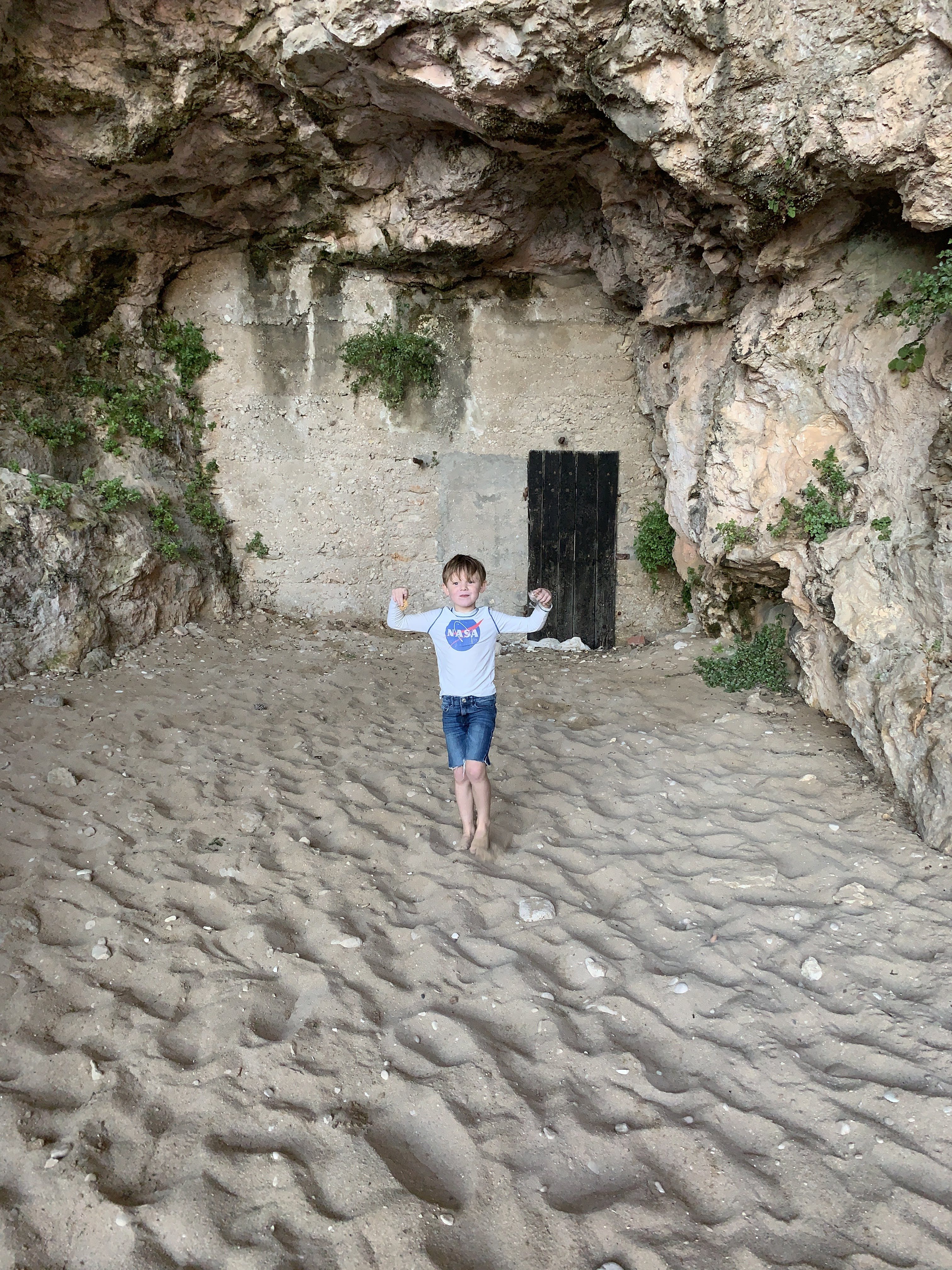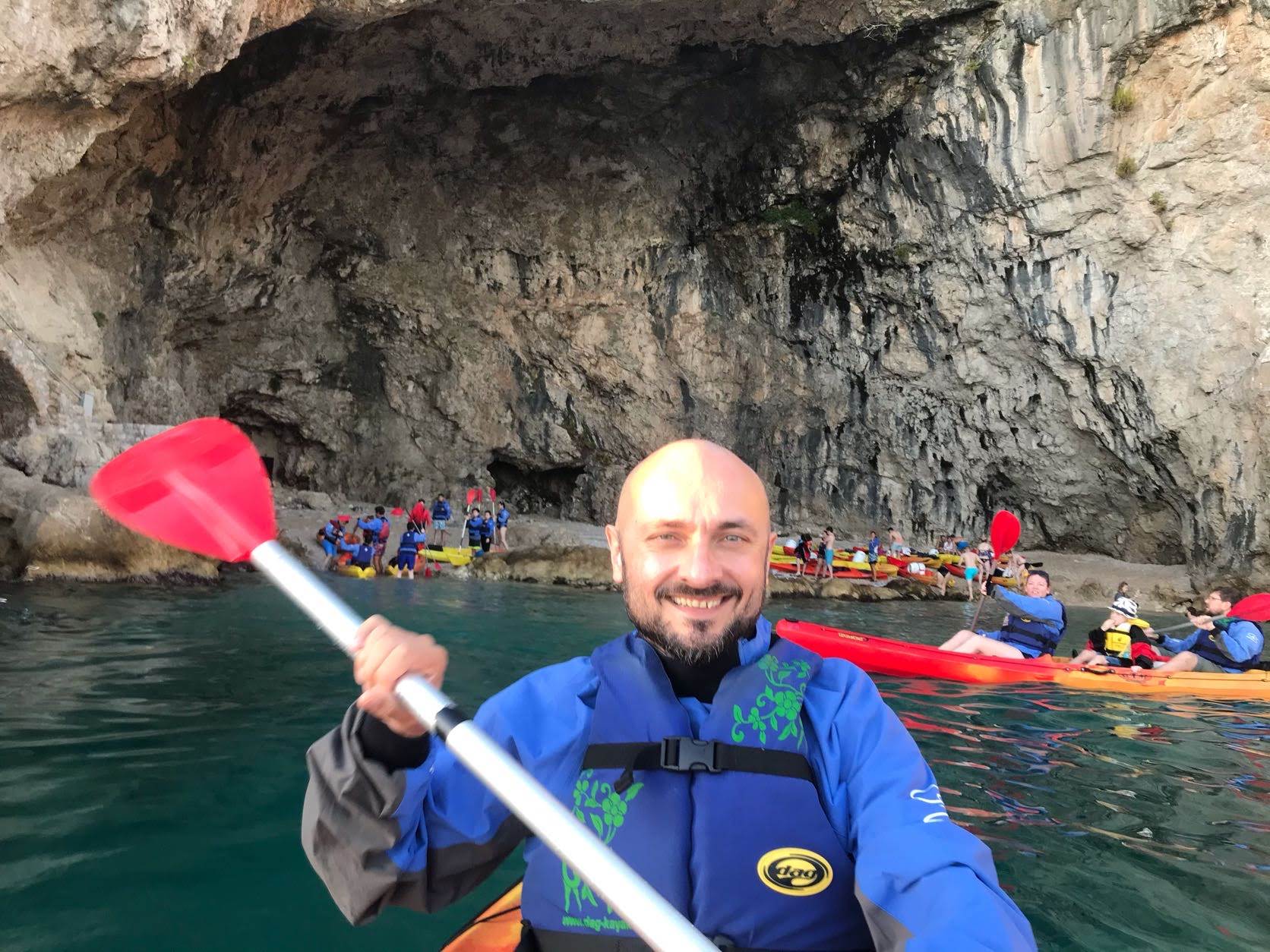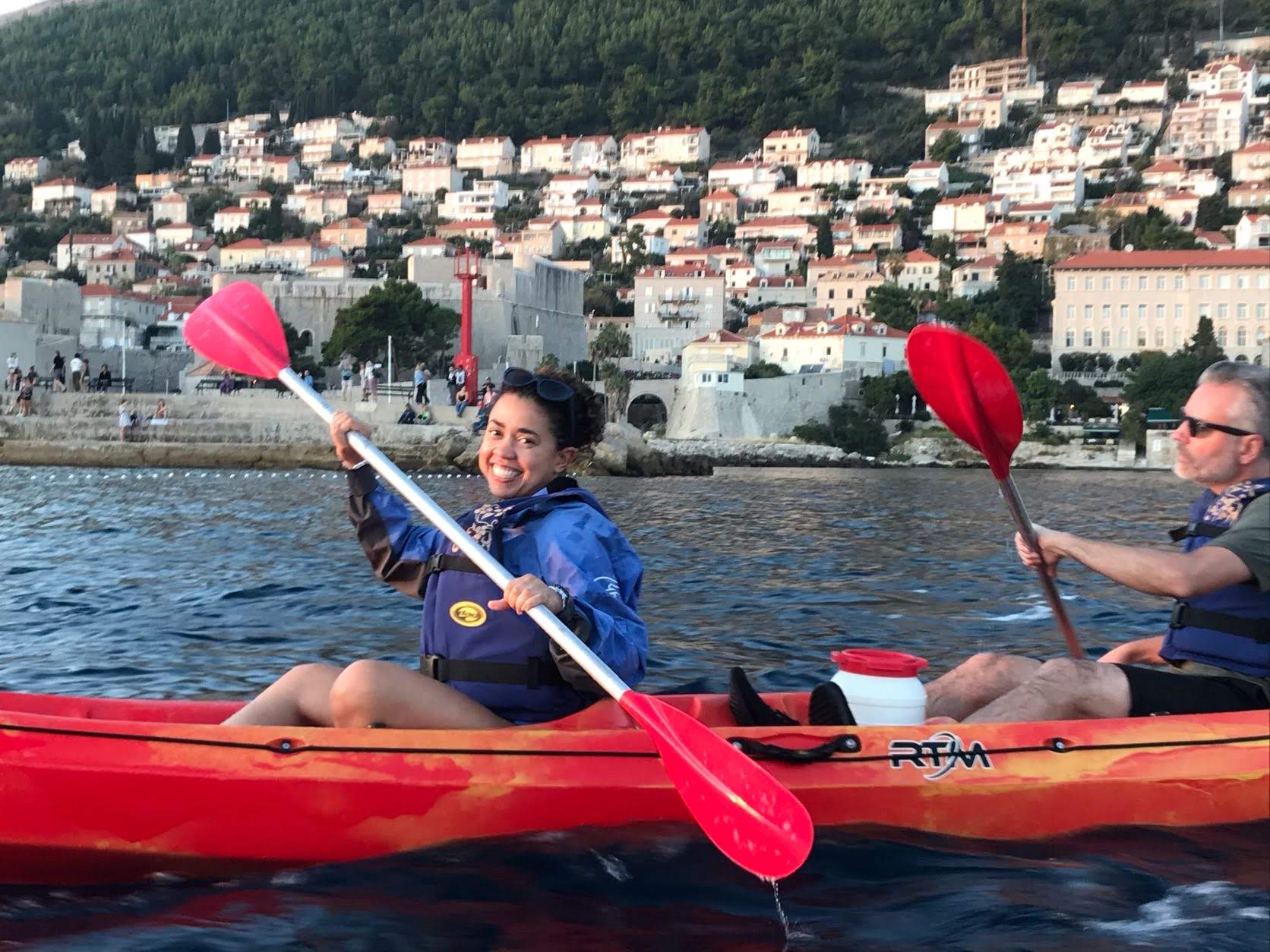 We stopped to watch the sunset from the water and sitting there in the Adriatic sea, I had a sense of peace come over me. It was amazing. After we got back to shore, Adventure Dalmatia provided bruschetta and wine for everyone. I highly recommend doing this, especially if you have kids with you.
Make sure you wear those water shoes! Z got a small cut on his foot, nothing too serious. Bruno saved the day though and gave Z a shoulder ride back to our villa!
When we arrived back at the villa we were exhausted, and in dire need of warm showers — it got pretty chilly out there. So we all went back to our villas' to shower and get ready for dinner. On the menu was fresh mussels that Maria and Bruno had picked up from a mussel farm in Ston, pasta, and tomato sauce, which they prepared for all of us. It was delicious and well earned after such an active day on the water.
The next morning I walked out again for coffee and again my breath was taken away by that view. Z was so excited to go to the "giant's island" as he dubbed it — Lokrum Island — I mean we did kayak around it, now it was time to go explore on the island. We took a ferry from Dubrovnik to Lokrum. You can catch the ferry that runs every 30 minutes from the harbor just inside the city walls. It's effortless to spend the whole day on the island. There are a couple of restaurants on the island. You can, however, take stuff for a picnic if that is what you choose. Just know that one of the many Peacocks or bunnies will visit you with interest in what you're eating.
We all wanted to see the Iron Throne from, you guessed it Game of Thrones! If you didn't know it's filmed in Dubrovnik and on Lokrum. You can sit and take photos on the throne as well. We even got to witness a sweet proposal when the guy bent down like he was a knight, and she was the queen sitting on the throne. I have to admit I got a bit choked up. Love is beautiful.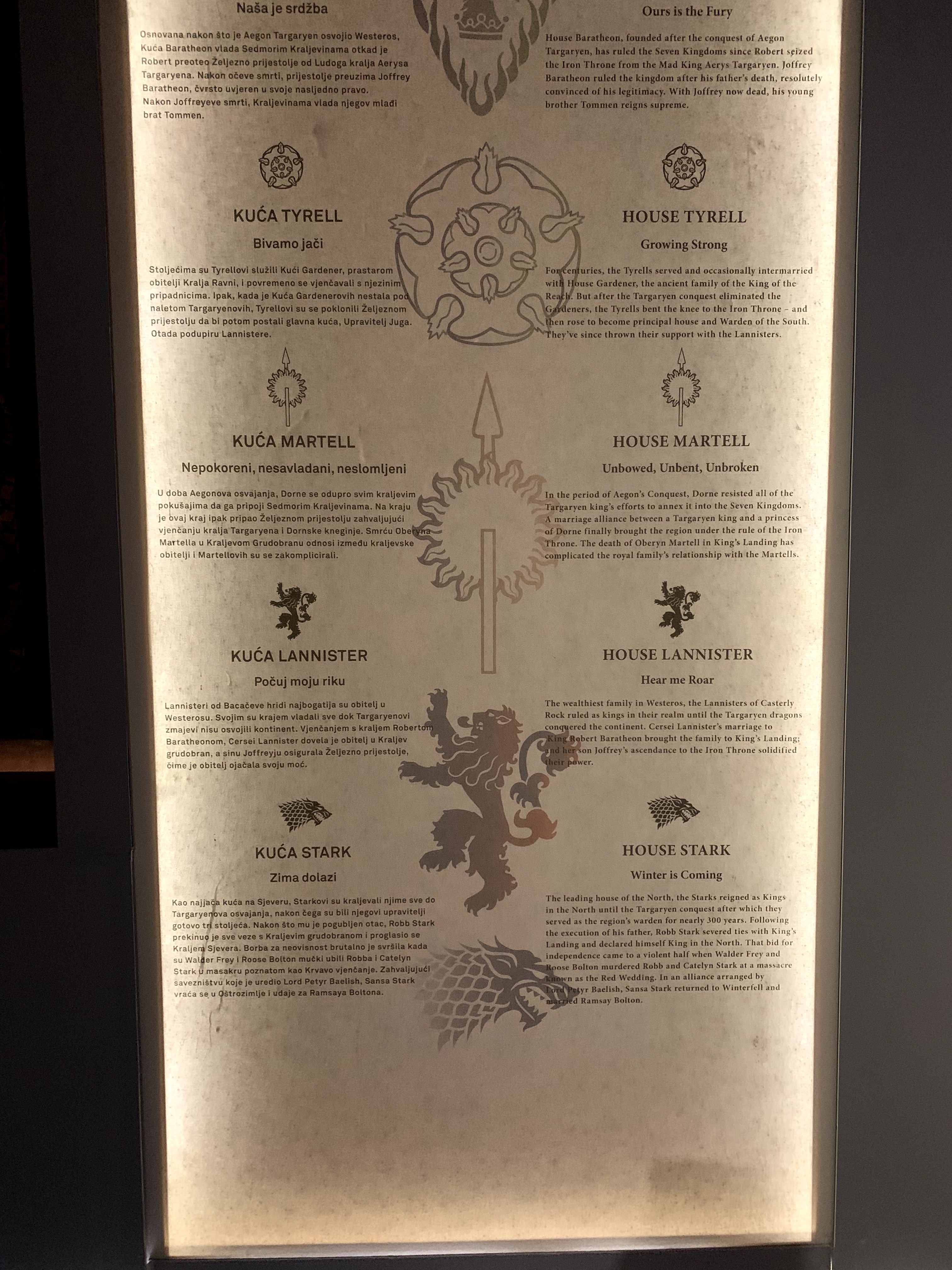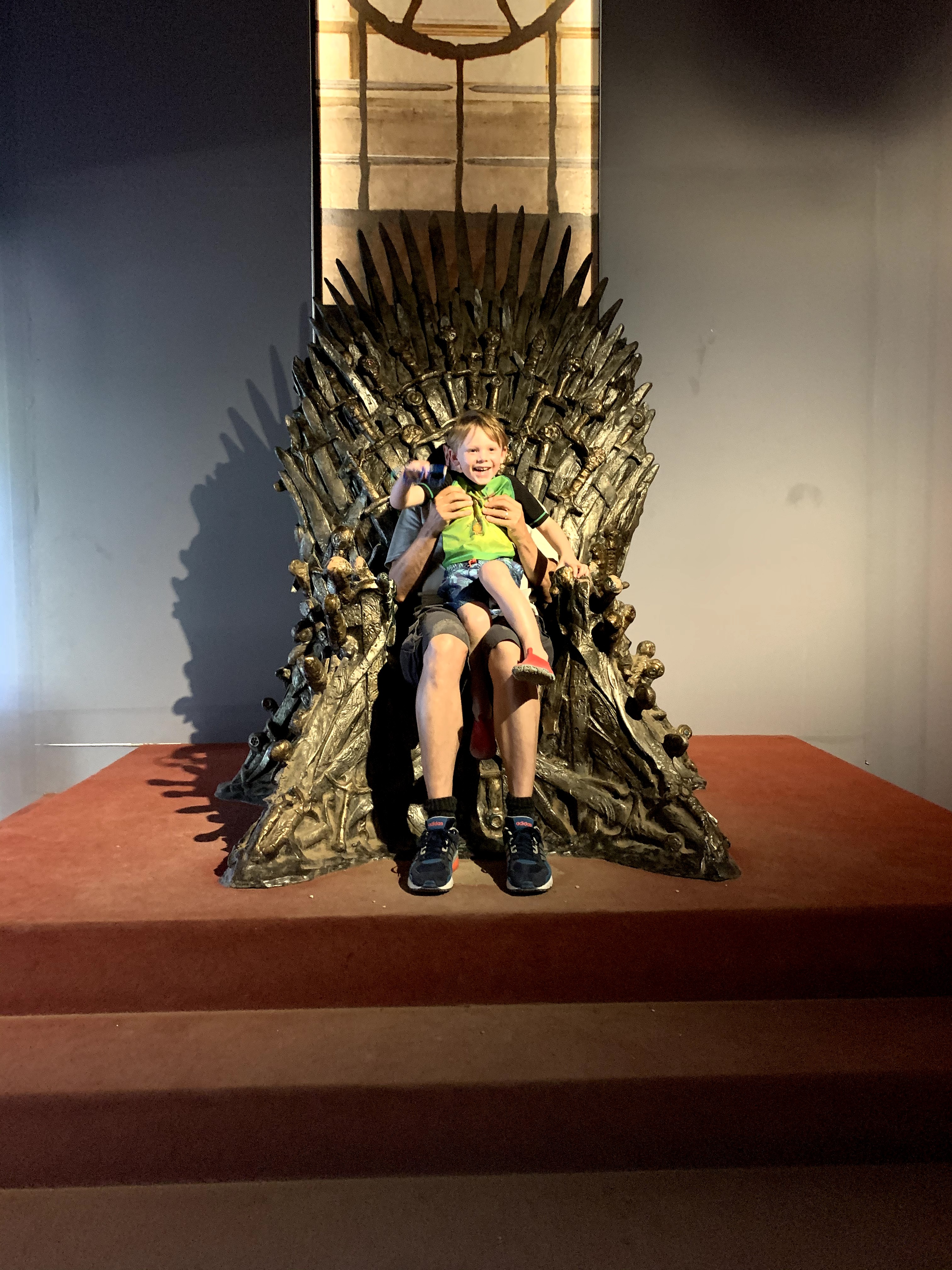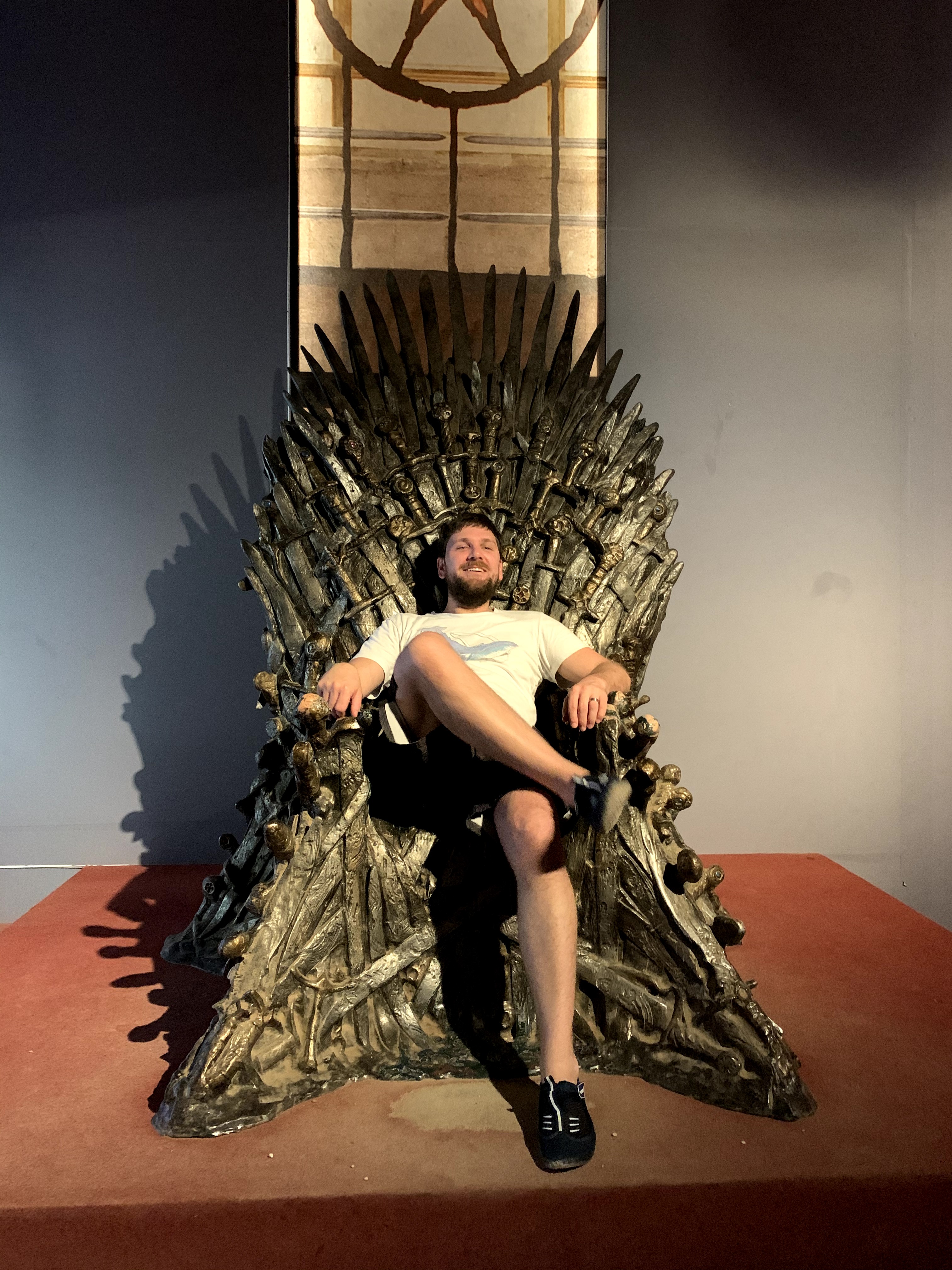 We strolled around the botanical gardens, which had some of the most amazing plants. They were huge! We then made our way to the "small dead sea," a small lake on the island named so because of the amount of salt in the lake, you can float. It was a bit too cold for us to get in, but Rob, Z and I did walk into it a bit. Z was in heaven, as I was saying wild peacocks and bunnies were running all over the island. Z even got to pet a few bunnies!
According to legend, a long time ago, a girl had two bunnies as pets, and her parents said she had to give them away. She didn't want to just put them out on the street, so she took them to Lokrum. She knew they would be safe since no one is allowed to live on the island. And well, what do rabbits do best? …giggles in a childlike way…
After stopping for a quick afternoon coffee, lemonade, wine, and beer — we all wanted something different — it was time to say goodbye to Aisha and Rob since they were driving to Montenegro for the night. The rest of us decided we wanted to head up to check out Fort Royal, which was on the tallest peak of the island. It's pretty steep but a fairly easy walk. Z was all about it! An amazing view awaits you, and you can go in and explore the Fort. Of course, we couldn't end our day on Lokrum without a dip in the sea! Bruno even gave Z another piggyback ride, this time to swim out of the shallow water
As we got back on the ferry, Maria and I decided that before we go clean up for dinner, we should stop for some olives and a glass of wine, to avoid any hangry episodes. Bruno had a better idea; he said: "you can't come to Croatia without trying Gavuni."
Then, he told us what it was. A small white fish, fried. I know, I know fried fish, you can't go wrong. Then he tells us that they fry the whole fish, bones, head and all and you eat it like a french fry. You could see the look of fear on Rob and I's face. We decided when in Croatia, with a Croatian, you have to try it. I am so glad we did. Oh, man, were they good. I wish I could get them here. We sat on the steps just outside of this little walk-up snack bar and enjoyed those, some wine, and of course, our olives. Meanwhile, Z relished his ice cream.
Our last night in Dubrovnik, we decided we earned a dinner out and all the carbs that came with it, so Bruno found an amazing pizza place called Mea Culpa. I think our eyes were bigger than our stomachs because we ordered two salads and three pizzas, Z had his big bowl of pasta, and we drank more Croatian wine! They were so good, and one of those pizzas came in handy the next day! After dinner, it was back to the villa to tuck Z in and meet on the veranda for our last nightcap in Dubrovnik. We were exhausted yet happy, looking forward to our drive up the Peljesac Peninsula.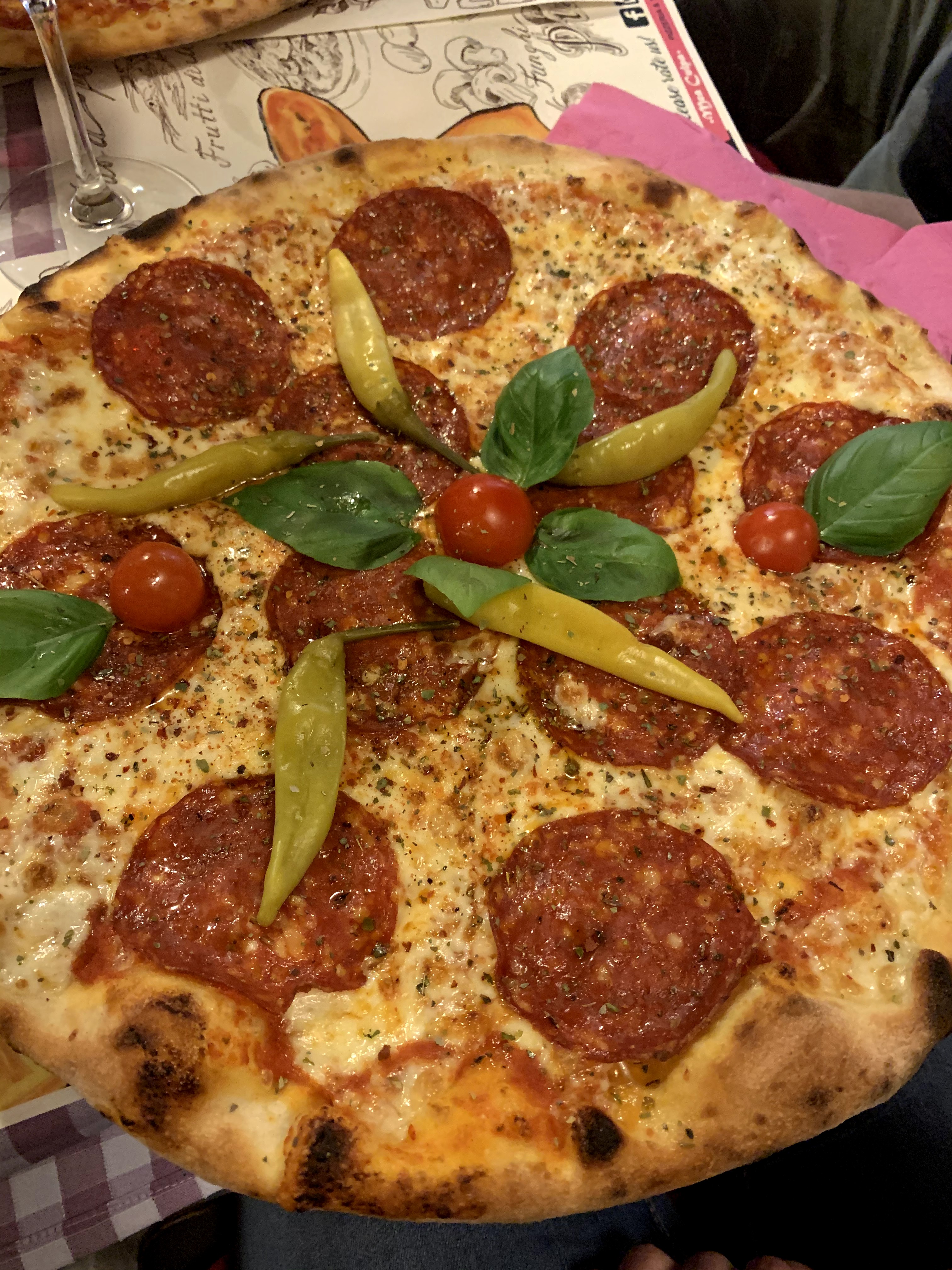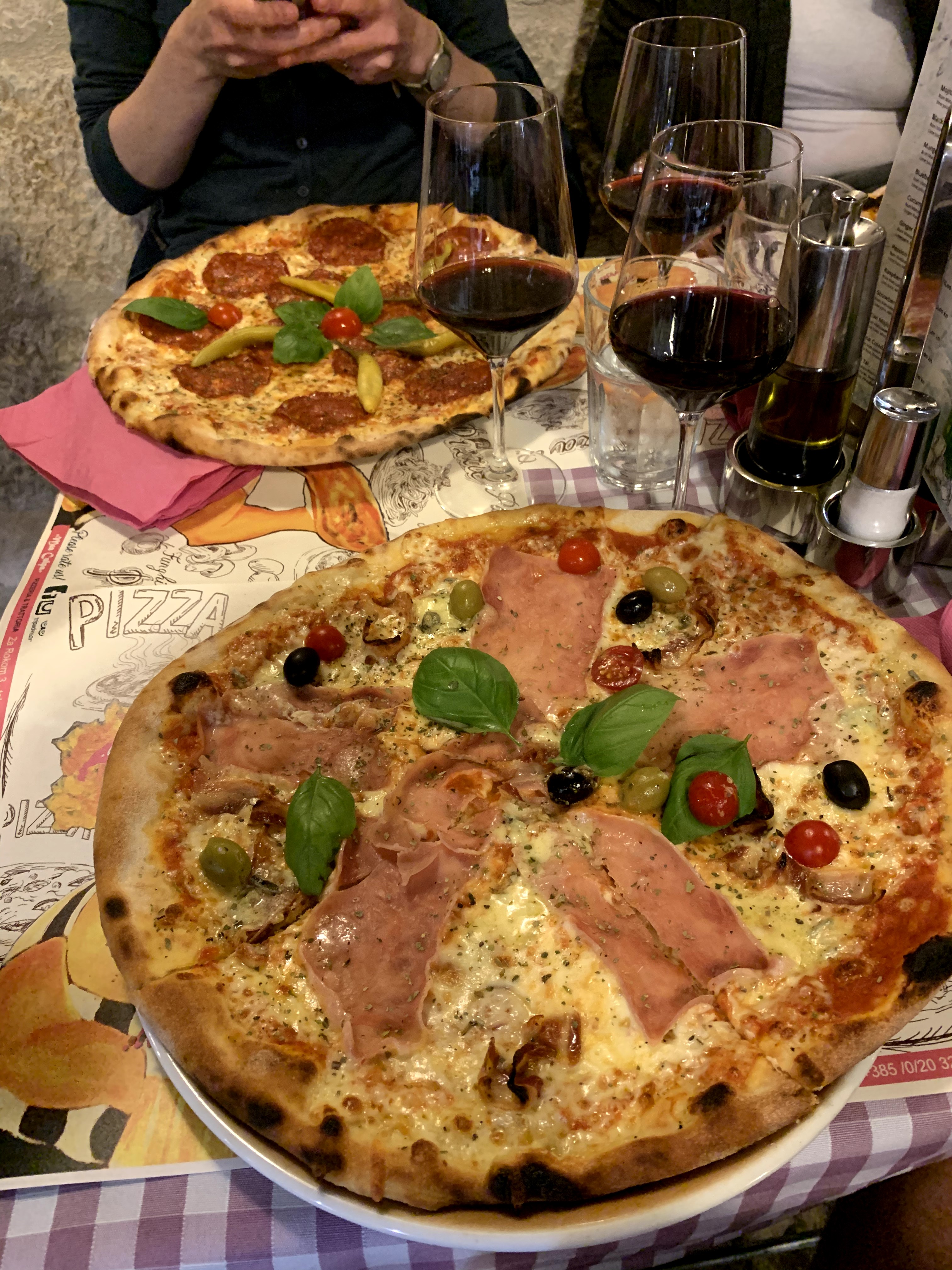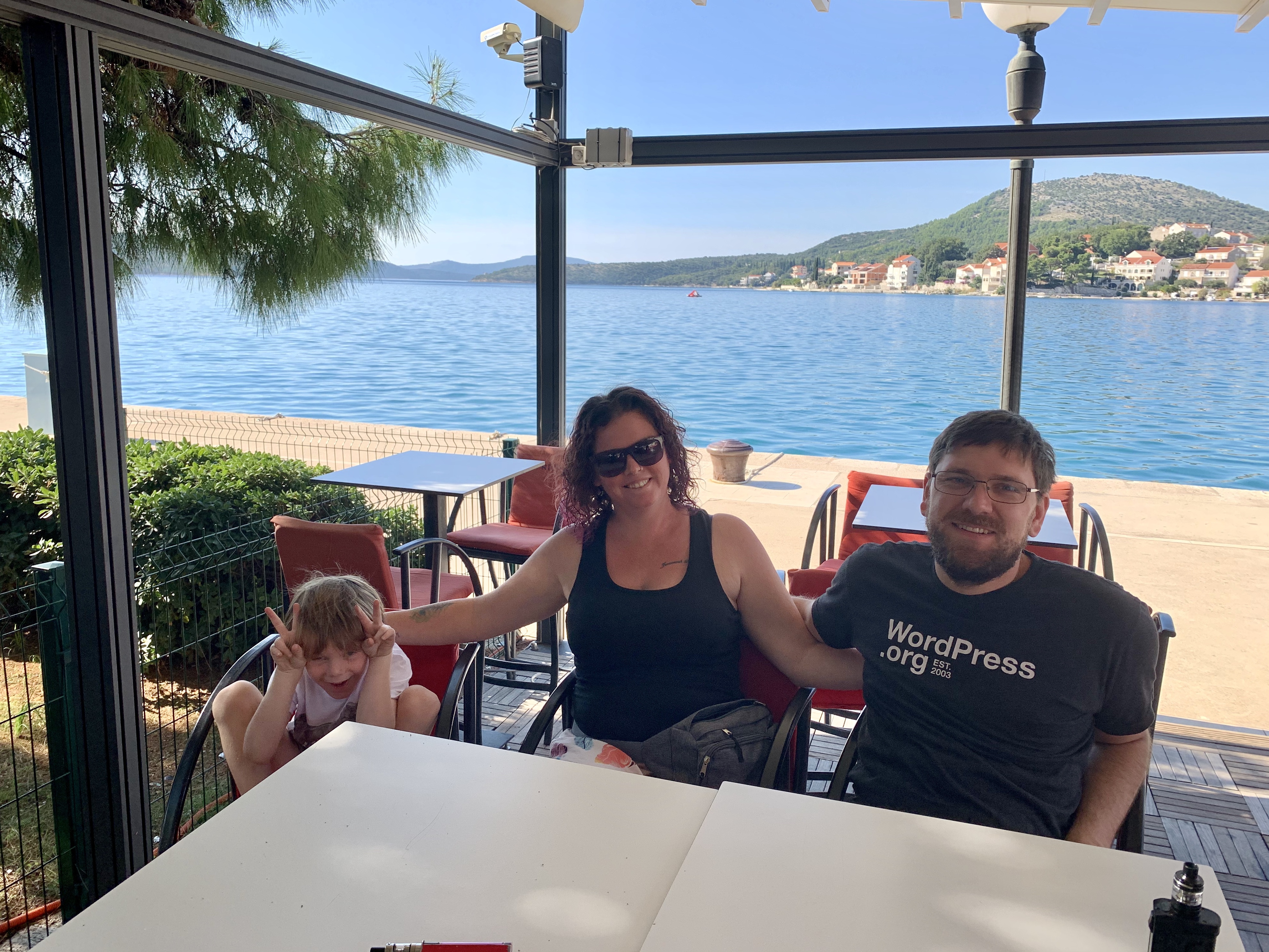 As we said goodbye to Dubrovnik, we started our drive up the coast to Viganj, which is on the peninsula. The drive is amazing. Mountains and sea surround you. I have never seen anything like it. We made a couple of stops along the way, once to grab a quick coffee. The next was the village of Ston. There is a small mussel farm where Maria and Bruno picked up the mussels we had in Dubrovnik; we decided to stop and grab some more for dinner that night, the owner asked us to come back around 4 PM. Remember that pizza from the night before? We pulled over and devoured it before heading into Ston.
Ston is a small village on the way to the peninsula. It's known for oysters, mussels and salt cultivation. It's also home to the Wall of Ston or the "European Chinese Wall" as it is the second (Great Wall being the first) longest wall in the world. There are two ways to see the wall the short way and the long way. We chose the short as it was sweltering that day. The entrance fee to the wall costs 70 kn (€9.50/$10.42). Bruno had taught Z how to say a few Croatian words, including thank you. So when Z asked the lady if he could refill his water bottle and said, "Hvala," she was just thrilled with him! It took about 30 minutes to go up and back down, including photo stops along the way, it was incredible!
We decided to stop and try to kill some time with wine and coffee since Aisha and Rob were coming from Montenegro to meet up with us. After our little break, we walked over to the salt mine; Z was stoked about this. We learned how they harvest the salt by letting the ocean water in, then closing it off, and letting the water evaporate, leaving a ton of salt. We even bought a big bag of salt to bring back with us.
Finally it was time to go back to the Mussel farm. We were not sure if Aisha and Rob were going to make it in time to join us, which was a bit of a bummer because Maria and Bruno had told us that while we wait for the mussels, we get to enjoy fresh oysters, bread and homemade wine. Pretty sure this was because Bruno was with us. Thankfully we were not able to stay earlier, so the fact that we came back at a later time was another Happy accident because Aisha and Rob joined us just in time.
We arrived at our next villa in Viganj around 6 PM. I have to say this was a huge step up from our villa in Dubrovnik; we stayed at the EOL Apartments. They were so nice, and not only did we still have an amazing view, we could walk right downstairs, across the small road, and put our toes in the water! After settling in, it was time to clean and steam those fresh mussels we picked up earlier that day. As we all gathered on mine and Rob's patio for a feast of mussels, garlic bread, and Caprese salad, I looked around at my friends and felt so grateful to be here in this place sharing such an incredible experience with them.
Our last day was packed in an easy-going kind of way. We walked down to the hotel — the apartments were part of the hotel — where we had a great spread, included with our spread, fresh coffee, and they made us amazing eggs to order.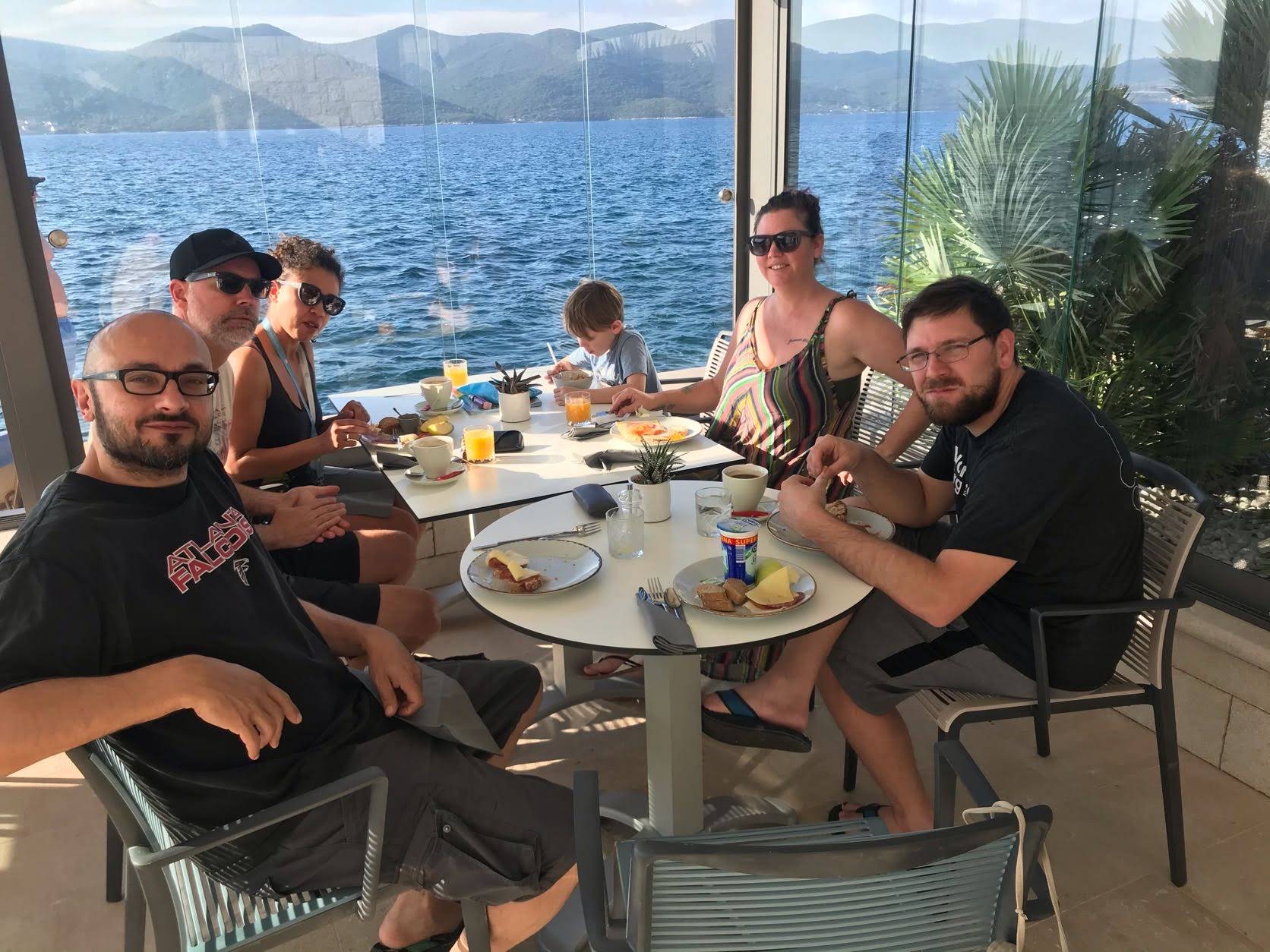 Then it was off to wineries and exploring. The Dingac region of Croatia is home to the Plavic Mali grape. Which is grown on steep hillsides and produces a wonderful albeit stronger wine. The drive to these wineries is very windy and no guard rails, it was a bit terrifying but so worth it, with the views. We even got to drive through a cool tunnel and stop for amazing photos along the way. Unfortunately, the wineries were closed as we were there in the off season, but we did stop at Saint Hills, and they were kind enough to give us a tour, and send us to a wonderful little wine bar that served their wine.
My favorite part of this afternoon was a tiny place Maria and Bruno took us. It's a family named Antunovic. Everything comes from their farm. Bruno called ahead to let them know we were coming. A homemade aperitif greeted us; they had different flavors. I had the walnut, and Rob had the Sour cherry. I am not a fan of sour things (see photo below), but I did like the Cherry aperitif better than the walnut. We then had a feast of meats that they cured themselves, cheeses, olives, the sourest cherry I have ever had, homemade bread with local olive oil, and of course, more homemade wine.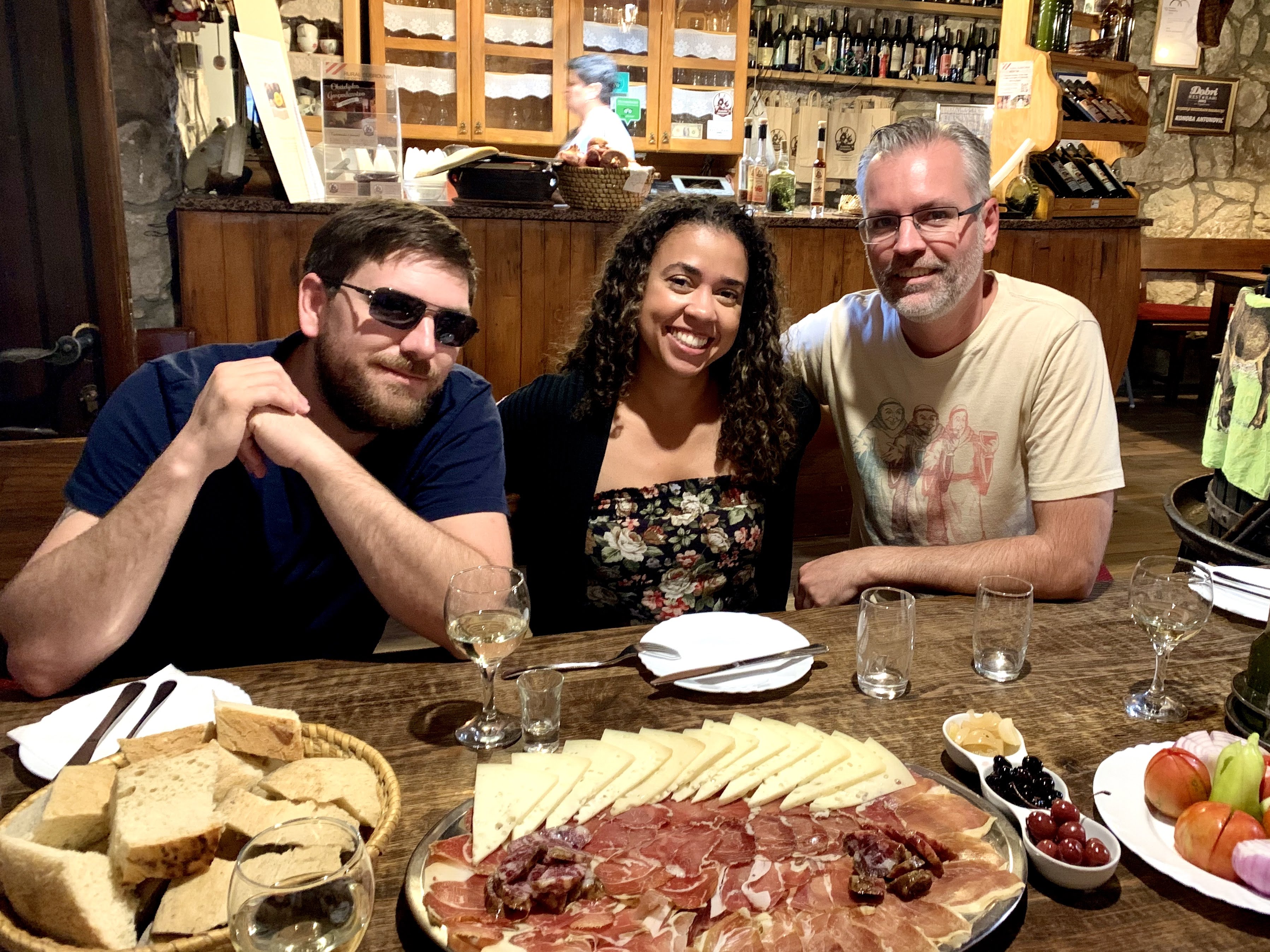 That evening we wanted to go to Korcula for dinner, alas due to it being offseason it was a bit tough to catch the ferry, so Bruno called us a speed water taxi. Another happy accident. It was a large dingy, and we had it all to ourselves. It was like an amusement park ride. We were all laughing and throwing our arms in the air. Z even got to drive the boat. Korcula, like the rest of the peninsula, was quiet, with it being the end of the season and all. It had a beautiful eeriness to it. Bruno took us to the Massimo cocktail bar. It is in a tower — you have to climb up a ladder to get to the top where they use a pulley system to deliver your drinks. The sunset was incredible up there. What an amazing place to see our last Croatian sunset. Then off to dinner, at Filippi where I had the most amazing Tuna Tartar and Truffle gnocchi. We also got to try a fantastic white wine from a grape grown on Korcula called Posip, easily one of the best white wines I have ever had.
The last day, Bruno came and asked if he could take Z to get some cereal and let Rob and I have a break to pack up, so I walked down to put my toes in the water one last time. We said goodbye to Maria and Bruno, and started our 2 hour drive to the airport. We were trying to be able to stop back in Ston in time for a quick lunch. Time was of the essence. Some how we did it! We even had time to grab some Croatian olive oil, and some of that delicious Sour Cherry Aperitif.
As we left Ston, I was so grateful. Grateful to our friends Maria and Bruno for showing us parts of Croatia a lot of tourists wouldn't get to see. Grateful that Aisha and Rob flew from Denver to share Aisha's birthday and this experience with us. Grateful to Croatia for sharing its beauty and culture with us. Grateful that for just for a moment, we got to escape. Grateful for all the happy accidents.
Stayed tuned for more adventures of (my) Rob, Z and I…
"My favorite things are just wandering from place to place, going to cafes, taking photographs. My favorite day is a happy accident." – Rufus Sewell