The past year has held so many uncertainties. There have been many times Rob and I ask this question. We reevaluated our lives and the things we were spending our time and money on. As I am sure a lot of people did. We had a lot of good but also stressful changes this year. We made the decision to stay here, in The Netherlands, moved into a new home, I started working at an amazing salon here in Utrecht, and Rob started with a new team at work.
I loved being back at it, in the salon. It came with challenges though. Even though everyone spoke English there was a lot that was lost in-translation. You would think that hair is pretty translatable , it is in fact not. After three months, lots of chats with Rob, a good friend, and of course my therapist: I had to decide if it was worth it. Z was having a hard time with me being back at work, he doesn't remember me working when he was younger. Rob was missing meetings so he could be with Z on Fridays. So I resigned. While I miss it, especially my colleagues, I am enjoying being home with Z, and planning our next adventures
When school got out for summer, we were all a bit burnt out. We knew we needed to go somewhere. While we were nervous about the pandemic and flying, we had been to America and the way the airlines handled everything made us feel more comfortable. So after many discussions we decided we wanted to go to Spain. We thought about Barcelona and Valencia, both cities we really want to visit. As we got more into planning I suggested a different kind of trip. One thing that is so important to us as we travel is to really immerse ourselves in the culture of where we are going. We hardly ever stay in the city center and we find interesting things to do, not just the top tourist spots. We never do big resorts or chain hotels. So when I proposed Mallorca, Spain, we had to research it and see if it was worth it. Was it worth staying at an all-inclusive resort, was it worth going instead for culture, to have a lazy beach holiday? Rob and I decided after the year we had, it would be.
I booked a 10 day stay at the Hipotel Mediterrano Club in Sa Coma, Mallorca. A four star resort right on the beach. It had all the bells and whistles, while still being affordable. There are three options to choose from. You can have breakfast included, half board, which is breakfast, lunch, and non-alcoholic drinks, or full board which includes all of the above with dinner, beer, and wine. We had booked for the breakfast only because we knew we wanted to try the local restaurants. Upon check in we were informed that several of the restaurants were not able to reopen due to the pandemic, so we decided to upgrade to the full board, a decision we made with out asking if it was worth it. That also meant it didn't start until the next day. Thankfully the manager told us about a great little pizzeria right down the street.
After checking in we went to our room and quickly changed as it was 5:30 and the pool closed at 6pm. Z and I ran down to the pool, he jumped in while I made my way to the bar and ordered a glass of rosé, probably the worst rosé I had ever had. I immediately thought: dear lord what have we paid for?! It was really that bad! So we made our way to the beach and while Z played in the sand; Rob and I made plans for Rob to go get a couple of pizza's, and we would dine on our balcony. Of course, Rob had to stop at the market and get wine that was actually drinkable. After enjoying dinner with our amazing view, we decided to explore the resort. Across the street there was the main restaurant, a larger pool, toddler pool, games, ping pong, a pool table, and a stage. There was a magic show going on. They had entertainment every night. We took it in for a bit, however, after traveling we were exhausted so we decided to turn in and wake up rested for a big day of pool, beach, pool.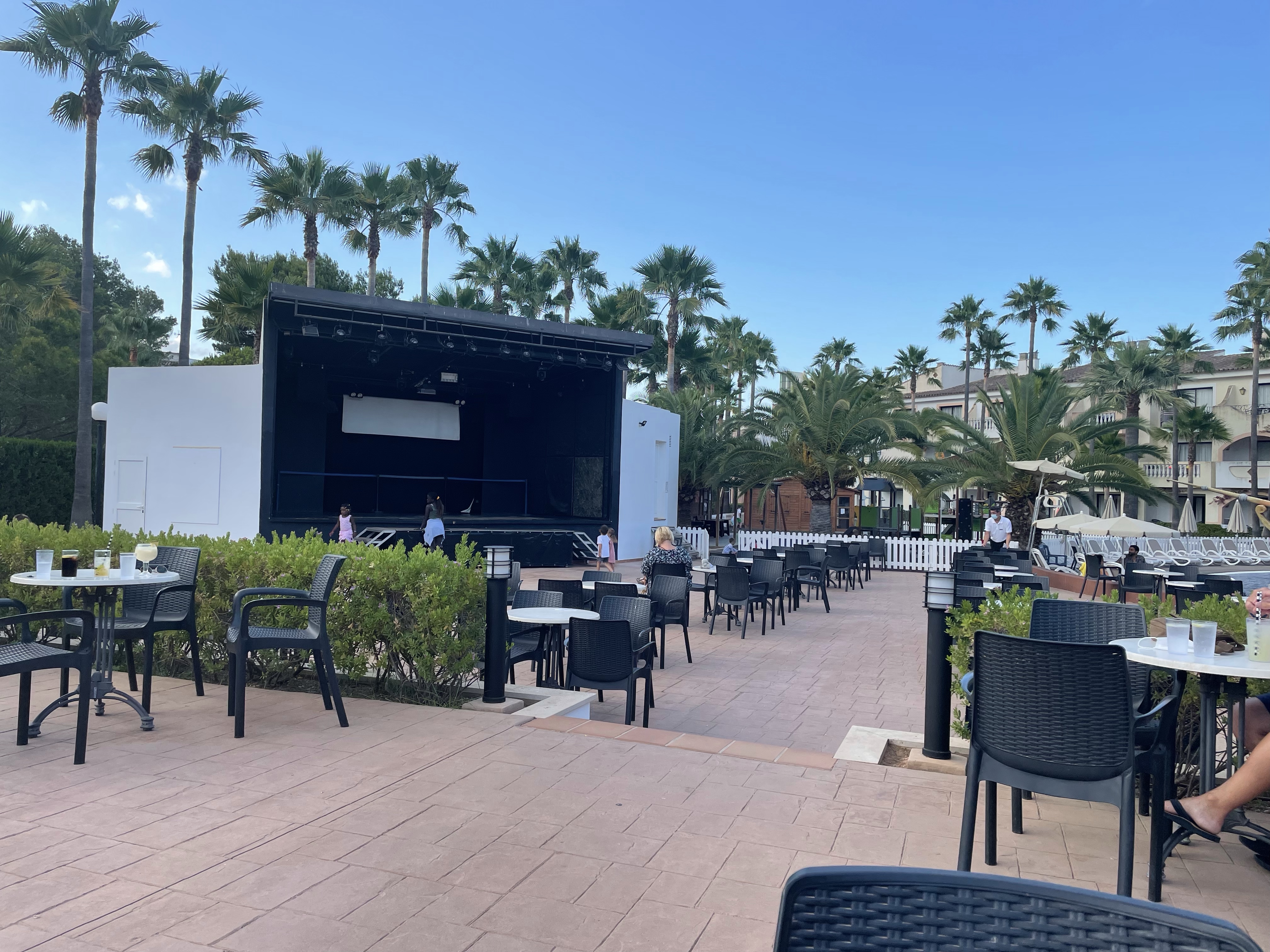 The next day we woke up and, z and I went to claim pool chairs. I noticed, real quick, that if you didn't get your towels on a chair, you were going to be out of luck. This seemed a bit stressful to me. I wanted to sleep in, be lazy, and wonder down in my own time. By 9am there were no chairs available though, so waking up by 8 was what I had to do. It worked out though. Everyday we had the same chairs, it was like our little nook right by the pool and the bar. We made our way to breakfast, a buffet. Every day, every meal, buffet. We were not impressed. The food was lack luster. Around lunch time I decided I would try a glass of cava, because as I mentioned the wine on tap was awful, thankfully the cava was from a bottle and really good. The rest of the trip Z, drank his weight in slush puppies, and pretty sure Rob almost drank all of the cola they had! So there was something to this all inclusive thing.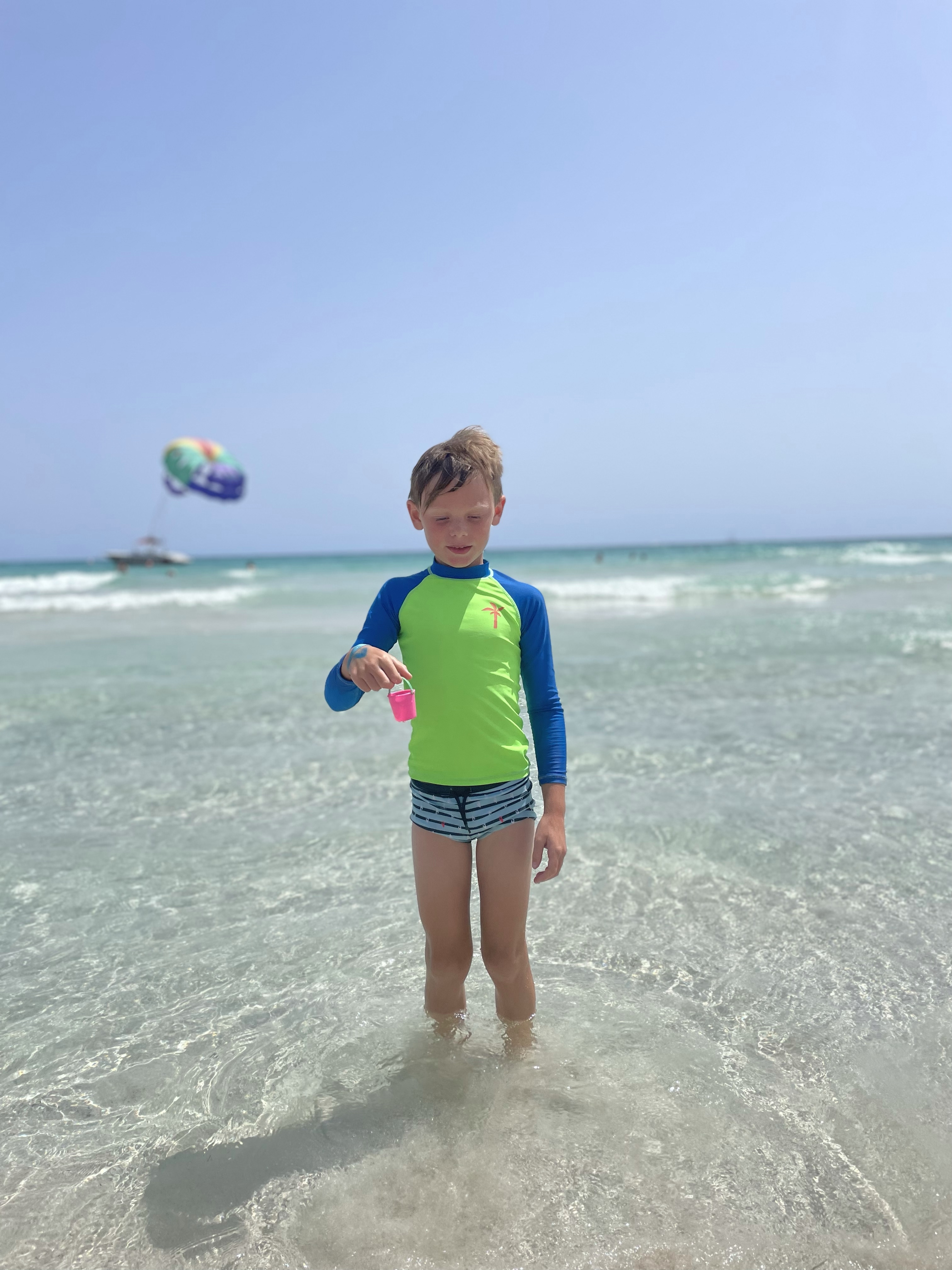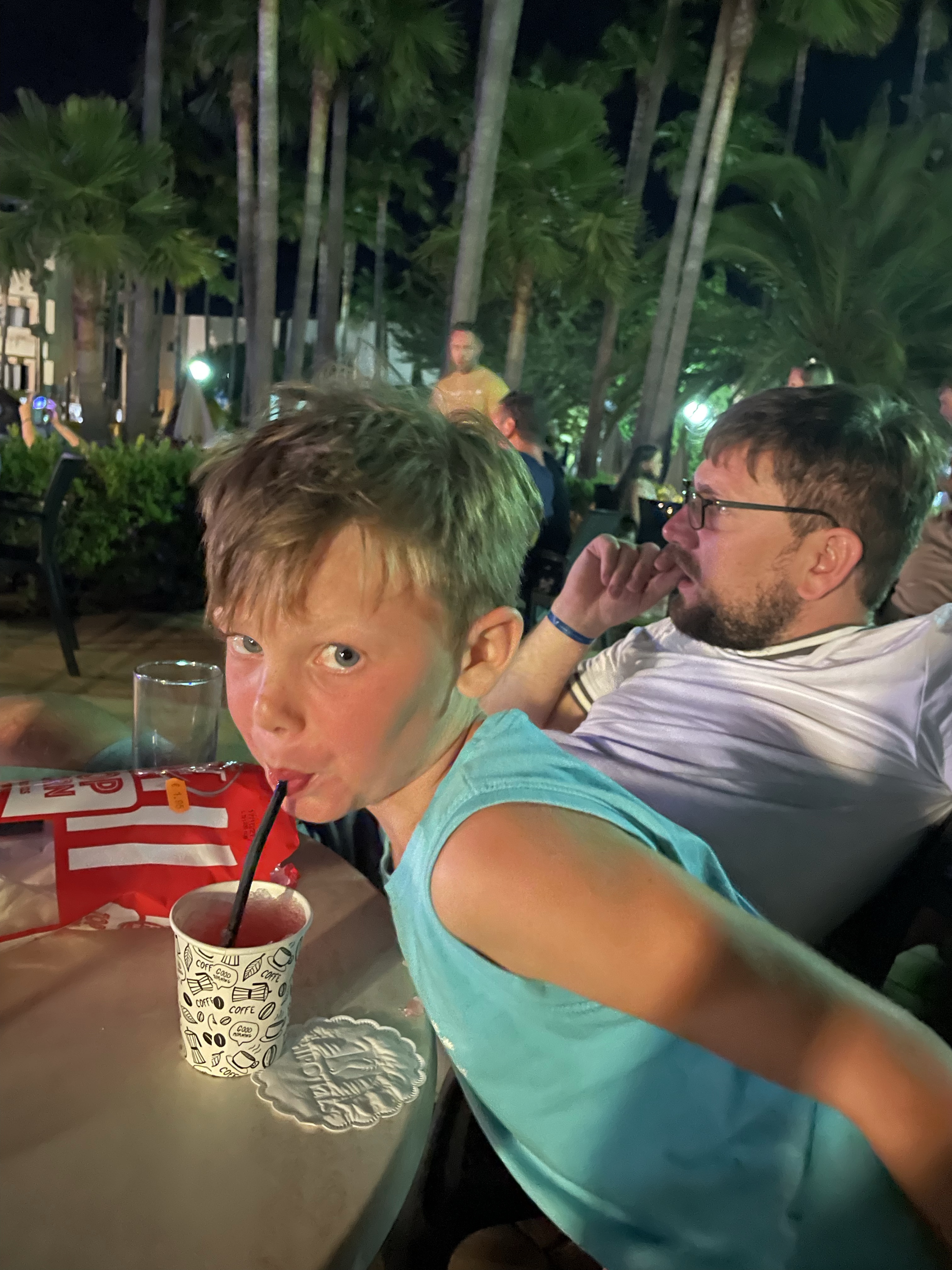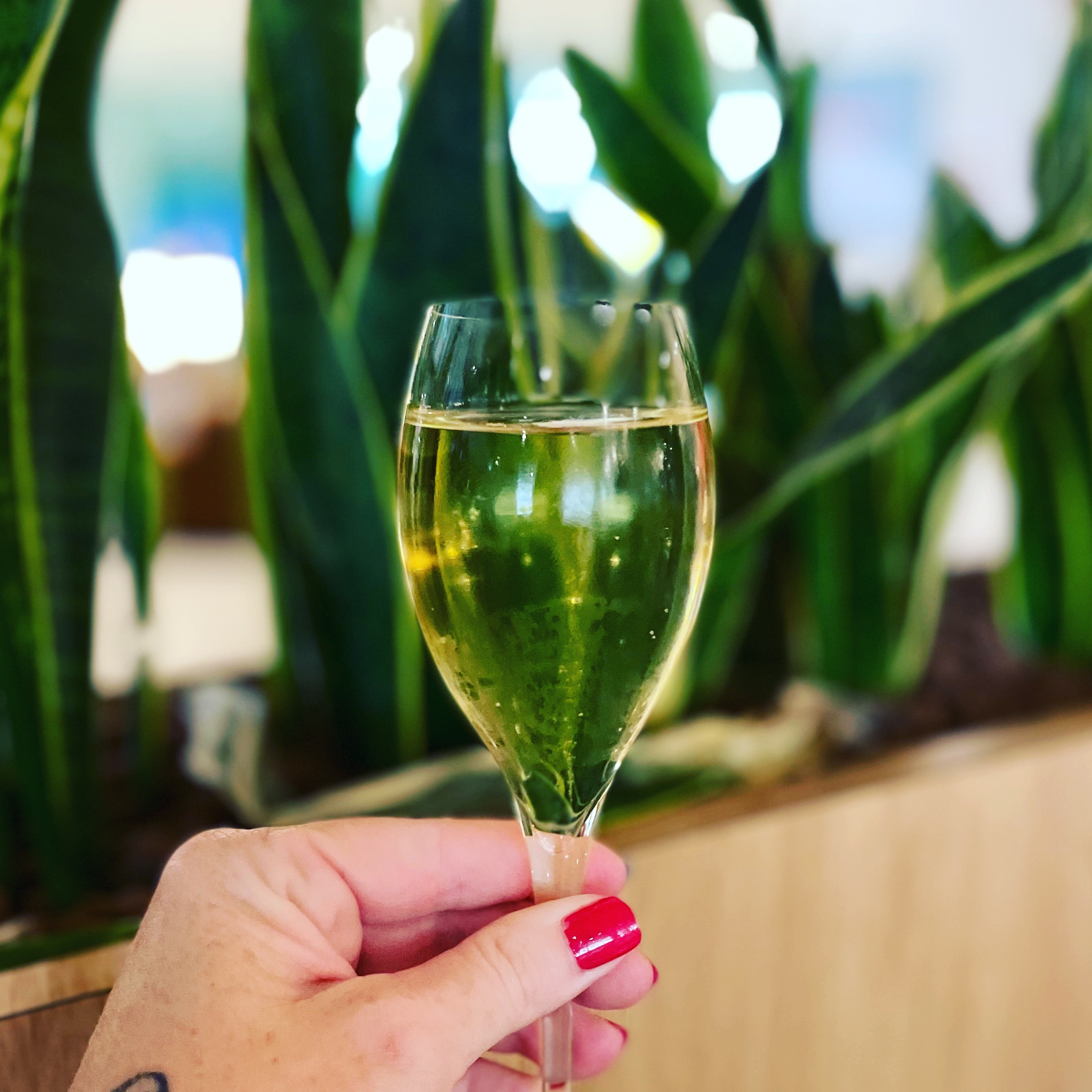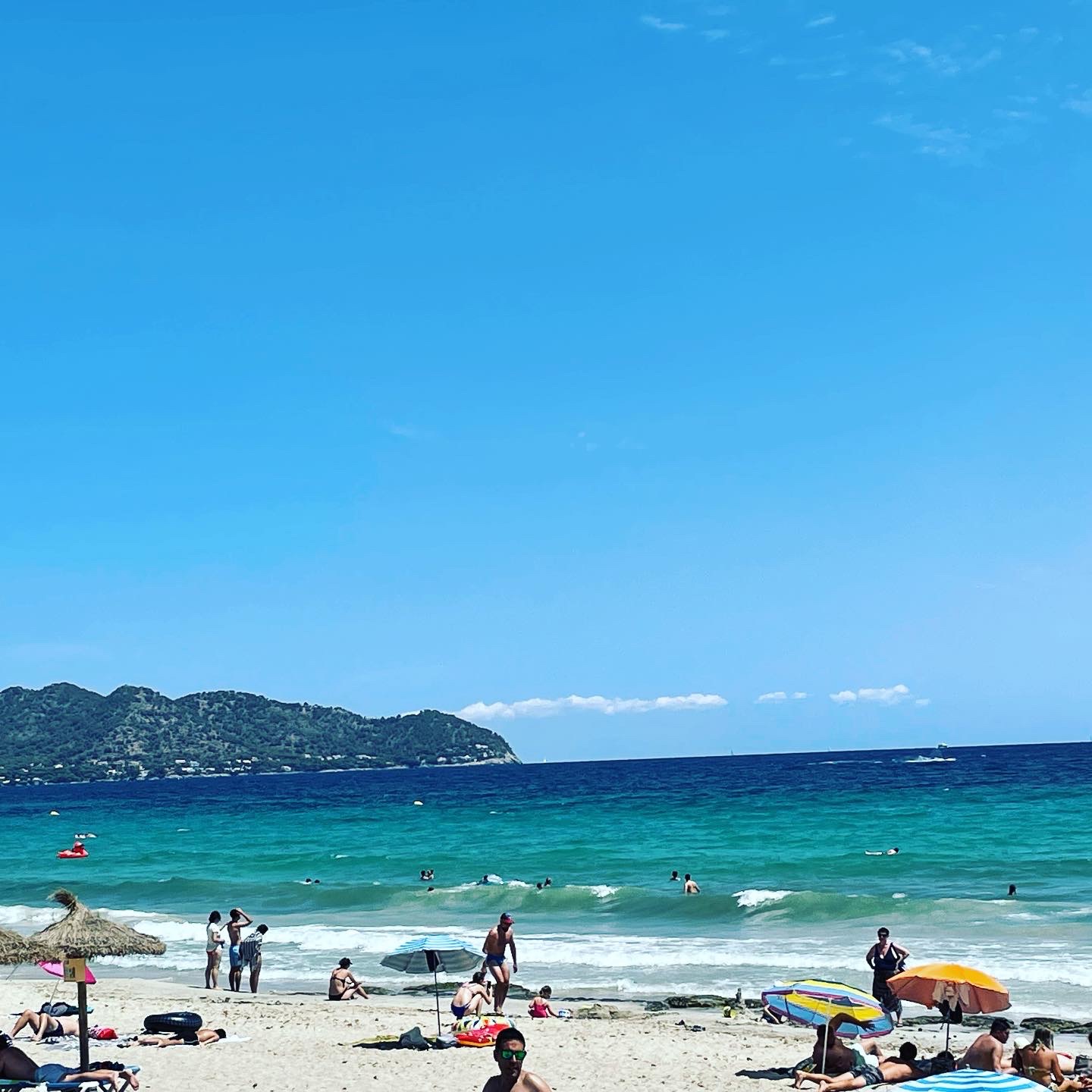 After lunch we decided to rent scooters, Z got a little dirt bike, and we rode around for an hour exploring Sa Coma, and the next town over, Calla Millor. It was a nice little adventure. That night we ate at the hotel and again, the food was lack luster. We quickly realized we just had to get creative with what they had. It was easy for Z every night, they had some kind of pizza or pasta. Rob usually went with the same. I would make a charcuterie and cheese plate. We knew we would be dining out at some point but, that night, exhausted from the day: Rob and Z turned in. I heard music coming from across the street and being the extrovert I am, and not having been out in forever I decided to go check it out. There was a great Irish pub called Pogue Mallone, I had drinks with the owner Ben and chatted with the bartender Abby for what seemed like hours. Rob, Z and I went back for dinner one night and had some of the best fish and chips we had ever tasted!
The week was pretty monotonous, wake up, breakfast, pool, beach, pool, lunch, pool dinner, show, rinse and repeat. I suppose that is what makes it relaxing. It was almost the end of the week and we all needed a little adventure, so we booked a boat ride to Porto Cristo where the Drach Caves are. I highly recommend doing this. We went on a Thursday and when we got off the boat, there was a market selling local produce and hand made jewelry. The caves were so impressive. We had never seen anything like it. Once you are all the way to the bottom, there is a concert. You can't take photos or videos here but it was lovely, like something out of a fairy tale. You can also drive there but we wanted to get off land and see the island from the sea.
A good thing about staying in a place for so long is that eventually you figure things out. There was a kids club, so we arranged for Z to go a couple of days. The first time he went, we dropped him off and Rob and I made our way to the Adult only section of the hotel. This was a different world. There was a spa, a gym, wonderful restaurants, and the pool was SO QUIET! Rob and I enjoyed a couples massage. After which, they had cava and a snack waiting on us. The second time Z did the kids club, Rob and I enjoyed a morning of shopping without having to say no every five seconds. If you are a parent you know exactly what I am talking about! Z loved the club also. See, every night before the main show there was a kids show. He was too nervous to go up and dance with the other kids. After the kids club, we didn't see him until it was over because he wanted to go play and dance with his friends!
As we were nearing the end of the week, we needed a change of scenery, so we went to a different resort and played mini golf. This was probably my favorite night. We had so much fun just laughing and playing together. I even got a hole in one!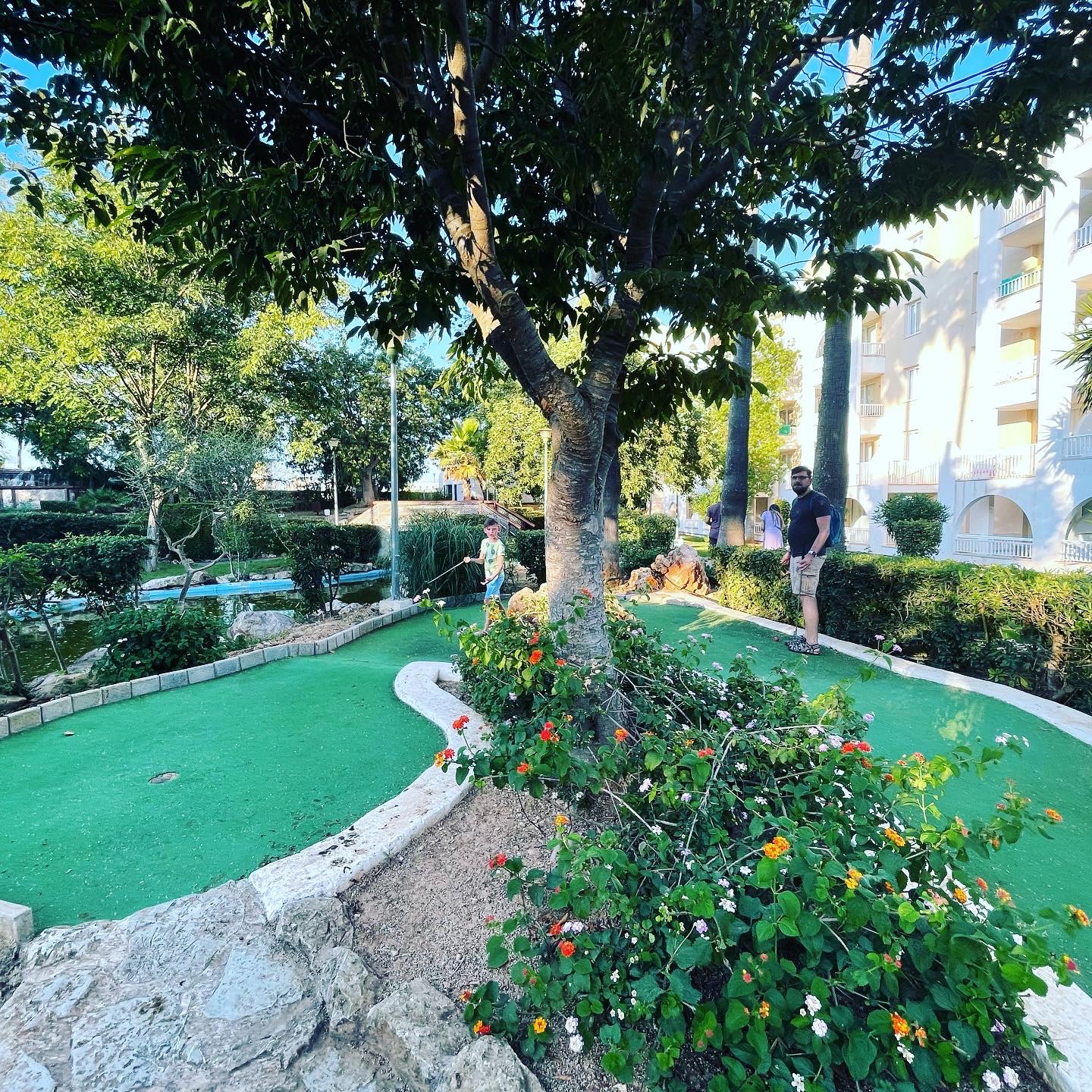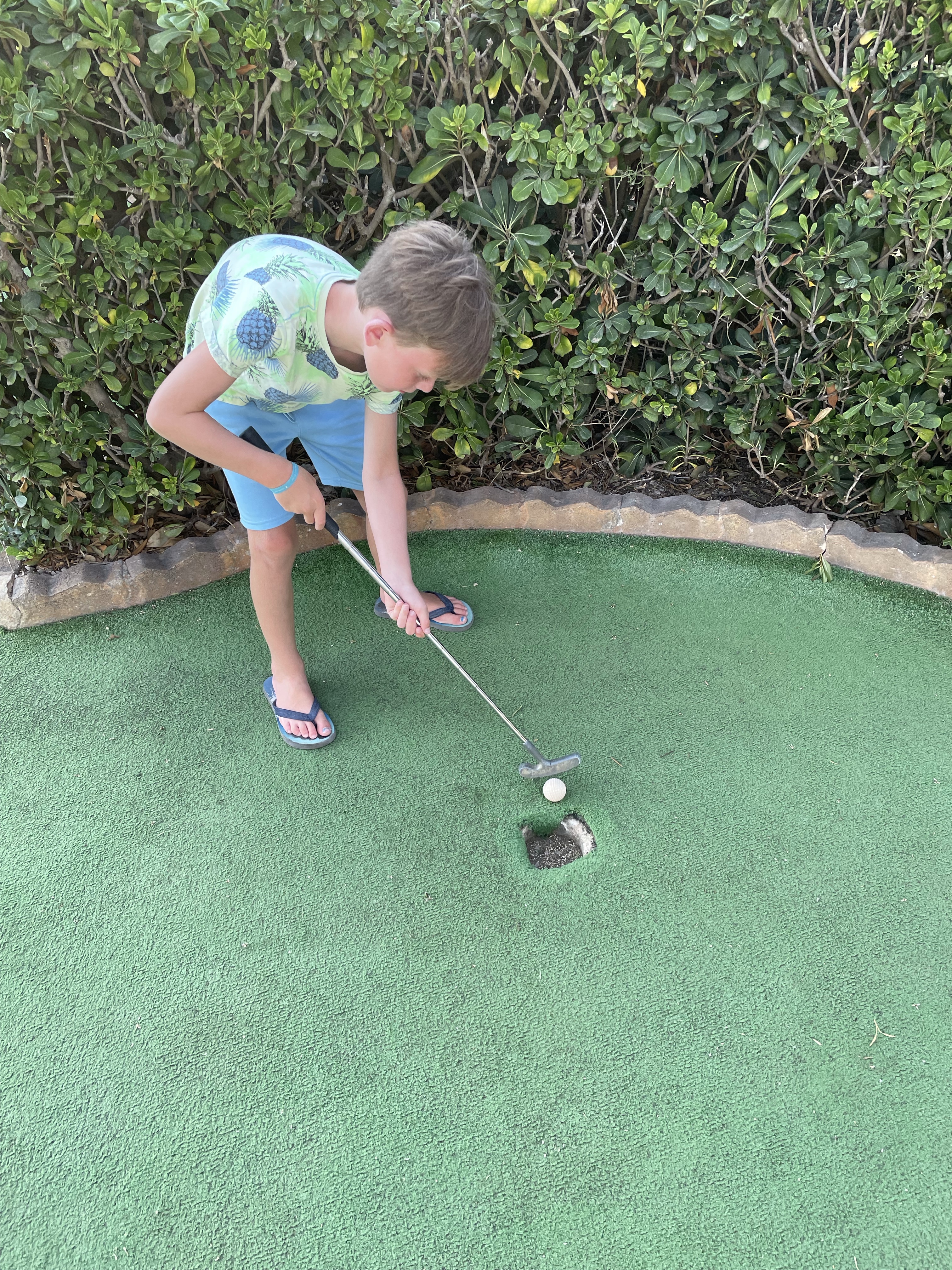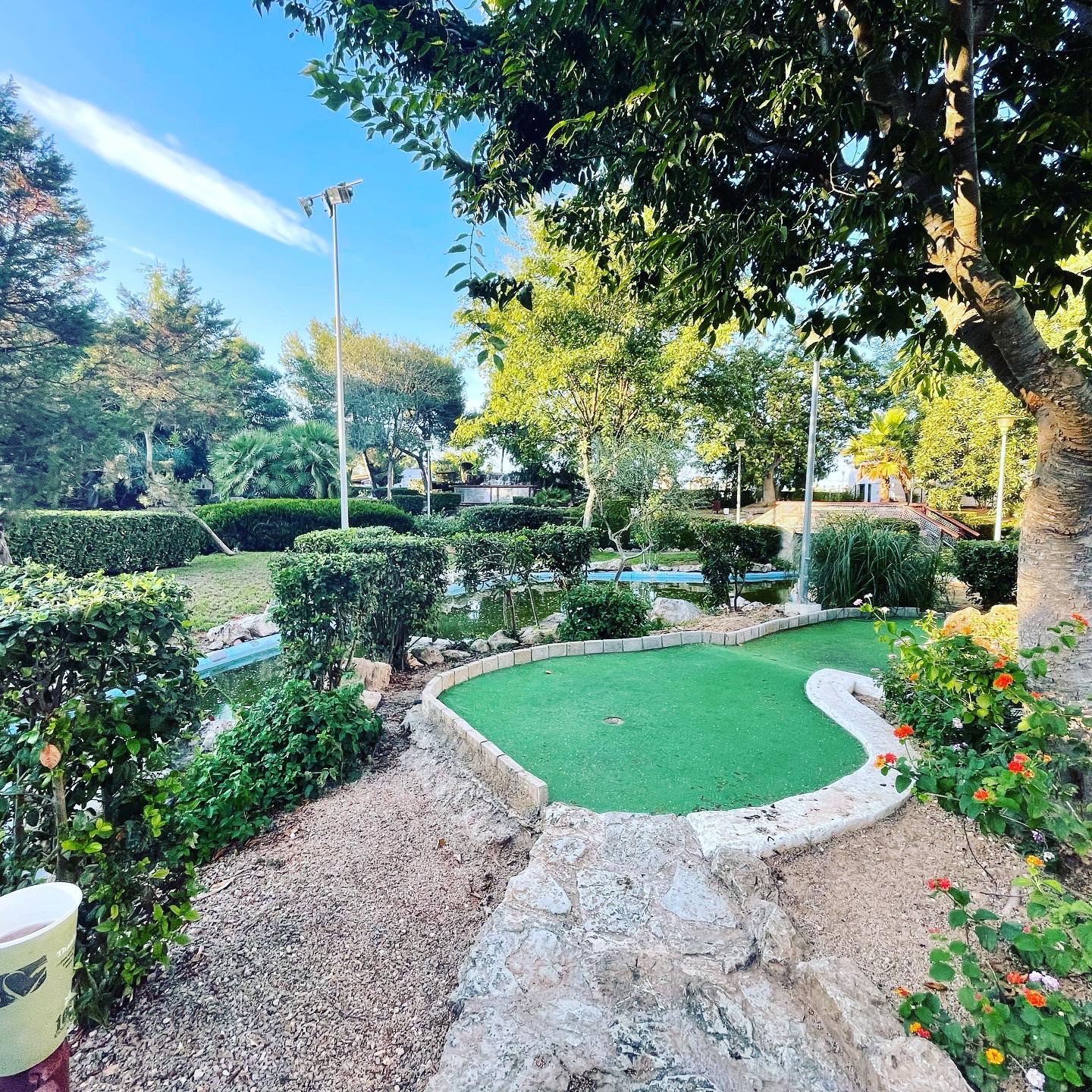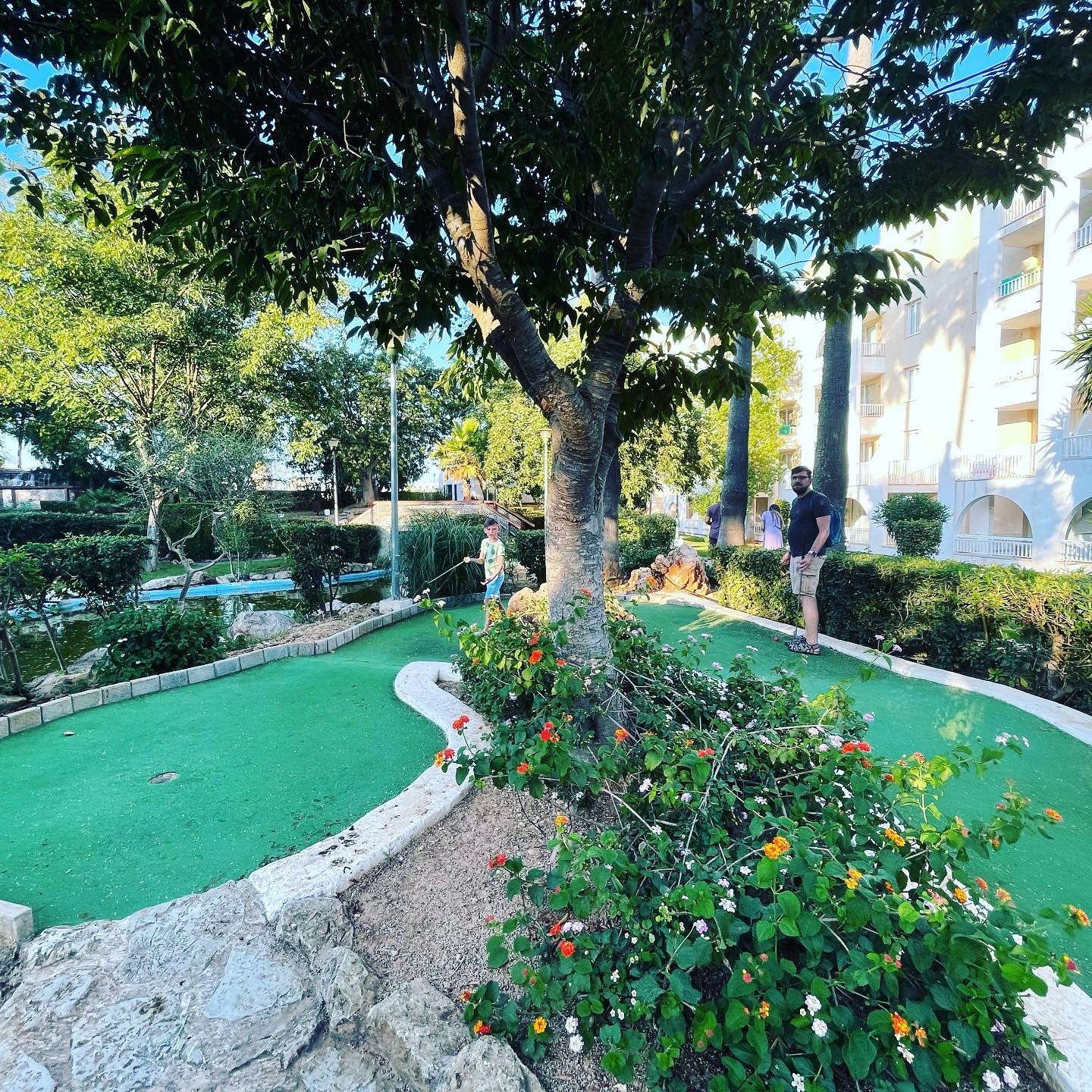 The day we were flying out, I woke up early and decided I wanted to go for a swim in the sea one last time. I made my way to the beach around 7:30am, I was the only one down there. I had the whole cove to myself. I ran in like a kid running to see what Santa brought them! It was incredibly peaceful. While some might judge me on this, I have to share. Beaches in Europe are different than those in the States, don't be surprised if you see women without their tops on. I somewhat admired them. The freedom. I just could never bring myself to do it. That morning though, with not single person around, I slipped my one piece bathing suit down and swam like a mermaid in the Mediterranean sea. Free does not begin to explain the feeling I had. While I don't think I will be doing it again anytime soon. I am happy I was brave enough to do it.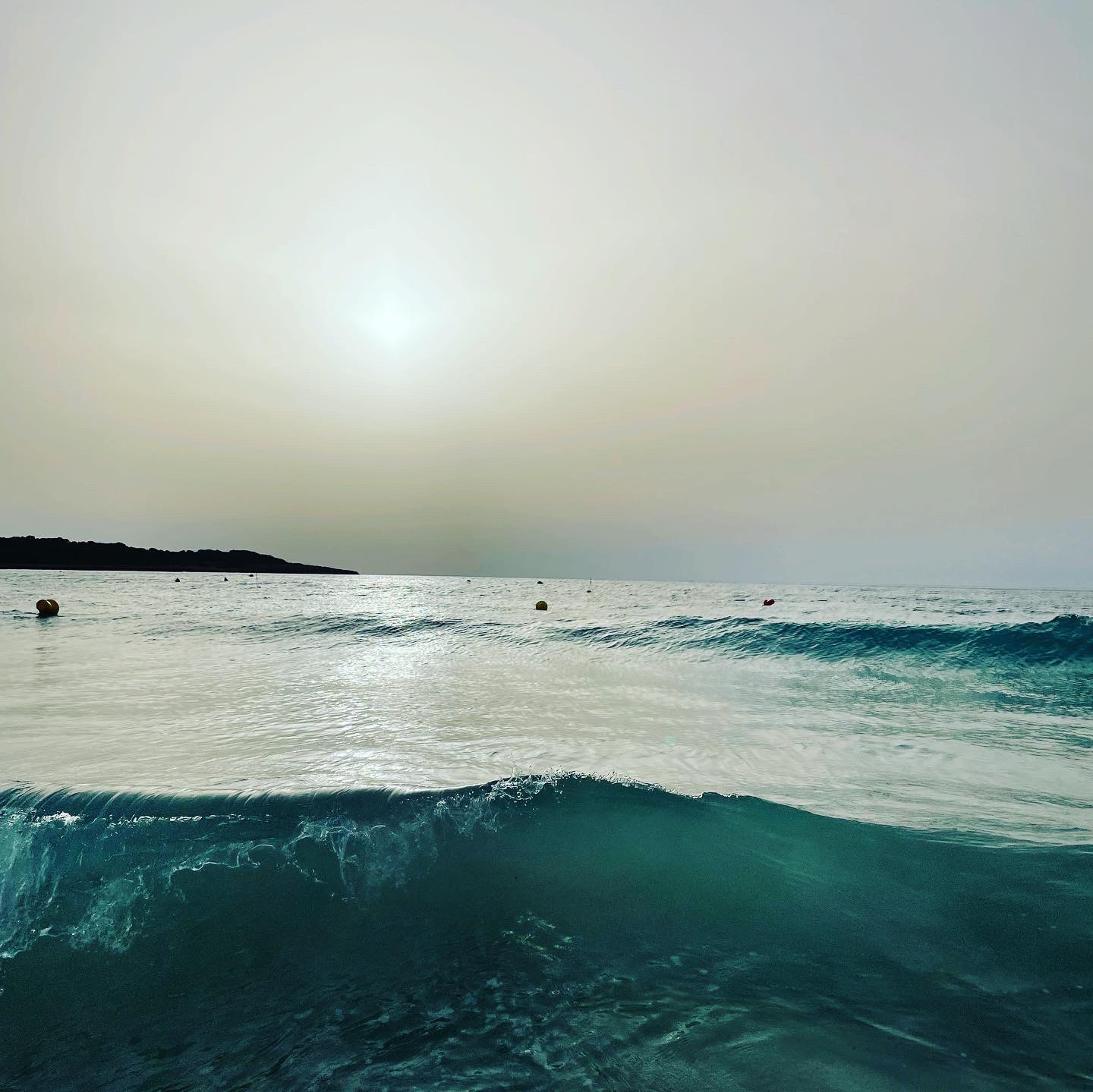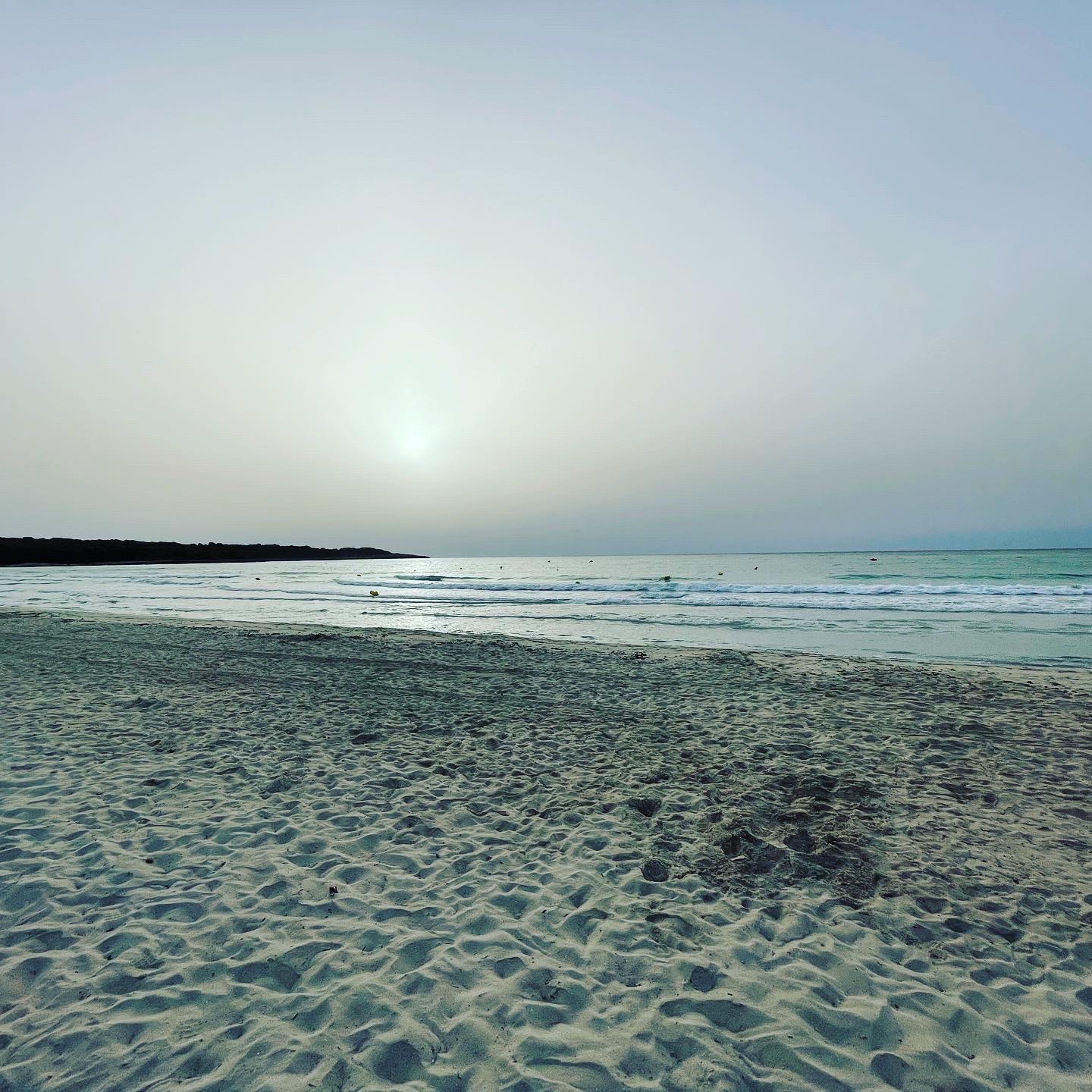 Would I recommend doing an all inclusive, little-to-no culture holiday? If you have never experienced it, sure. It's worry free. We got some quality time alone, thanks to the kids club. Z had a blast, all he cares about right now are playgrounds, pools and ice cream which they had in spades! And, you can always spend some time getting lost in the streets of Palma, the capital, like we did and get some culture and history in before heading to the airport. Will we do it again? probably not. While we enjoyed ourselves, we love adventure and really getting to know the culture and learning about the history of where we are traveling. Was it worth it? Always. The time together, the laughs, the disconnecting, the memories, the swimming like a mermaid. It's always worth it.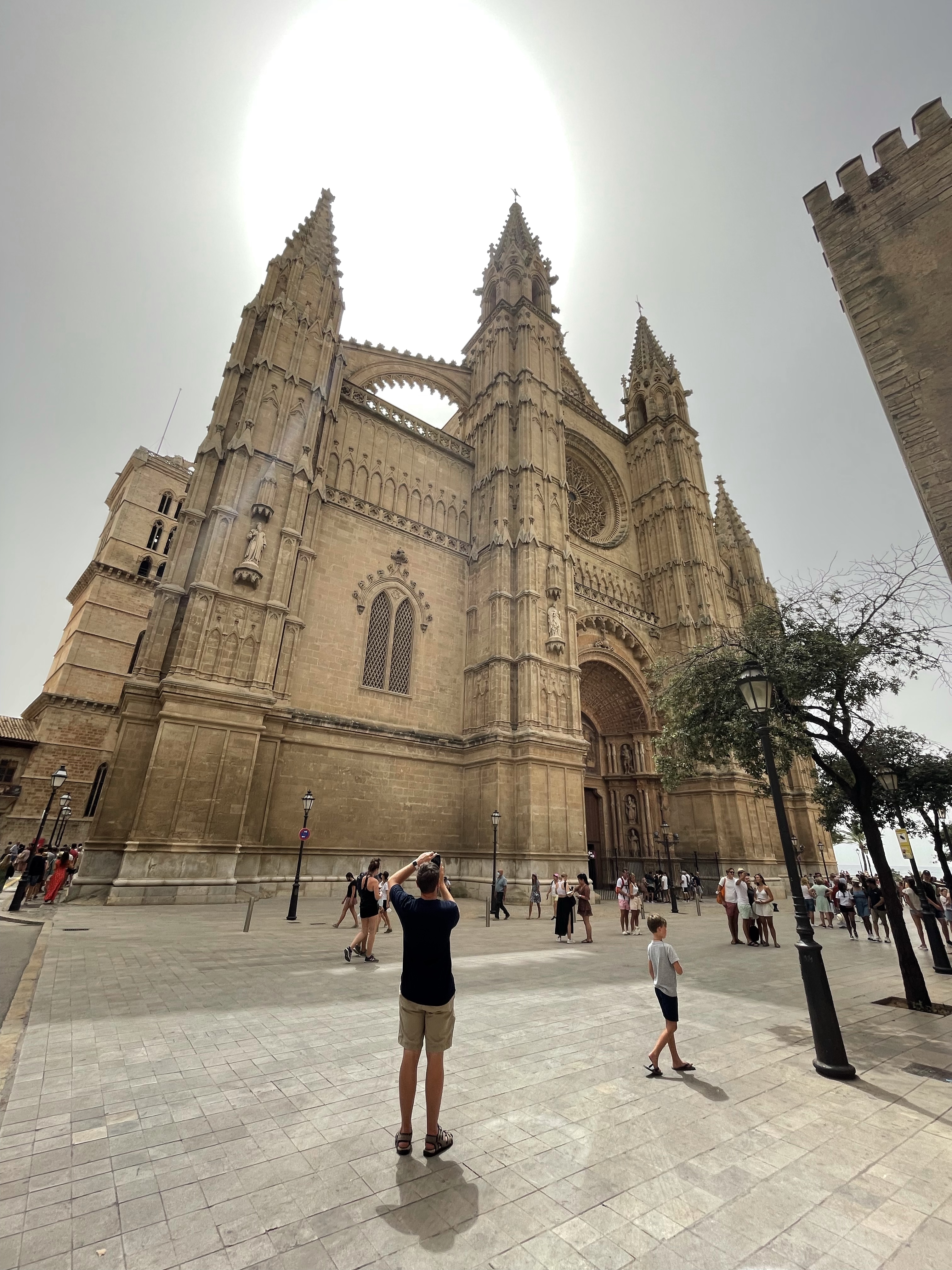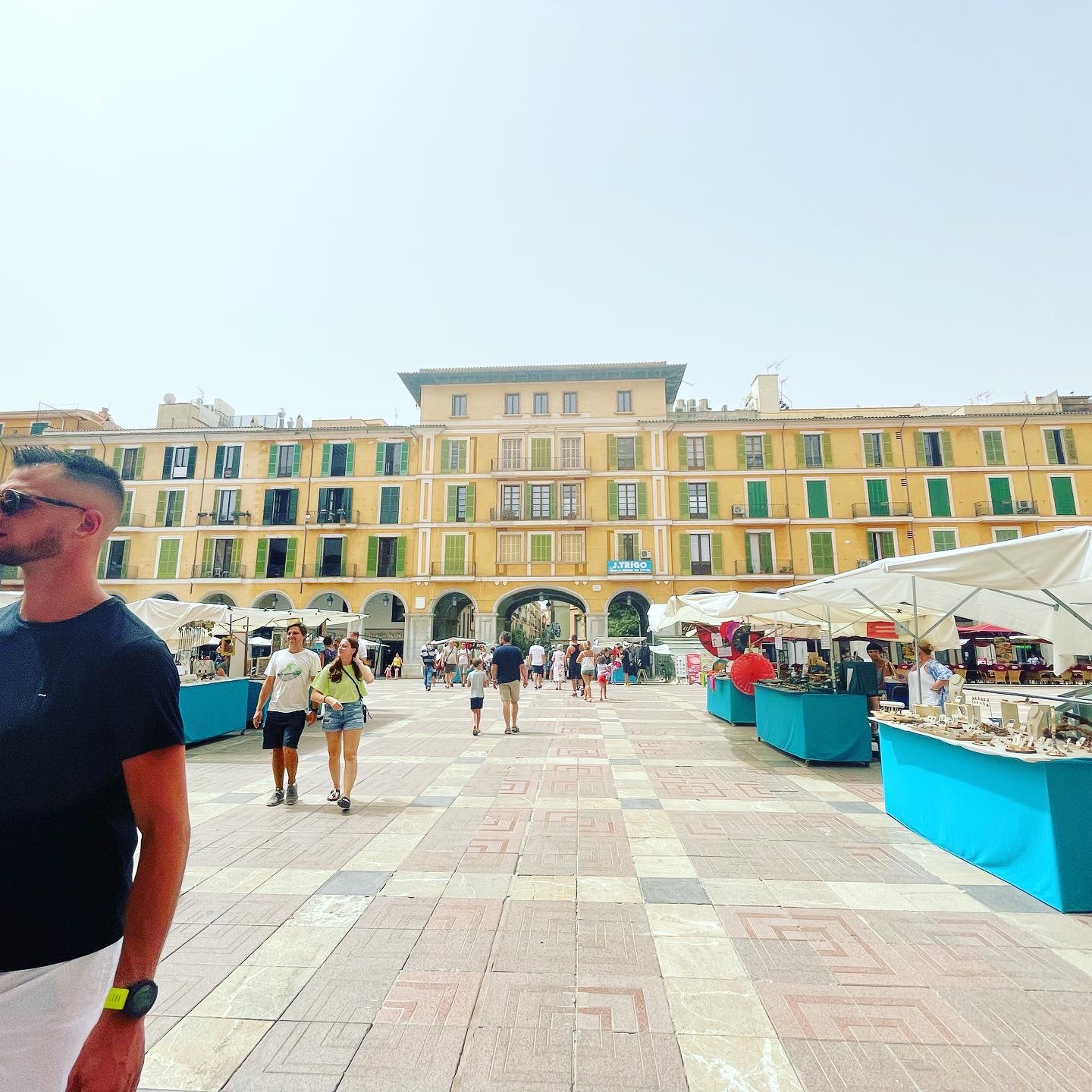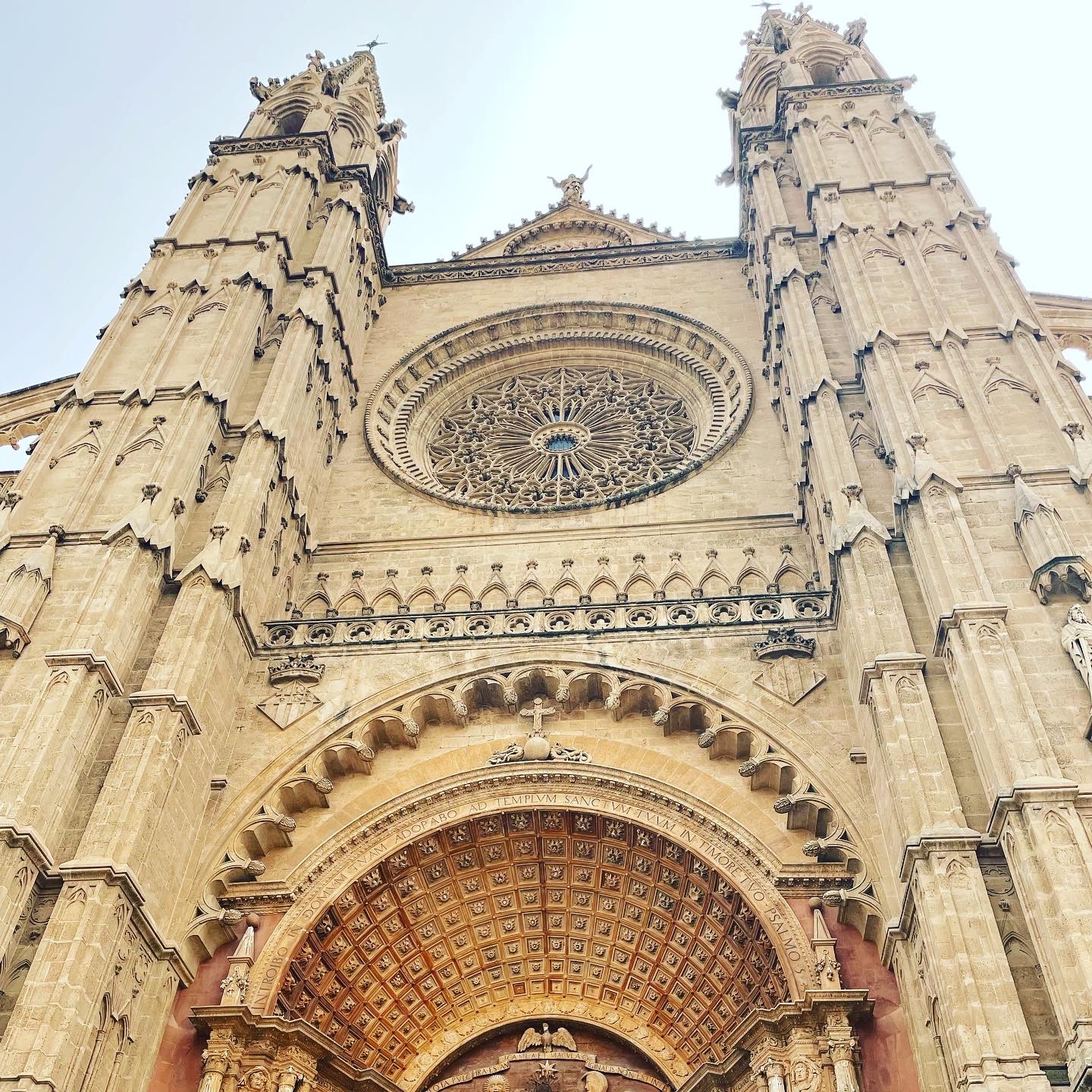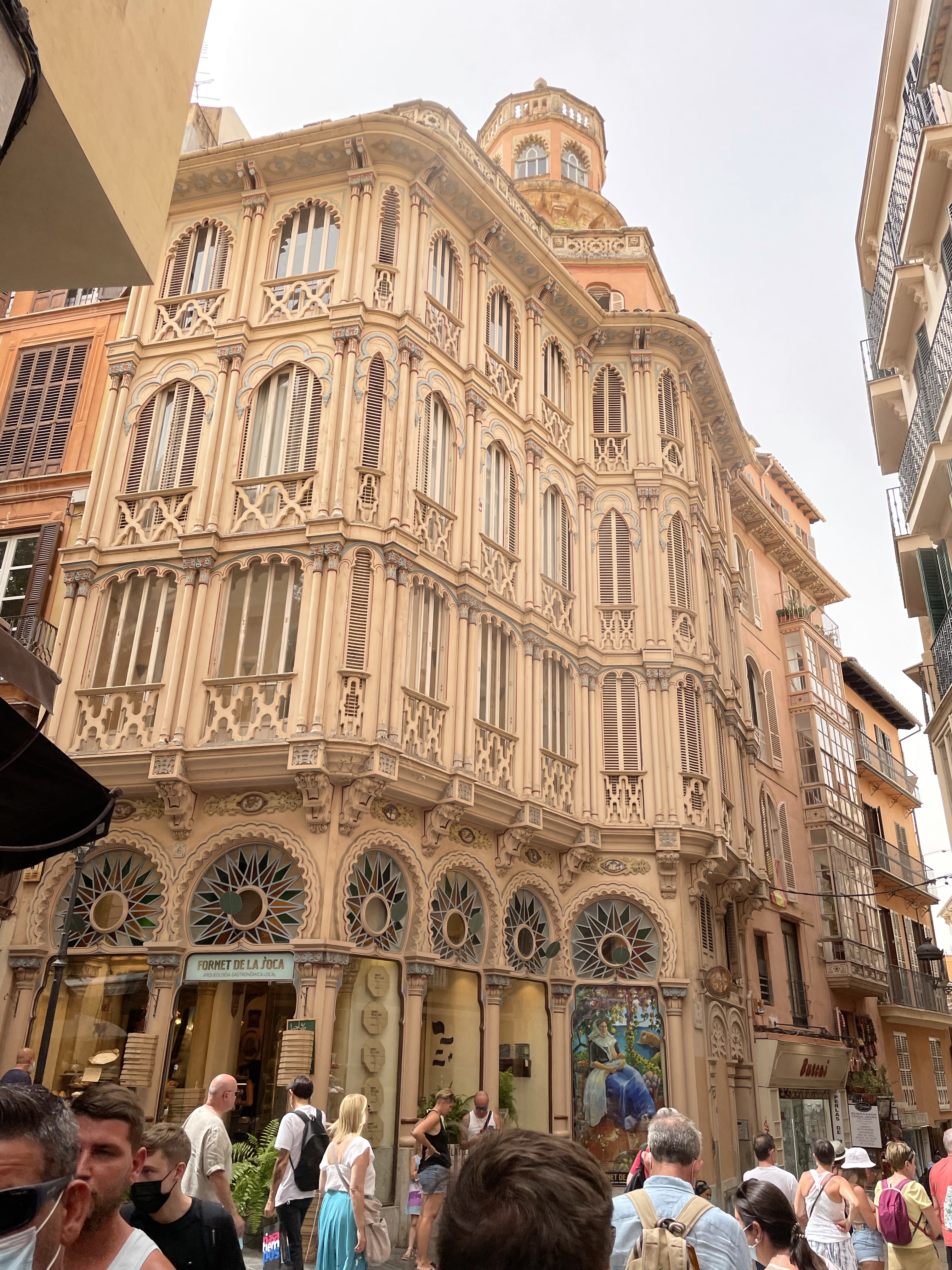 Stay tuned for more adventures of Rob, Z and I…
"There are times you can't really see how sweet life can be. Hopefully the mountains will be higher than the valleys are deep. I know things that are broken can be fixed. Take the punch if you have to, hit the canvas and then get up again. Life is worth it." – Queen Latifah