We all have heard that first impressions are everything. That always made me so anxious. I mean who can be perfect the first time around? The idea of it is so, illogical to me. That is not to say I do not understand that we should strive to do our best, and always show up. We do give second chances though, and it is so great when we get them. Some of my greatest friendships have been formed in second chances, no matter if I was giving them or being humble enough to accept them. So, and I am guilty of this, why do we write off places we visit so quickly? Maybe that city isn't so bad, maybe it wasn't the right time in our life to visit that place. We had an experience like this over New Year.
If you have been following along with our adventures you know how our first trip to London went, and if you are just joining, It was awful. Everything that could go wrong did. I truly never thought we would go back. I felt like Carrie in the Sex and the City episode when the girls go to LA, they are leaving and she says to the airport or whoever is listening "I get it, I get it, WE ARE LEAVING!" So when we decided to go back for New Year I was a bit apprehensive. I was also excited though, because My cousin Aaron was there visiting his lovely girlfriend Sara. We had not seen Aaron since my mom's funeral and we had never officially met Sara. We were looking forward to it even if it was in London.
When you are traveling, it's the little things that can start the trip on a positive note. We got to the bus stop just in time so we didn't have to wait in the cold too long. At the train station, it was like Rob and I were in sync, we could communicate with just a look. You load the train cards, I will get coffee and breakfast, and we also get to the train with no waiting time. It was a smooth morning. Then the stress of it hits. Which way do we go? Sky priority is one way and the sign says go the other. This is usually when Rob and I clash. We both are the type of people who need to take the lead in a stressful situation because it gives us a sense of control. I decided this trip I was going to work on that, so I took a deep breath and let Rob take the lead. Things became smooth again. It was so hard for me to do that, but at that moment I knew that I could relax because he had this.
We decided to do London a different way this time, We stayed in a completely different part of the city and had completely different things planned. Once we checked in to the hotel, we took a beat in the lounge; Z with a snack and Rob and I had a drink while we waited for Aaron and Sara to meet us for dinner. My boys were very happy because there was a Chipotle near the hotel. Our friends arrived and we headed to the bus stop. After about 15 minutes of waiting, we realized the bus was not coming. In my head, I thought, "ok London here we go." Rob suggested we just walk, after all, it was only 1.5 km away. The walk was absolutely beautiful. We strolled along the Thames River, over a beautifully lit bridge, all the while laughing, catching up with Aaron, and starting to get to know Sara. It was a lovely first night. As I lay in bed that night I thought maybe London wasn't trying to get to us, but rather show us a side that we would not have seen on the bus.
The next day we got an early start. All Z wanted to do was get his real Harry Potter wand. So after breakfast at the hotel, we headed to Platform 9 3/4. We didn't do any of this the first time because Z was barely 4 and didn't know who Harry Potter was. Let me tell you, if you are a Potter fan London is the place for you! It really was magical.
We had tickets for the Nutcracker that evening but many hours to pass until then, so I had read about this small courtyard called Neal's Yard, the photos looked so charming and it was said to have cute local shops. While making our way there we decided to stop at the British Museum, something I did not know about London was that there are so many free museums. I am sure during normal life there are very long lines but in covid times there were none. I could have spent all day here and Z was excited to see mummies!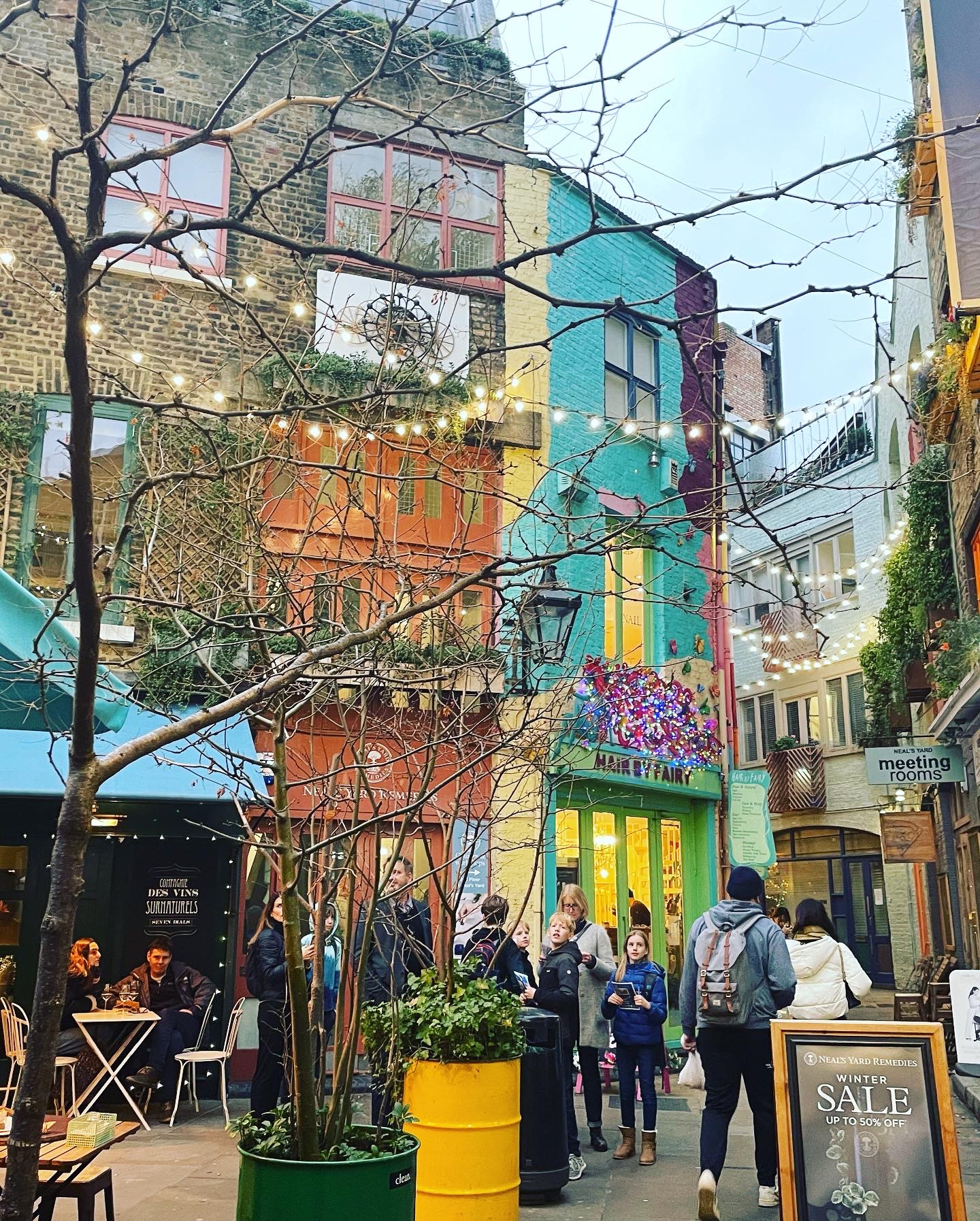 The one thing I was looking forward to the most as far as activities go, was seeing the Nutcracker. As we were walking into the British Museum Sara and I received an email that the performance was cancelled. I was upset, but we quickly thought maybe we could get tickets to a different show. So after some searching, we got tickets to see Wicked that night. I had seen it before, no one else had and it would be Z's first big show. It was all working out.
After the Museum we stopped for lunch at the Seven Dials Market. I have been to several food halls and this is one of my favorites. We had From the Ashes BBq. It was so delicious. Rob and I shared a pulled pork sandwich, that was on a doughnut. That was strange but also very good.
After strolling around a bit, we made our way to Dinner at Prezzo. If you are catching a performance at the London Coliseum it's a perfect spot. It is right across the street, and the food was amazing. Our new show, however, was across town at the Apollo Victoria Theater so a quick ride on the underground and we were there. The performance was incredible. Z loved it, In the beginning, it was a bit loud for him, so during intermission Rob asked and someone in the sound booth loaned Z a pair of small headphones and he was able to really enjoy the rest of the show.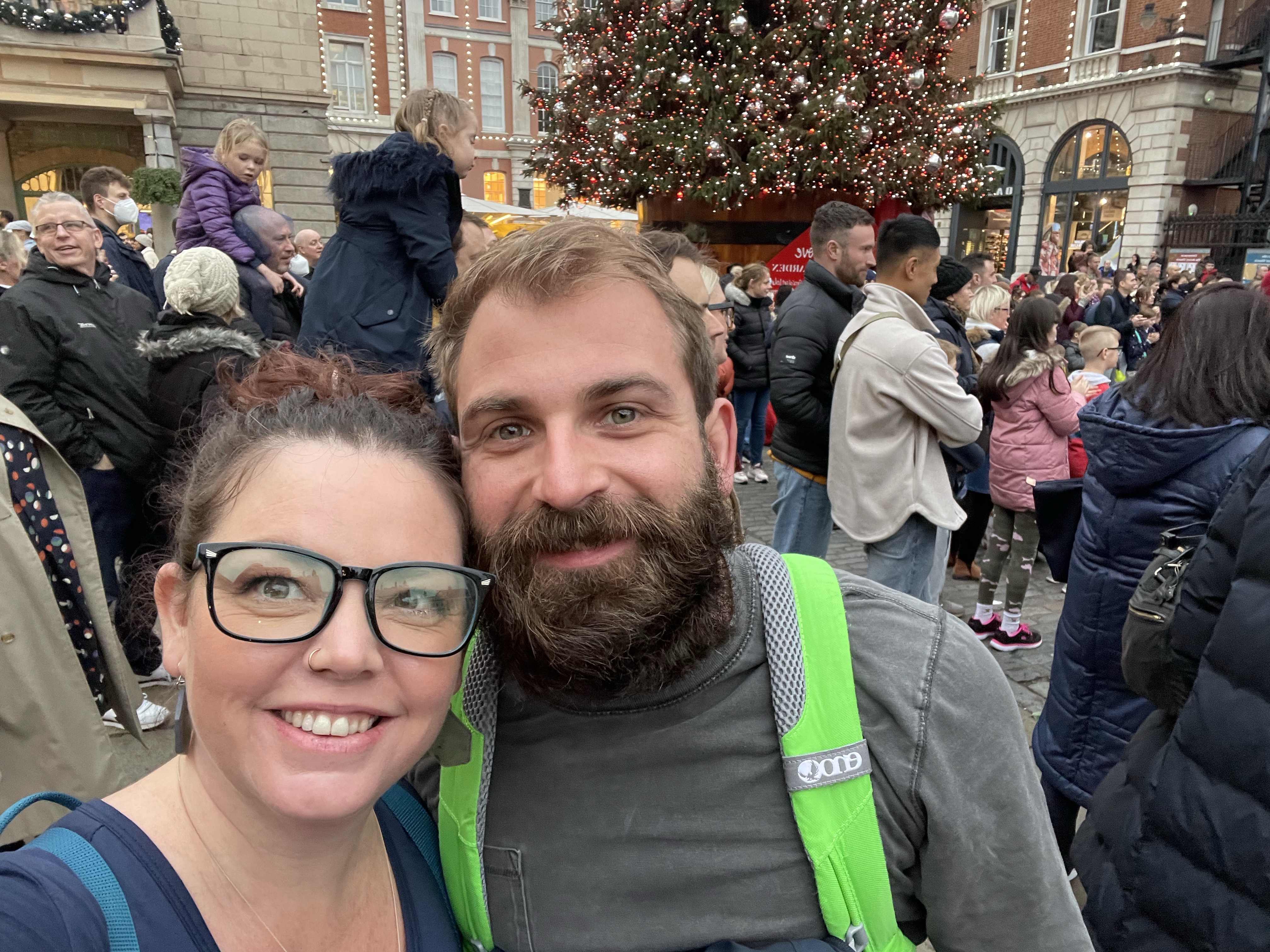 On New Year's Eve, we had made plans to go to Winter Wonderland at Hyde Park. You had to book a time slot and ours wasn't until one that afternoon, so we checked and there were more free museums close to the park. With my boys every city we visit there is a science museum we go. So that is what we did. This one was actually my favorite. It was more of an air and space museum. Definitely check it out while you are there.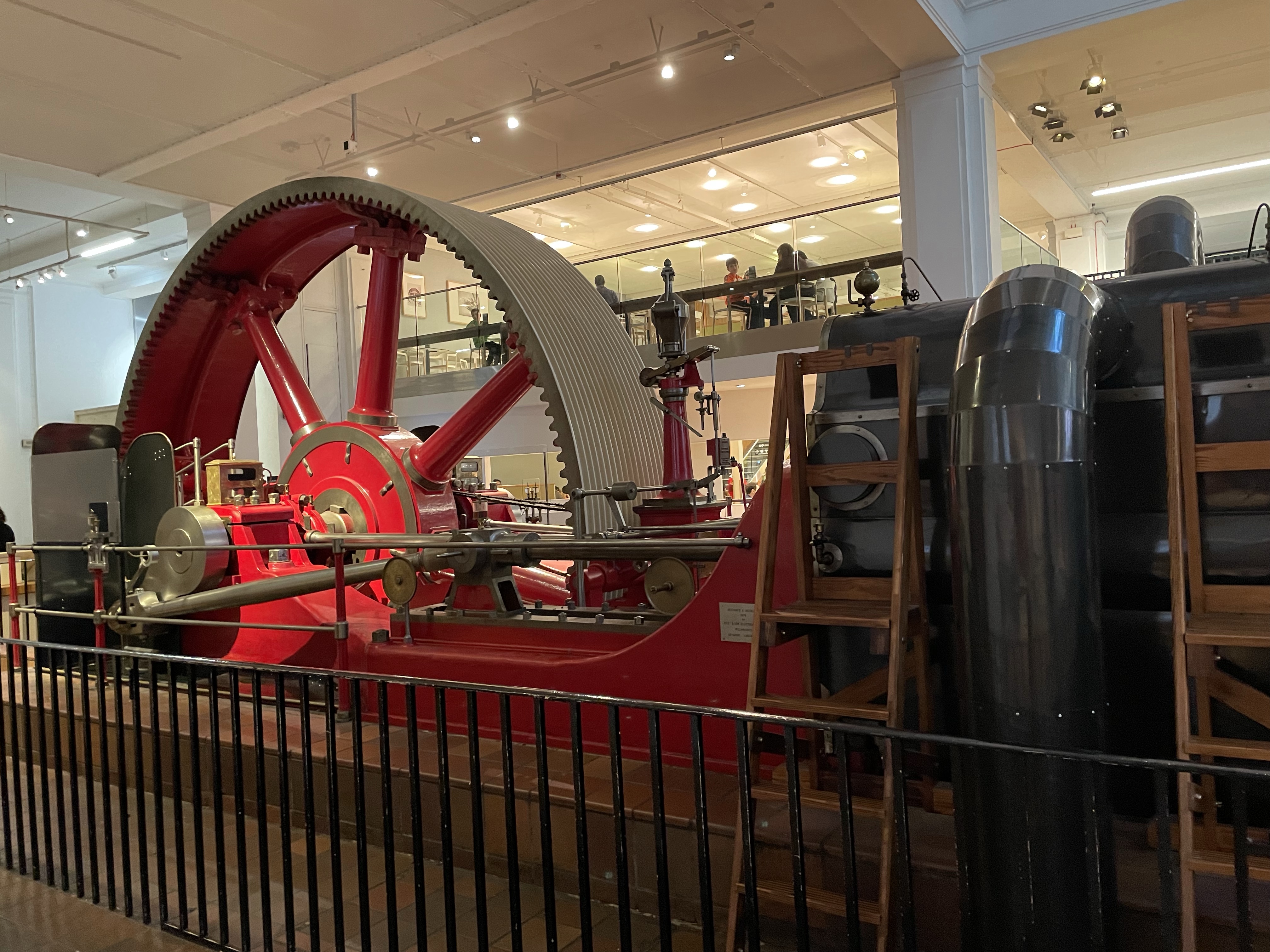 After a quick bite at a nearby pub, we made our way to the Park. We knew there were rides and a Christmas market, however, the size of the Fair took us by surprise. It was massive. We spent the next few hours riding rides, playing games, and enjoying some Aperol Spritz, I know it's a summer drink, but for some reason, it is what hit the spot for all of us, and we kind of had a thing going with the guys at the Aperol truck. They were 7.50 for one and 13.00 for two so we tried to get three for 15.00. It took a few tries but eventually, we got three for 13.00 and lots of orange visors.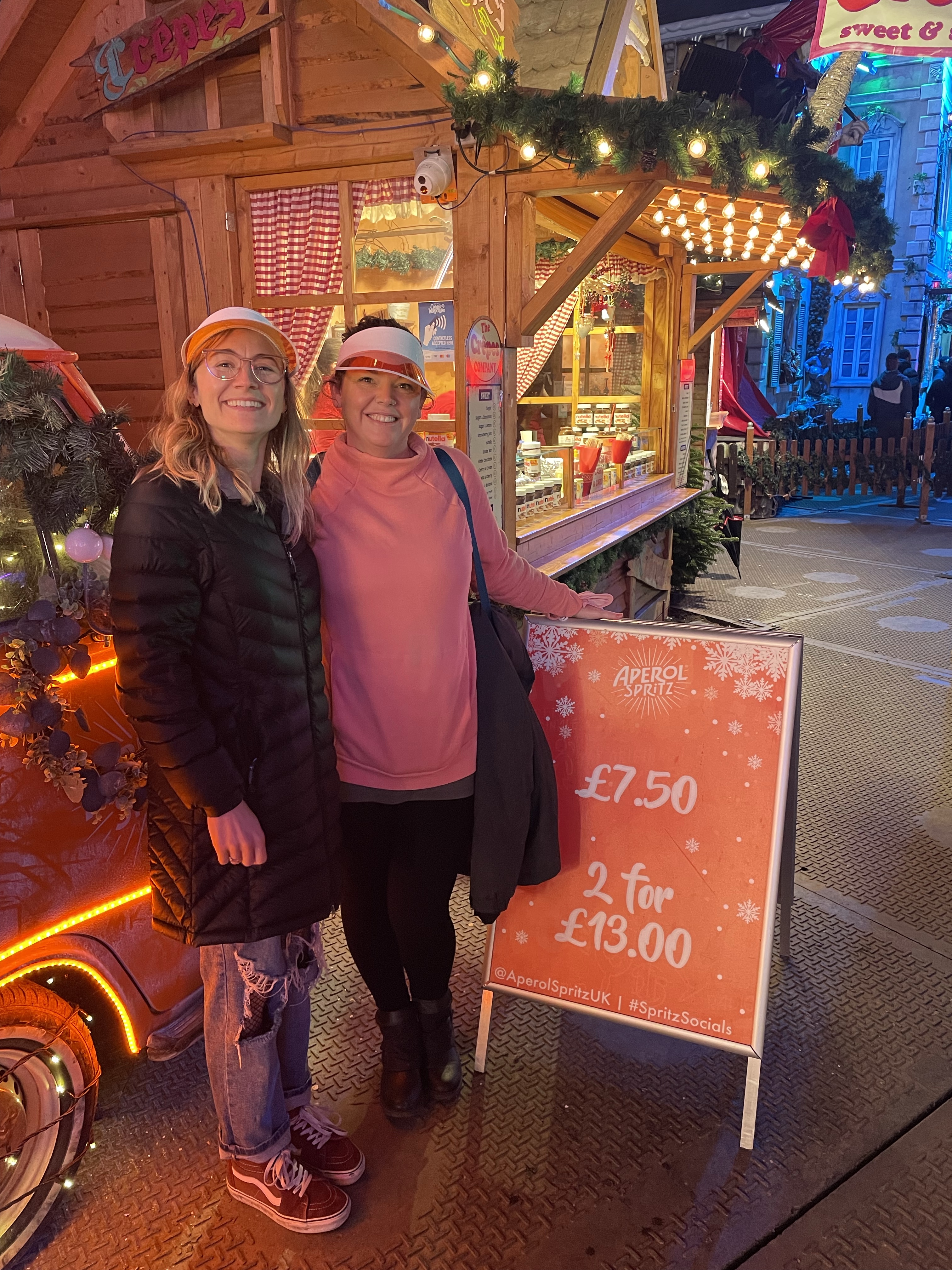 Something to know about Aaron is he is quickly on his way to becoming a skydiving instructor. So you could say he is a bit of a thrill enthusiast. He wanted to do all the scary rides I like to tell myself I would do if Z were big enough. He finally convinced me to go on one with him. I was terrified. Aaron is really good at distracting you in a good way, he kept asking me questions about our life here and before I knew it I was strapped in, wishing I had told Rob and Z I loved them one last time, slightly melodramatic, I know.
I have no clue how high this ride went, I did watch it so I knew it wasn't fast. I closed my eyes and I felt us stop, Aaron told me to open my eyes. I almost cried, not because of fear but because of the view from that high up, seeing ALL of London lit up in the night sky, I thought, wow this city really is beautiful. I then quickly closed my eyes again because we started to go upside down and I didn't want to die. . .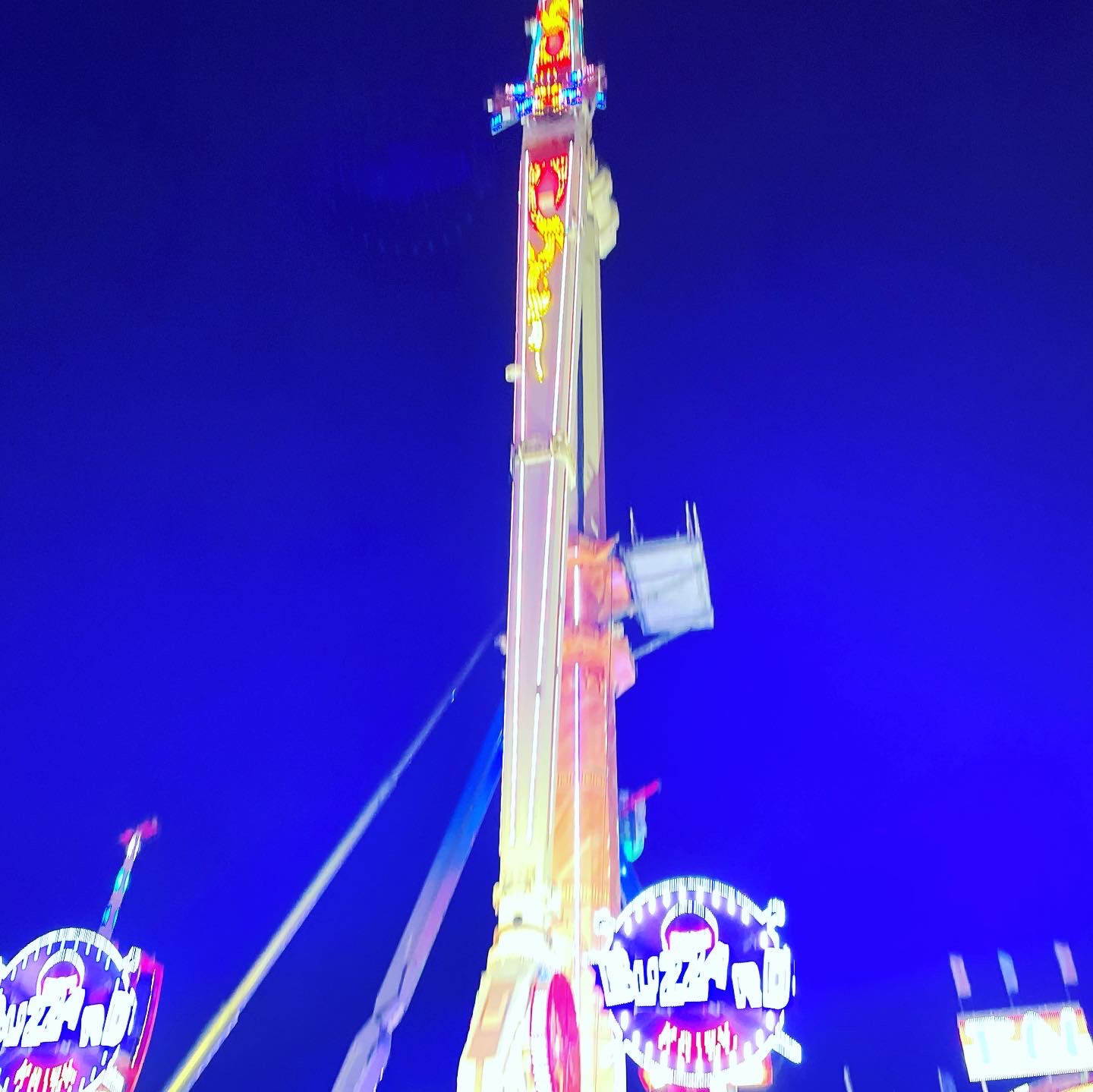 Seriously though, Aaron coaching me to loosen my grip, smile, and breathe allowed me to take in something that I would have never done. It also made me think about how many times we miss out on a second chance because we can't loosen our grip and smile. Sadly we said goodbye to Aaron and Sara at Winter Wonderland. They truly helped make this trip wonderful.
On our last day Rob, Z, and I had a day planned for just us. We strolled around Christmas Markets, found the street that inspired Diagon Alley, went to Sherlock Holmes' house, and spent time at the Natural History Museum, well really in the stones and dinosaur area, Z's favorite. Followed by dinner at Brew Dog and had the most amazing burger.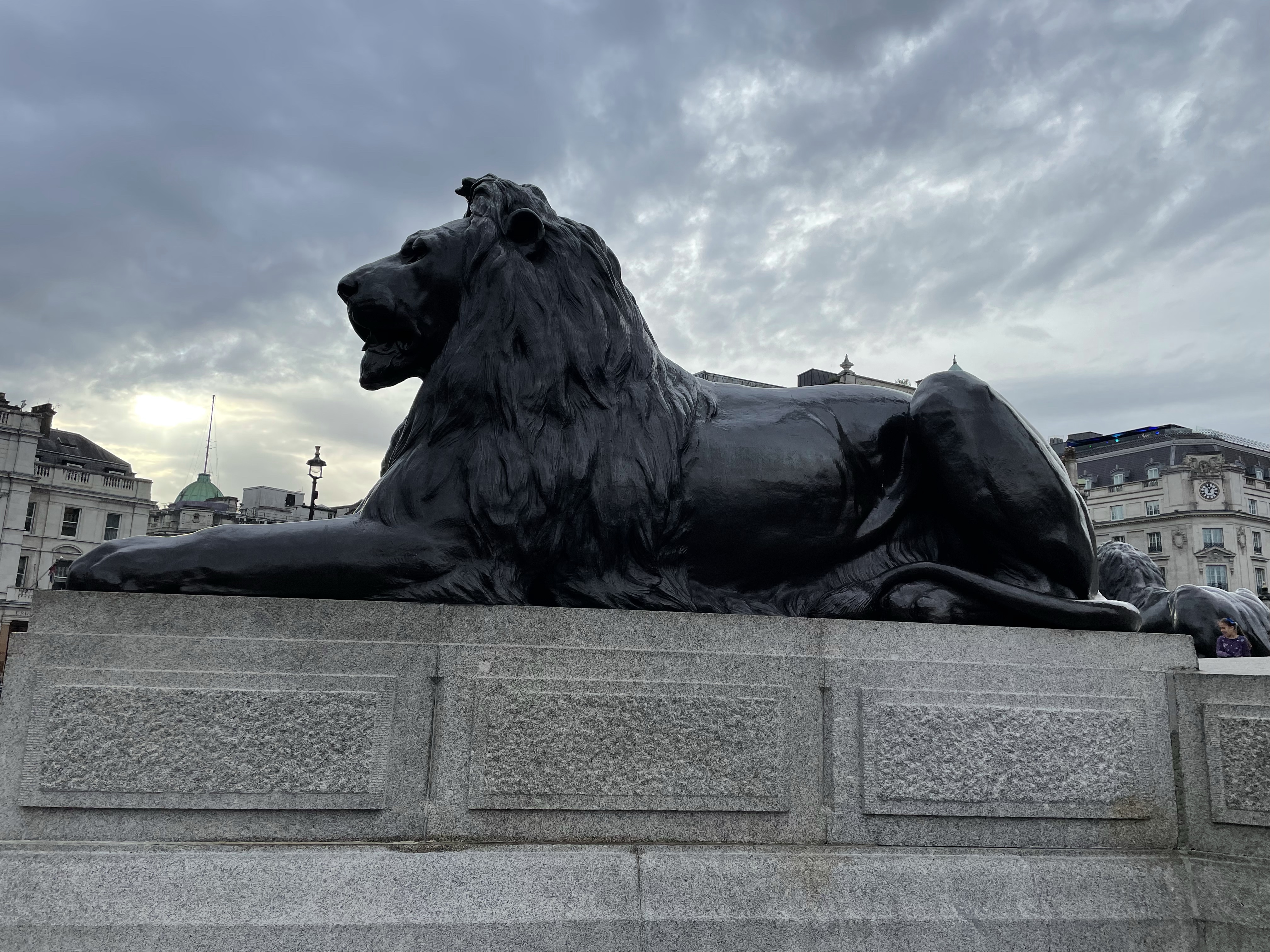 Do we love London now? I wouldn't go that far, we have a joke that it costs 500 pounds just to get off the plane in London. It is a costly city. However, We do have a new appreciation for the city. Are we writing it off? Absolutely not, We are very much looking forward to taking Z back to see Harry Potter live and many other shows. London is a very large city, so don't feel like you have to do it all on one trip. I am glad we went back. I am usually happy with the results of second chances.
Stay tuned for more adventures of Rob, Z, and I…
"That is what life is about, we do not get redos, but we do get second chances"- Jeffery Fry