A dream is a wish your heart makes…
When I was little I didn't dream of marriage, family, and the perfect house on the perfect street. I don't think there is anything wrong with that dream it just wasn't mine. I would watch movies, read books, and dream about the city, state, country, or any faraway land I read about. I wanted to see everything and experience all the cultures. I was 17 when I saw a photo of the Benagil Cave in Portugal and I knew one day I had to see it for myself. When I met Rob and realized we had the same hunger for adventure, it made me fall even more in Love. When we had Z, we knew we wanted to share that dream with him and we wished we could make it a reality.
Now that the world is opening back up, Rob is traveling for work again. Z and I never go with him because he is there to work. When he told us he was going to Portugal, there was no way I wasn't going! Z and I decided to fly in a couple of days early and have some mommy and Z time. Now that he is older it is so nice to be able to do things like this.
On our first day, we started with brunch at Seventh Brunch and Coffee! It's very small and they do not take reservations but we had no problems getting a table and didn't even have to wait. I had read that they LOVE kids in Portugal, but I had no clue to what extent. Everywhere we went, people doted on Z and he ate it up! Seventh was our first experience with this. They were so kind, and asked Z exactly what he wanted and made his pancakes just the way he likes them. He even got a little teddy bear — all the kids get one, while I enjoyed the Eggs Benedict and a Bloody Mary. After brunch it was time for the aquarium, so we got an Uber, which in Lisbon is the cheapest way of getting around, you can get anywhere in the city for 6-8 euros!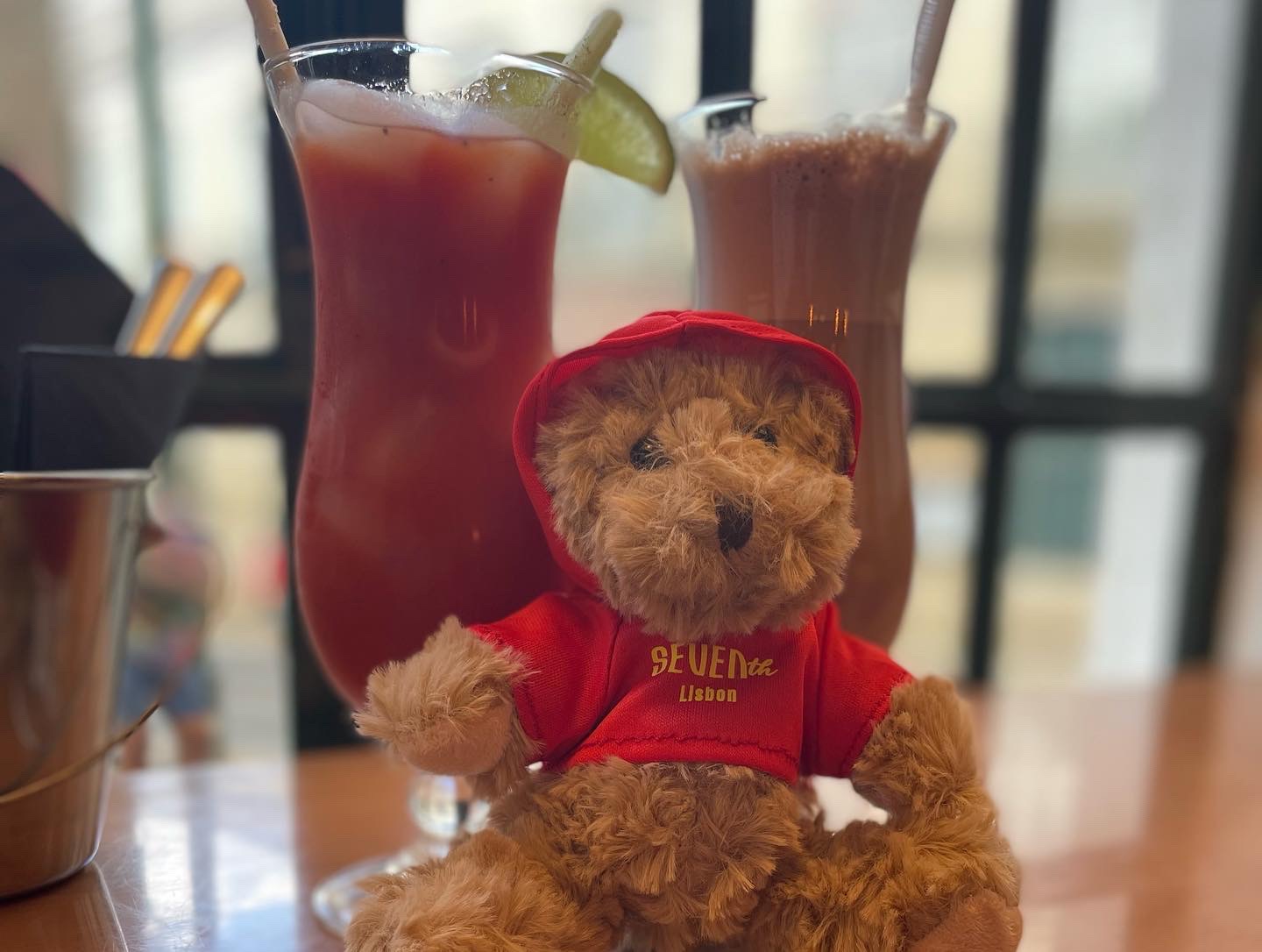 Oceanário de Lisboa is the biggest aquarium in all of Europe. When buying tickets if you do a combo ticket for the aquarium and cable car it works out a little less expensive, so we did that, also would you pass up a chance for amazing views and going across the river and back? I don't think so! The aquarium was one of the best I have been to. The flow of it was easy and it never felt crowded. Z fell in love with the otters and we went back to say goodbye to them. As with any attraction, you exit through the gift shop, and just through the gift shop, there is a cafe and wine bar with outdoor seating and a wonderful green space where kids can run around. You can sit and have a snack with a glass of wine after spending a couple hours exploring the aquarium. On the other side of the green space, there is the cable car, so we made our way over and took a minute to slow down and enjoy the ride and the view.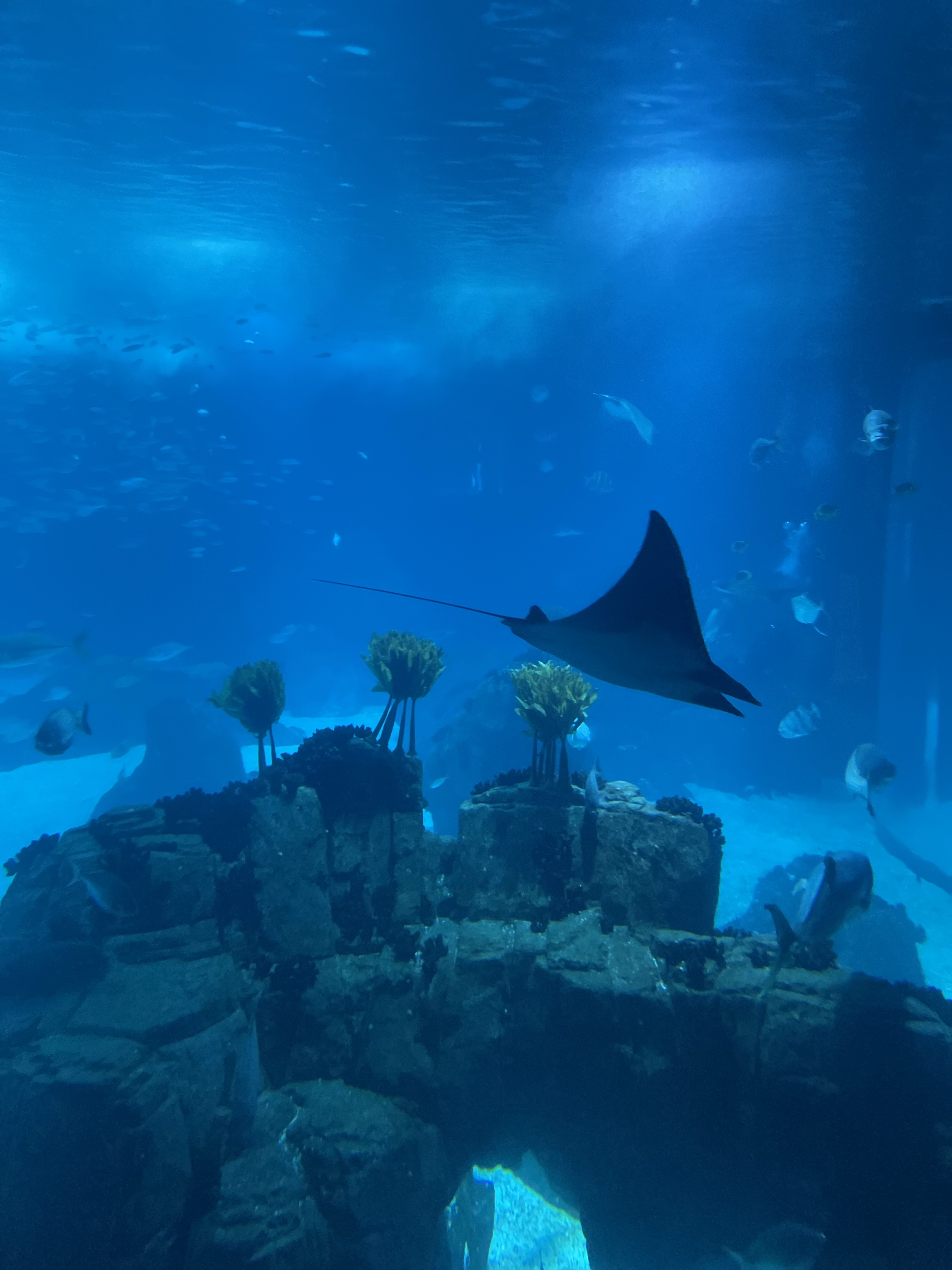 Once we were back in the center, we decided to take a break for ice cream and the little beach area in front of the Praca do Comercio (Commerce square), the main plaza in Lisbon. After our ice cream break, we explored a bit and did a little shopping before realizing we were so hungry. Here is the thing with kids, or, with our kid anyway. We know not to eat anywhere that has huge menus and people standing outside trying to get you to sit and eat, but after a day of exploring sometimes, especially in the first day or two when you're getting your bearings, you find yourself just looking for a restaurant, any restaurant that has pasta your kid will eat. Suffice to say Z was happy but the food for me wasn't great. We decided we would take a tuk-tuk back to the hotel and it was a blast!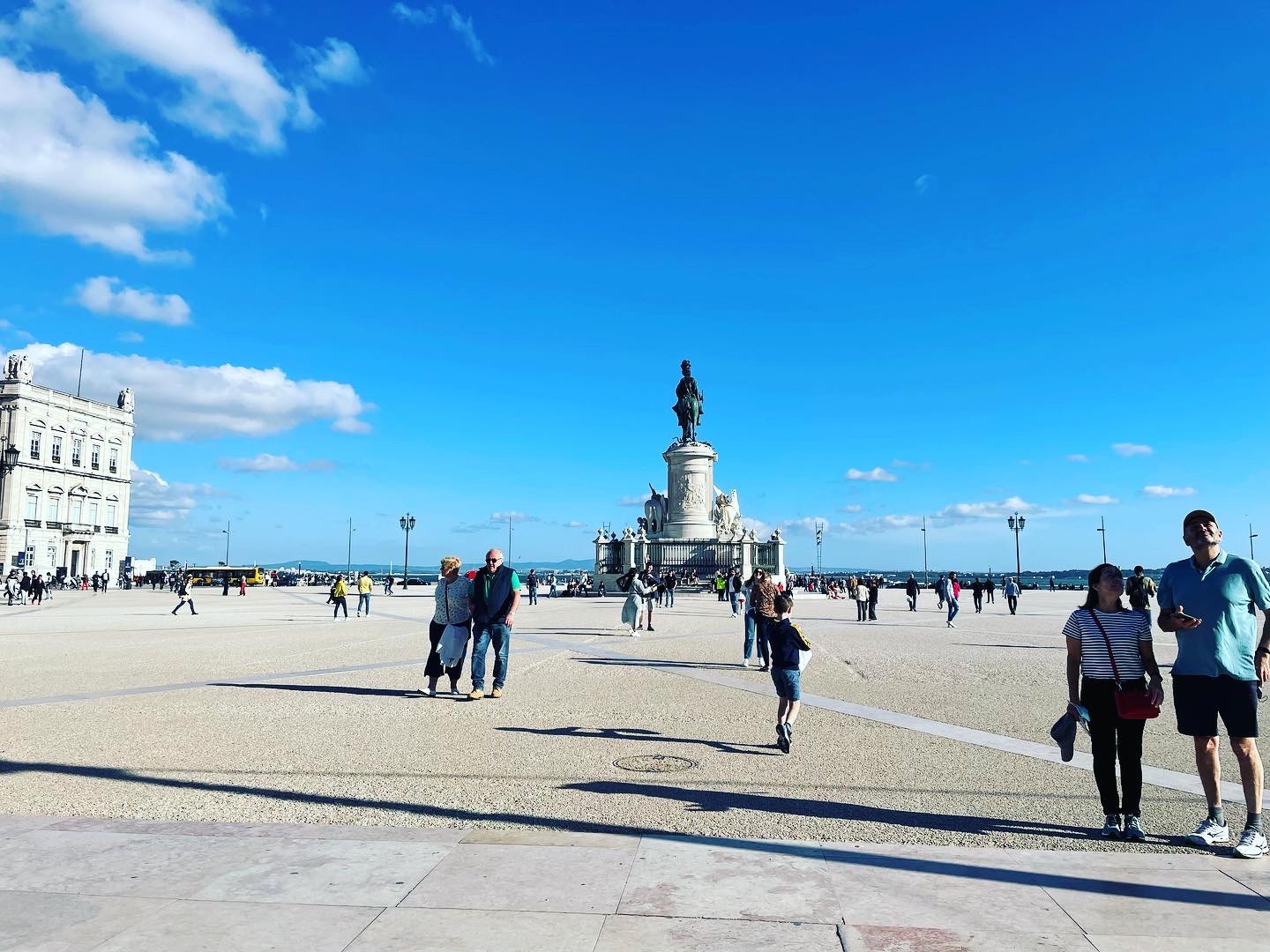 On Z and mine's last day, before Rob joined us, we didn't really have plans, we just wanted to get lost and get to know the city. Z really wanted to go back to the little beach area, so I grabbed a book and after another great brunch, this time at Dear Breakfast, that is what we did. We sat there for a couple of hours with Z playing in the water, me reading my book, and people watching. It was a nice relaxing afternoon. That evening, I had a surprise for Z. I found a restaurant called World Of Heroes. It was kitschy, but I knew he would love it. I would suggest going for the gimmick of it. It's cool and kids love it. I would maybe just go for drinks and a snack though. Z had the chicken fingers, which were pretty good. I had the burger, which was cold and not cooked, really, at all. The nachos at the table next to us had looked really good, so just don't get the burger. The service was great and everyone was super nice. Definitely check it out, if nothing else for the photo ops with the kids.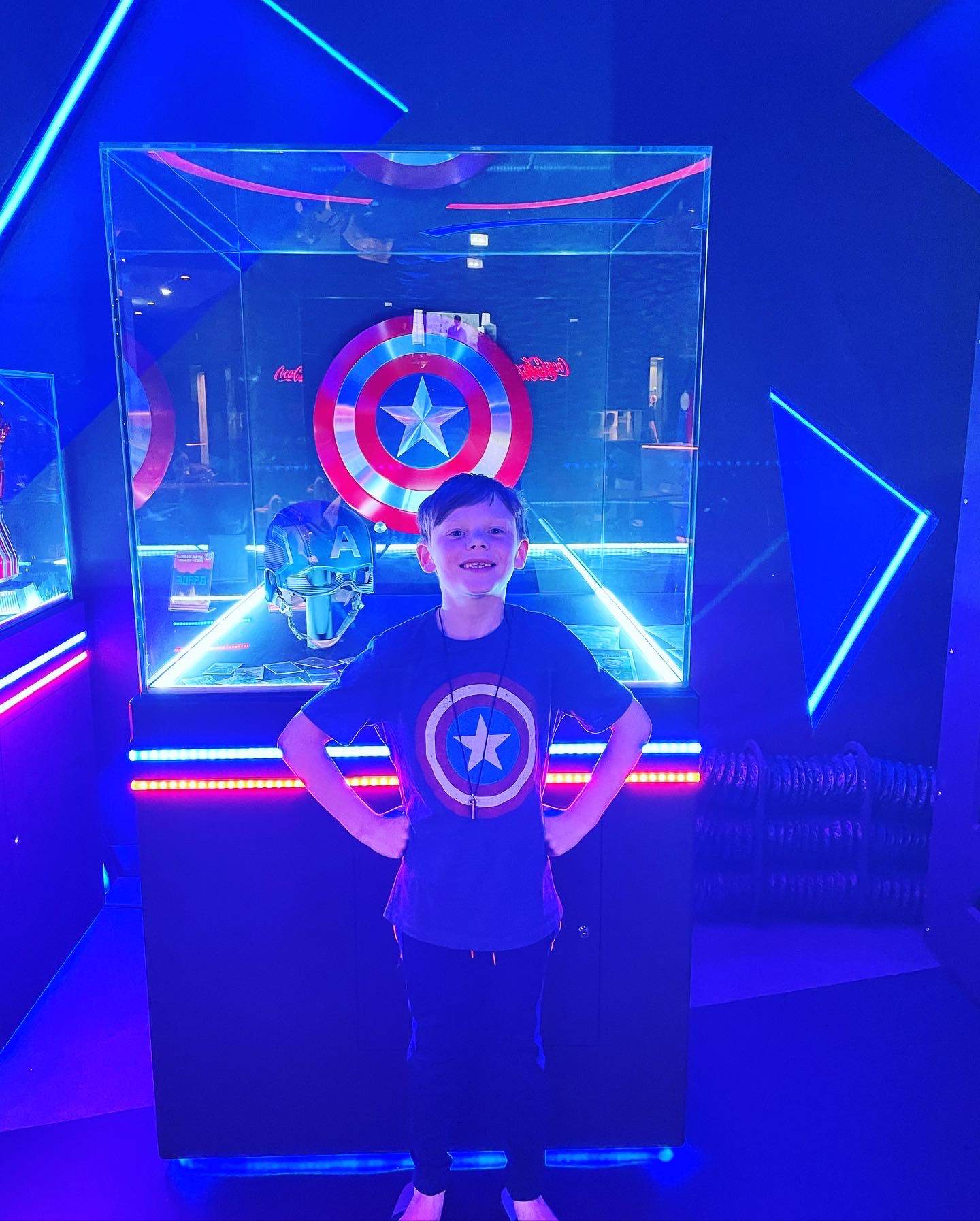 Finally, it was time for Rob to join us! We had a great time with just the two of us but we missed him. Of course, we took him to Seventh for brunch, he loved it as much as we did! While enjoying brunch, Rob was telling us about all the things they did after finishing work, and I found myself jealous. He went on a food tour and ate all the good things. After telling him about the food we had, he decided to take us to some of the places they went. We will get to that later.
After brunch, we walked for a bit, sharing what we had done and pointing out places we liked. We were making our way to see this church that caught fire many years ago; it was not rebuilt as the people thought it was a punishment from God. However, they still have mass there and you can visit it. It was eerily beautiful. From there we made our way to lunch and one of the restaurants Rob enjoyed on the tour. Cantinho do Aziz is an African restaurant that happens to be on the way to St Jorge's castle so it's a perfect stopping point for lunch. The food was INCREDIBLE. We went twice and didn't get photos of the food either time because we were so excited. If you want to try it and can't get to Lisbon there is one in Leeds and New York!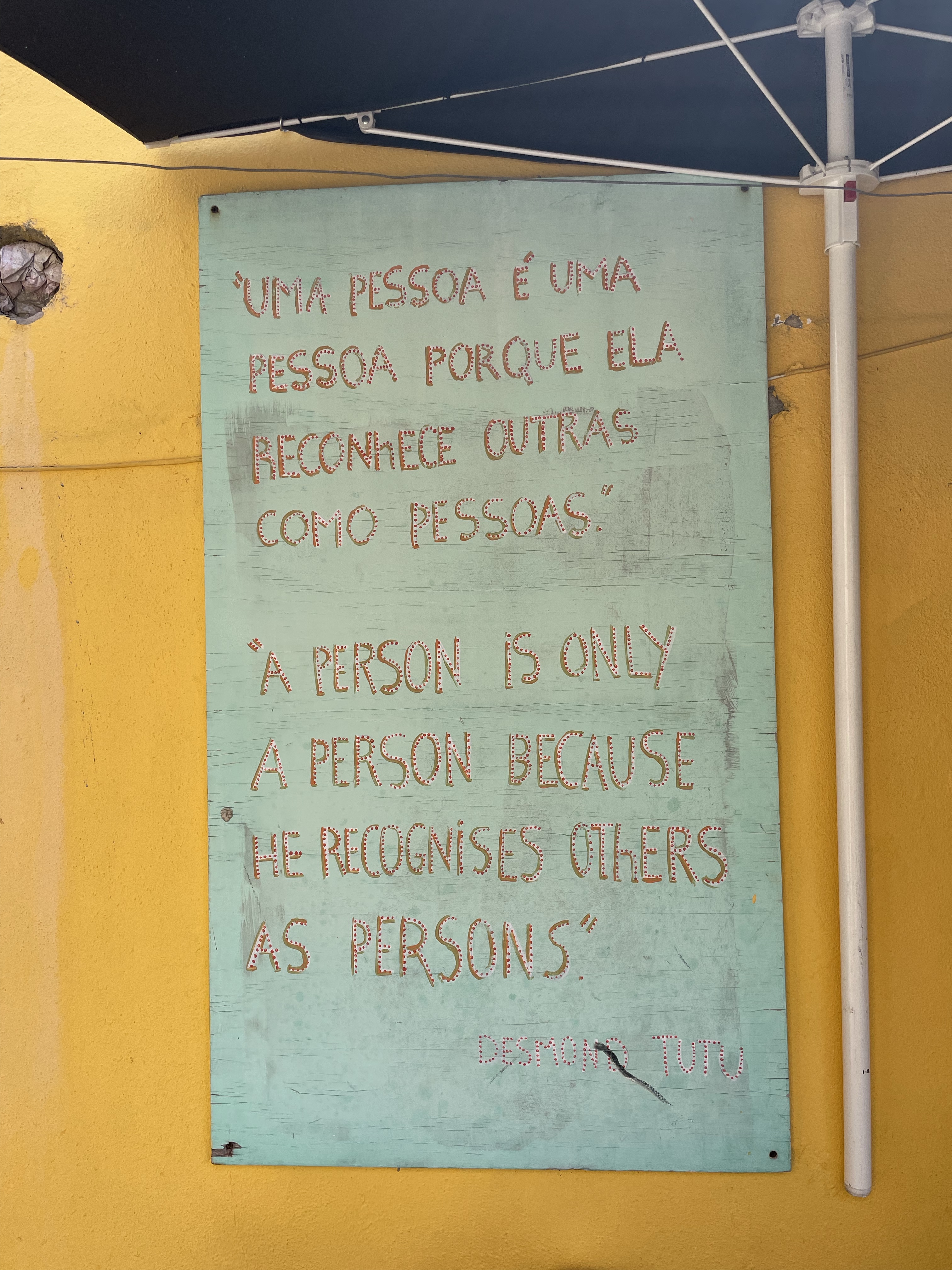 After lunch, it was time for St Jorge's castle. To get to the castle you can walk many many hills and stairs, or, thanks to Rob's tour guide, he shared with us that we could take the elevator. To find the elevator you go through the Pingo Doce supermarket. It will take you up to the terrace of Zambeze's, and from there it's a 10-minute walk uphill to the castle. Get your tickets online so you don't have to wait in a very long queue. The view from the castle was incredible. There are little snack and drink trucks and places to sit and enjoy the view. Since it had been Z and I for a week and a half, Rob suggested I take a minute and enjoy a glass of wine and some quiet while he and Z explored the cannons. Who was I to argue with that?! After, we all explored the castle and ended it with ice cream and wine enjoying the view.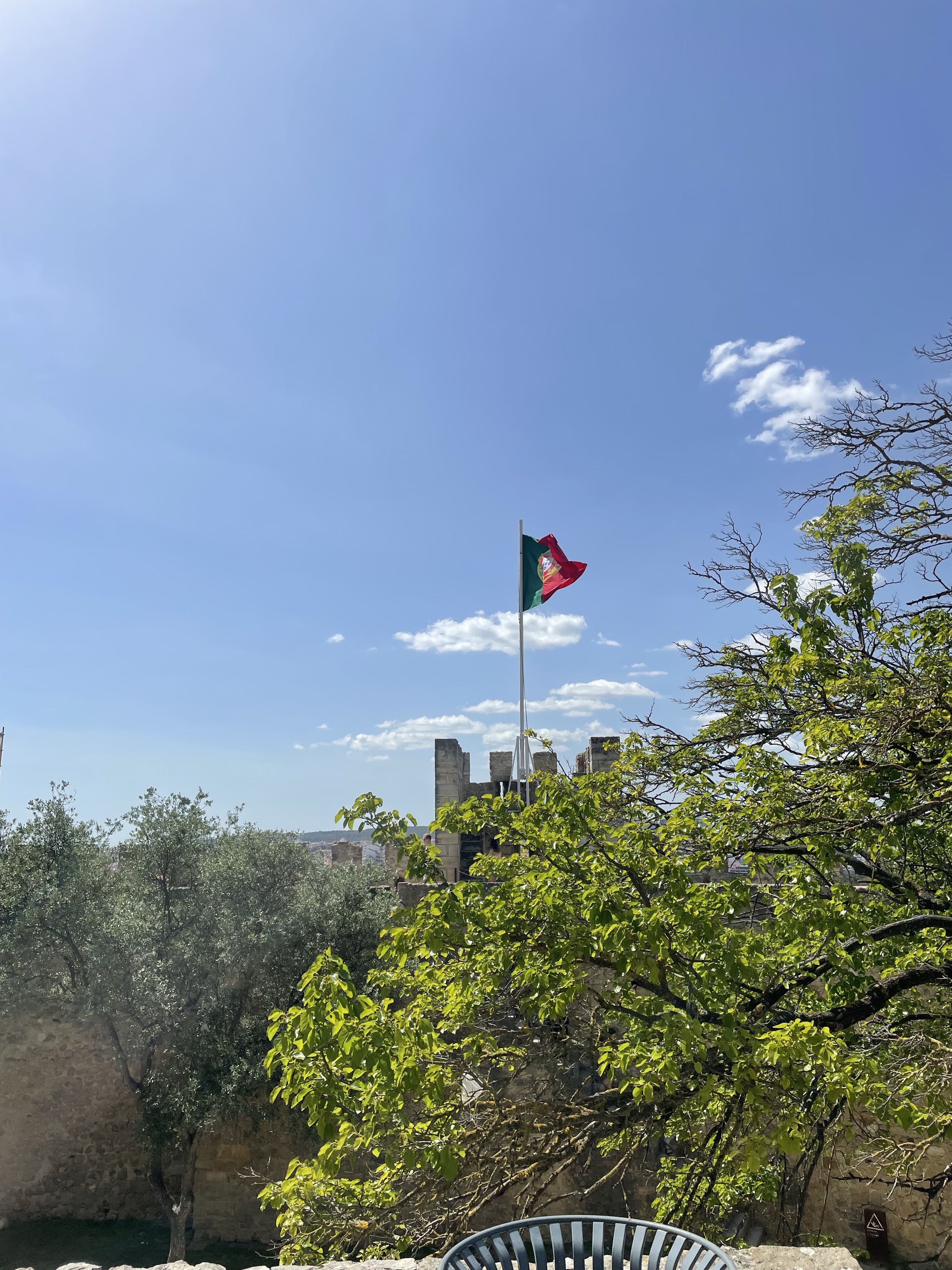 The next day we picked up our rental car, you don't really need a car if you're staying in Lisbon, but as I mentioned before, I was going to see the Benagil cave. You can't get there by public transit, and renting a car for a couple of days was really affordable. Rob picked up the car and we hit the road. It's about a three-hour drive so I would suggest leaving at 9 am if you can, though we left around 11. After stopping at the wrong place, we finally got to where we thought we were supposed to be at around three that afternoon. As it turned out, we went to a different place again. I originally planned for us to kayak to the cave but the universe had something else in mind. We went too far past the Benagil beach where you can kayak and by the time we would have gotten back, we would not have time to do it. I was ready to cry, I was so close and wasn't going to get to go. I was wishing with all my heart it would work out. Then Rob asked a guy on the beach and it turned out he ran a tour company called Aurora boat trips that does small boat tours to the caves. They had one tour left that day at 4:30 and they had three seats left! We ran to their office to sign up. It cost 45 euros for all of us and it was worth every penny. The guides were so funny and knowledgeable. I loved that it was small, there were 8 of us on the boat. It was perfect. For about an hour, everything we saw on the tour was beautiful, but when we pulled into the Benagil cave this emotion swept over me and I began crying. There are no words for how stunning the cave was and the feeling of realizing a childhood dream coming true.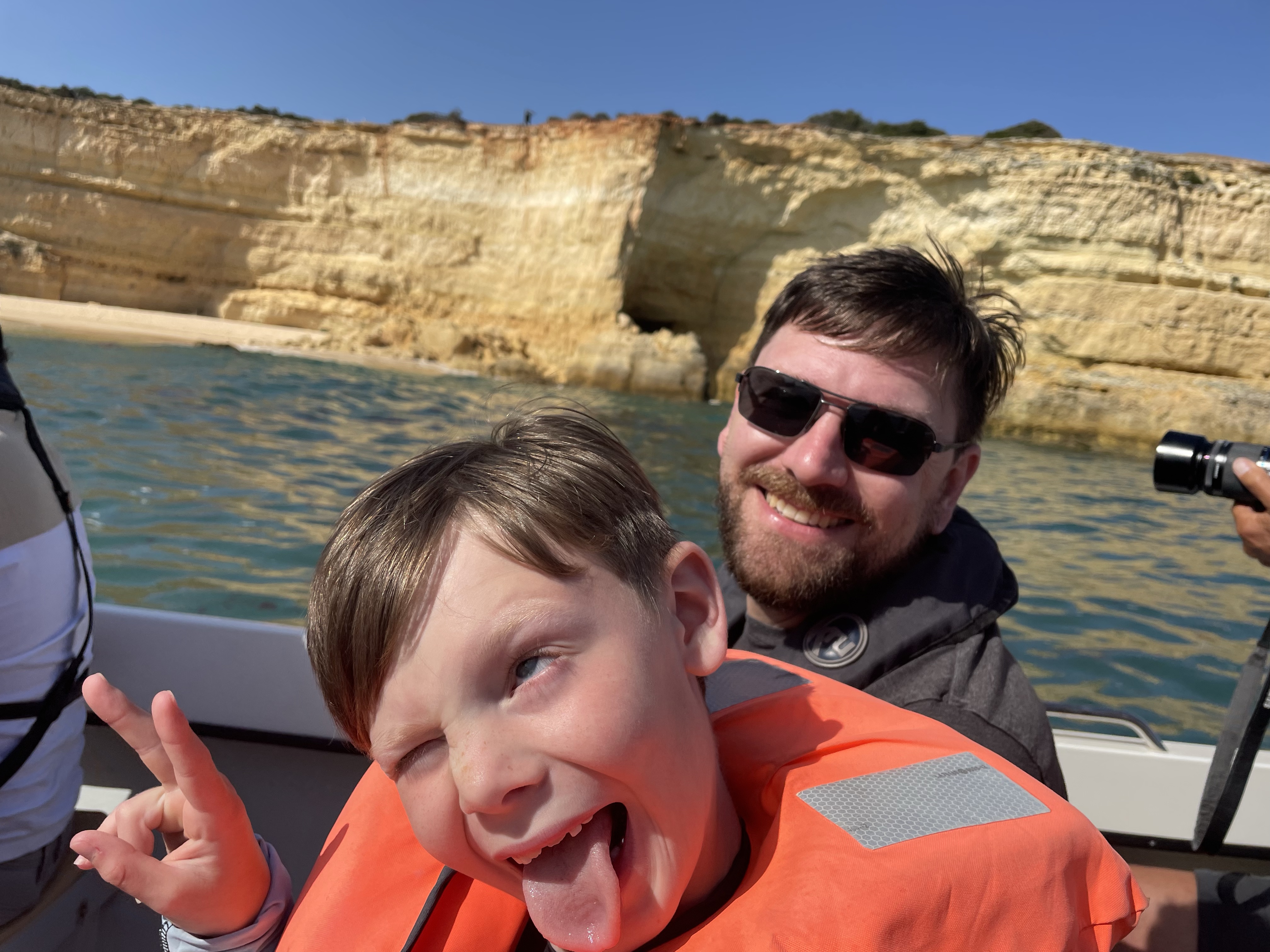 We had two days left, and since we had the car, we decided to drive to Cascais and have a beach day. You can also take a bus, it's about an hour from Lisbon. Parking is pretty easy though, so if you have a car I would drive. We strolled around the little markets while making our way to the beach. We found Chac Mool Taqueria, and if you have been following along, you know we love our Mexican food and can't get it here in the Netherlands. We almost didn't stop! But man, am I glad we did! They were hands down the best tacos we have ever had, even as I am writing this, we laughed that we are still dreaming about them! The beach was nice. It was small and a bit crowded, but Z made friends, as Z does everywhere he goes. We ended the evening with dinner, at the Timeout Market, where I had the best oysters from Sea Me. Rob and Z had noodles and dumplings from Asian Lab. There is something for everyone at Timeout Market.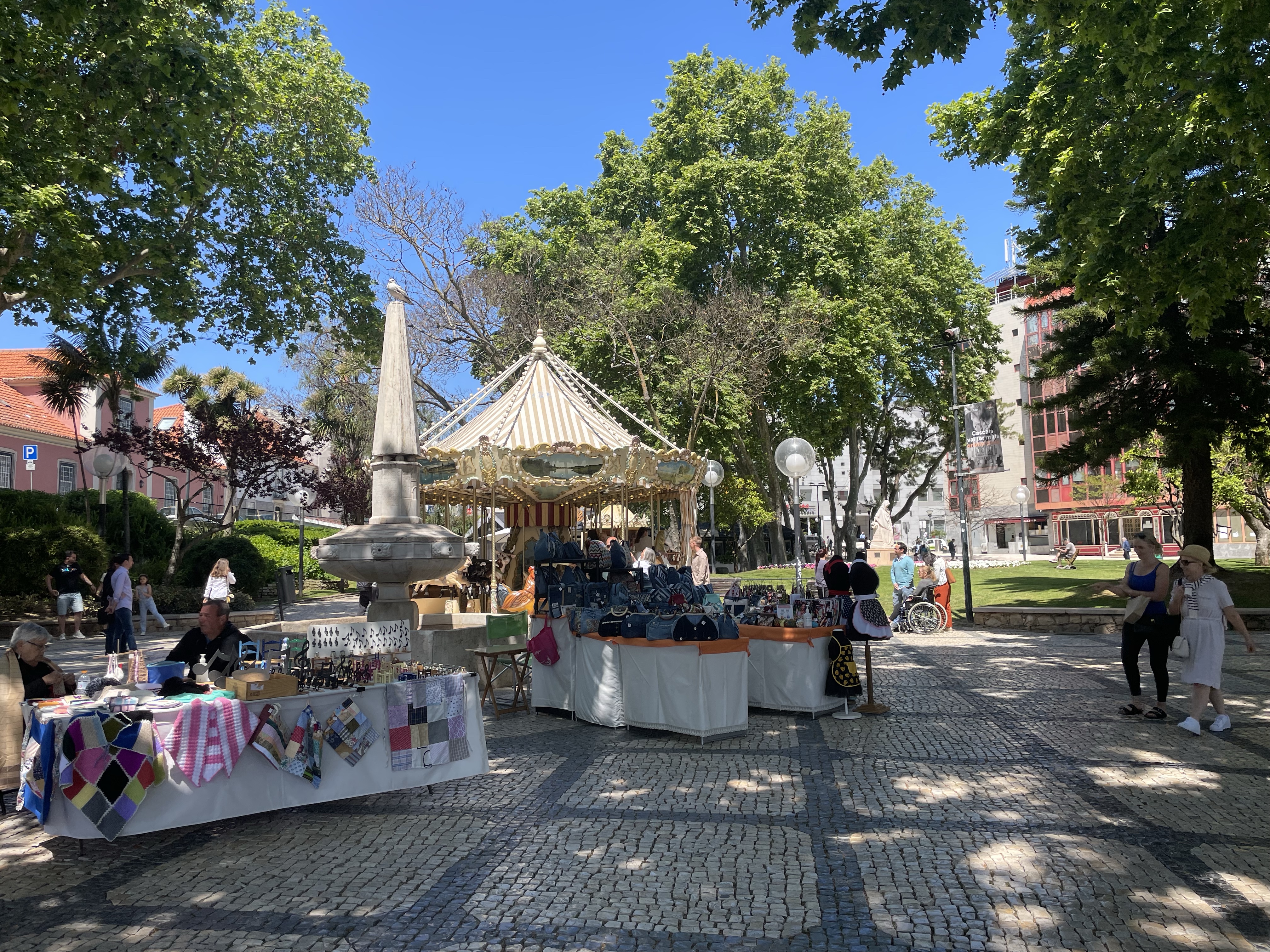 After returning the car the next day, we explored The LX Factory which is a cool artist area with unique shops and great restaurants, it is even home to one of the oldest book stores in the world, definitely check it out. One of Rob's friends who lives there suggested we go to this new attraction called Quake. In the 1700s, there was a huge earthquake and tsunami that wiped out most of Lisbon. Quake is an informative and interactive experience about that time. It was very cool. The only thing I would say is to make sure you book the right time and day because they will not give you any kind of refund or let you switch your day. We learned that the hard way. After Quake, we promised Z we would hit the pool at the hotel for a while before dinner, but not before stopping to finally have Pasta De Natas. This is a must in Portugal. They are these perfect little egg pastries that pair well with the Porto, Portuguese port wine, or coffee for a perfect little afternoon treat. Manteigaria is the place to go for these!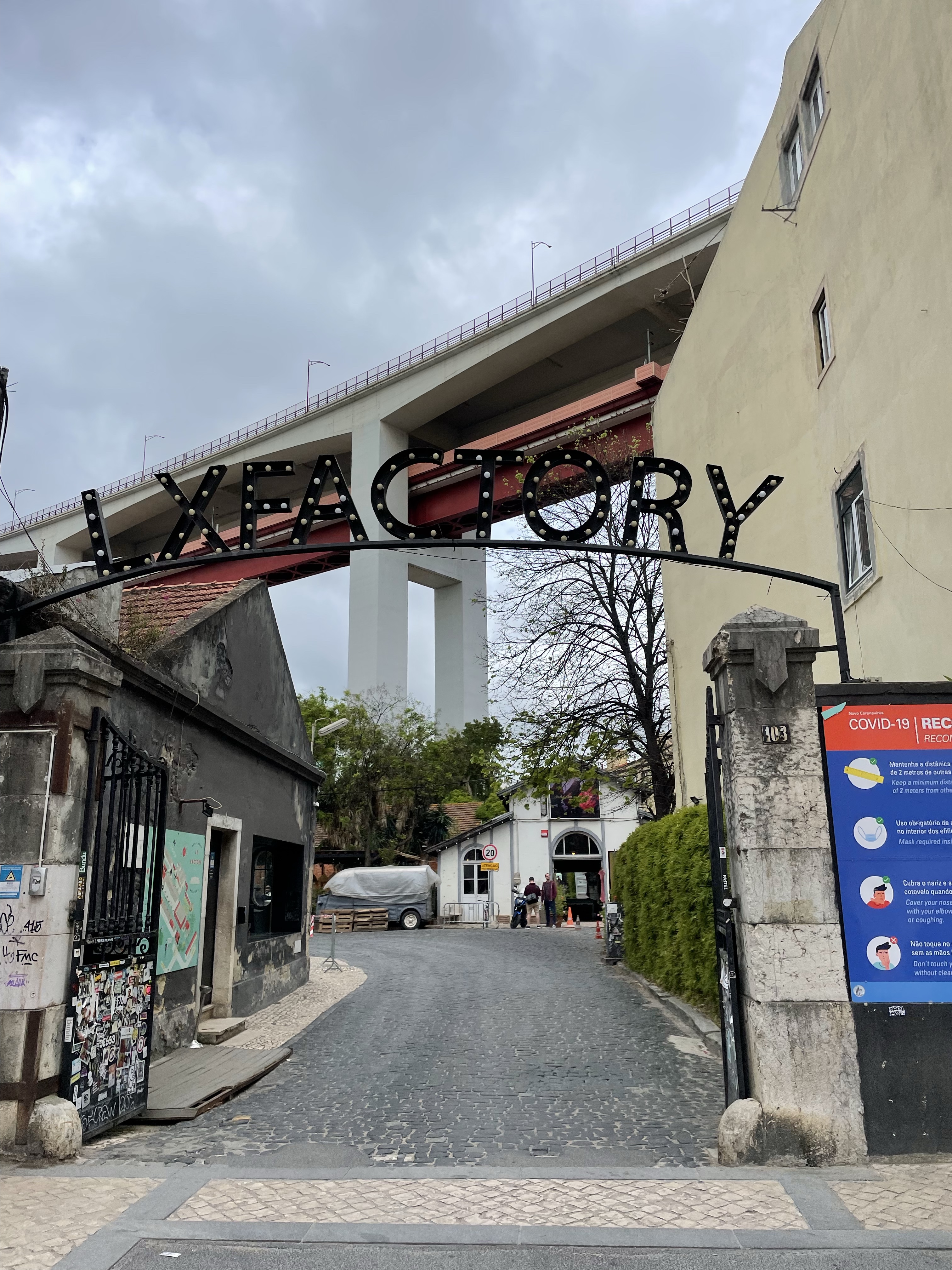 After dinner, Rob took us to this little wine bar he had gone to on the food tour, where here they cook the chorizo right at your table by drenching in alcohol and lighting it on fire. We had to experience this. The meat was so good and the wine even better. We even picked up a few bottles for gifts!
It was our last day, and we were heading to Sintra. You can get to Sintra a couple of ways, by train, bus, or as many uber drivers informed us: take uber! The thing most people don't know is that the train or bus ends in the center of Sintra, you still have to take a tuk-tuk, taxi, or another bus to get up to the Palace. An Uber will cost 22 euros and take you from your hotel to The palace entrance. Once you get there you can buy a ticket for entry, it was about 25 euros for all of us. Once you get up to the palace, you will see a long queue, if you really want to go inside the palace you can join this queue. Be prepared to wait for several hours. We decided we were fine just exploring the outside so we walked past the queue and went on with our day. The palace is impressive and the grounds are incredible as well, we spent about two hours exploring.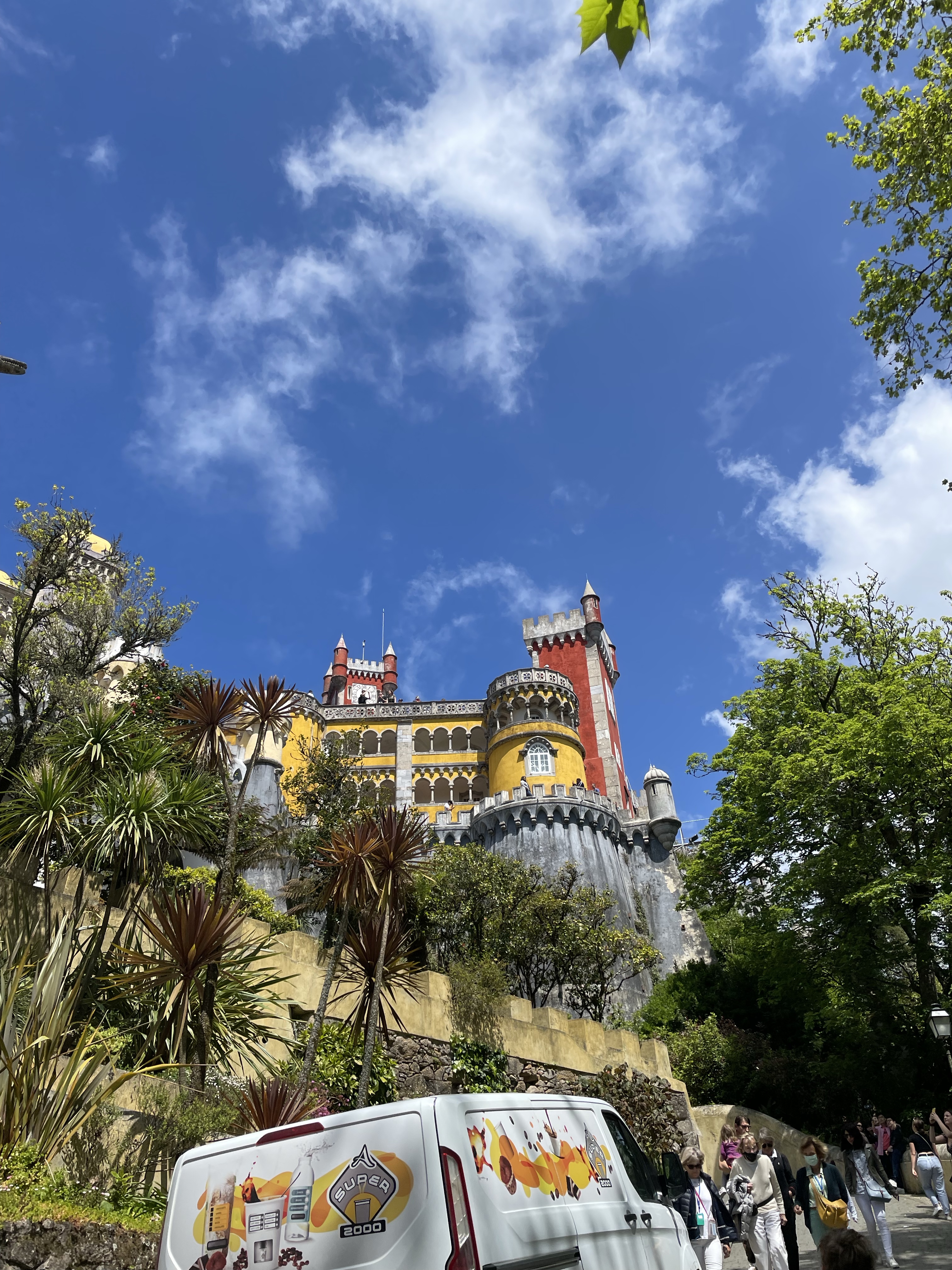 Our favorite part of Sintra, and honestly if you can only do one, it should be Quinta da Regaleria: a gothic castle with magical grounds. It was about 28 euros for all of us. The first thing we wanted to see was the Initiation Well, be prepared and wear good shoes. It is about 300 steps and quite a hike up, but you are rewarded with a magical stairwell, that leads down to these caves that open to a beautiful waterfall. You could easily spend all day exploring the castle and its grounds.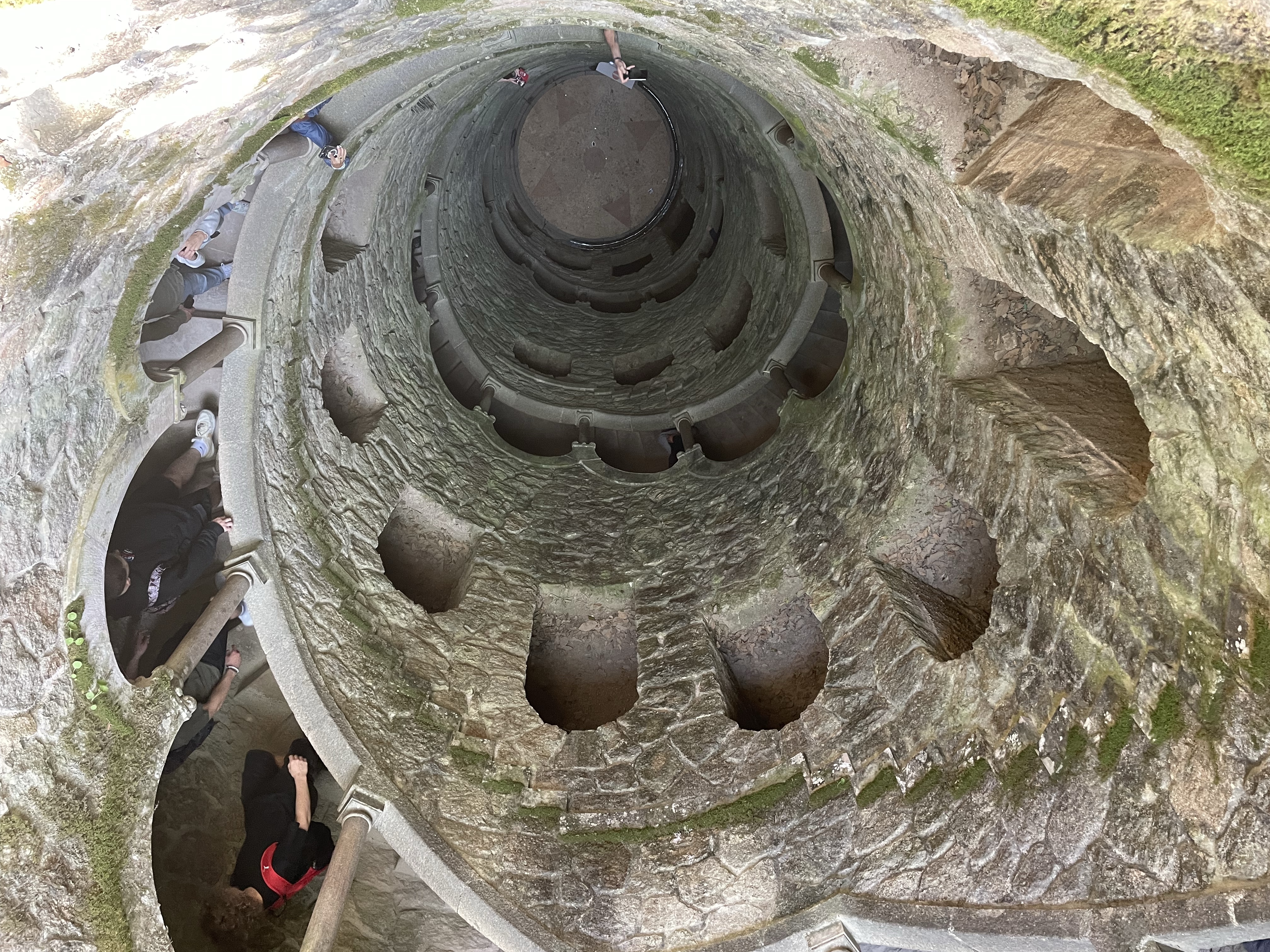 After getting back to Lisbon, this time by train, Rob took us to another restaurant he had been to, Come Prima. Come Prima is a quaint little Italian restaurant, tucked away in a residential neighborhood. Again they doted on Z, making sure his pasta was just the way he liked it. Rob and I both had the truffle pasta, which was delicious! We shared a bottle of wine and made friends with this lovely couple from Oregon. They were very well traveled and told us stories of their trips and how they encouraged their kids and grandkids to see the world also. I just thought wow I want to be them when I grow up. It was my favorite dinner we had.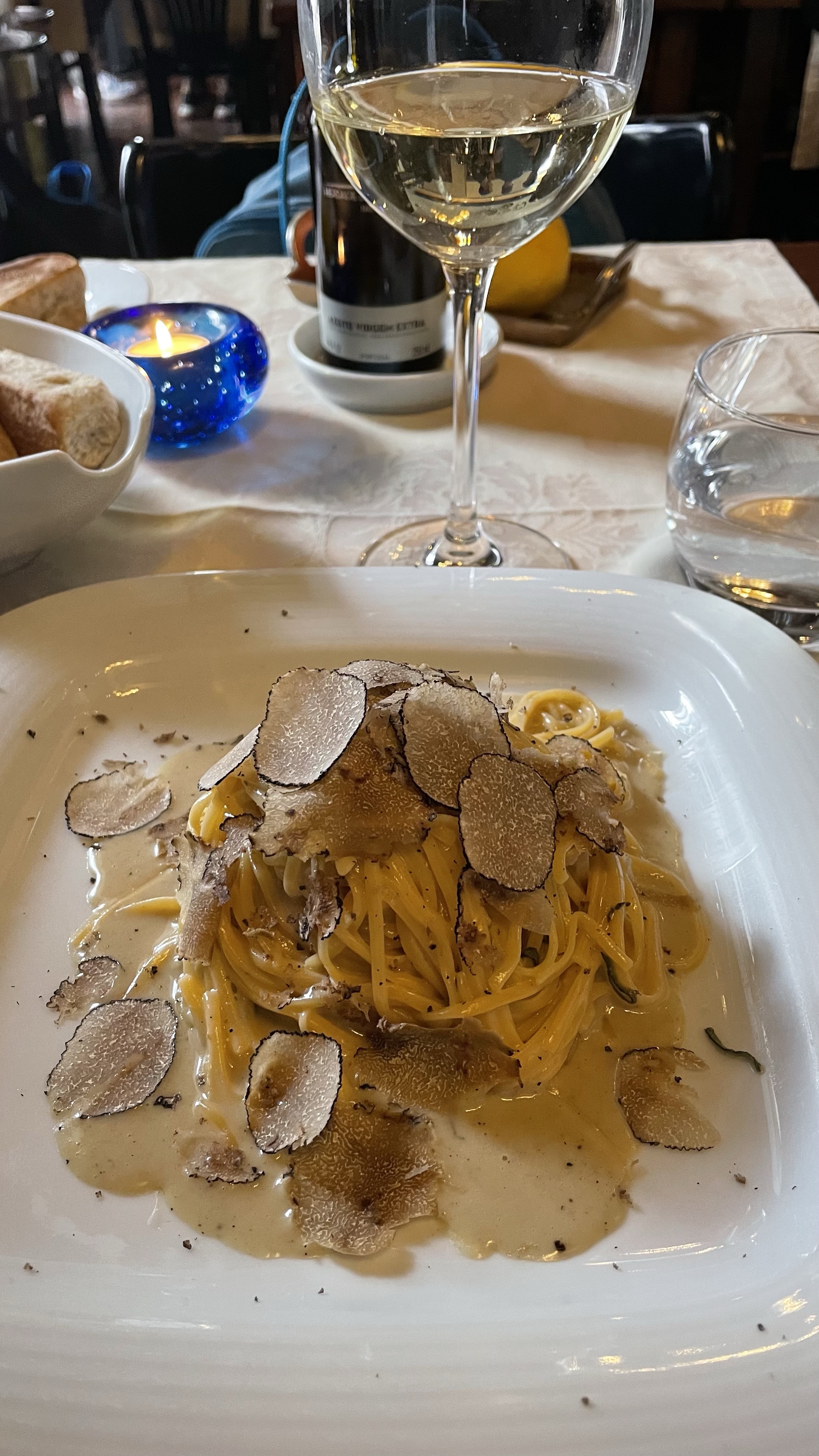 While we were sad our trip had come to an end, we were all pinching ourselves that it actually happened. Everything about Portugal was magical, like a fairytale. I guess that is the thing about dreams and wishes, they are one and the same and sometimes they come true. It's a feeling that can't be explained. Not for me at least. I am grateful that many years ago, as a wide-eyed teenager, my heart made a wish only to see it come true as an adult — and that I got to share with Rob and Z.
Stay tuned for more adventures of Rob, Z, and I…
Nothing happens unless first, we Dream." CARL SANDBURG