Have you ever been through something tough and the only person or people who can help you pick up the pieces are your girlfriends? There is something special about the bond between women. Growing up it was tough. Women use to tear each other down. In today's world We support each other and build each other up, even when we don't know each other. That girl in your travel group that just got her heart broken and is asking advice on traveling alone to mend her heart, you along with thousands of other women who have never met this girl show up to comment your words of support. Or what about that mommy group you joined when you found out you were pregnant? You probably knew a couple of people in the group, but at 4 am when you made a post about how nursing isn't going so well and you feel defeated so many women, you have never met sent you love and support.
The girlfriends we make in our life are so special. Some will stand the test of time, some may not. That doesn't mean they were not special in that season of your life though. I have been lucky enough to have the most amazing women in my life. It has made it hard to leave when I have moved to a new place. You're always scared that you will drift apart. Or that you will never make new girlfriends in your new city that could even hold a candle to the ones you are moving away from. I have been so lucky that my girls have been by my side even, when they aren't by my side. When I look at where I have lived, Atlanta, Charleston, and now Utrecht my heart swells because I have amazing girlfriends in each of those places. They are always there. We may not get to talk everyday, but when it matters we show up for each other. They are family to me. They have been there to help pick me up after a bad break up, to walk me through being a new mom, holding my hand through losing my own mom, and letting me vent when Rob and Z are driving me absolutely crazy. They are my glue.
One thing I think is so important: getting to spend time together, doing things like girl trips. As women we need that time, to be with our tribe, the girls who know us so well, and support us. I have had some amazing trips with my girls. Camping and hiking in Asheville, Beach weekends in Florida and Charleston, weekends in New York, and every single one was special and therapeutic in their own way.
Most recently I got to go to Prague with one of my favorites: Meghan. This trip could not have come at a better time. As a mom, I was reaching a place where I needed to take a break from Z and Rob. PSA: It's ok to feel this way! In fact its normal! So when Meghan said she was coming to visit I was beyond excited, and PRAGUE!? Yes please!!!
We arrived in Prague on Thursday, and took an Uber to our Airbnb which was amazing. The views were incredible. We could see all the way to the Prague castle!
We settled in, freshened up and decided to go explore. The first day, we just wanted to get our bearings and explore the area where we were staying. We lucked up with our location we were in the centre of New Town. After some exploring, we were reaching hangry, so, I went into planner mode.
On all of our adventures that is what I do. I am the one who plans EVERYTHING, from where we are staying, our activities to where we are eating. Well, not this time. Before I could even get my phone out, Meghan had a place and the map pulled up to get there. This threw me back, I wasn't use to this. It was so nice. Meghan found a great place, Cafe Imperial.
I had the best truffle gnocchi I have ever had! We also realized how inexpensive Prague really was. We had an appetizer each, entrees, and drinks and it was €40! It was a really nice restaurant too! After dinner, we decided it was time to check out one of the best beer gardens in the world: Letna-Schlösschen. This is a must when visiting Prague. The walk up is a steep one, but, when you are up there you are rewarded with great inexpensive beer (they also have wine and other drinks) and one of the best views of Prague. Go at sunset, it was breathtaking. We got lucky because there was a super blood wolf moon that night. The pictures do not do it justice. It was beautiful seeing this moon over Prague. What a great way to start our trip!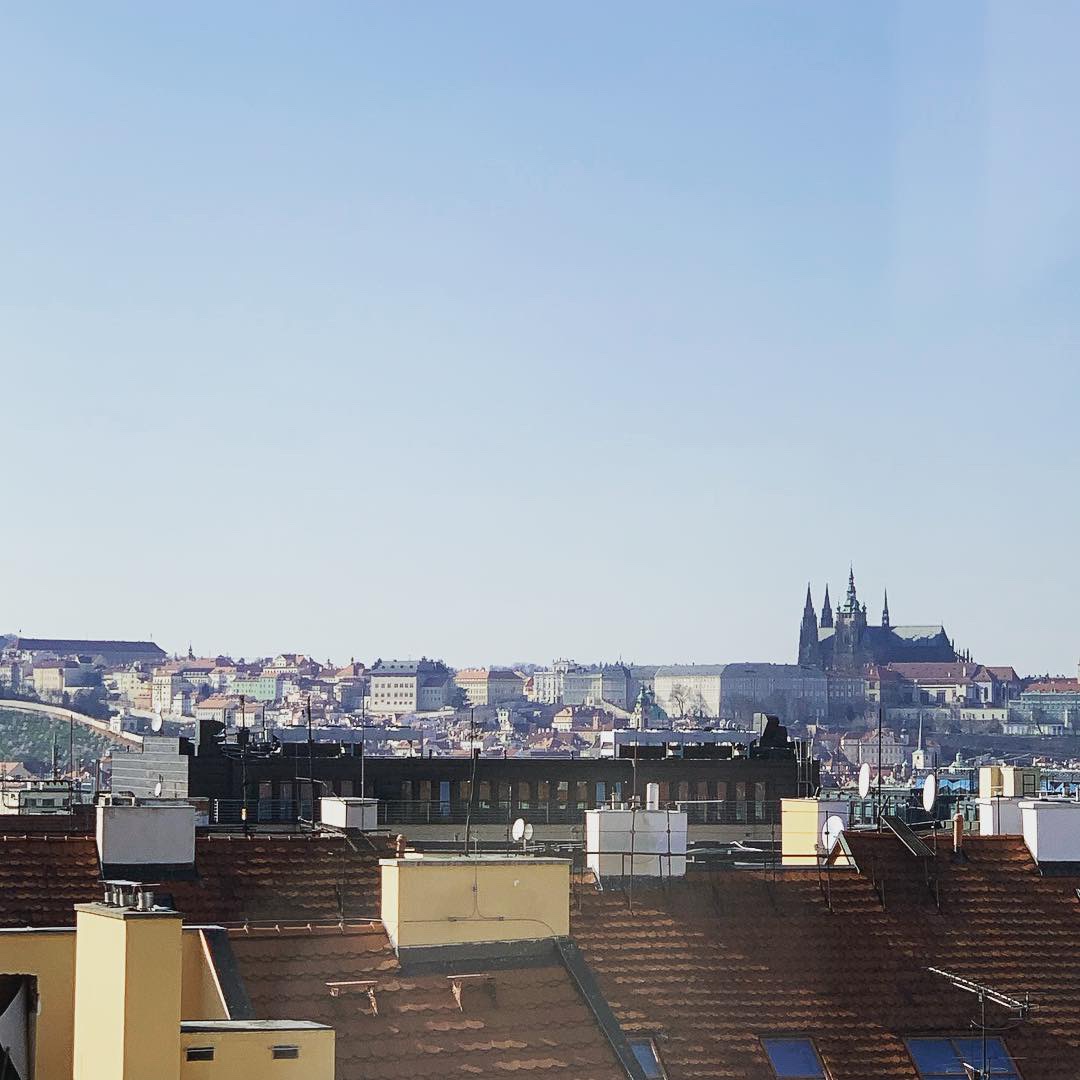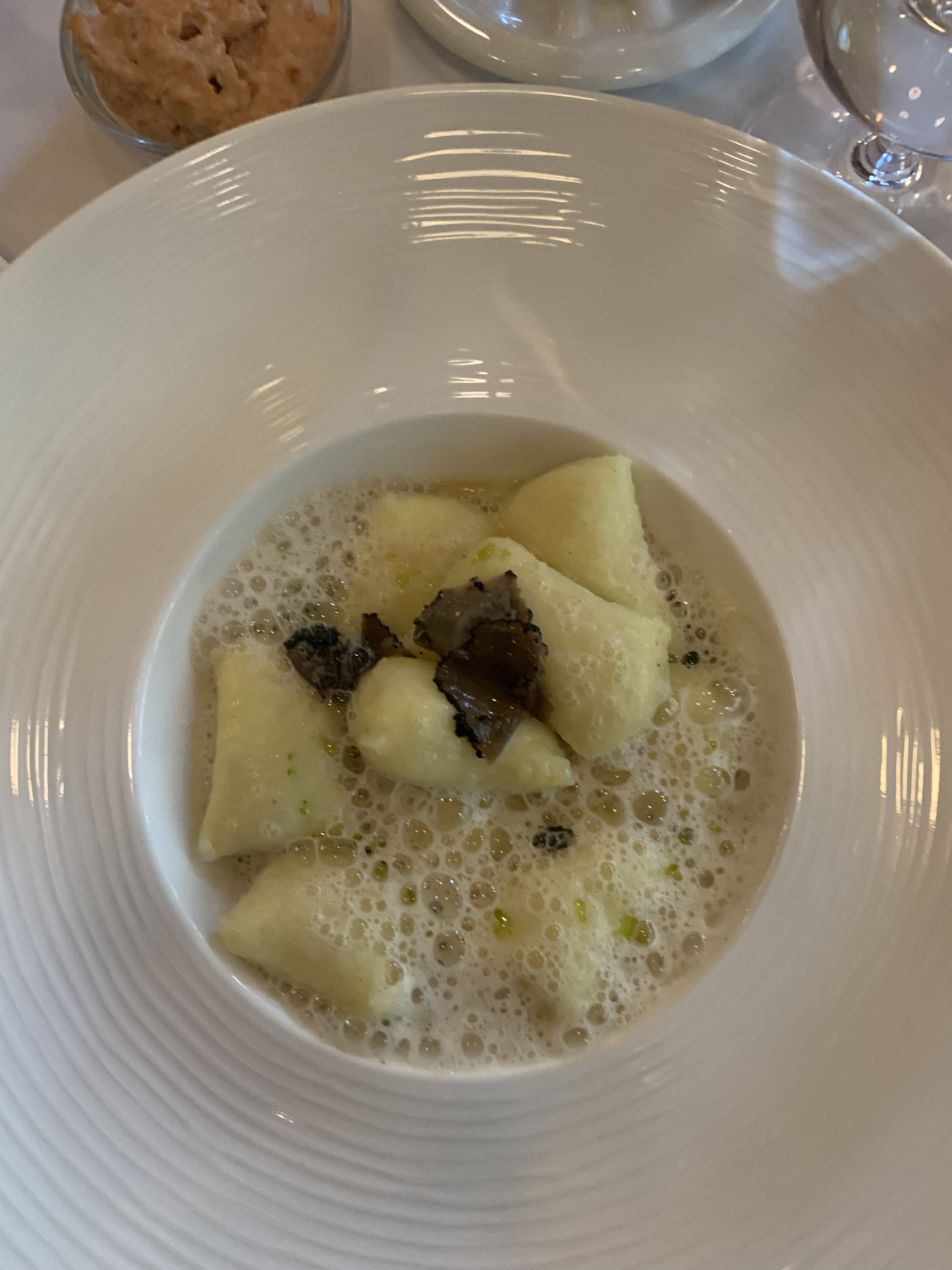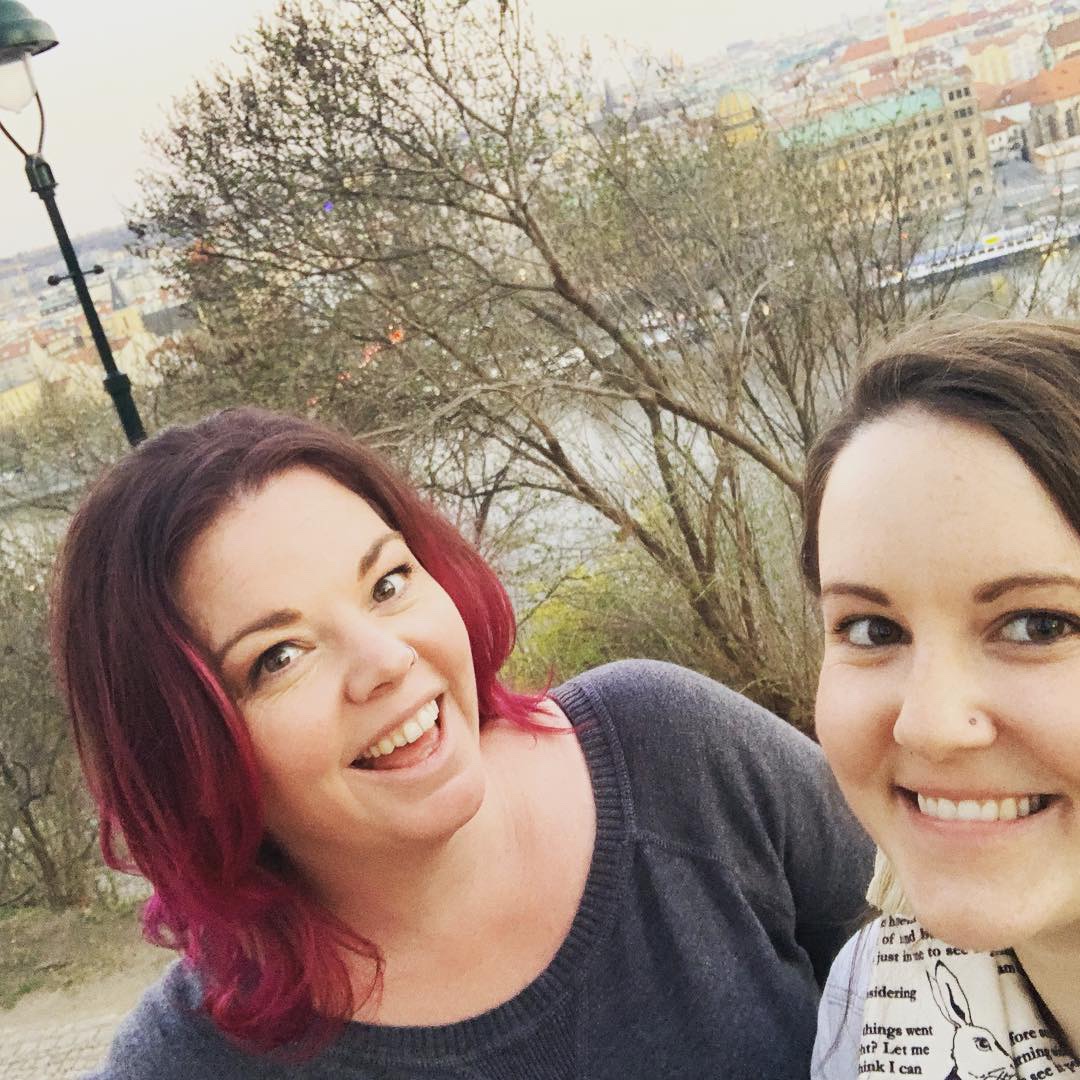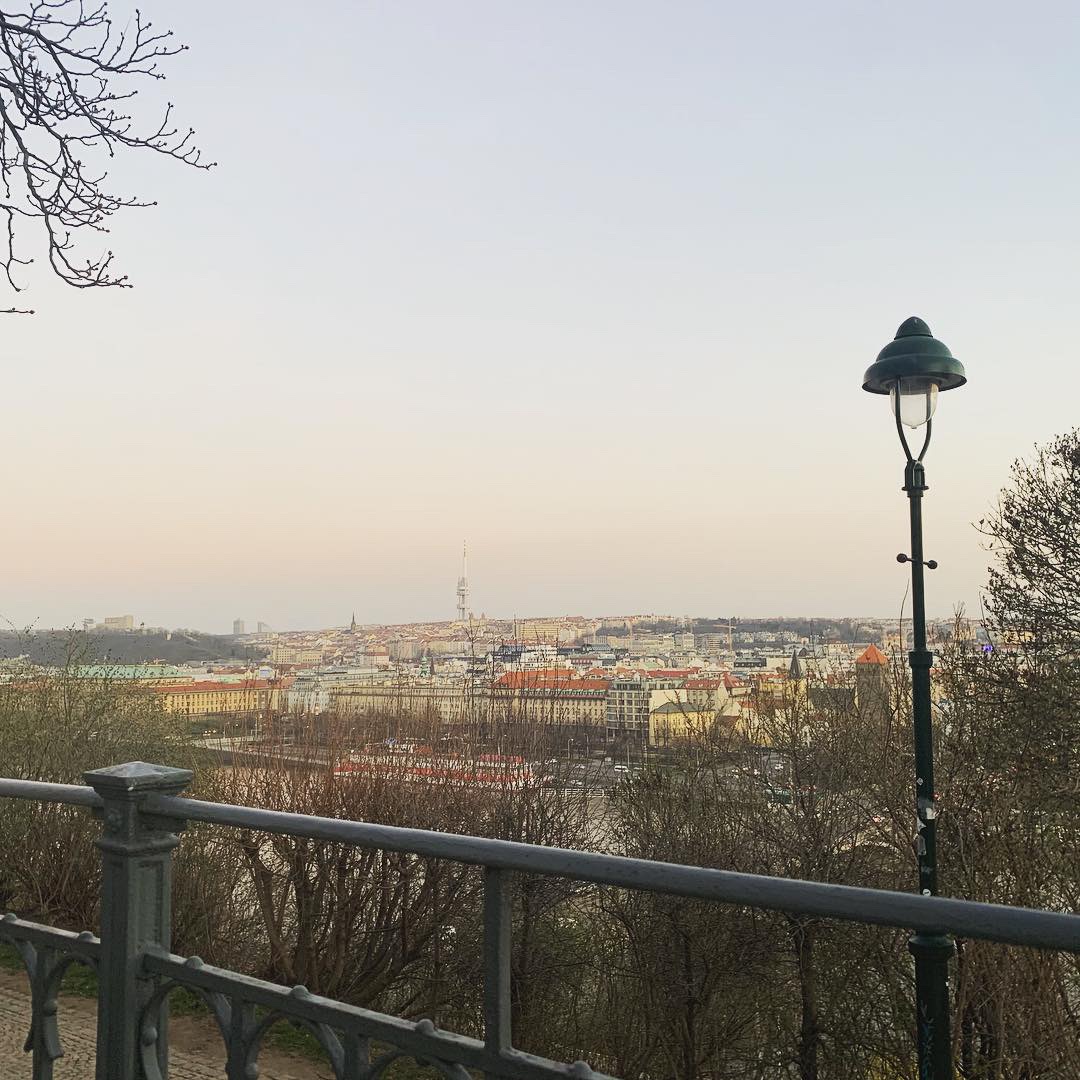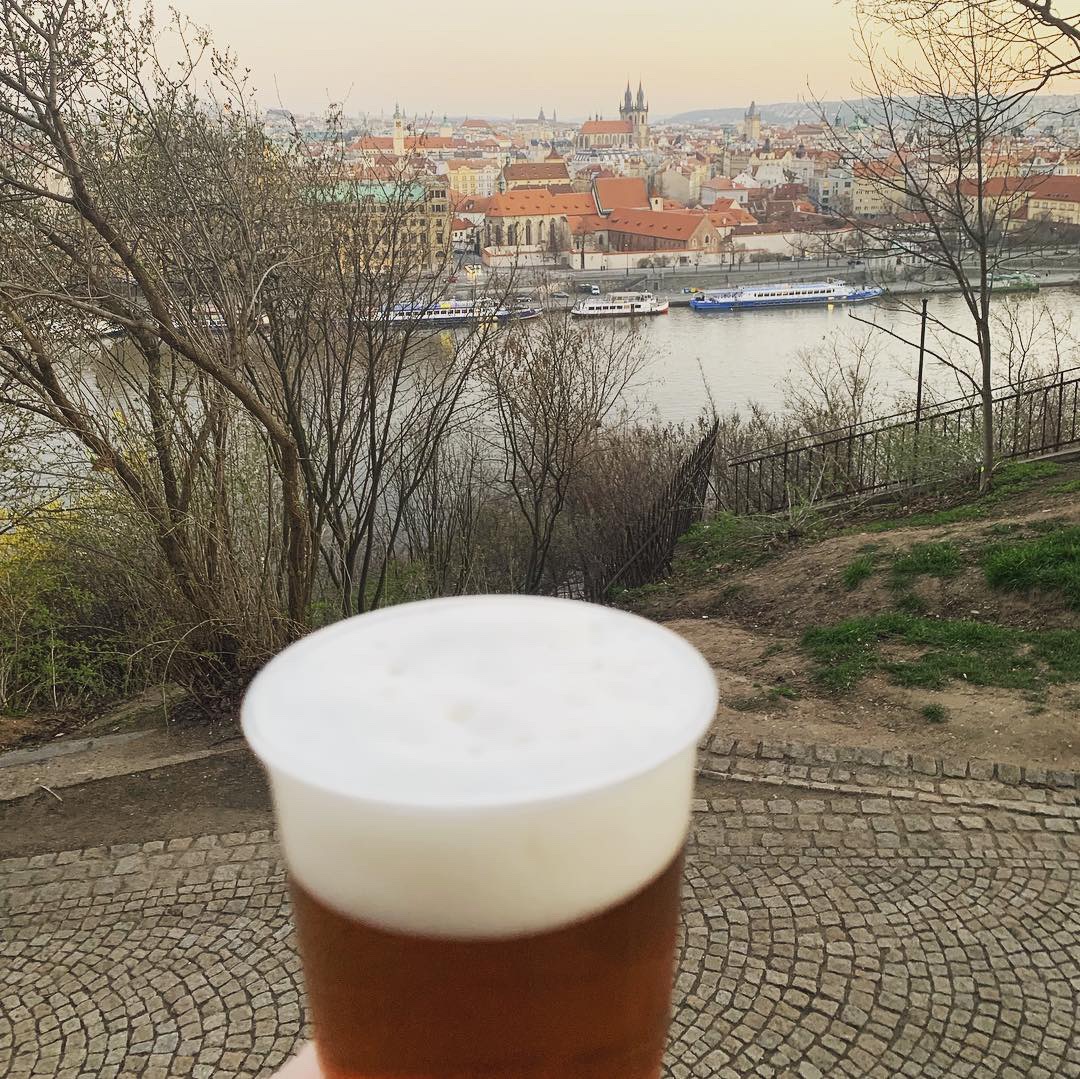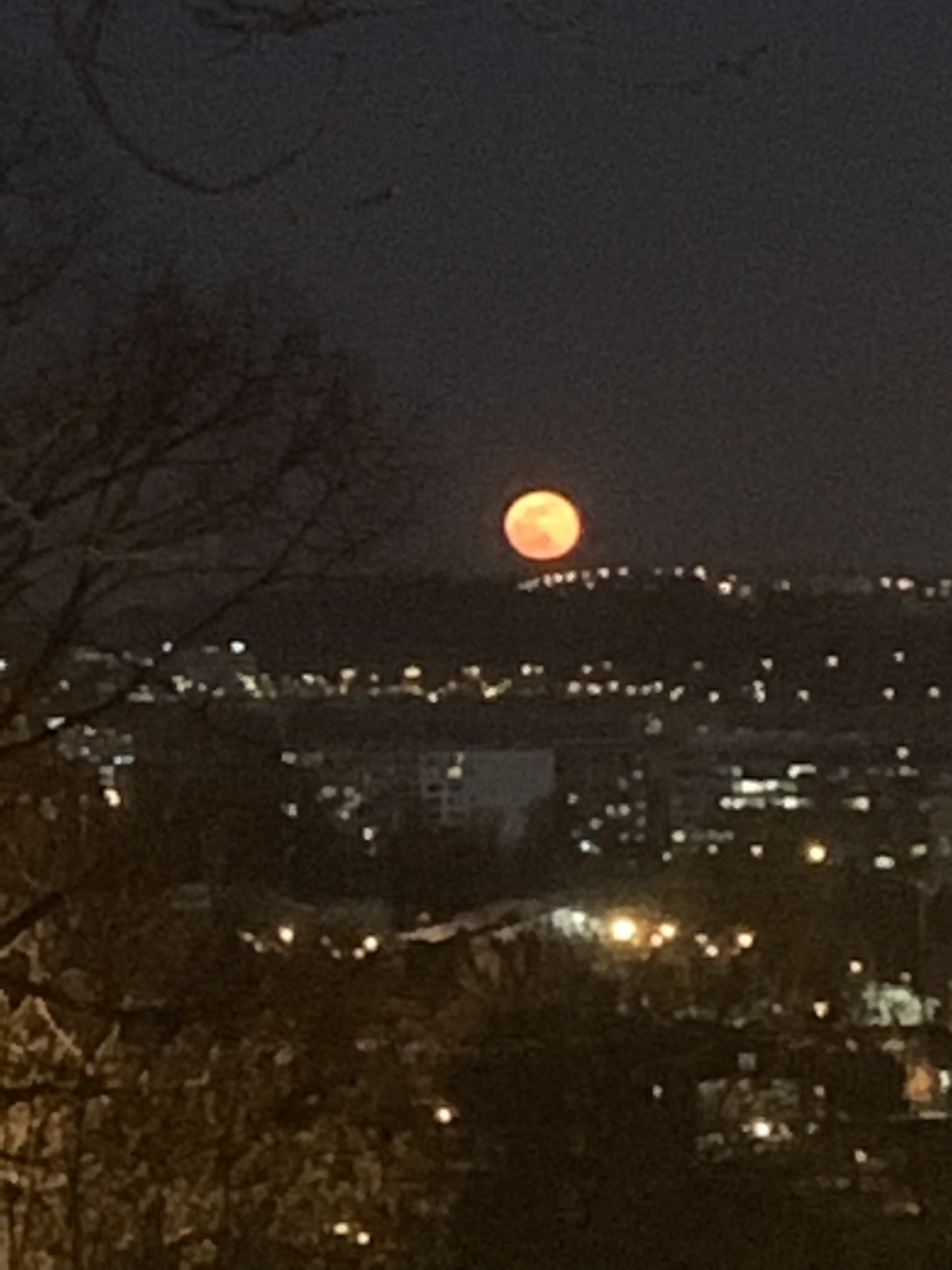 After an amazing night sleep, feeling relaxed and refreshed, we decided to go to the Prague castle and check out the John Lennon wall. Prague isn't really that big, we walked everywhere with no need for public transportation.
Walking up to the Prague Castle, there are ton of stairs! I was so happy for cute, but very comfortable shoes! As we reached the halfway point, there is another amazing view of Prague and a charming snack bar. We decided we would stop on the way back down for a drink with a view. At the top is the St. Vitus Cathedral It is truly remarkable! It doesn't cost anything to go inside, so do it! You will not be disappointed.
After exploring the castle and Cathedral, we started heading back down. Stopping at the halfway point, which is next to the oldest vineyard in Prague. We decided to take in the view while Meghan had a beer and I enjoyed an aperol spritz. It was so refreshing since it was so warm that day. Standing there, I felt this weight I have been carrying finally start to lift away.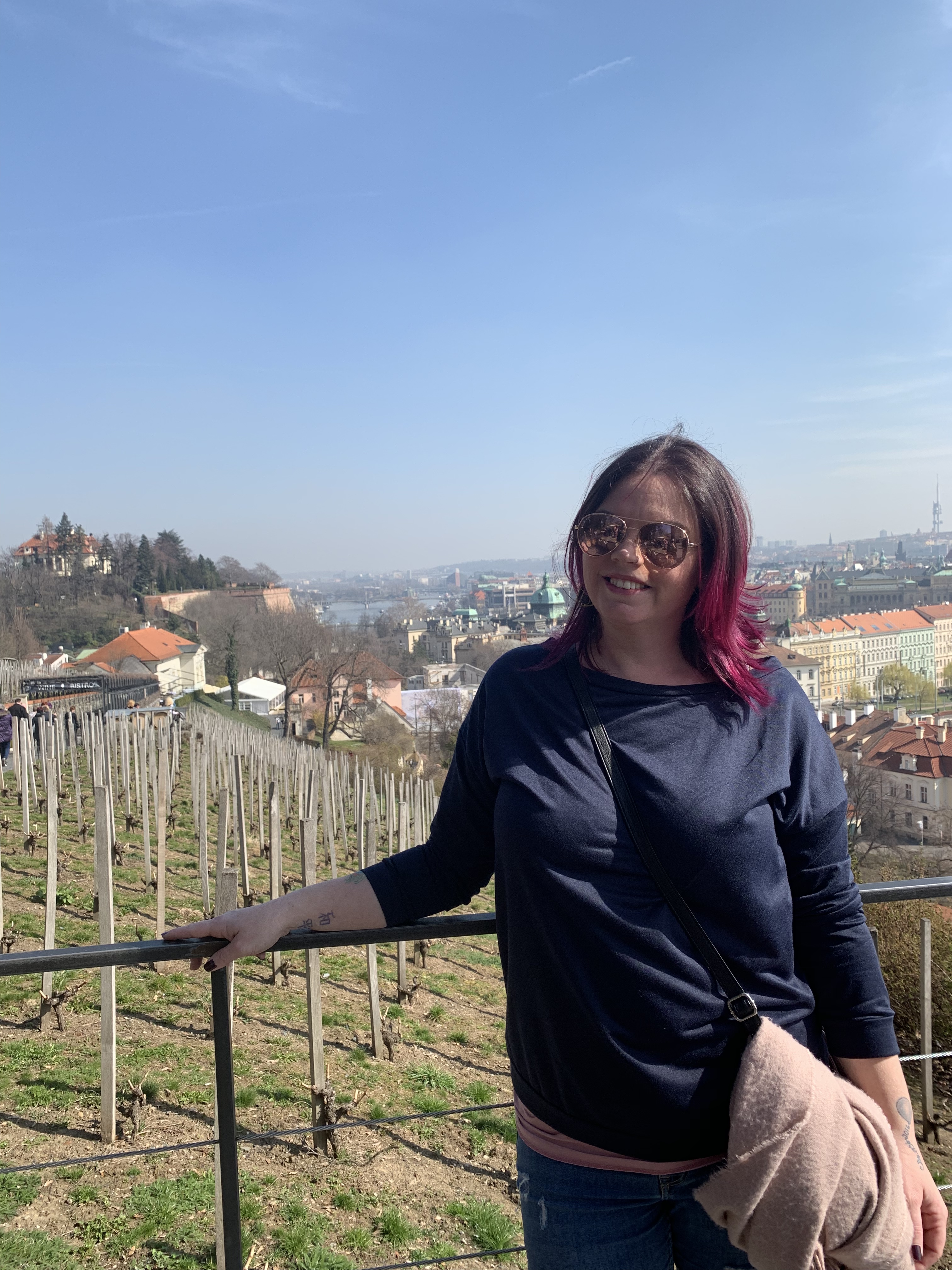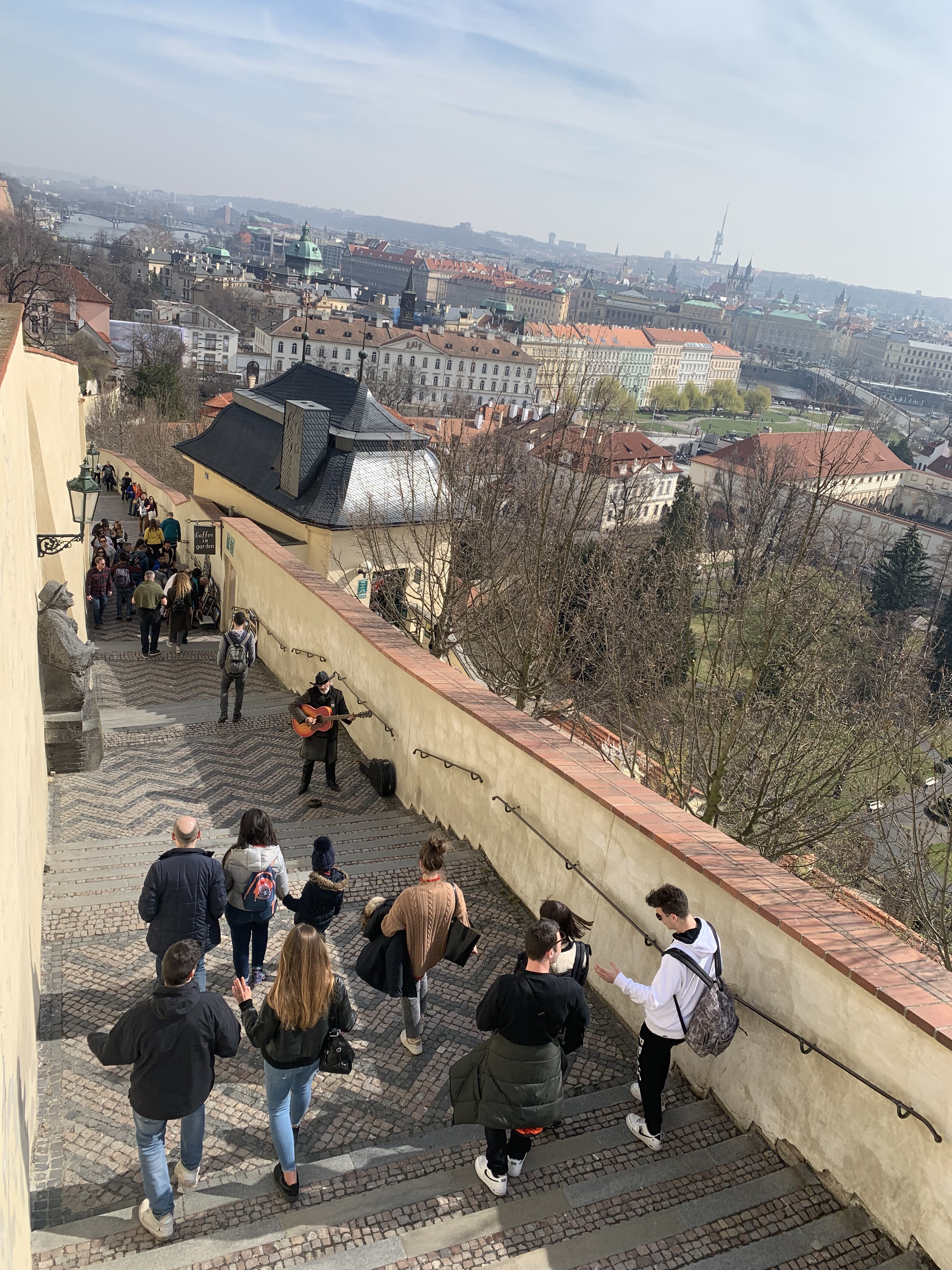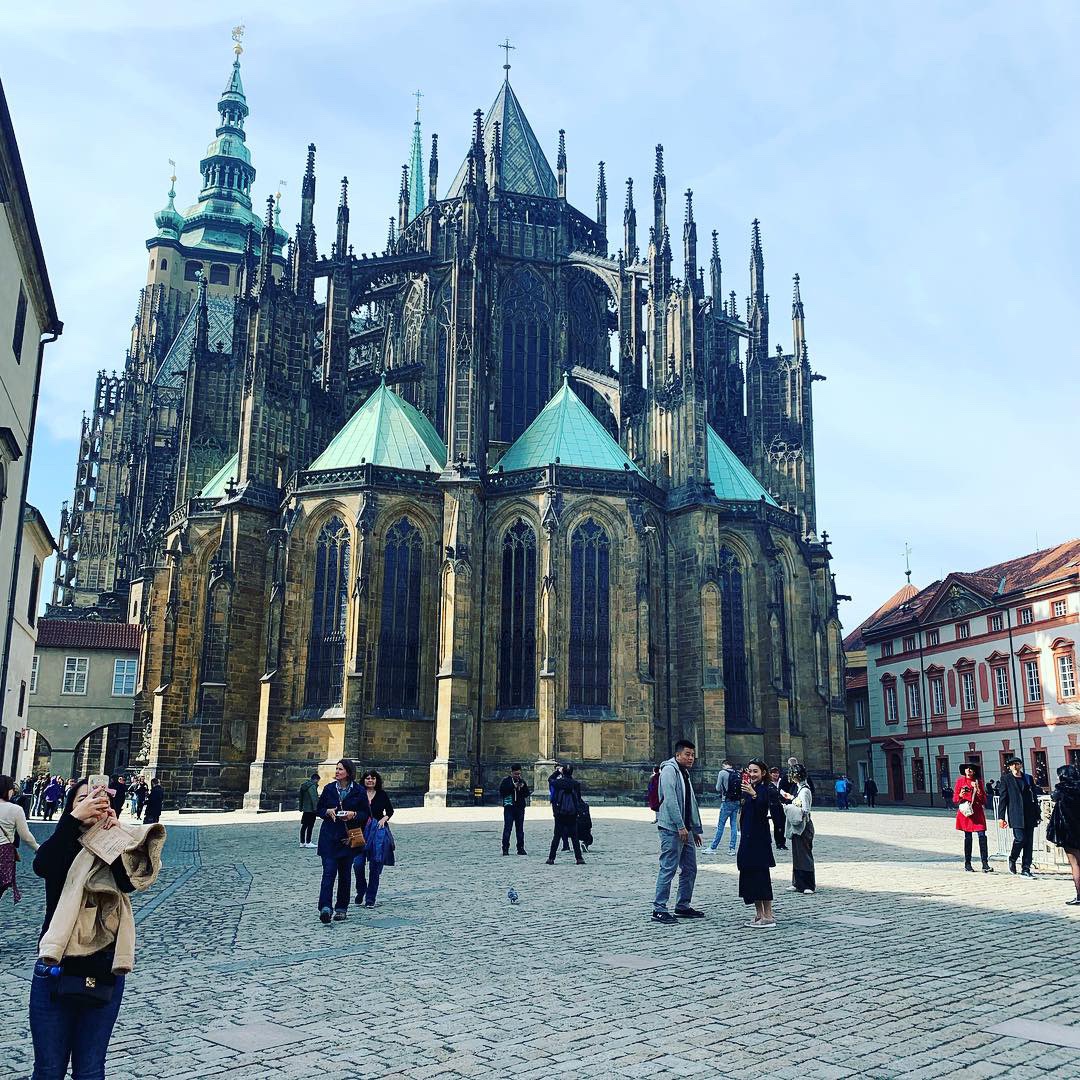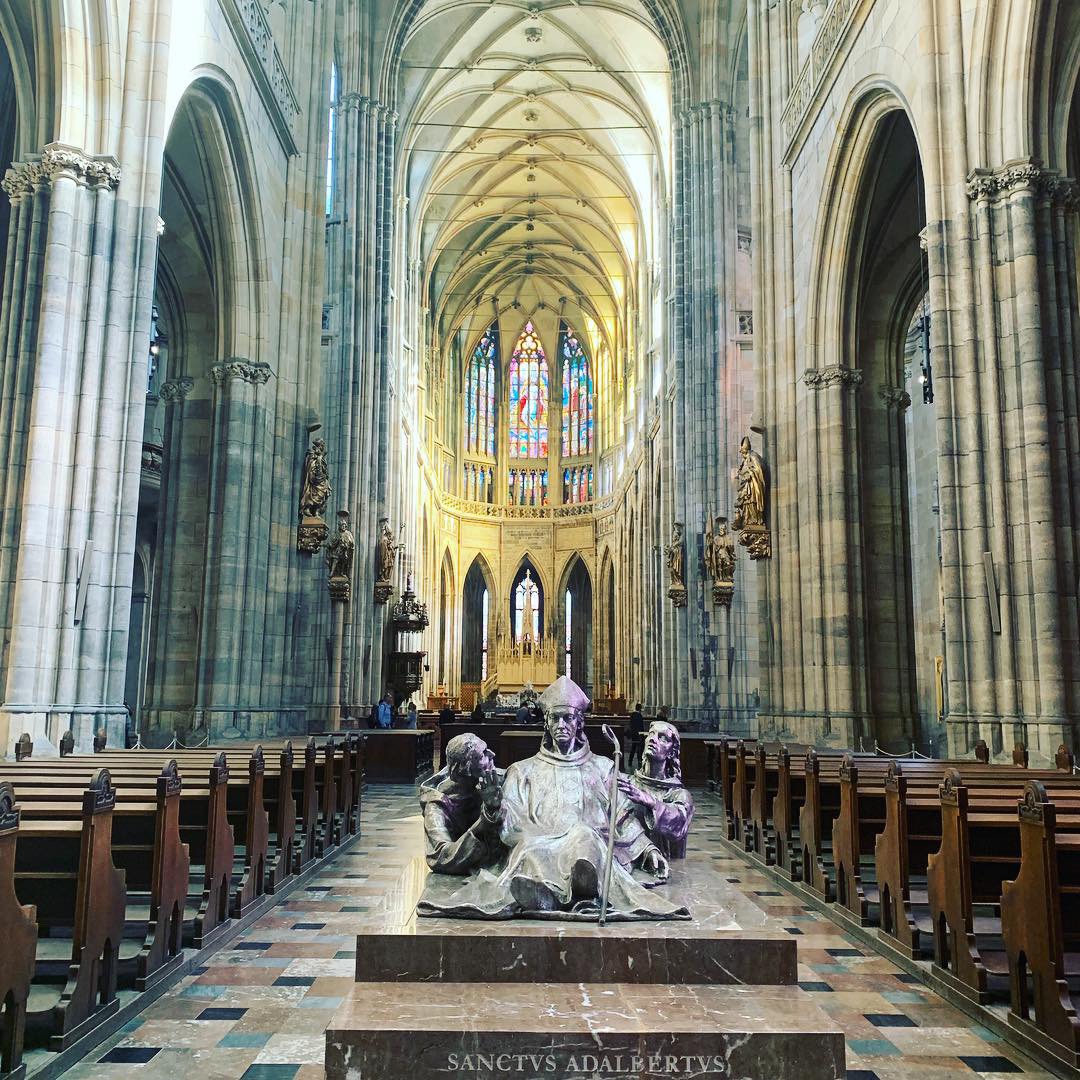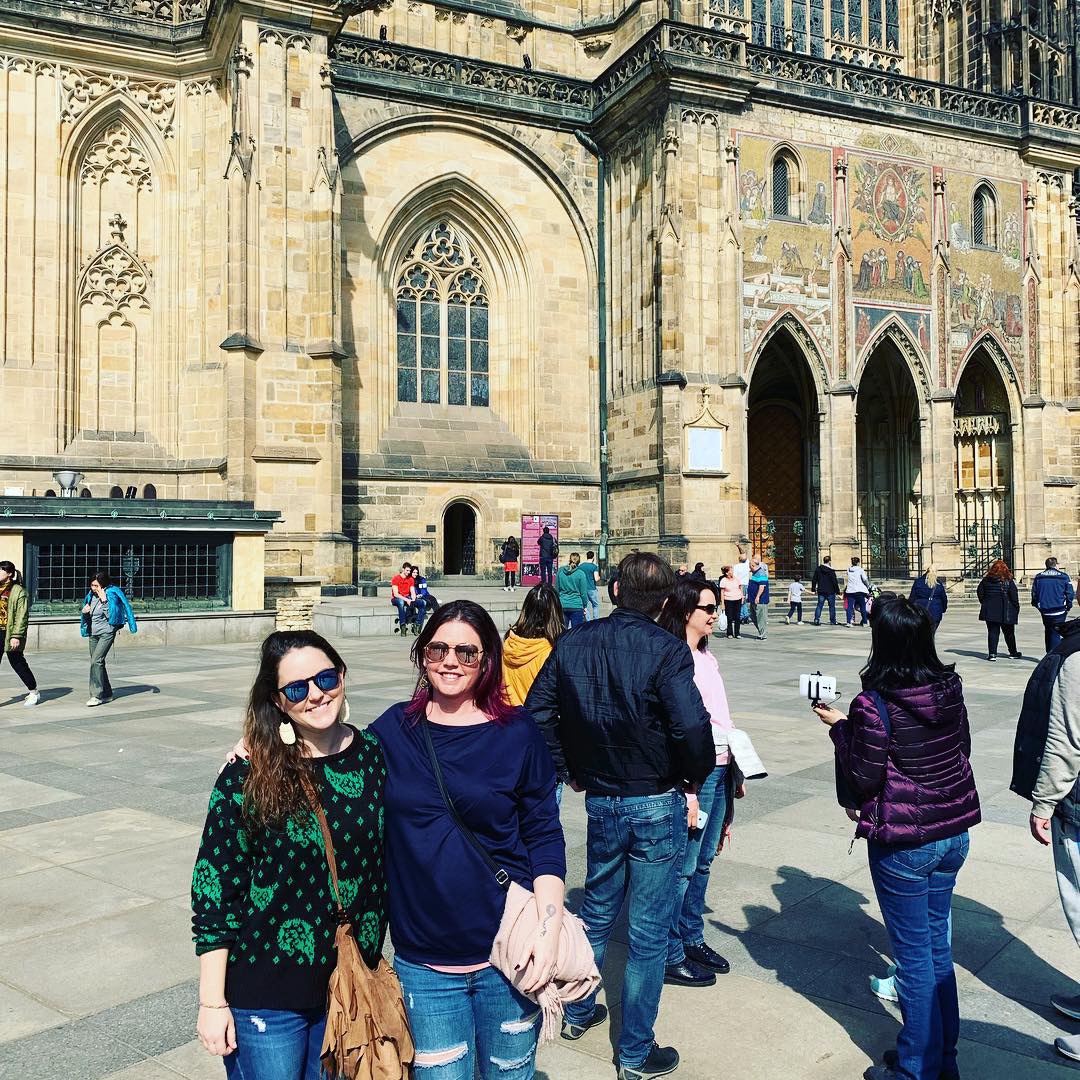 After enjoying the view, it was time to head over to the John Lennon wall. It was so cool! Since the '80's, people have been creating street art inspired by Lennon and the Beatles with Lyrics and messages of Love and Peace. There is an incredible energy here. In keeping with the theme, we were planning on eating lunch at the Lennon Pub.
Instead, we got pulled into the Pirory Mill by the charming patio. It was so good! We wanted something light and veggie forward, it did not disappoint. I had the burrata, tomato and avocado salad. It was so fresh and mouth watering delicious.
We did still stop at the Lennon pub for afternoon drinks. They made the best Bloody Mary. We decided to take the Charles Bridge back across the river, you can't miss the Charles bridge. There are artist selling everything from handmade jewelry, paintings and photos. I am so glad we checked the bridge out on Friday because when we tried to go back on Saturday you could not get to the bridge because of all the people.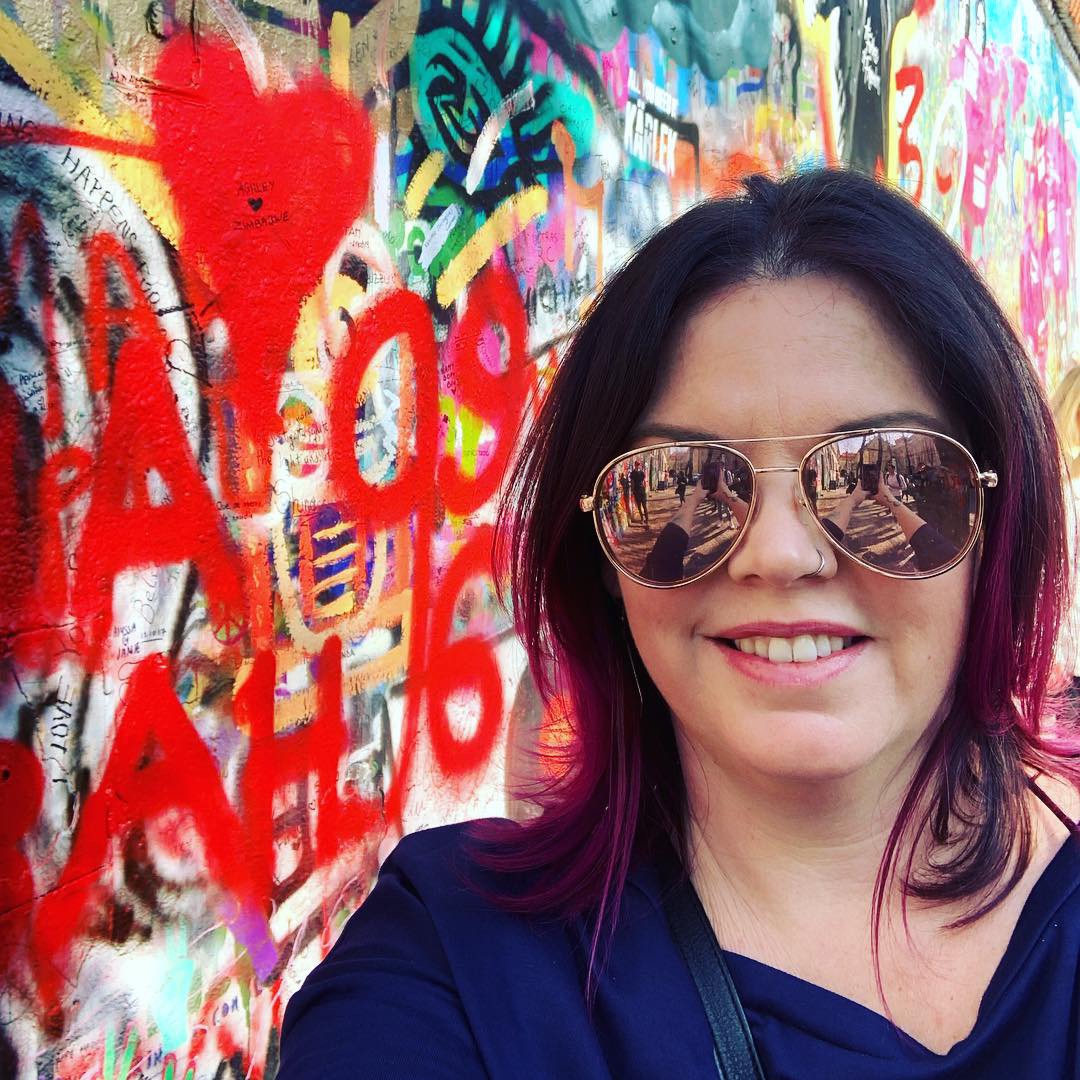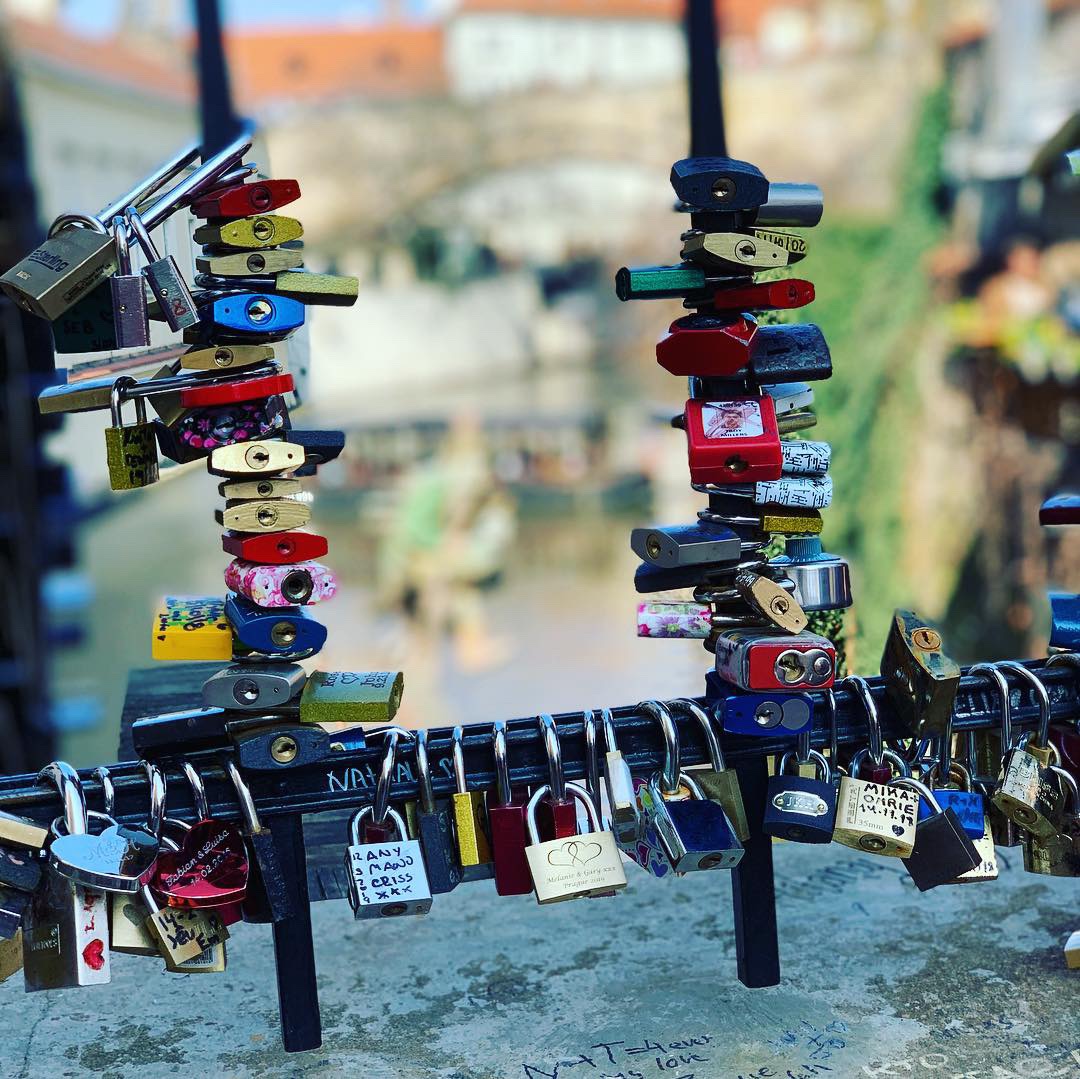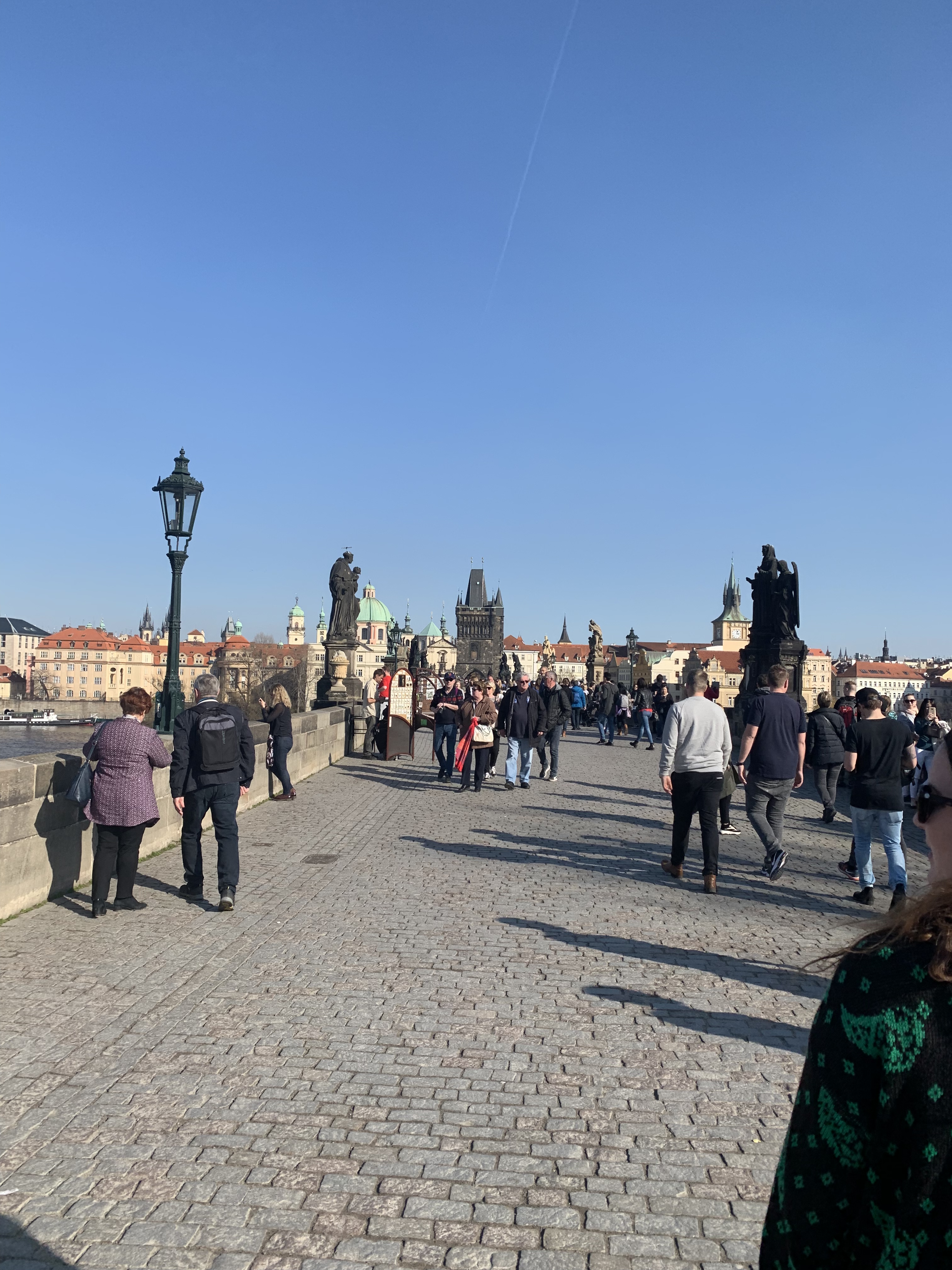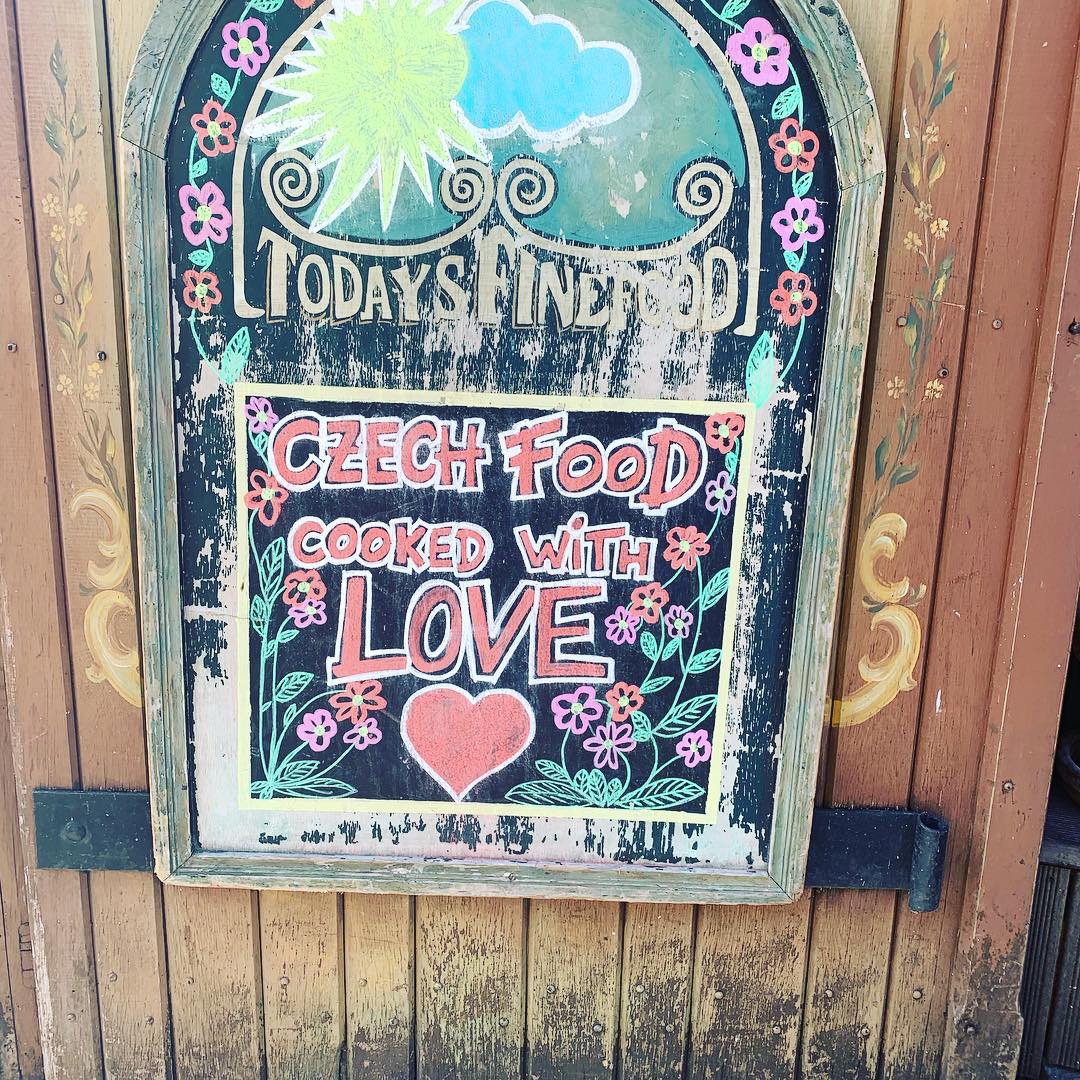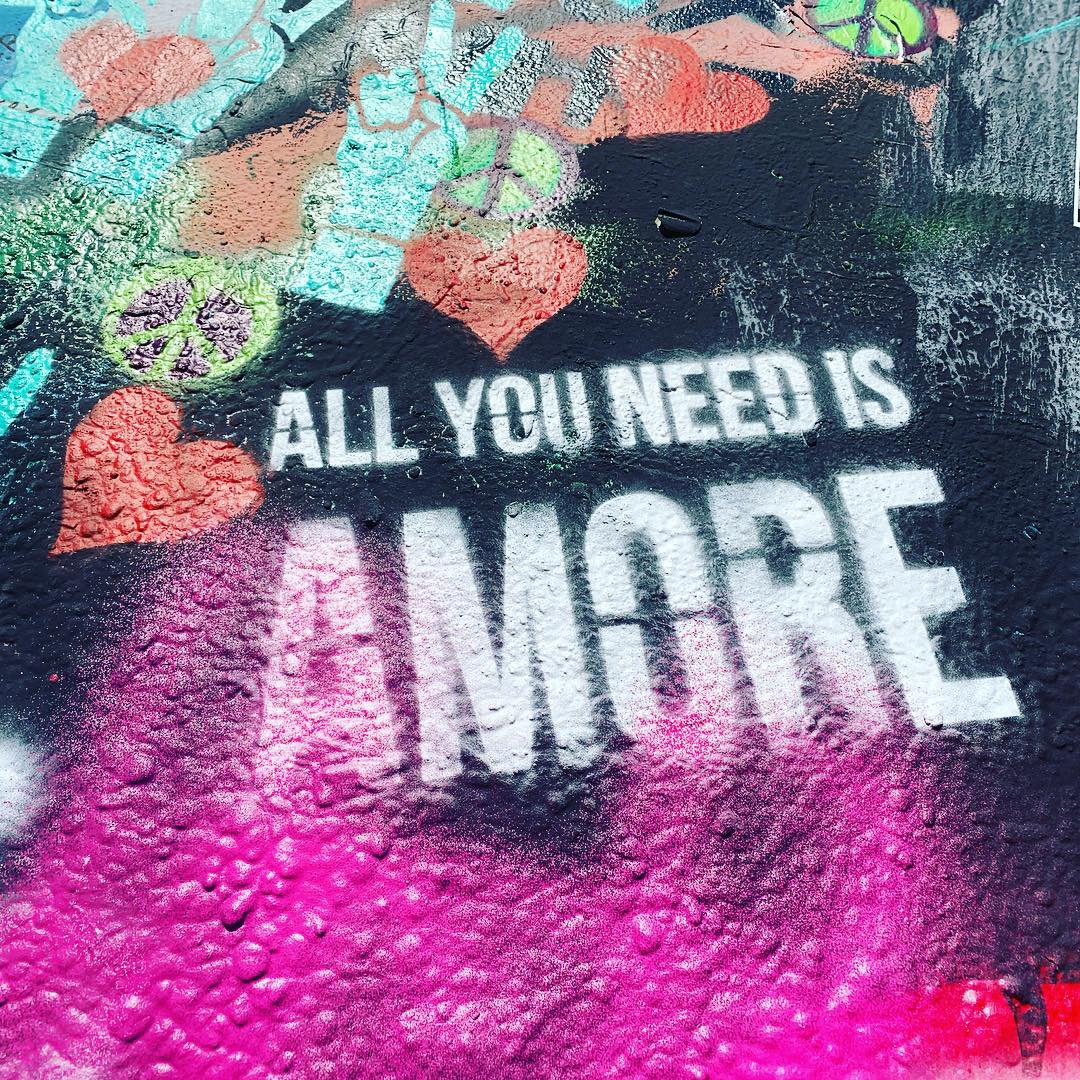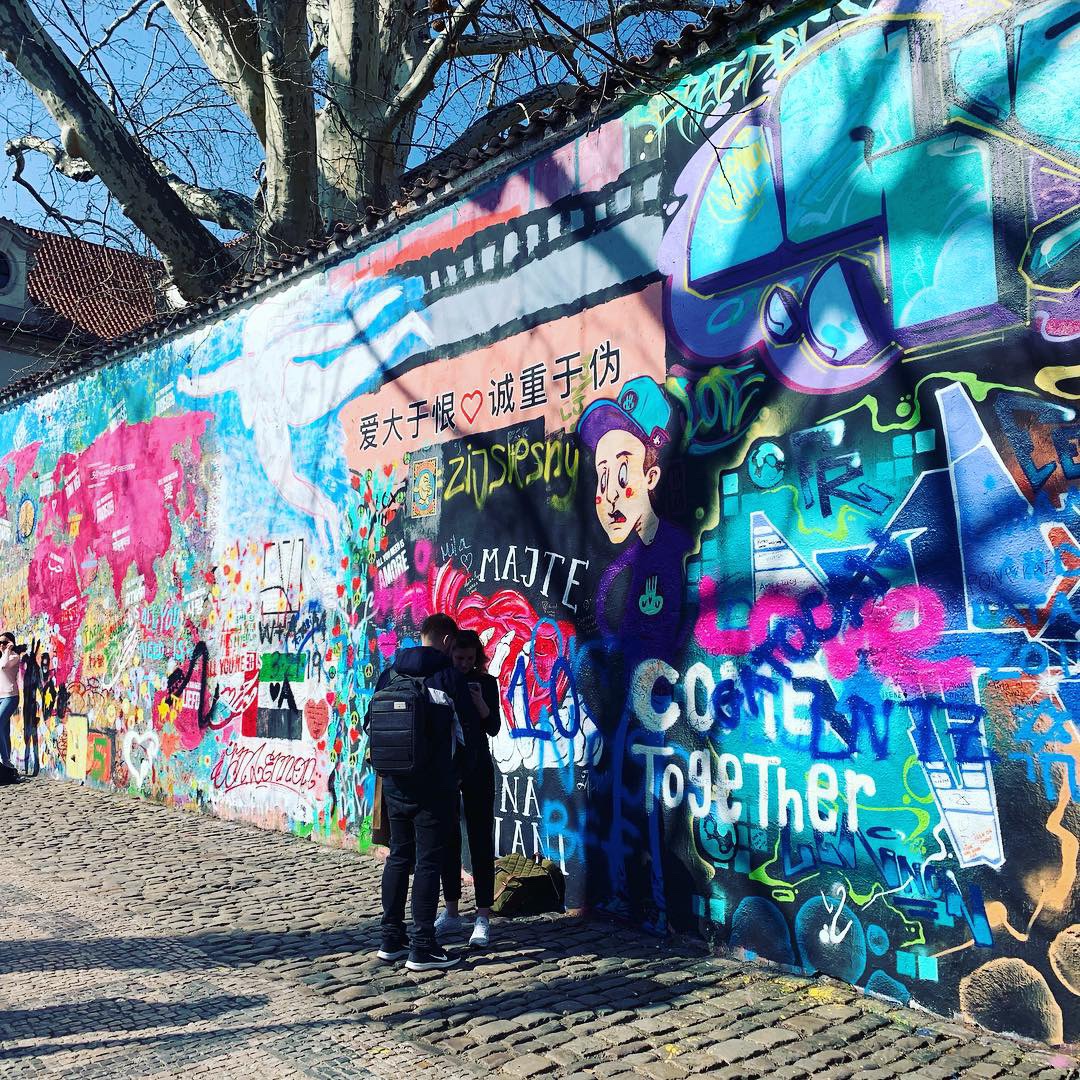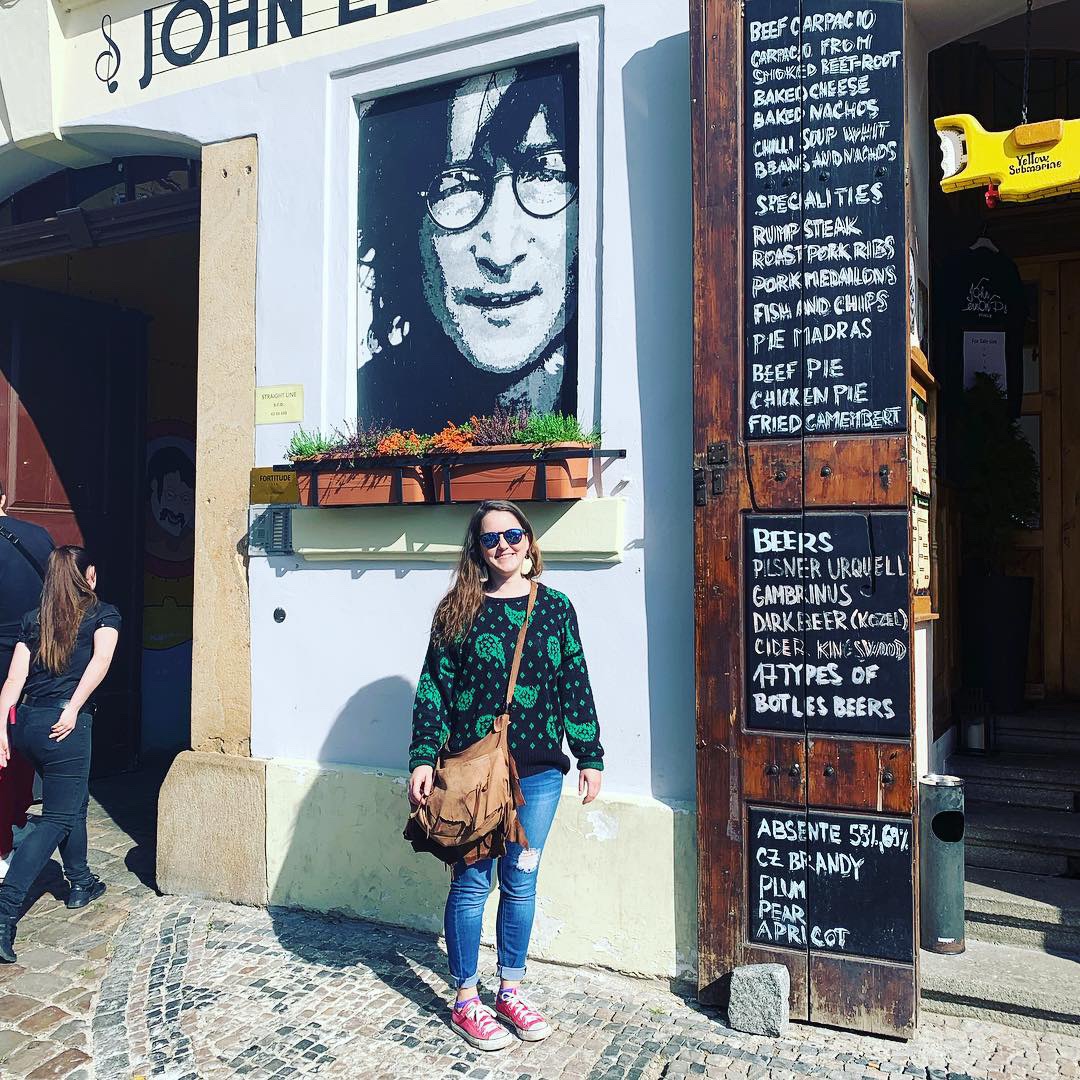 We headed to check out the Dancing house hotel on the way back to the AirBnb. The architecture in Prague is really incredible. The hotel has a rooftop bar with more great views. You do have to buy something to go outside and enjoy the view, so I got a prosecco for a whopping 3 euros and Meghan grabbed a beer.
After we got our drinks, we went out on the terrace to enjoy them. It was worth the 3 euros. We had one of the best chats up there. I was able to get closure on something that had been bothering me. Girlfriends, they are the best. It was time to go back and relax for a bit before deciding what the plan for the evening was. As great as chats with your girlfriends are, there is also something wonderful about being able to be in the same room and there is a comfortable silence where you can reflect on the day and recharge to go out that night. I loved that Meghan and I could have that.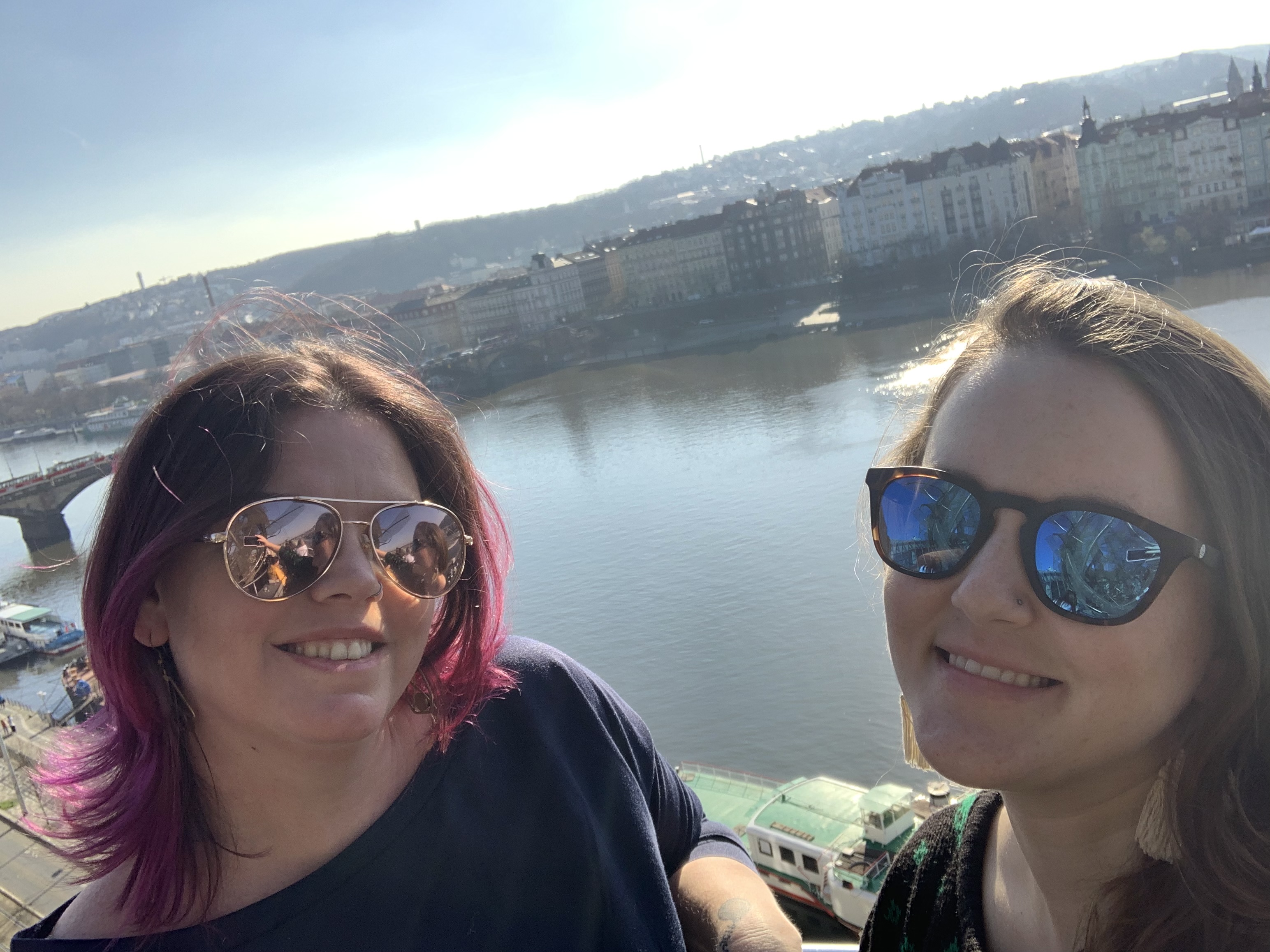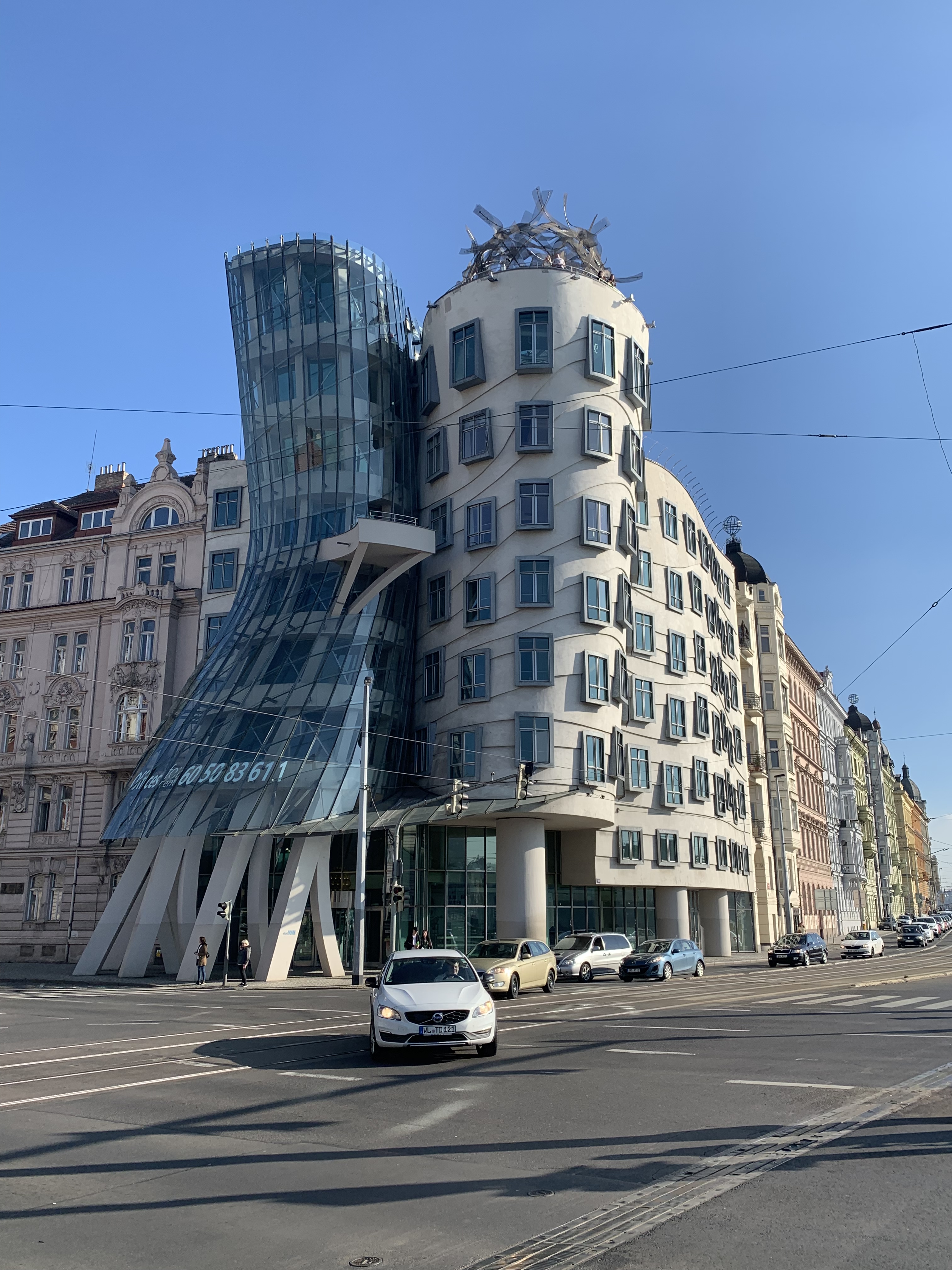 We decided to check out Vytopna Railway Restaurant. It was very cool! Your drinks are delivered by a train that goes all around the restaurant. Definitely worth checking out! We were, at this point, tired. It was early though and dang it I was traveling without my kid!
We decided to go to Zombie bar, hoping we would get a second wind. I am glad we did, because after talking to the bartender he told us about The Alchemist Bar. SO VERY COOL. It's eclectic and a bit gothic, in the best way. You can just have some drinks, or, you can try your hand at choosing your fate.
We picked our first drink. It was delicious! Then, with a bit of liquid courage we decided to go for it. The Guardian of the chest came to our table and pulled tarot cards out of the smoke filled chest, you then choose a card. That card determines what your next drink was. The drinks were delicious as well. The card also tells you what bar to go to for the next card/clue, in hopes that you can help solve the mystery of Rudolph II's treasure. We didn't follow the card to the next bar because our second wind was fading so we went back to get ready for the next day. If you ever do go and follow the cards let me know how it ends!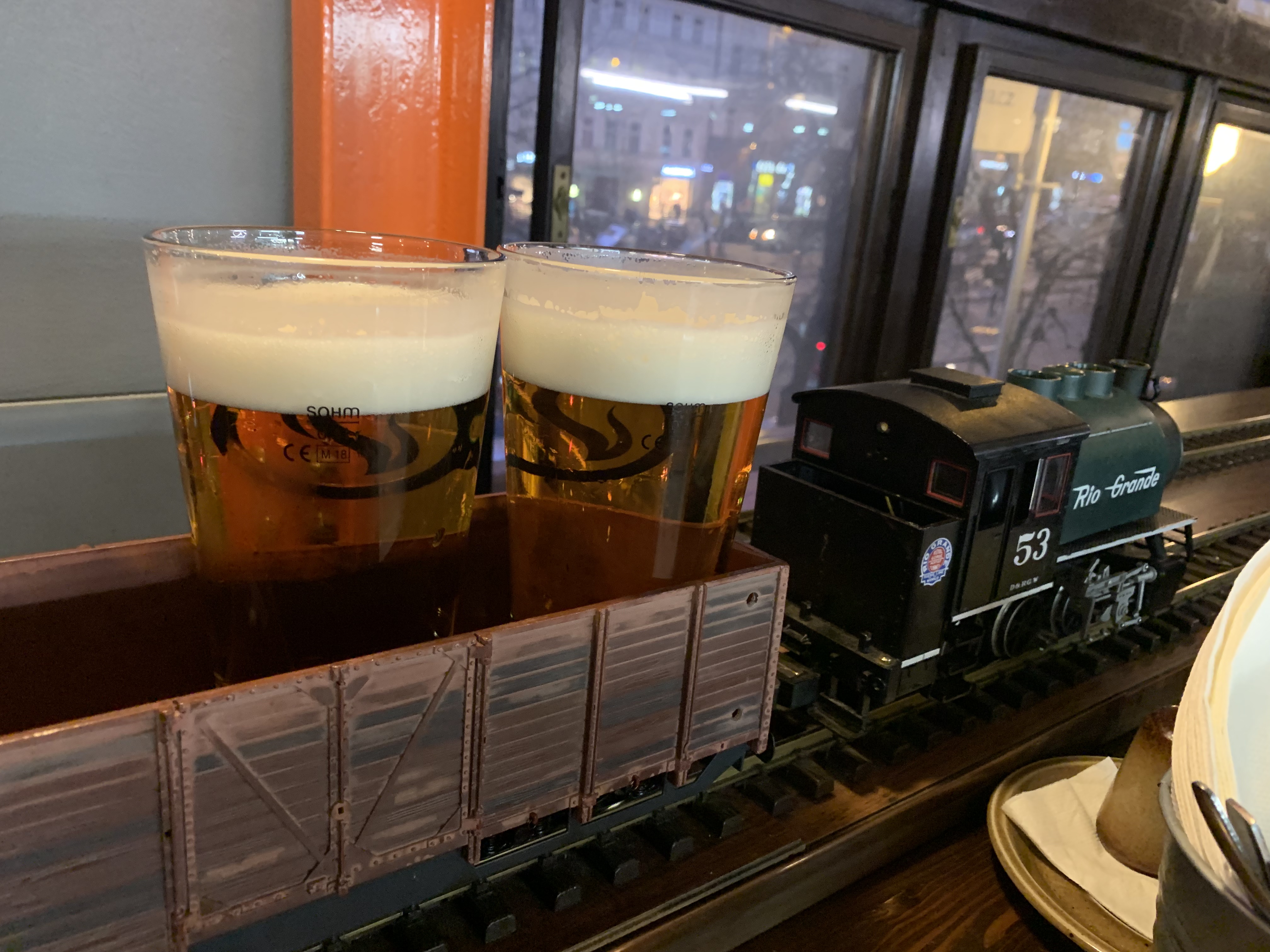 Our last day in Prague was a bit more relaxed. We took our time in the morning, having coffee and getting ready for the day.
It was time to head to the Astronomical Clock. It was beautiful. honestly though, go get your picture and keep exploring. You can go up but it was so crowded and honestly there are better views in Prague that aren't.
We wandered in Old Towne Square for a bit, before grabbing lunch. While sitting at this cafe, we noticed a museum next door. We were so excited because it housed Warhol and Dali exhibits two of my favorites. The museum was cool, we spent a lot of time wandering around. I learned a ton about Andy Warhol that I didn't know. Seeing as he is from there. There was a lot more than just his works, like letters he wrote home to his family, childhood photos, etc, really cool.
We had a couple of hours to kill before our appointment at the beer spa so we decided to keep with the beer theme and check out the beer museum. Included in the fee is a beer tasting. The museum is small so after checking it out we went down to the cellar to get our tastings. You get four beers going from light to dark.
Finally, it was time to go to the Original Beer Spa. I can not tell you how amazing it was. We checked in; they took us to our private room. There were two oak barrel tubs that had jets and were filled with beer! The lady added in the hops and malts while she was explaining everything. You get 30 minutes in the tub, beer bread with a beer butter spread, and there are taps beside the tub for self-serve beer your choices are light and dark.
After 30 minutes, you relax on a bed made of hay (it was actually really comfortable and soft) and continue to enjoy the bread and beer. It's a really good thing we did all of that walking!! It was so relaxing and my skin was so soft for days!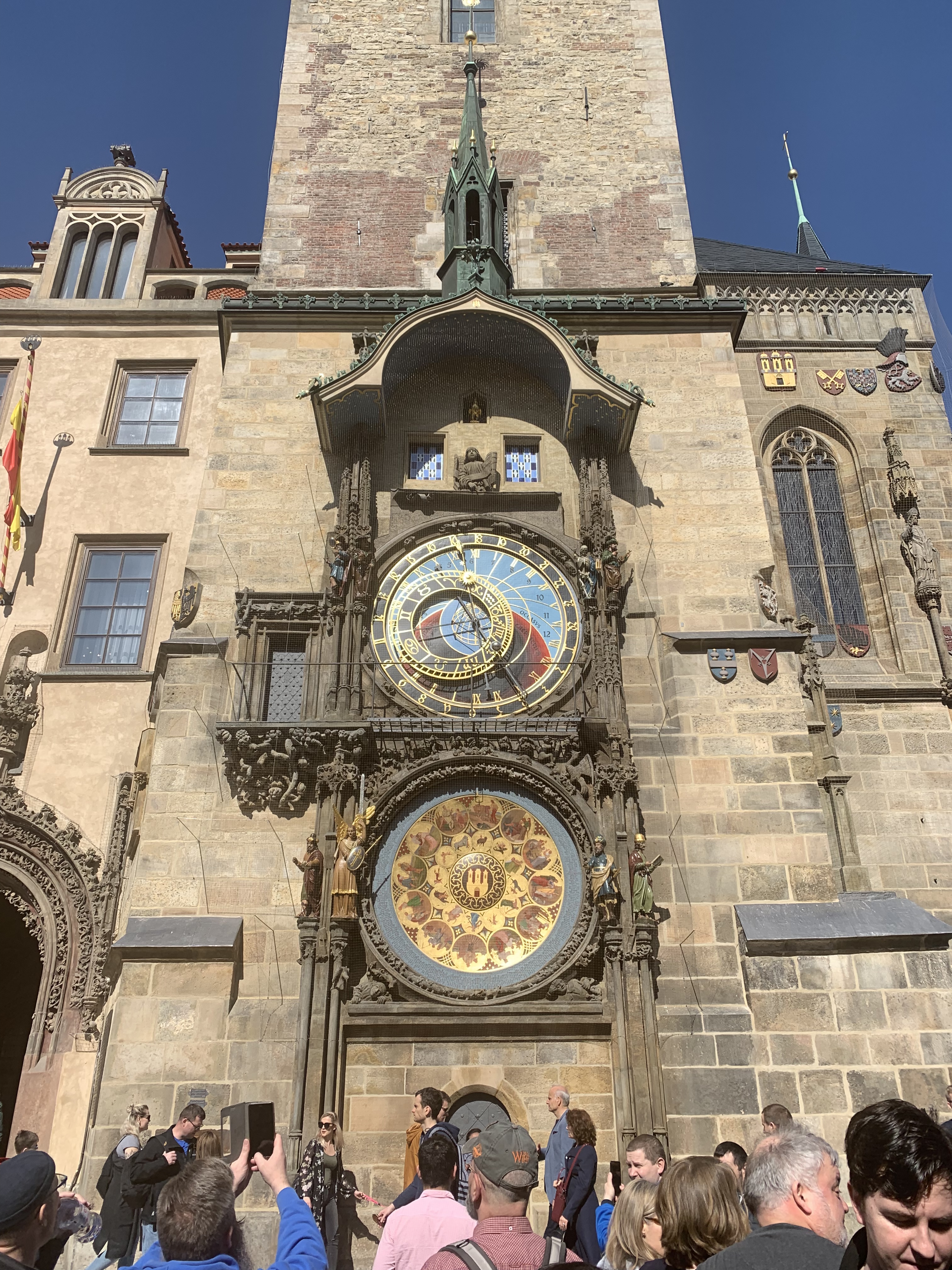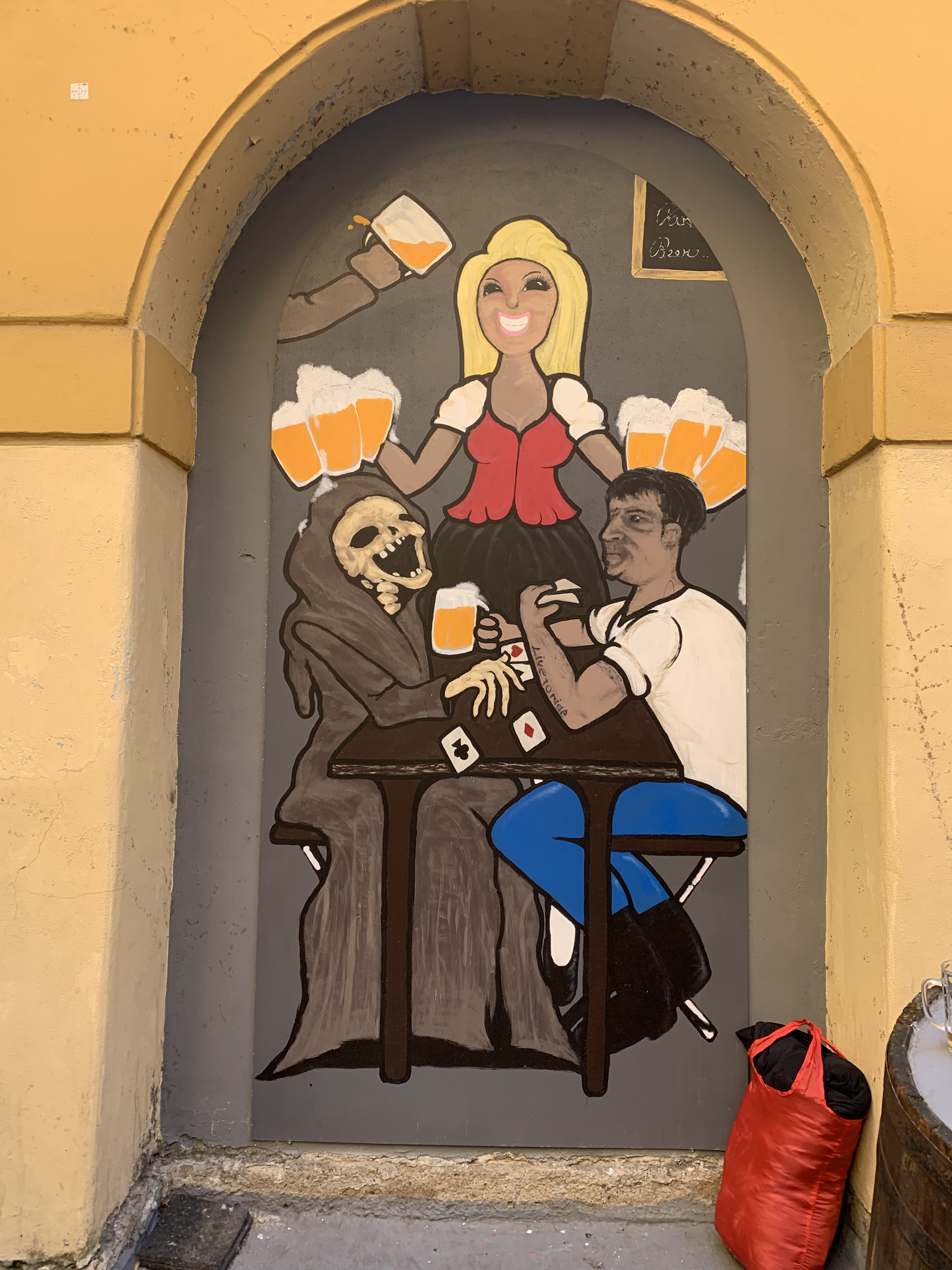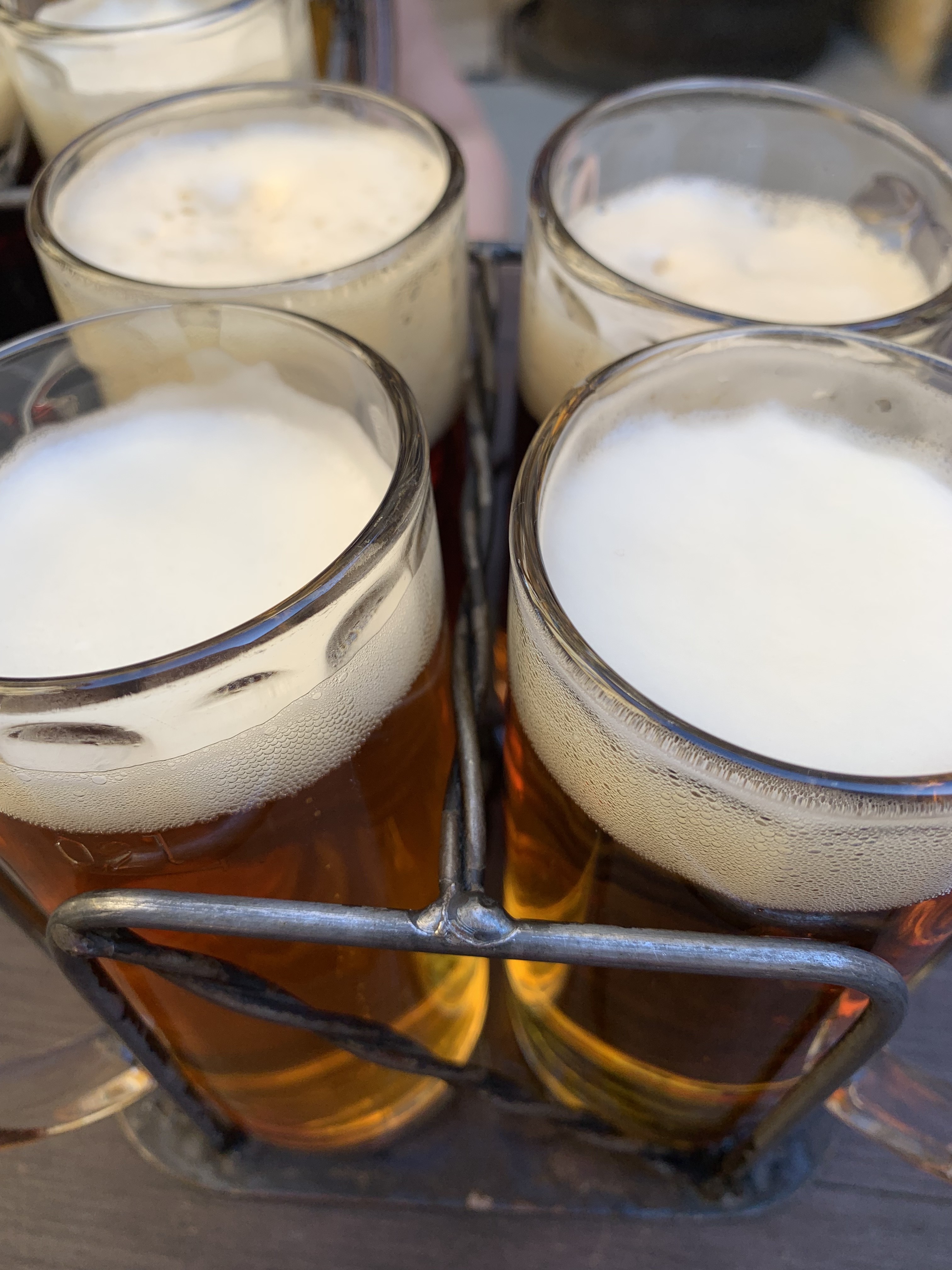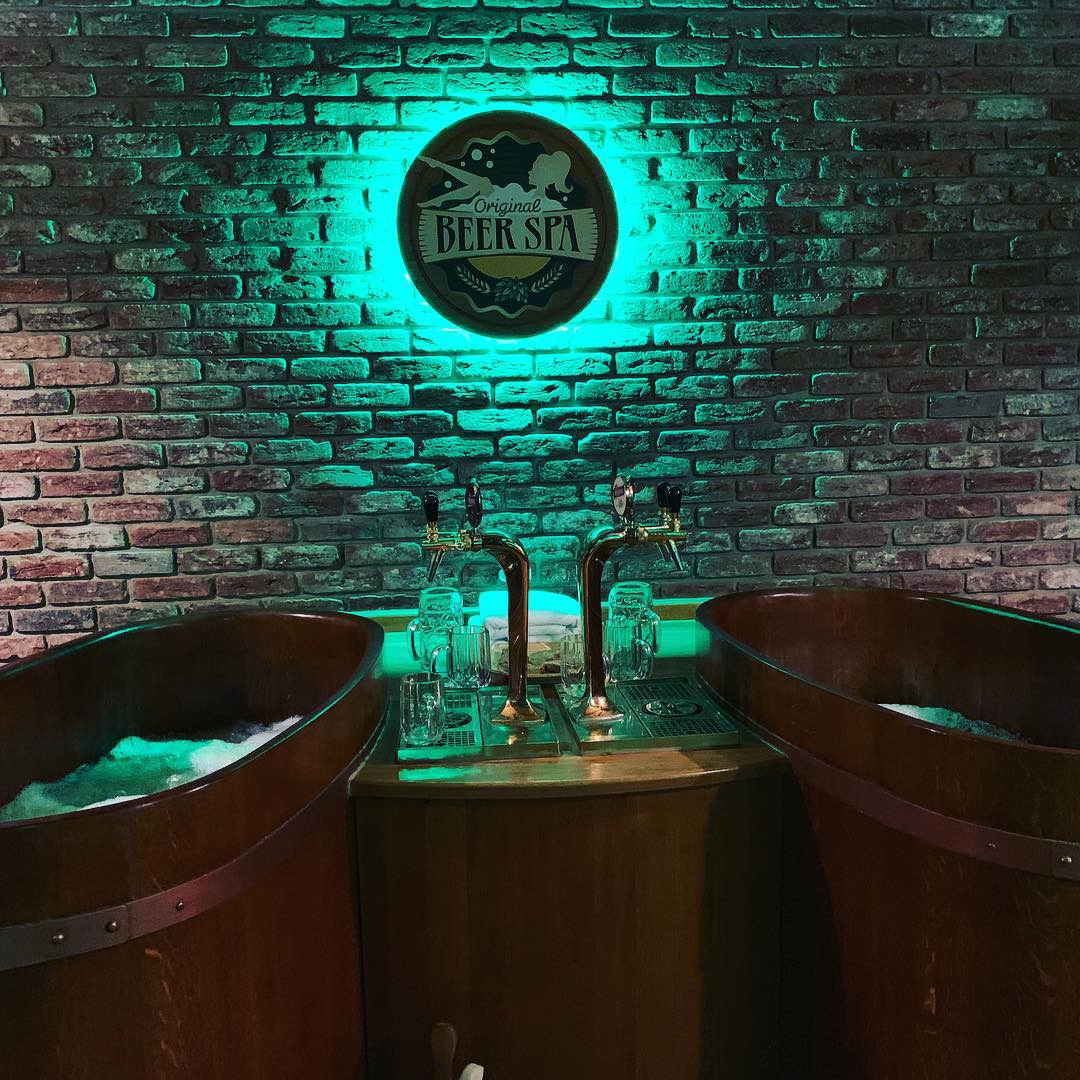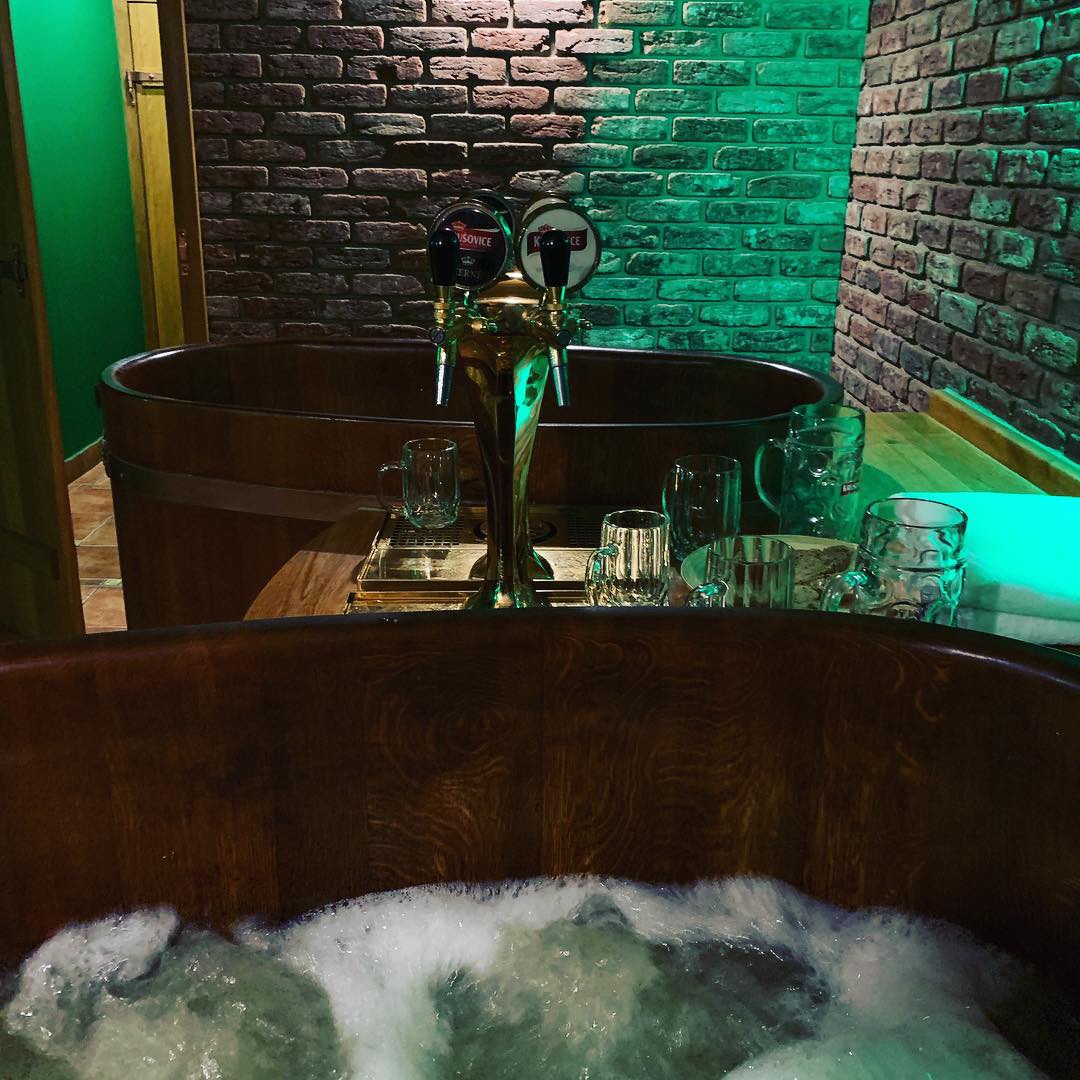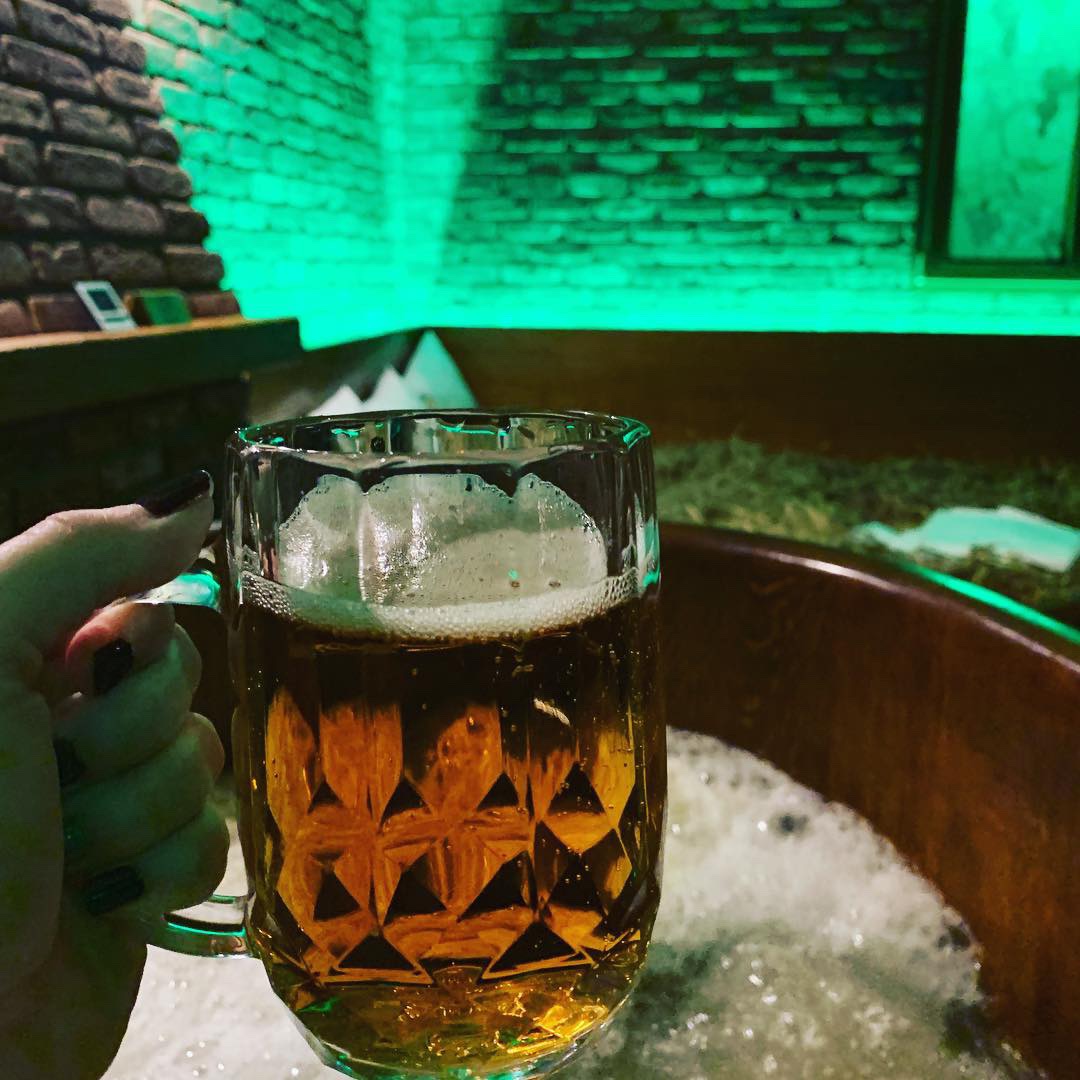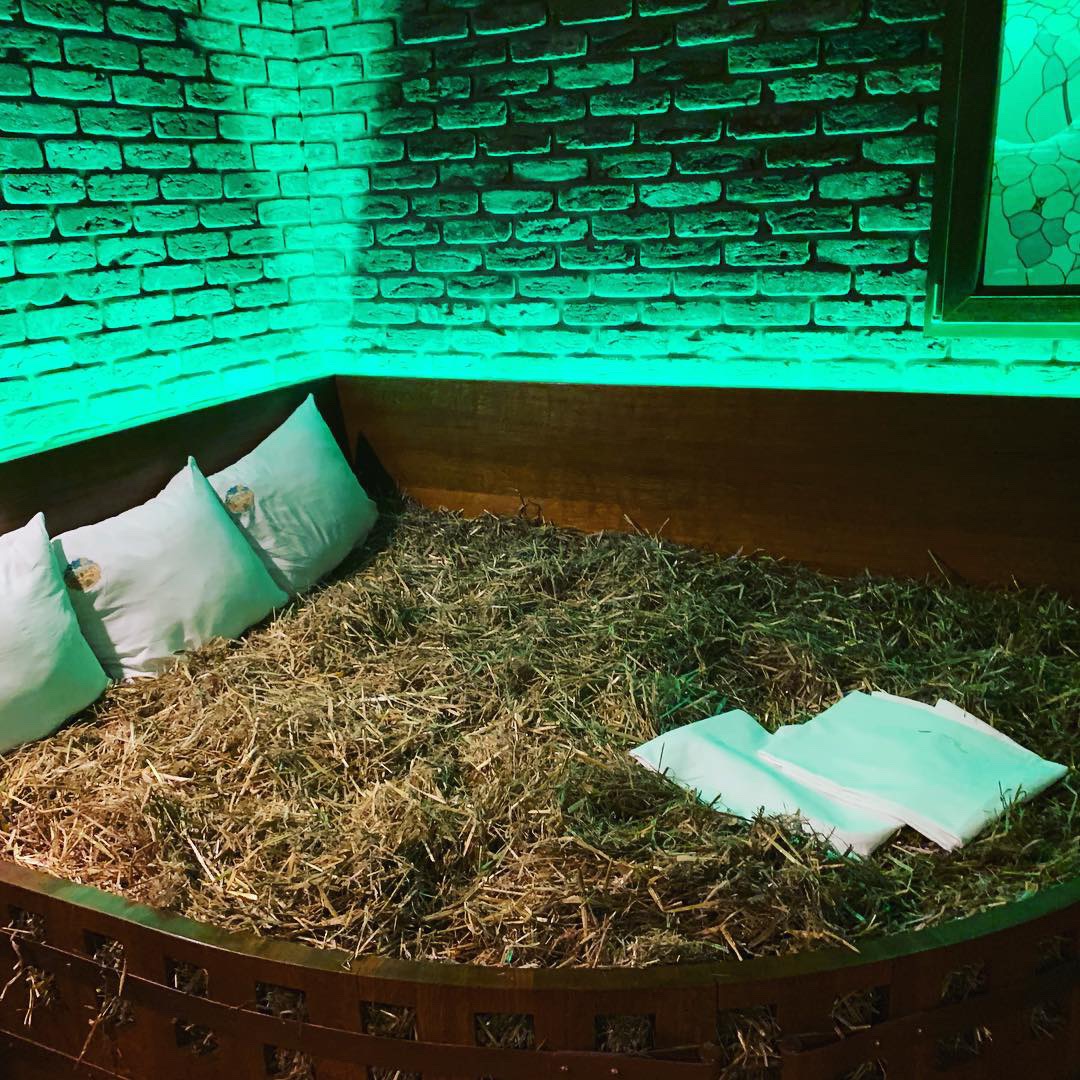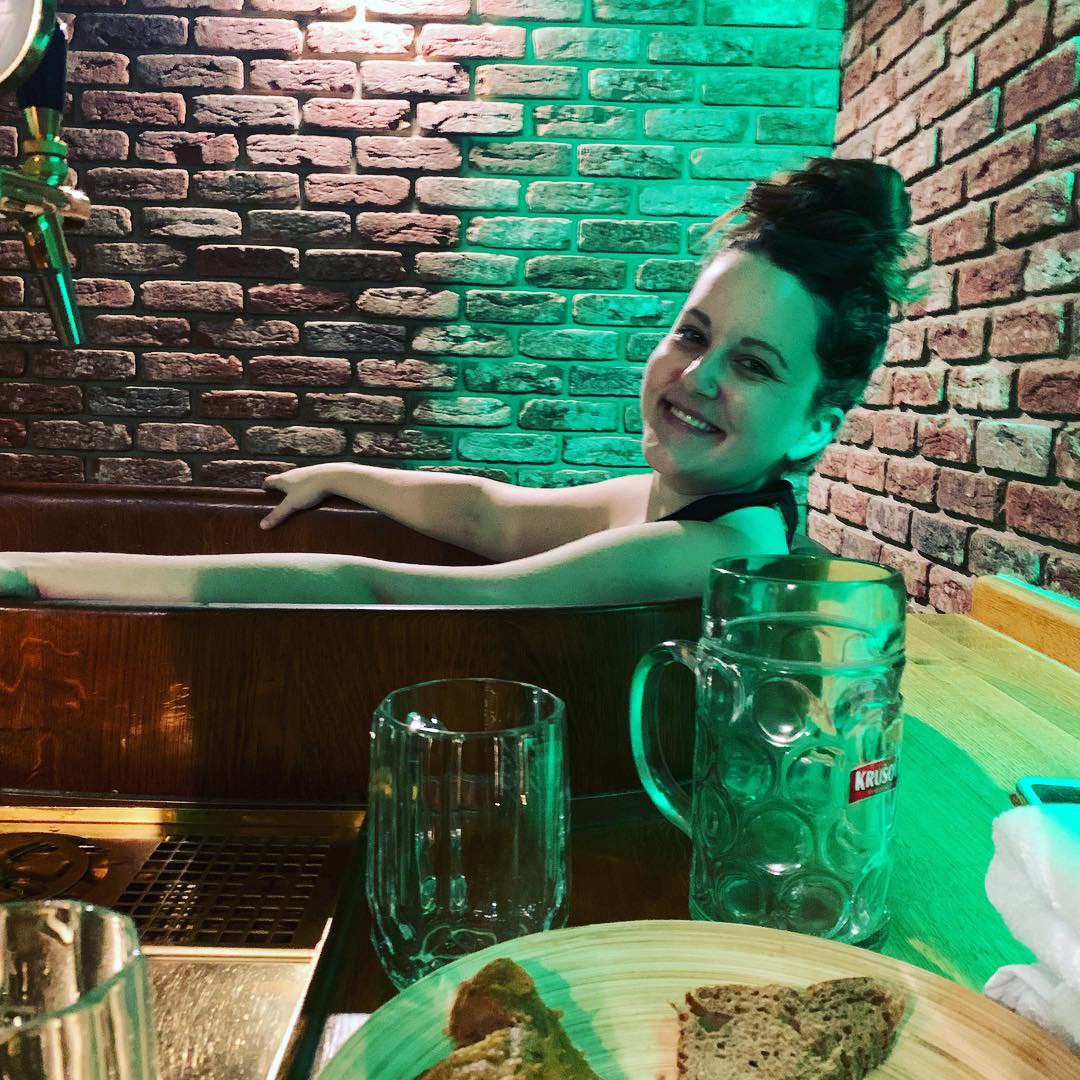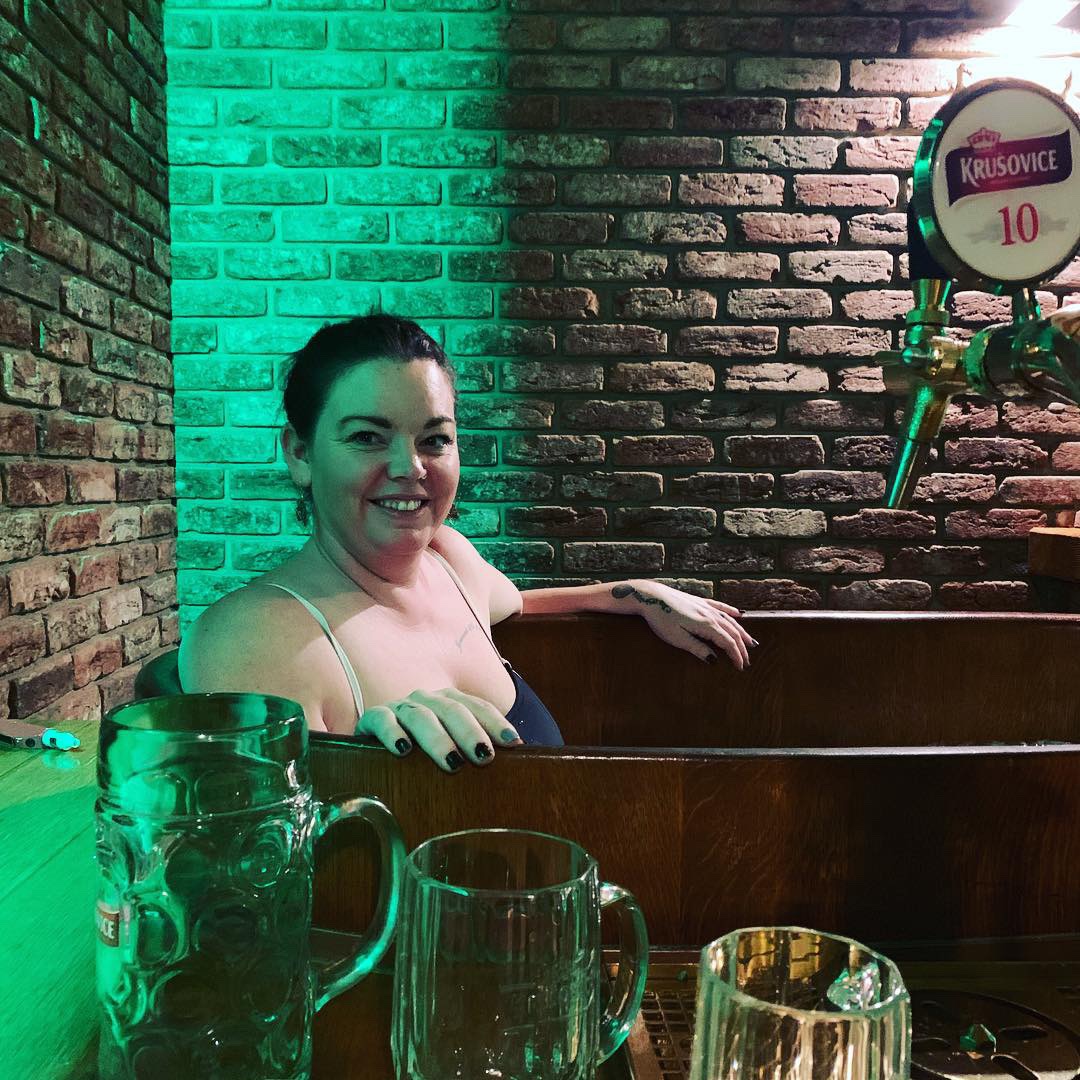 Meghan and I agreed on our last night, we wanted to check out Prague nightlife. After doing some research we decided on Karlovy Lane, a 5 story club next the Charles Bridge. There was a cover of 12 euro, but honestly it had been so long since I had been out dancing I would have payed 20! Also once inside, you basically have 5 different clubs and the drinks were ridiculously cheap! Each level is a different theme: radio hits, oldies, techno, hip-hop, and chill-out. They all have very different vibes and we wandered from floor to floor. The energy was so vibrant and we danced until about 2:30 am!
On the way out, we decided to stop by the oxygen bar on the bottom level. We were not going to do it, then we got there and discovered what it actually was. For about 5 euro you choose the "flavor" I went with lavender. you get a new clean tube that goes over your ear and under your nose for you to inhale 99% pure O2 (typical air is only 21%). I felt completely relaxed, but also elated from dancing all night. Sometimes you need to blow off steam and for me dancing until 2am was just what I needed. Thanks to the oxygen bar, I woke up feeling fine. Sadly our time in Prague was over, and I had fallen in love. We grabbed breakfast and headed to the airport.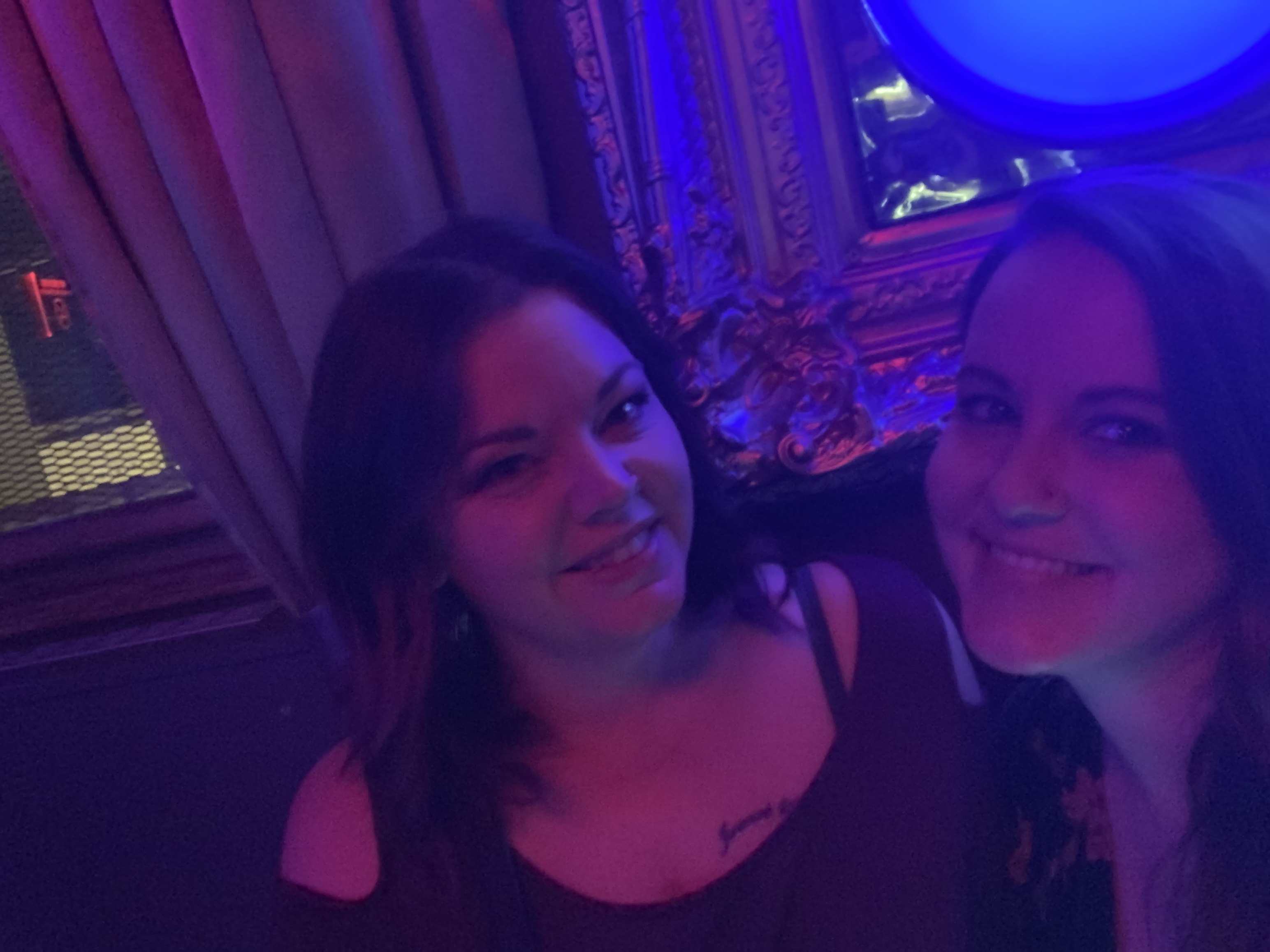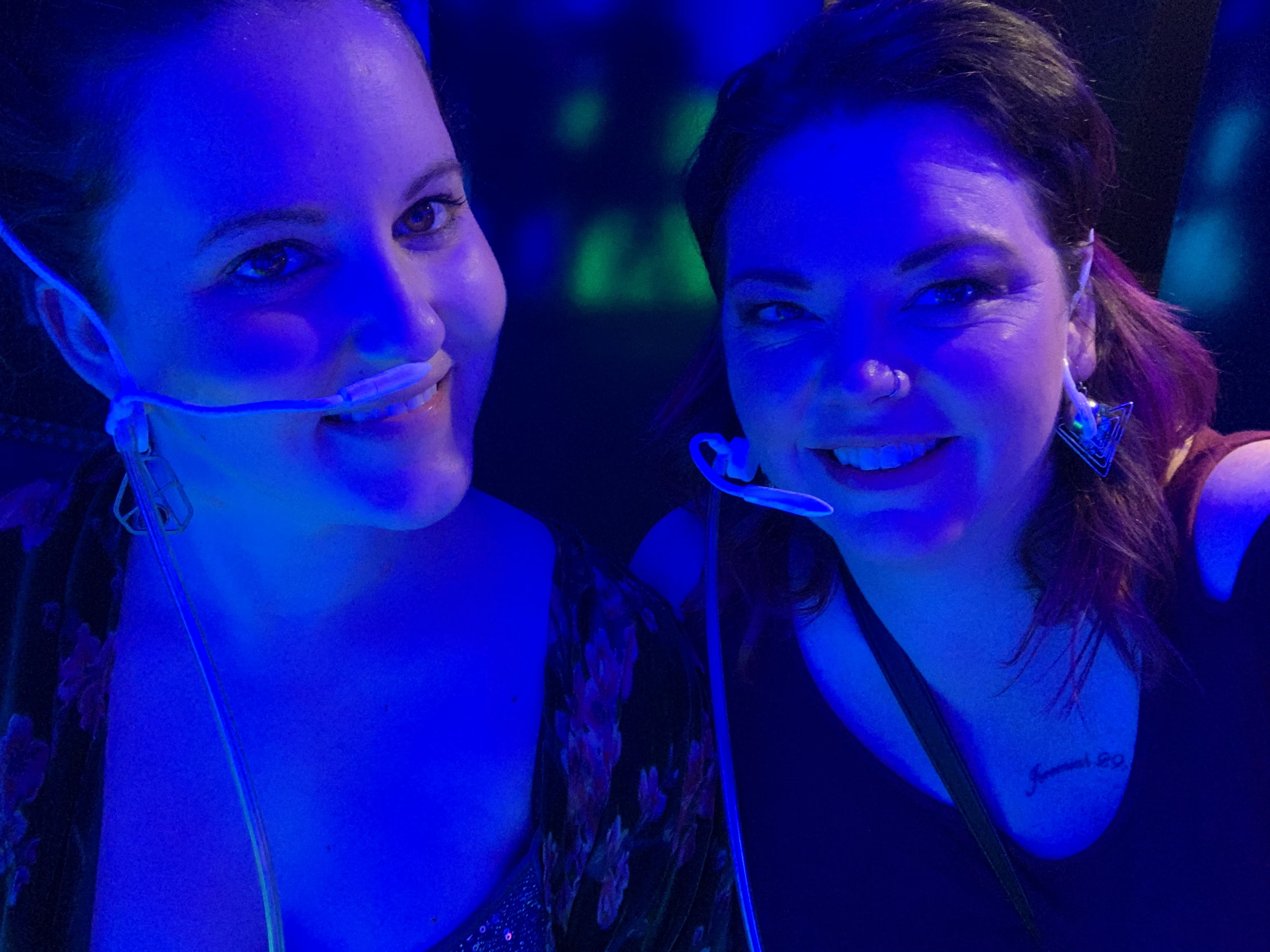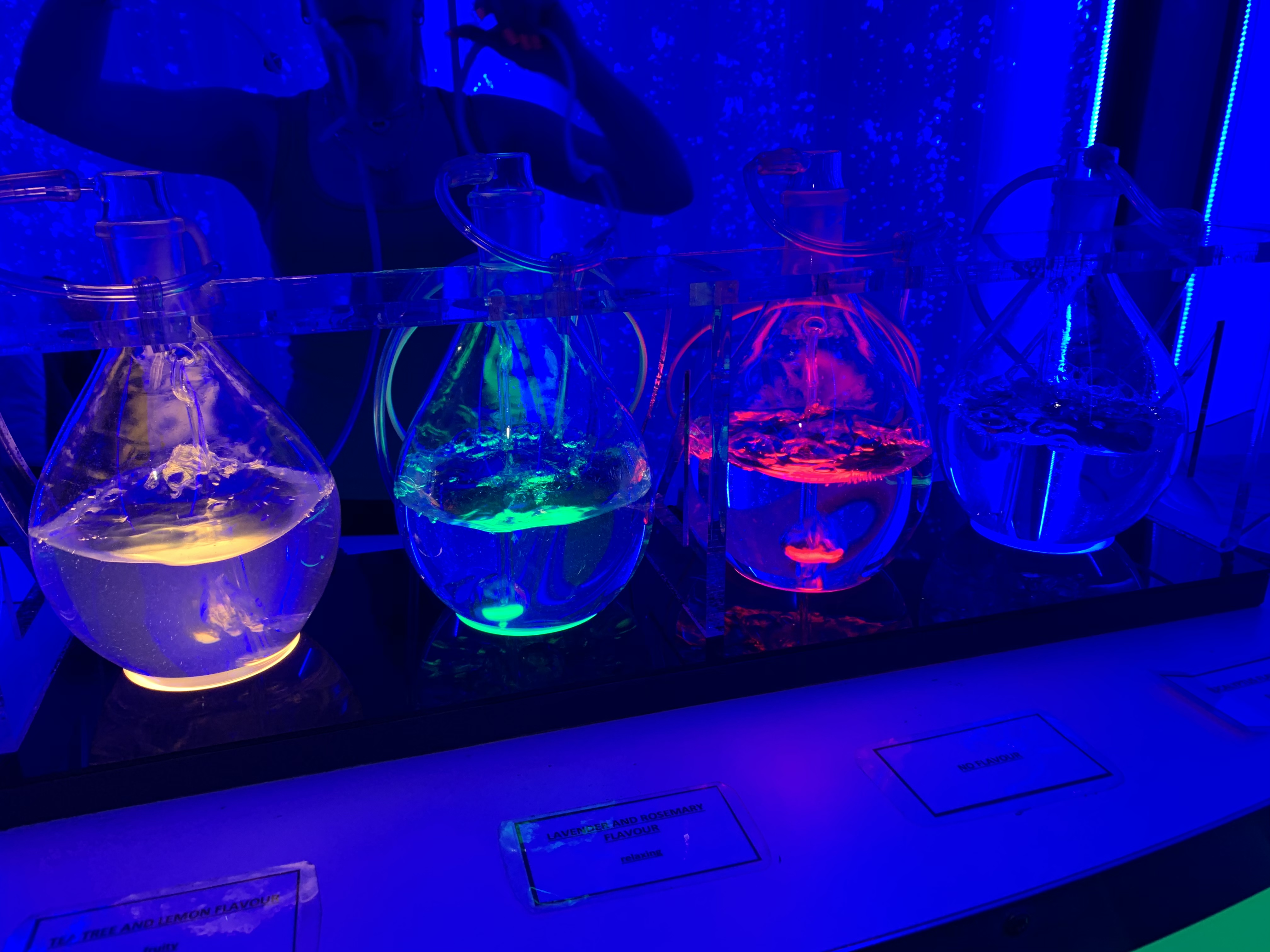 This trip could not have come at a better time. I have been in a pretty sad place since losing my mom. It had been a while since I really laughed and let loose. For this trip, I could not have asked for a better travel partner than Meghan. She knew how much I needed this and she really took the wheel. I was able to relax and go with the flow.
All the conversations, the laughs, the dancing, the love, and Prague: I will hold these memories forever. I feel like I came back to life. I know in those times of sadness and when Rob and Z drive me crazy, I can think back on this trip; make a phone call to one of the amazing women who are always there to chat; or even just listen while I cry or vent. So hold tight to your female friendships and don't take them for granted, they are special.
Stay tuned for more adventures of Rob, Z and I.
"I think the friendship women share is so powerful. In fact, there is nothing quite like it. People talk about the mother-child bonds, but I would argue that the female friendship bond is also a league unto it's own."

Amanda de Cadenet