It's not always easy, but it's always worth it…
Anthony Bourdain said,
Travel isn't always pretty. It isn't always comfortable. Sometimes it hurts; it even breaks your heart. But that's ok. The journey changes you; it should change you. It leaves marks on your memory, on your consciousness, on your heart, and on your body. You take something with you. Hopefully, you leave something good behind.

Anthony Bourdain
These words speak to me, especially after the last four years of traveling through Europe. There are so many things that can go so right, and there are also things that go wrong. You have to be able to bend and roll with it. Which is not always easy for me.
My cousin Amy called me a few months ago; she wanted to visit and take a train trip through Italy. That was all she had to say. I was in. I usually plan our trips, and everyone just goes along with what I planned. It was different with Amy; I learned she is more "type A" than I am. She really took the reigns on this trip, for the most part. Once she decided what cities we would visit, Amy was in charge of booking our excursions and experiences, and I was booking our trains. A little tip, TrainLine is the best app for booking train travel in Italy. We were to start in Venice, then onto Florence, Tuscany, Cinque Terra, and Rome. Spending two nights in each. However, the travel universe had different plans for us.
When we arrived in Venice, we were off to a great start. We made it to our Airbnb by way of a water taxi, and after checking in and freshening up, we went out to explore. While I had been to Venice before, Amy had not, so I decided every trip was different, and I was choosing to see Venice through a new lens. We strolled, shopped, and stopped for Cicchetti and an Aperol spritz. I have said it before and will repeat it: NEVER stop somewhere when the menu is extensive and covered in plastic, and everything is in English; even if it smells good, even if it looks good, it is always not good. When you have been traveling since early morning and are hungry, knowledge and reason go out the window, however. We ended up having the drinks and moving on.
That night we had reservations at Bistrot de Venise, a Michelin-star restaurant Amy had booked. After exploring more, we still had time before our reservation, so we stopped for drinks and people-watching in St Marks Square. There are several restaurants; I know not to eat in these places, but having drinks should be fine. It's hard to mess up a glass of wine in Italy. While enjoying some people-watching with our wine, our Airbnb hostess messaged to inform us that there was a national strike on the day we were meant to leave, and trains would not run. Needless to say, we were a bit uneasy about this. After discussing and talking with our hostess, we decided to go ahead and find an Airbnb in Florence and book a train leaving Venice a day early. Mind you, we get no money back on the Airbnb in Venice or the train tickets we had already purchased. Amid everything, Amy accidentally booked the Florence Airbnb for the wrong night. Thankfully the hostess in Florence worked with us and held the Airbnb for the night we needed, so we didn't have to spend more unnecessary money. Everything was sorted, and it would all work out. We got the check for drinks, two glasses of wine each, and we almost hit the ground. It was 60 euros!! I have never in all my travels paid this much for even a bottle of wine, let alone two glasses of red and two glasses of prosecco with no food ordered!
We made our way to Bistro de Venise and were excited about dinner. We put everything else behind us and relaxed to enjoy our meal. Let me tell you, it was the best meal I have ever had. The sommelier was very knowledgeable, and when we told him what we would be ordering, he helped us pick the perfect bottle of wine. We started with the chili prawns and the roast beef with goat cheese mousse and hazelnuts. Followed by the Ravioli de Herb, finishing with the Crema Rosada (orange Brulee with rosemary ice cream) and the Maya Bee (Panna Cotta with lavender ice cream.) The entire meal was excellent; I am still dreaming about it. While at dinner, we had the loveliest couple sitting next to us, they were from New Jersey, and their sweet kids got them a gift card for the restaurant. We chatted with them throughout our meals. It was a delightful evening. The stress from earlier was behind us. I want to say that the fantastic bottle of wine was only 40 euros, remember the mediocre wine we had earlier for 60?! This is why you don't just sit anywhere. I urge you to go to Bistro de Venise for dinner.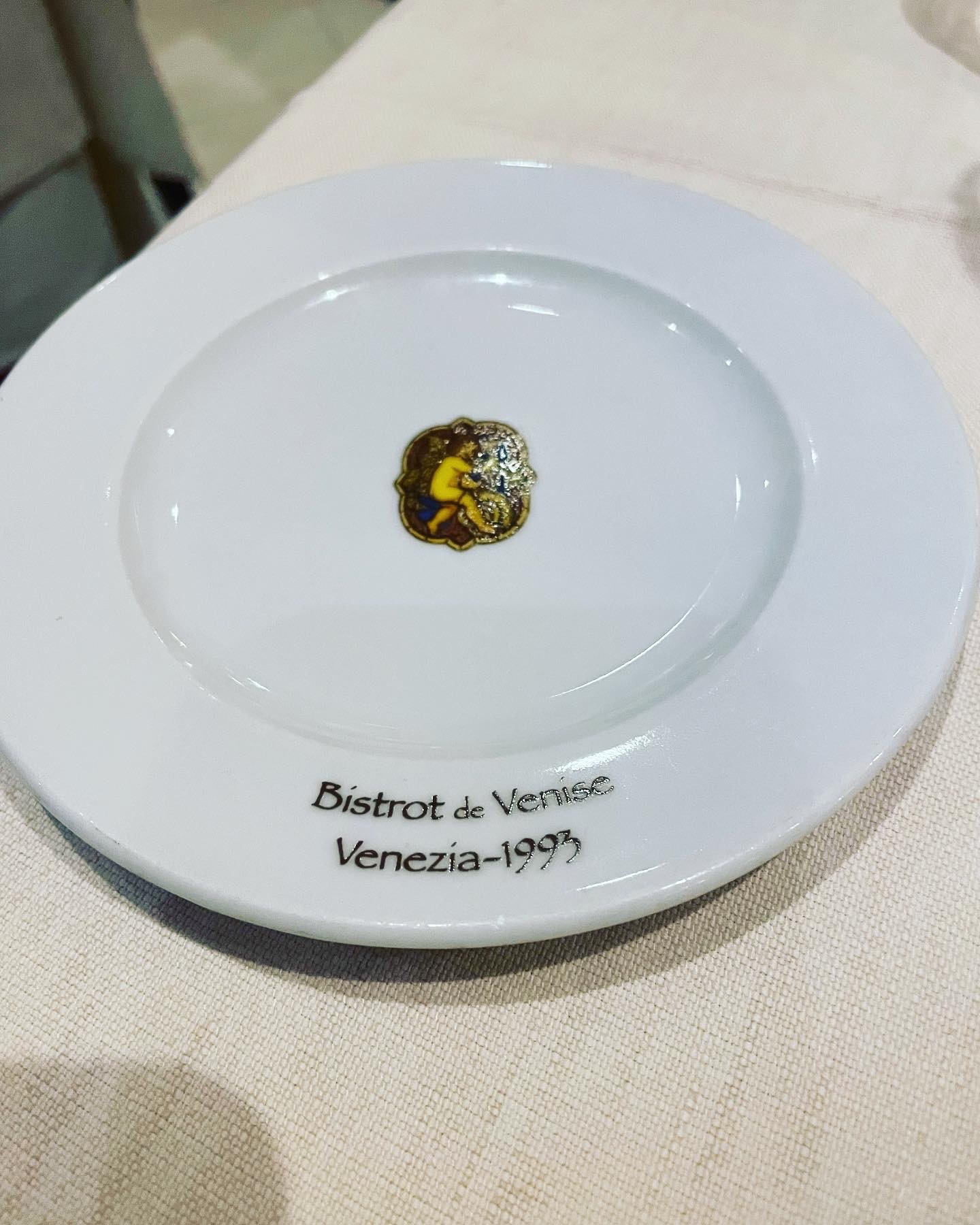 On my first trip to Venice, the one thing I really wanted to do was go to Murano and see the blown glass and watch them make it. unfortunately, it did not work out. Amy made a point to get us there on this trip, and I am so happy she did. It takes about 40 min to get there via water taxi; you can easily spend an afternoon strolling, shopping, and having lunch. The blown glass is beautiful, and the artists are truly talented. After this, it was time to pack up and catch our train to Florence.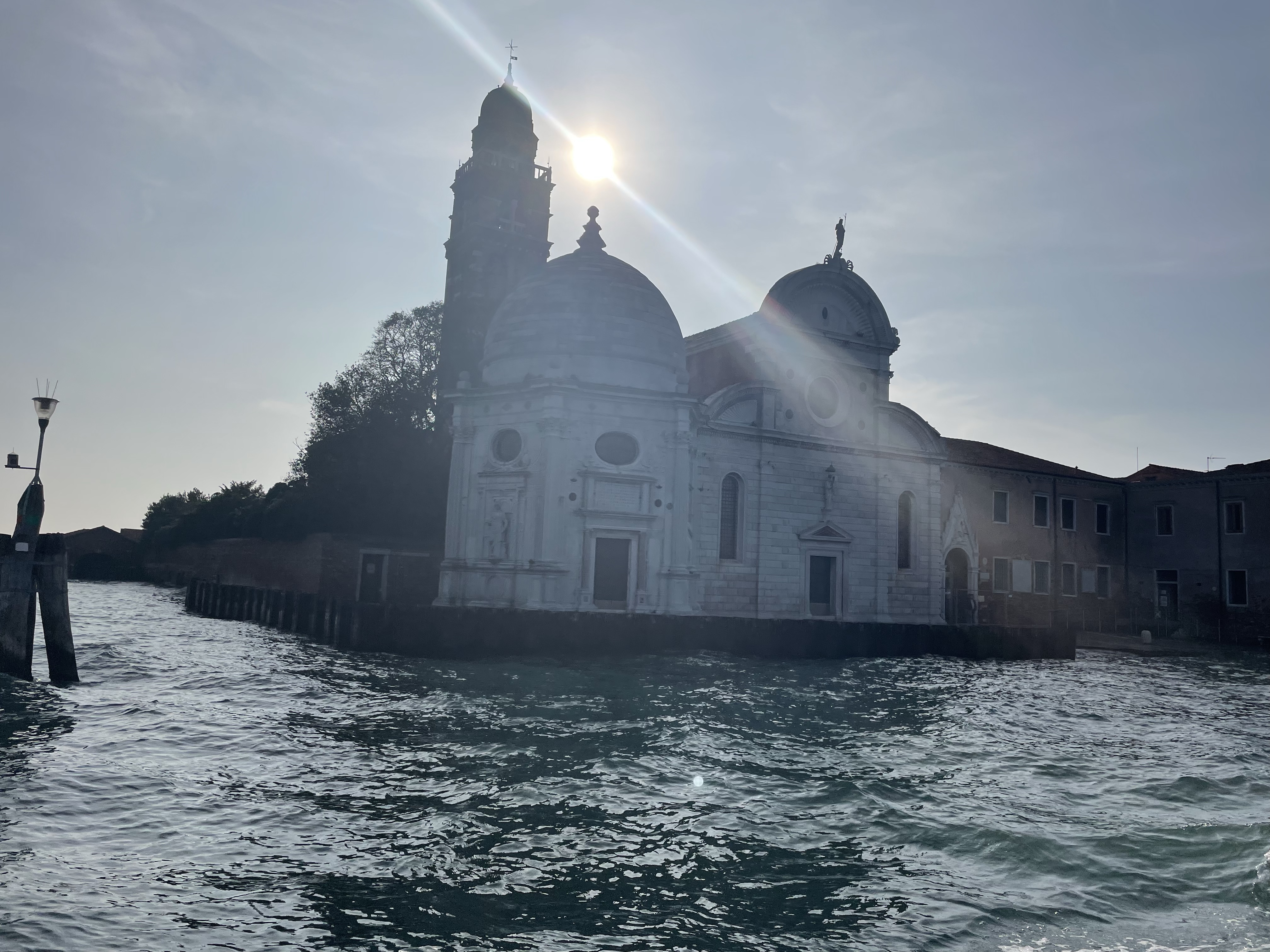 Our Airbnb for the one night in Florence was lovely, as was our hostess. We were a bit snacky, so we went to the pizzeria downstairs and split a pie and a bottle of wine; both were great. The following day we had some time to pick up our rental car, so we grabbed coffee and croissants outside the Duomo. While there, we realized we had not booked tickets to go inside the Duomo or to see the Statue of David. We figured we would do it the next day since we would be back in Venice for a cooking class Amy had booked.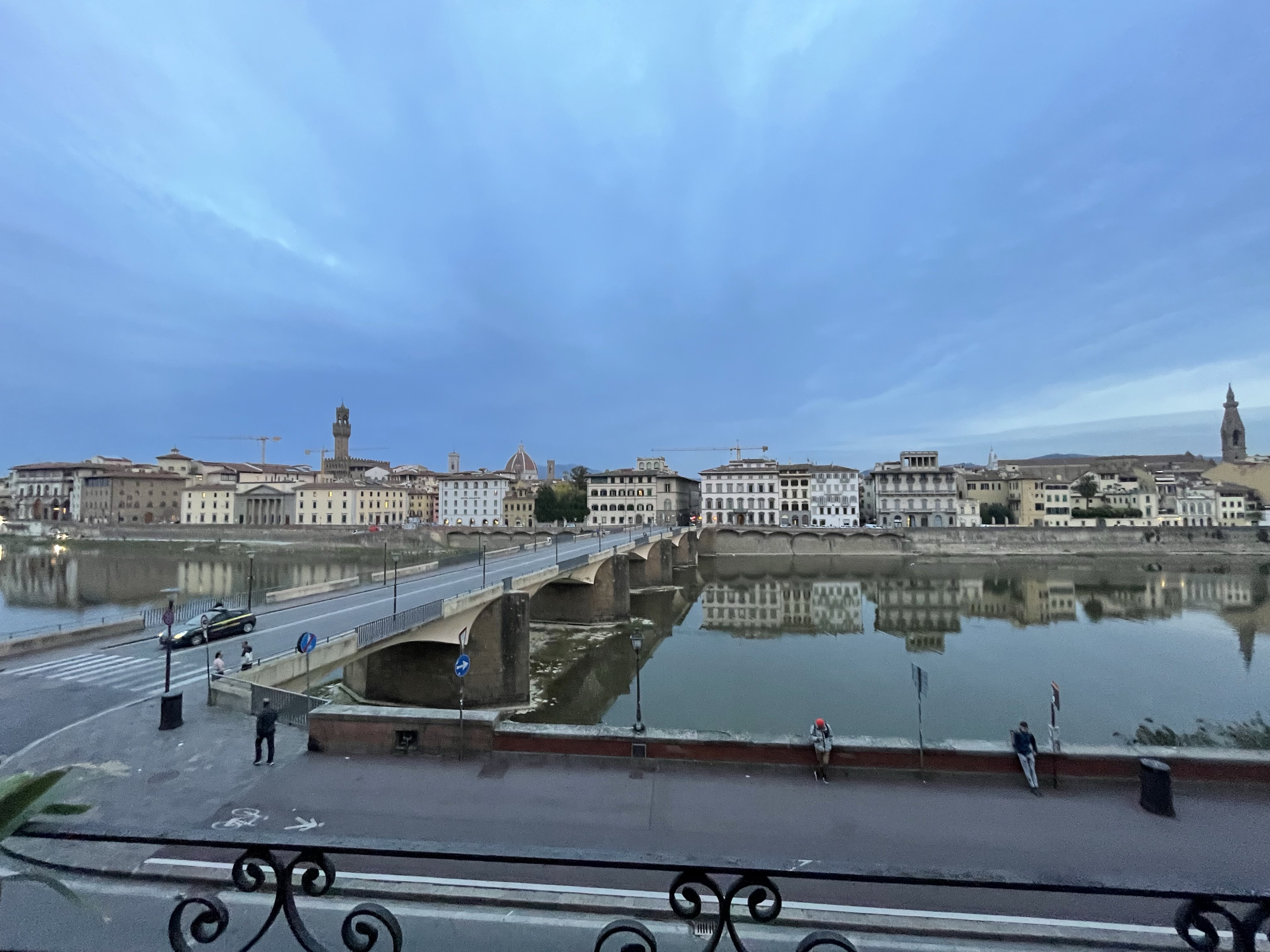 We needed a car to get to our Airbnb in the Chianti region of Tuscany. By the way, when renting a car in Italy, you need to know how to drive a manual, which I do. We picked our car up and headed back to Florence from the airport to get our luggage from the luggage lockers. The plan was to find a parking garage and explore more before driving to Tuscany. This proved to be more daunting than I could have imagined. You can only drive in certain parts of Florence, and it's unclear where that is. There are tourists EVERYWHERE, and people will just walk right in front of you. We finally found a garage and decided to just grab our luggage and leave Florence. We were asked how long in the first garage we came to. I told him 30 min, and he yelled at us to go away; I tried to ask if I could pay to park all day, and he yelled again. We were on the brink of tears. Finally, we found another, and the guy was so lovely we parked for about 20 minutes, and he charged us 10 euros. As we were leaving Florence, I started laughing hysterically; Amy had no clue what to do, so she started laughing, followed by my crying. I was so happy we were driving out of Florence but also at the end of a big anxiety attack.
When we arrived at La Pressure, our farmhouse/winery in Tuscany, I opened the car door, and my knees buckled; I hit the ground. I was not getting back in that car ever! When we arrived at check-in, the hostess could tell we were frazzled and asked us to sit; she gave us a glass of wine that they make at the winery, and we relaxed because we made it. It was nice to stroll around the property. It was so beautiful. I definitely recommend staying here. Needless to say, we canceled our cooking class and never made it back to Florence except to return the car and catch our train out. Our hostess told us a few of her favorite restaurants nearby so we wouldn't have to drive far.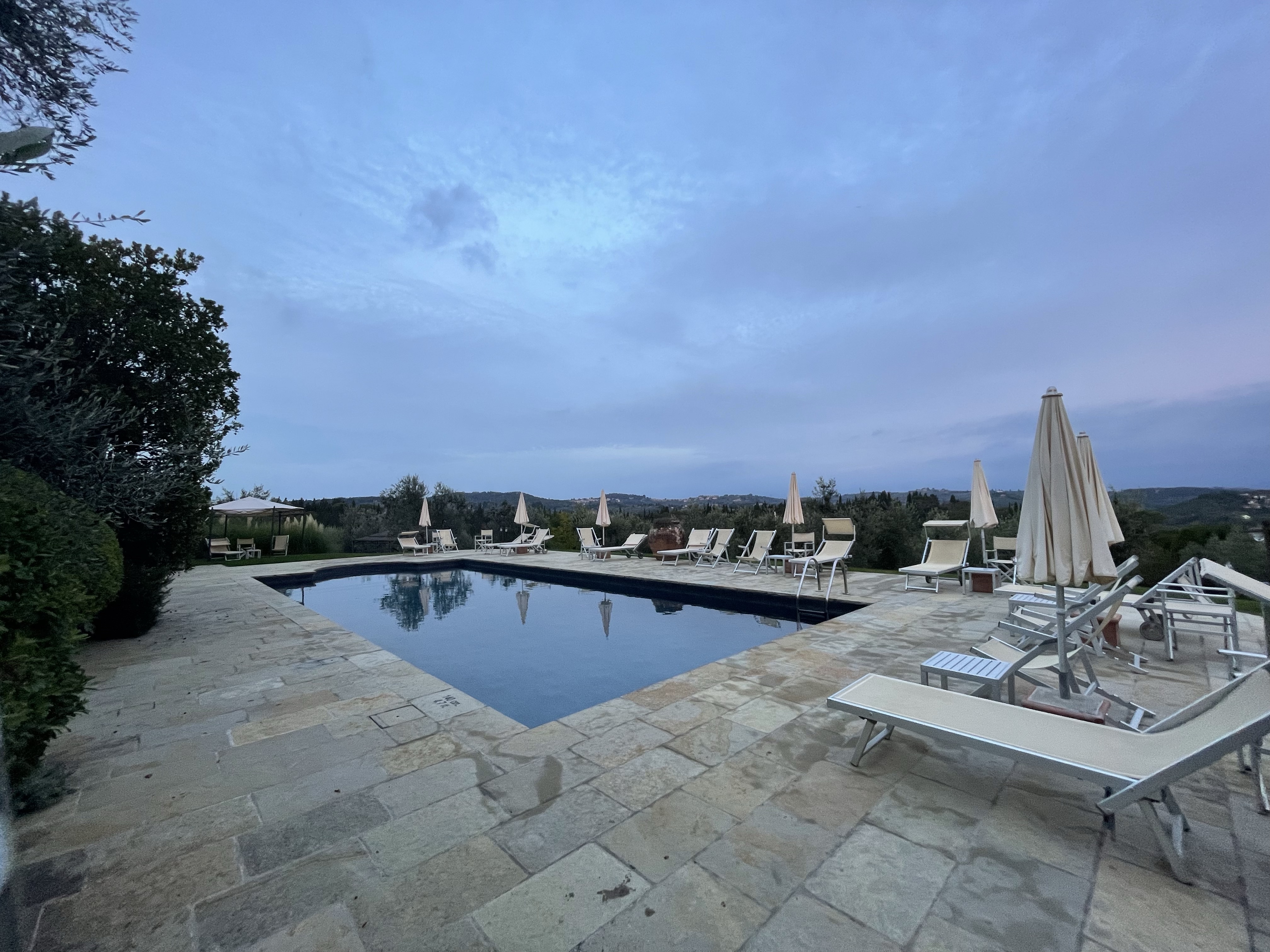 We made our way to a small village just 10 minutes down the road; while no restaurants were open yet, we found a small shop that sold cheese, wine, and meats. You can also sit in the garden and enjoy their products. We shared a charcuterie board and some wine before heading to dinner. We ended up at Caminetto del Chianti, where I had the best truffle pasta, and we shared a florentine steak, a must when you are in the region. Be prepared. You can not ask for this to be cooked at a certain temp. It comes rare, no other way. It was delish!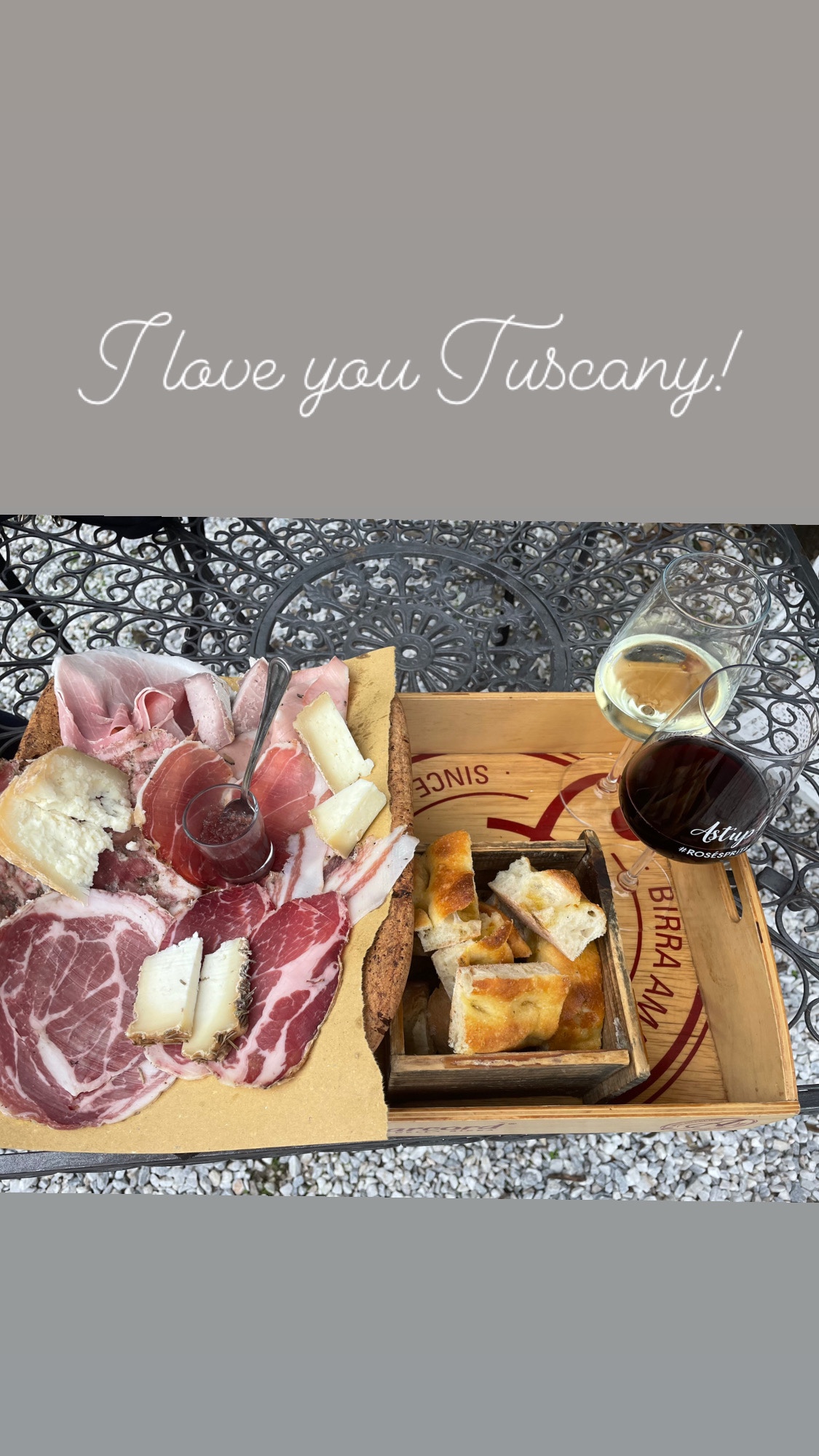 We woke up after a great night's sleep, the stress of the day before behind us, ready for our winery tour. We headed to La Bottega del Palagio. We were all greeted with a welcome glass of prosecco and a little class on the region's wines. It was very informative on why some wines are best enjoyed 3 months after being bottled, and others last a bit longer, and the difference between Classic Chianti and Super Chianti. After the class, we toured the cellars and the vineyards. Followed by an incredible spread complete with cheese, Bruschetta, and a wine pairing. The winery had everything set up, and we had assigned seats. They paired us up perfectly. The people at our table were lovely, all from different parts of the US. We had great conversations and really enjoyed learning about their travels through Italy. It was the best day.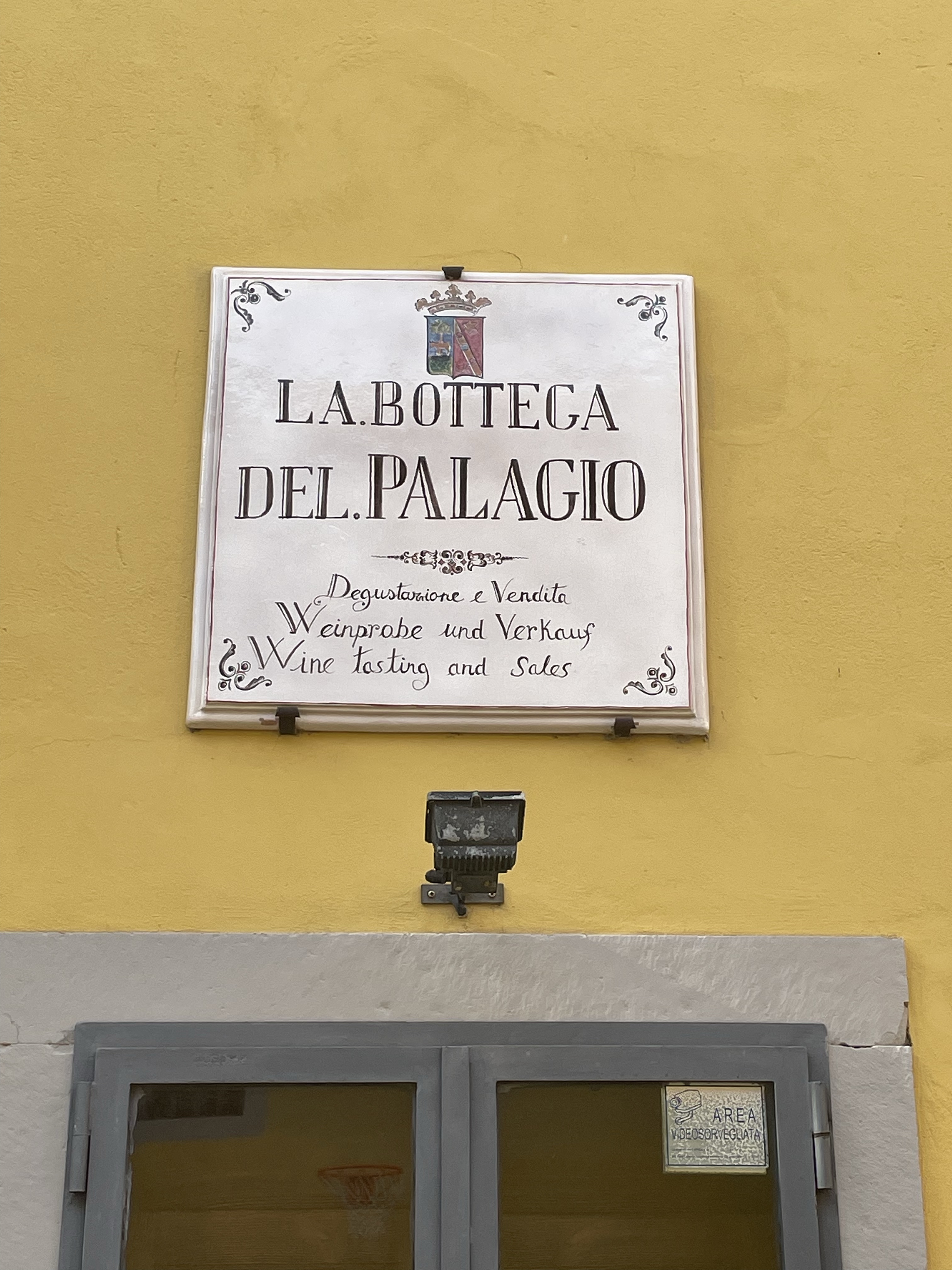 After returning the car, we caught our train to Cinque Terre. Five towns makes up Cinque Terre; Riomaggiore, Manarola, Corniglia, Vernazza, and Monterosso. We stayed in Riomaggiore. you can not drive in the towns, but you can take the train to any of the towns. The longest train will be from Riomaggiore to Monterosso, which is 12 minutes. Most people don't know that when staying in Riomaggiore, two lifts will take you to the top of the village, which is handy when taking your luggage up. Otherwise, be prepared to take A LOT of small winding stairs up.
Our first stop was to try the Calamari we had heard so much about. Every village has several little places to get this paper cone of goodness. Not all are created equal, though! We found the best to be Costeve Friggitoria in Riomaggiore. Next, we went to the village of Manarola; Amy had read all about this cliffside restaurant Nessun Dorma, with amazing views, known for its local wine and pesto. It did not disappoint. We had the best bruschetta and wine, and the view was breathtaking. I may have teared up.
On our final day in Cinque Terre, we wanted to explore the other towns; we bought train tickets to and from Monterosso, and we thought that was all we needed; more on this later. We went to the beach, strolled through the town, and did a little shopping. Next up was the town of Vernazza. By the time we arrived here, a mere 4 min train ride later. We were so hungry. We had made a couple of mistakes when it came to lunch and dinner, despite our best-laid plans to research and make reservations; sometimes you're exhausted, or something takes longer than you thought, so you just pick a place. We hit the magic spot when we found Il Gattaccio. It's a tiny spot that we almost didn't see. I am so glad we did! The seafood and pasta were so fresh. They are still pretty undiscovered, so definitely check them out!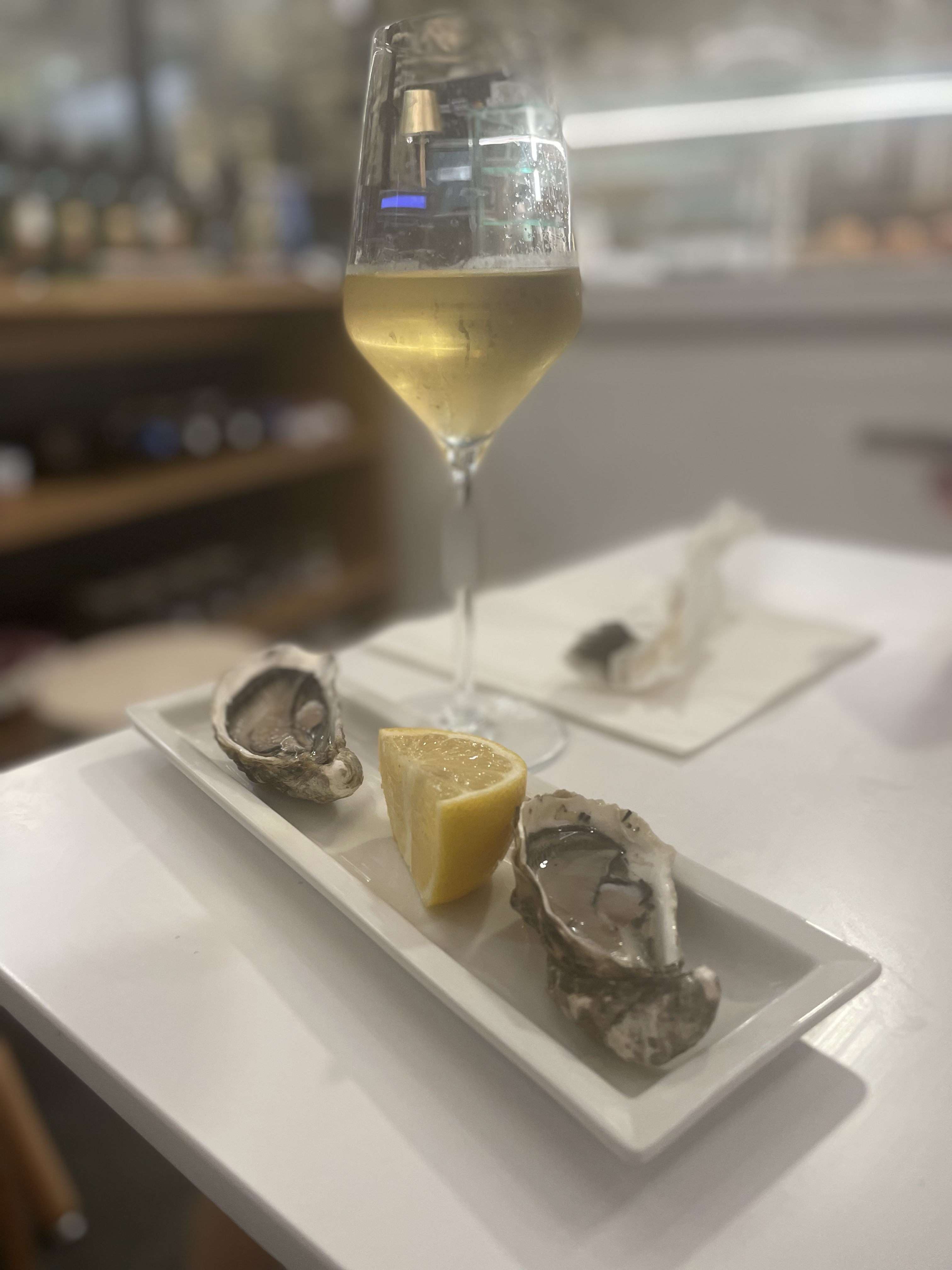 On our way back to Riomaggiore, an attendant got on the train to check tickets. Remember when I said we got return tickets that morning? Well, when they checked our tickets, they were no longer valid. We did not know that they are only valid for 75 minutes from when you purchased them. We were over that by a couple of hours. After explaining he told us he had to fine us 55 euros each!! Yikes. We will not make that mistake again.
That night we had plans again to go to a restaurant that we had heard many great things about. Again we had time to kill because most places all over Italy do not open until 7-7:30pm. We went to check out the sunset from the cliffs in Riomaggiore, and then we found a small spot to have some wine close to the restaurant. On the train to Cinque Terre, we met the sweetest friends. They were heading there to do a strenuous hike from Monterosso to Vernazza. We ran into them several times and ended up sitting next to them this night. We chatted for a while about how they met- 15 years ago in Mexico, they were both from British Columbia, Canada. They told us about their travels. We told them how inspired we were, as they were in their 70s, doing this hike while we took trains to each village. We missed getting to dine at the restaurant because we lost time chatting with them, and the restaurant was completely full in 5 min. It wasn't so bad because we really enjoyed them and the conversations and lessons they shared with us. I was sad to leave Cinque Terre, but on to Rome, it was!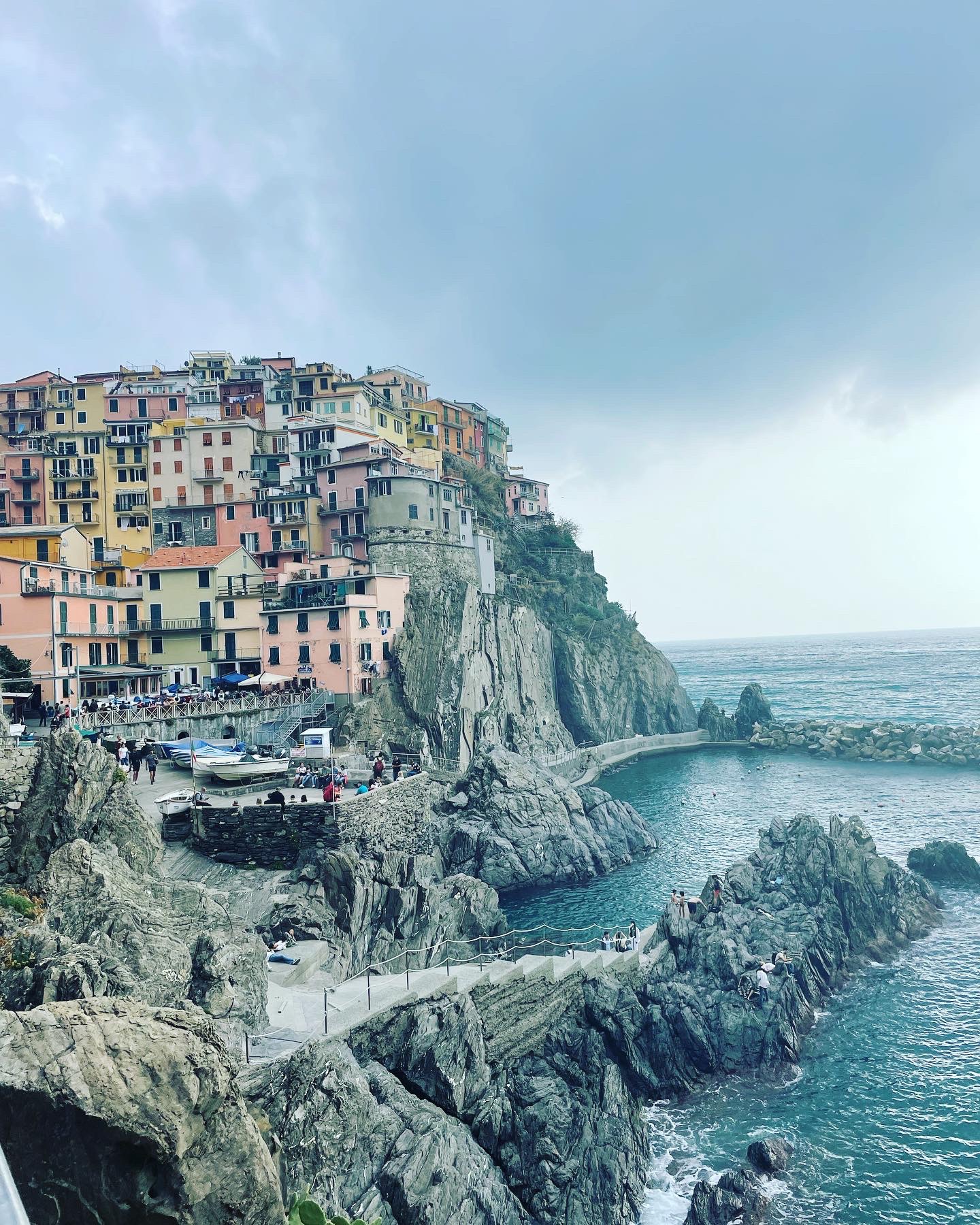 The one thing I wish I knew about Rome was how big and widespread it was. Amy booked tickets to the Vatican, the Sistine Chapel, and a guided tour of St Peter's Basilica for our first day. I was sure we would have plenty of time as we got to Rome at 11 am and our first tickets were scheduled at 1pm. After checking into our hotel, we went to catch the bus and realized about 30 minutes later that the busses were not running on our side of town because the Pope was at the Coliseum for a day of prayer. We quickly got a cab and made it to Vatican City at 1:30, which was too late. They will not let you in if you are later than your ticket time. Our next tour was at 4pm at the Basilica, so we had plenty of time to grab a quick lunch nearby since our tickets allowed us to skip the line. Now, this does not mean you skip the security line. When we got back to the Basilica, the security line was so long it would have taken 2 hours to get through it. We had to throw in the towel on our first day in Rome.
That night we went to dinner near the hotel and enjoyed drinks on the rooftop of our hotel, with a beautiful view of the Coliseum. We will try again tomorrow.
On our last day in Rome, we had other tours booked. We went to the Crypt and Catacombs of Rome. Our morning went smoothly, so we stopped by the Trevi fountain to avoid the crowds. Seriously it's worth it to get up early. The day before, we arrived at the fountain around 5pm, and there were so many people it was unnerving. After grabbing coffee, we met our guide and got on with our day. The Crypt was one of my favorite things we did. It was incredibly moving. I was in tears when she explained why they placed the bones in the shape of an hourglass and wings, in hopes of expressing how time flies and we should not take it for granted and be with the people we love.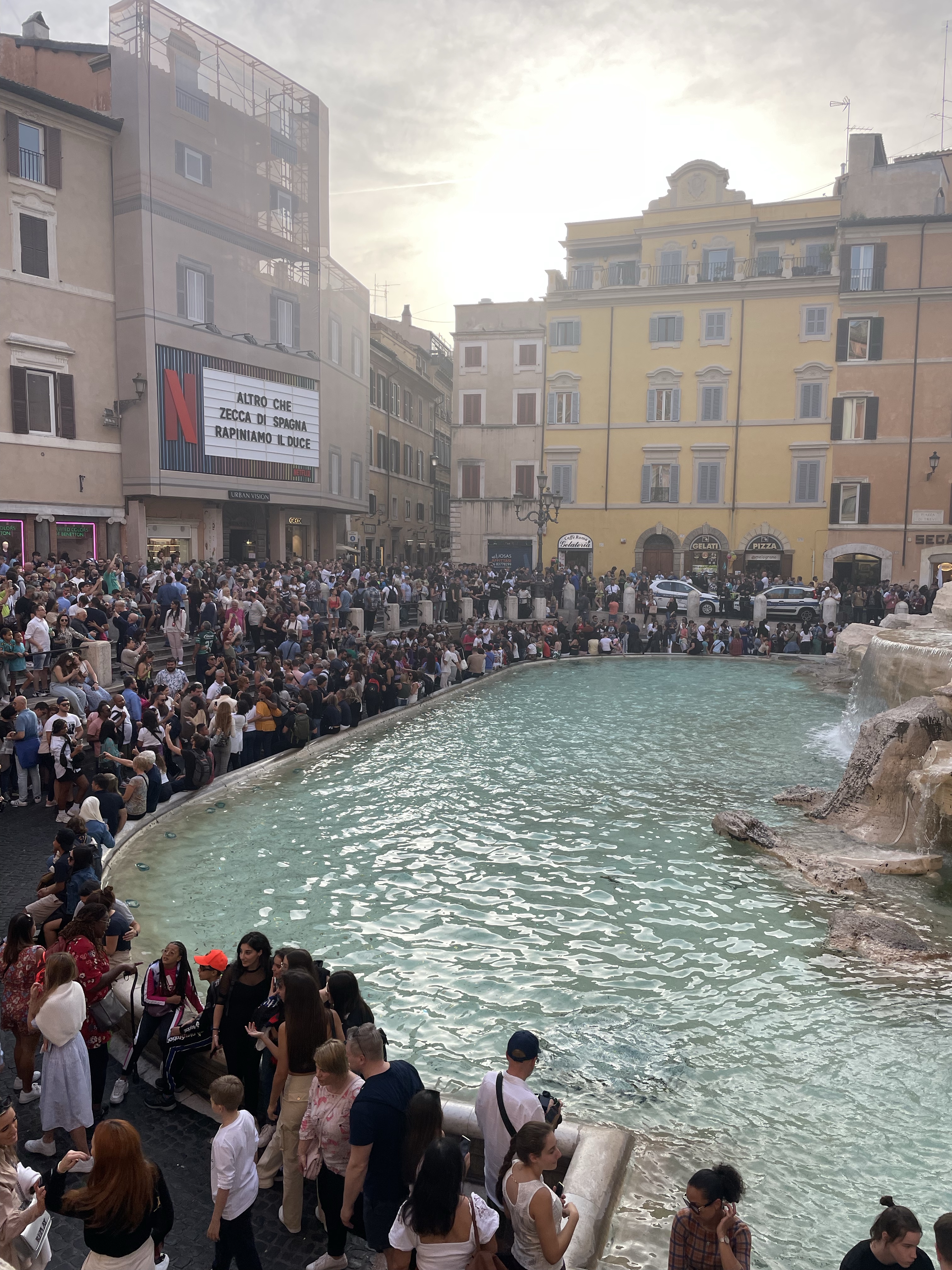 We had one last ticket time slot to make: the Coliseum. We were determined to make it there since the day before was such a bust. We hurried there after the Catacombs tour, well after getting on the bus going the wrong way! We made it just in time, and we were able to get in. It was cool being where so many gladiators fought. You could feel the history. I wish I could have taken our grandpa there. He would have loved it. I remembered watching gladiator movies with him as a kid, so it was special for me to go there, and to be with Amy was even more special.
On our final night, we had reservations at another Michelin-star restaurant Colline Emiliane. When we arrived, there was yet another line. Rome loves lines! As we approached, the Host asked if everyone had reservations; Amy and I were the only ones that did, so we got right in! The food was excellent I had the pumpkin truffle gnocchi. We were exhausted, though, so we got our dessert to go. We had to leave Rome the next day because we were flying out of Milan. Rome was a bit overwhelming, but we had a great time. Next time I will give myself a few more days to see everything.
As we were leaving Rome, the travel gods had one more hiccup for us; we went to scan our tickets to get on the train, and it kept telling us that they were not valid for that time. A bit confused, we checked and realized that the time, train number, and route were correct, but I had booked them for the next day. We quickly opened the app and purchased new tickets for the train leaving in 10 min! Amy and I made a mad dash for the train and got on with seconds to spare! Thankfully all we had to do once we got to our hotel in Milan was get massages in the spa, enjoy complimentary happy hour in the lounge, and have a wonderful last dinner in Italy. It was a great way to end our trip.
When Amy and I started this journey through Italy, I honestly didn't know much about who Amy was. I am 11 years older than her, so we didn't really hang out much when we were kids. I was nervous because not all people travel well together, no matter how much you love each other. With Amy, it was effortless. Even with all the twists and turns, I am looking at you, Florence. With the missed tours and unexpected expenses, Amy took everything in stride. We let things go and rolled with it. This trip brought us closer, and I can't wait to plan our next adventure together. So remember, when things go wrong, it's part of travel, and if you go with it and do not get too upset, it will be worth it.
Stay tuned for more adventures of Rob, Z, and me… and hopefully Amy too!
"Travel isn't always pretty. It isn't always comfortable. Sometimes it hurts; it even breaks your heart. But that's ok. The journey changes you; it should change you. It leaves marks on your memory, on your consciousness, on your heart, and on your body. You take something with you. Hopefully, you leave something good behind." – Anthony Bourdain.